Are you a Quiet Speculation member?
If not, now is a perfect time to join up! Our powerful tools, breaking-news analysis, and exclusive Discord channel will make sure you stay up to date and ahead of the curve.
---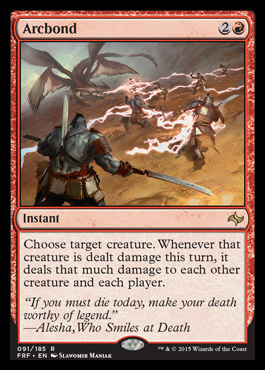 I don't doubt this effect is worth 3 mana. The real question is whether this card is worth a slot in your 75.
I have seen a lot of people with "cute" ideas, and I don't know if "cute" cuts the mustard. That said, I remember "cute" plays like "Harvest Pyre targeting Boros Reckoner" getting there for a while.
I think this card will appeal a lot to casual players for whom playing Stuffy Doll is an option. This may see some small (as in not enough to drive its price up) play in EDH but it's hard to make a case for it getting a slot in the deck. But this does the largest percentage of a life total in damage in Standard. Unlike Harvest Pyre, this card isn't good on its own. If they block with a big creatures, you can use that against them, but I think red wants to be doing a set amount of damage. This is a cool card in the same vein as Deflecting Palm, a bulk rare.
This would be sweet if you gave the creature lifelink, though.