Are you a Quiet Speculation member?
If not, now is a perfect time to join up! Our powerful tools, breaking-news analysis, and exclusive Discord channel will make sure you stay up to date and ahead of the curve.
---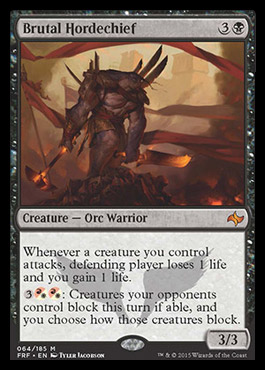 This cycle is shaping up to be a little less exciting than the rare cycle. That is likely because they're not legendary, I guess. Still, as much as this would be better as a general in a three color deck, this trigger can put games out of reach, especially since you're already in aggressive colors and can get tokens going. Also, this activated ability can win games. It's hard to see this getting played in Standard, and it's hard to see being able to win a game if someone summons this in Limited.
This is roughly a $40 playset on eBay and I think that is likely too high, as powerful as this is. This is almost sure to go down unless I'm really misjudging standard. I would like to think that an ability that says "I win" could get played in standard, and if this sees a ton of play, that would be great, but this is unlikely to ever be a 4-of and that means a $10 buyin doesn't leave much room to profit if this does see play. I like this card, but I don't know if there is money to be made.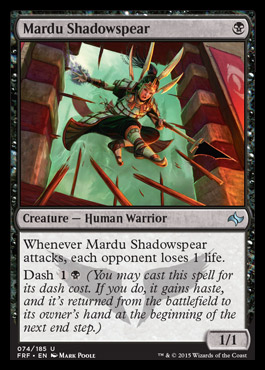 This is fine. I think the word "each" may be the least necessary bit of text on a Magic card! Maybe a Shirei, Shizo's Caretaker deck wants this? Maybe you'll get 3 of these and ruin the 2-headed giant tourney at your prerelease?
More likely this is a solid, grindy card in a mardu deck. I like that this hits for 2 if it's not blocked. This is a real loser in combat, though, and makes me miss Madcap Skills. All in all, I think the promo is likely to be worth as much as past promos of this ilk.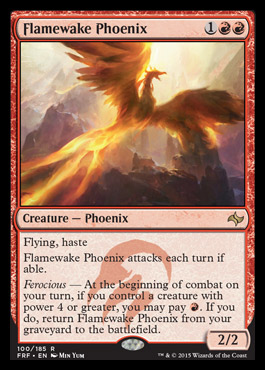 This is the first Phoenix I have been excited about since M14. This is just so... solid.

A well designed Phoenix for once (and at rare and not mythic) could mean that we see people serving with Phoenixes again. This will see play as a four-of if it sees play. So we're betting on whether there is a deck that can trigger its ferocious reliably enough that we can serve with this in Standard. I think with some burn spells and other red, aggressive creatures, we could see Standard really speed up. If this sees no play, $4 pre-order will hurt. We watched Flame-Wreathed Phoenix, a mythic, plummet from a $7-$8 preorder to $1, basically bulk for a mythic. If it does see play, there is real room for growth, but at non-mythic, the ceiling is around $10-$12 unless it is a staple in many decks. I don't see this being worth Courser of Kruphix money, so after fees, best case scenario is roughly a double-up. Seems risky, but if you want these to play with, $4 is probably relatively safe.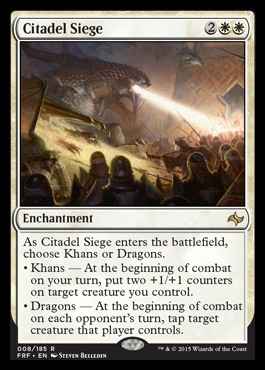 This is solid in Limited. OK, solid is an understatement. This is a real punisher in Limited - either mode is very, very good. I think there are a lot of EDH decks that can really use the +1/+1 counters, too, but this seems like one of the less exciting sieges for constructed. This is a $2ish preorder, and I don't think it's going up from there.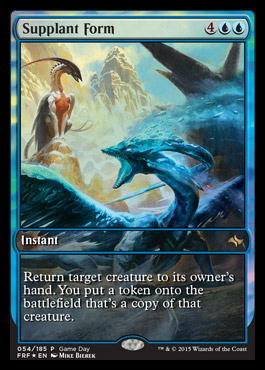 Yeah? This is the Game Day promo you're going with? It looks awesome and I can see EDH applications, but is this effect good enough for 60 card formats? I really tend to doubt it. It's very expensive and for 6 mana, you want to be doing more. This has a lot of versatility compared with other cards that put tokens into play that are copies of a given creature, but those never really saw play (or were ever worth much money) and if a token-maker that's 3 mana can't get there with populate around, I can't imagine we want to pay 6 mana.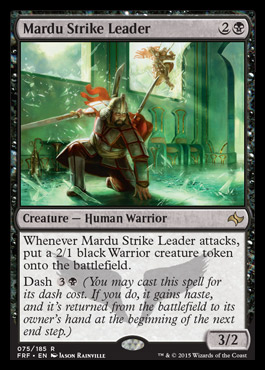 2B
Creature - Human Warrior
Whenever Mardu Strike Leader attacks, put a 2/1 black Warrior creature token onto the battlefield.
Dash 3B (You may cast this spell for its dash cost. If you do, it gains haste, and it's returned from the battlefield to its owner's hand at the beginning of the next end step.)
3/2
This is exciting, and it can spiral out of control. That said, it has 2 toughness and the tokens have 1 and you can only ever make 1 a turn. There are better token makers, better beaters and better dash creatures. Will this see 0 play? Hard to say. I do know that I would hope a $3 preorder would be more exciting. We know roughly that the ceiling for this is $10ish unless it sees a ton of play, so if you think I'm totally wrong and this guy is a 4-of autoinclude, wager your $3 a pop, but I'm staying away.