Are you a Quiet Speculation member?
If not, now is a perfect time to join up! Our powerful tools, breaking-news analysis, and exclusive Discord channel will make sure you stay up to date and ahead of the curve.
---
Torrent Elemental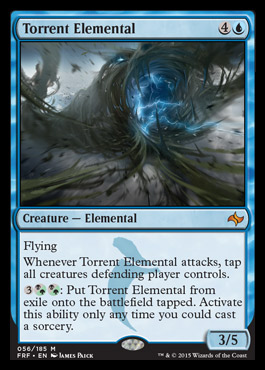 4U
Creature - Elemental
Flying
Whenever Torrent Elemental attacks, tap all creatures defending player controls.
3[B/G][B/G]: Return Torrent Elemental from exile to the battlefield tapped. Activate this ability only any time you could cast a sorcery.
I don't know if I want this at mythic. This is just a narrower Misthollow Griffin and while this has two more toughness, I don't know if that matters. Can we do anything with this ability in Standard? Do we use Misthollow in EDH? Who wants this card?