Are you a Quiet Speculation member?
If not, now is a perfect time to join up! Our powerful tools, breaking-news analysis, and exclusive Discord channel will make sure you stay up to date and ahead of the curve.
Elves was once one of the best decks in Modern, thanks to the high power level and consistency afforded by Green Sun's Zenith and Glimpse of Nature. Once they got the banhammer, things took a nosedive and the archetype has been struggling ever since. Sure, we saw nice aggro lists do well here and there at smaller events, and some respectable attempts at combo after Beck // Call was released, but nothing has really stuck or impressed the community at large.
[wp_ad_camp_1]
Things Done Changed
Two things have changed recently that could mean Elves is finally viable in Modern. It's a big could, but it's important we explore it.
First: several lists have been doing okay at tournaments big and small, most of them deviating from the Legacy template the community (myself included) has clung to for so long, and instead opted for the Devoted Druid / Ezuri, Renegade Leader plan (two untapped Druids and an Ezuri means infinite mana and pump). So there's at least some viability there.
Second: Collected Company is entering the format. Two of the major problems Elves has had in Modern is consistency and a lack of recovery tools (spot removal but moreso wrath and 2 for 1's off Electrolyze are difficult for the deck to fight through over the course of a tournament). Scavenging Ooze is nice, but it's often not great in the mid-game and it doesn't help consistency -- unlike Company.
Exploiting Collected Company
With the addition of Company, there are three different directions we can go: aggro, Legacy-style combo (with Beck // Call and Cloudstone Curio), and Devoted Druid / Ezuri combo.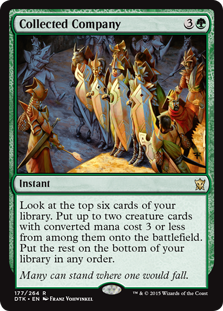 Company certainly is a great fit for aggro, and I'll likely explore that option in the future, but for now it's between the latter two options. It's an easy choice from my perspective: in preliminary testing, about 6-7 or less non-creature spells (including Company) seems to be ideal here (this may be different in a deck like Zoo, as a low land count helps us), and the Legacy-style lists are a lot less streamlined and pack creatures that cost more than 3. I'm definitely open to it being better and may explore it in-depth in the future too, but for now my instinct -- based on preliminary testing and extensive experience with the Legacy-style version -- is to place bets on Devoted Druid / Ezuri.
Now, a three card combo is generally a bad idea in Modern, but that's not so much the case here for a few reasons: two of the cards are the same, all of the cards do multiple things outside of the combo, and we have a backup aggro plan. When you actually get some time in with the deck, it becomes clear it's a lot more viable than it might seem.
The Core
There are certain things in this list we simply cannot do without. They are as follows:
Heritage Druid and Nettle Sentinel: Without Heritage, Elves is just too slow and vulnerable to work. She becomes busted in combination with Sentinel, who doubles as a strong beater and blocker when buffed. Sentinel is also synergistic with Chord of Calling.
Devoted Druid and Ezuri, Renegade Leader: The combo, and the reason to play this version. Besides Ezuri, Devoted has synergy with Heritage, Sentinel, and Chord of Calling. Plus, two extra mana on turn 3 is no joke.
Eternal Witness: Nice as a recovery tool, combo piece (fetch that dead Druid you or an opponent killed to combo off), and value (Collected Company into Witness into Company is a thing).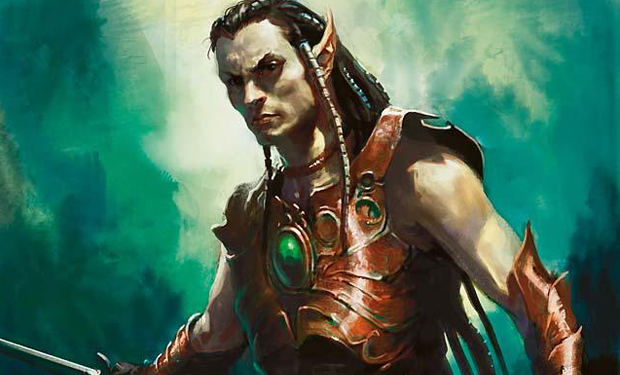 Collected Company: This deck had some game to it before Company, but now, thanks to it, it has a huge boost in consistency and resilience. Don't leave home without it.
Chord of Calling: Added consistency that synergizes well with Sentinel and Devoted Druid, and can fetch hate cards for you (at instant speed, no less) -- a superb card that does a lot to make Elves work. It's possible this should be Summoner's Pact, but I'm more inclined to think not as of now.
The Rest
The rest is at least a bit up in the air, and that's where a lot of the fun lies. Here are some of the stronger mainboard options:
Llanowar Elves, Elvish Mystic, and Arbor Elf: We don't have sweet 1-drops like Legacy does in Quirion Ranger and its ilk (yet), so some number of these is probably necessary. While the 'needing to untap to work' thing and the sometimes poor topdeck issue are annoying, you could do a lot worse (a lot of Modern decks could, for that matter).
Elvish Visionary: Brings some consistency and resiliency to the table. She's better if we have a way to bounce her (the only decent ways in Modern are Temur Sabertooth and Cloudstone Curio, and neither of those fit very well here), but is still respectable even if we don't.
Fauna Shaman: Also brings some consistency. Like the dorks, she needs to untap to work, but she will sometimes, and when she does she will often take over the game. She also serves as another big threat to deal with -- a dead Fauna Shaman is an alive Heritage Druid.
Scryb Ranger: Lets us operate on fewer lands and abuse tap effects, and keep going when we cast Company into her. Remember we can use the ability on the opponent's turn, too.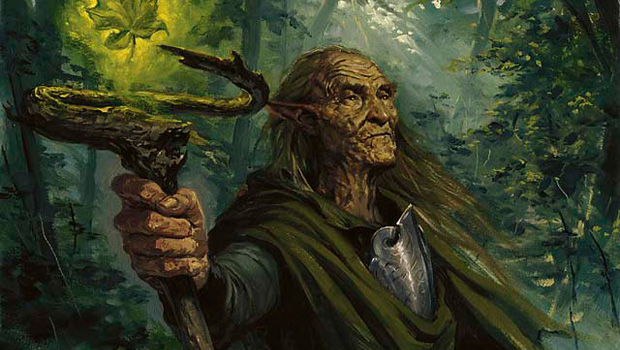 Elvish Archdruid: Can get us stupid amounts of mana to dump into Ezuri, and provides a valuable backup aggro plan. We'll usually be very happy to flip this off a Collected Company, especially if it's at the end of our opponent's turn, and especially if we get Ezuri with it.
Scavenging Ooze: Delve is pretty popular right now, and Ooze is great post-wrath (imagine following an opponent's 4 for 1 Pyroclasm with a Company into Ooze and Fauna Shaman). The question is whether this should be sideboard to make more room for other things.
Spellskite: Flat out insane in this meta, where it's extremely relevant as a hate card and protection card against most of the top decks. I'm inclined to run it main since we have Chord, but again, it's a matter of room.
Nykthos, Shrine to Nyx: Can be nutty, but can also feel win-more and hurt our ability to cast a lot of little green dudes. It will require testing.
Based on all that, below is my first draft.
Combo Elves by Sean Ridgeley
Closing Thoughts
I'm not 100% confident in the list as of yet -- I may want some of the unused aformentioned cards in the maindeck, I may want to tweak card counts, I may not want Skite in the main (or I may want more), I probably want to address some different decks with the sideboard or address them more strongly, I may want to sacrifice a little consistency with Company for the explosiveness of Craterhoof Behemoth, I may want to put the Vengevine / Fauna Shaman plan sideboard, I want want to splash white for hatebears, etc.
However, it also feels like a great start that will become more refined after testing (which I'll get in next week once Dragons of Tarkir releases to Magic Online).
In any case, this is the best I've felt about Elves since I began playing Modern, and even if Company doesn't prove to be enough, it's a good stepping stone.