Are you a Quiet Speculation member?
If not, now is a perfect time to join up! Our powerful tools, breaking-news analysis, and exclusive Discord channel will make sure you stay up to date and ahead of the curve.
Modern prices have been rising since the format's birth, but 2015 brought these spikes to new levels. The last six months since the January ban announcement have seen price jumps across the format, both on staple effects and on wild speculation targets. Liliana of the Veil climbed from about $55 to a TCGPlayer average of $98 since January. Snapcaster Mage jumped from $33 to $75 in the same time frame. We saw Blood Moon double from $25 to $50 in about two months and cards like Gilt-Leaf Palace spike almost 1000% overnight. This isn't what many players expected of a format billed as not having "the card availability problems of Legacy", and it has led many player to question Modern's effectiveness.
As a longtime Modern supporter, I see why many people are worried about the relationship between price spikes and longterm format health. Legacy will always be hamstrung by the much-maligned Reserve List, which leaves Modern as the non-rotating format where card availability shouldn't be an issue. Then again, if Modern prices spike so much that they are comparable to Legacy ones, who cares how "available" the cards really are? Why not play Legacy if the formats have similar prices? To answer these kinds of questions, I'll compare the prices of key Legacy decks to Modern ones. This will help us check if you can play competitively in both formats on similar budget, or if one is actually cheaper or pricier than the other.
[wp_ad_camp_1]
Rising Modern Prices
Back in early July, MTG Goldfish published an article showing a 25% price increase in Modern over just the last six months. Price differences ranged from 12%-15% for decks like RG Tron and Affinity, 25%-30%
for Grixis Twin and Burn, and around 60% for Elves and Amulet Bloom. Although some decks held value (Jund only jumped by a negligible 2%), the overall picture was one of increasing Modern prices. This was perhaps most notable in individual card prices, if not necessarily the decks using them. Cards like Snapcaster, Moon, and Liliana rose over 90% (over 100% in Snapcaster's case). Modern Masters may have driven down prices for staples like Confidant (down about 50%) and Tarmogoyf (-25%), but any card excluded from the set skyrocketed in the opposite direction. Modern hallmarks like Inkmoth Nexus, Cavern of Souls, and Aether Vial all saw huge price increases since the Modern community confirmed their MM2015 absence. Even uncommons and commons weren't immune to this effect: see Heritage Druid ($18.50), Might of Old Krosa ($8.99), and the embarrassing Serum Visions ($13.10).
Some players do not find these trends worrisome, or even unexpected. As Modern becomes more popular, prices are virtually guaranteed to rise. It will happen even if Wizards tries to meet
demand with supply increases through reprints and Modern Masters-style sets. This also relates to a classic eternal/nonrotating format argument about the difference between card "price" and card "availability". Did Wizards promise a format to solve card availability issues? Yes! Did they promise one to solve card price issues? Not explicitly, and maybe not even implicitly depending on how you define "availability" (Wizards hasn't). I don't want to get too involved in this argument here and you shouldn't either. Whether or not Wizards acknowledges Modern prices as a problem, the community is certainly worried. We all know players who don't care how "available" a Tarmogoyf is if it's still about $150. This article assumes that rising prices are a potential source of worry, especially for those who fear for Modern's longterm health.
Legacy vs. Modern Prices: Tier 1 Decks
Because Wizards isn't going back on the Reserve List, no matter how many reddit, Source, and Salvation players argue otherwise, Legacy will continue to have reprint issues. That's bad news for Legacy prices. Unless the format gets less popular or someone discovers a bunch of Revised boxes in their basement, it means cards like Tropical Island and Tundra are unlikely to fall too far below $180 in the near future. But as we saw in the section above, Modern prices are also rising fast, with some cards already reaching Legacy levels. This leads us to ask: should we all just be playing Legacy instead? Or, stated another way, is Modern secretly just as expensive as Legacy (especially with all of the recent spikes)?
To help answer this, I compared deck prices between the two formats. For Modern, this meant the current list of tier 1 decks from our Top Decks page, which was just updated last week (I added Abzan to this article because its position and Jund's are somewhat interchangeable). Looking to Legacy, I used The Source's "Decks to Beat" list, focusing on their most recent July 2015 update. I wanted to compare tier 1 decks because these are the most reliable finishers in both formats. Every format has cheaper outliers in tier 2 and lower, but as an entry-level player into the nonrotating scene, you are probably going to start with a more established, tier 1 option. We already know Modern prices are up since January, and this analysis will help us see how those prices compare to Legacy.
To select representative lists, I took the highest-finishing deck from the largest event within the last 1-2 months. This was done both to reflect the "best" deck, and also the deck a player was mostly likely to build after netdecking a list. All prices reflect the TCGPlayer middle prices and include sideboards (we'll exclude them later too).
Legacy Tier 1 Deck Prices: Baseline
Average Legacy deck price: $2729.36
Average Legacy card price: $33.61
Legacy deck price low: Death and Taxes ($1816.06)
Legacy deck price high: Sultai Delver ($3438.04)
Modern Tier 1 Deck Prices: Baseline
Average Modern deck price: $1215.53
Average Modern card price: $13.72
Modern deck price low: Burn ($594.24)
Modern deck price high: Jund ($1922.47)
It doesn't take a lot of analysis to see the huge difference between Modern and Legacy prices. The average tier 1 Legacy deck is more than twice as expensive as the average Modern one. This is also true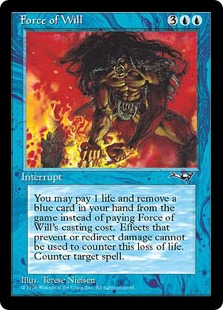 of the average card price in those two formats. Modern has some expensive outliers with Legacy-level prices, namely Jund and Abzan, but those decks are still cheaper than seven of the other eight decks in Legacy's tier 1. On the Modern side of things, Liliana of the Veil and Tarmogoyf are two of the biggest contributors to high deck prices. It's no coincidence that the two most expensive Modern decks are also the only two tier 1 Modern decks to play Goyf. Legacy is more mixed, with expensive cards sneaking into decks no matter what strategy they are playing: Show and Tell, Force of Will, and Wasteland all add up over the different lists. On its own, this table handily discredits the argument about Modern being as expensive as Legacy, but we also want to dive deeper to address some other takes on the debate.
A common objection to this analysis concerns the inclusion of dual lands. Cards like Tundra, Underground Sea, Volcanic Island, and the other original duals are some of the most expensive cards in Legacy, and they can artificially trend decks towards higher valuations. To account for this, I recalculated all of the Legacy deck prices excluding their dual lands. This scenario assumes you have a supply of shocklands on hand, or maybe just borrow duals from a Legacy buddy. I'll add in the old price columns as a point of comparison, along with the percentage change.
Legacy Tier 1 Deck Prices: No Duals
Deck
No Duals
Overall Price
With Duals
Overall Price
Duals to No
Duals Change
No Duals
Avg Card Price
With Duals
Avg Card Price
OmniTell
$1522.07
$2051.17
-26%
$20.22
$28.36
Miracles
$1589.92
$2977.42
-47%
$23.23
$37.09
Grixis Control
$1176.26
$3059.46
-62%
$15.44
$31.34
Jeskai Stoneblade
$1532.70
$2853.60
-46%
$22.97
$35.60
Temur Delver
$1834.74
$3278.62
-44%
$21.91
$42.42
Death and Taxes
$1816.06
$1816.06
-0%
$21.37
$21.37
Sultai Delver
$2065.87
$3438.04
-40%
$28.23
$41.16
UG Infect
$1630.96
$2360.52
-31%
$26.96
$31.53
Average Legacy deck price (no duals): $1646.07
% change from with-dual prices: -40%
Average Legacy card price (no duals): $22.54
% change from with-dual prices: -33%
Removing duals knocks a huge chunk out of the Legacy deck prices. Death and Taxes obviously wasn't going to benefit much from this, but every other deck enjoys at least a 26% price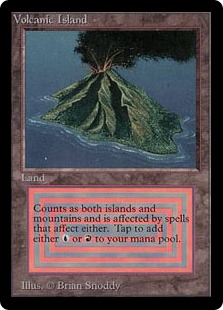 reduction. Grixis Control is the big winner here with a 62% price drop: that's the price you have to pay for those 4 Volcanic Islands and 2 Underground Seas. Comparing between formats, this makes seven of the eight tier 1 Legacy decks cheaper than two Modern options: Jund and Abzan. With the exception of Legacy's Grixis Control, all of the Legacy decks are still more expensive than the non-BGx Modern ones. Even the expensive Twin decks beat out the Legacy Ux strategies, and that's after removing the Reserve List posterchildren. This table shows both the price issues with Legacy that exist beyond the dual lands alone, but also just how much those dual prices affect Legacy decks. 40% of a tier 1 Legacy deck's cost is bundled in the 4-8 duals alone, which is a price issue Modern doesn't share.
What about sideboards? For all you budget-minded players out there, trimming expensive sideboard staples is a great way to cut deck costs. As an example, cutting that Fulminator Mage playset out of your Jund, Abzan, or Grixis Control sideboard can save you about $80 on your deck. Or take Legacy's Flusterstorm, which will cost you roughly $65.40 per copy. Here are the Legacy and Modern baslines again, recalculated to exclude sideboard cards.
Legacy Tier 1 Deck Prices: No Sideboard
Average Legacy deck price (no sideboard): $2481.11
% change from with-sideboard price: -9%
Average Legacy card price (no sideboard): $43.22
% change from with-sideboard price: +28%
Modern Tier 1 Deck Prices: No Sideboard
Deck
No Board
Overall Price
With Board
Overall Price
Board to No
Board Change
No Board
Avg Card Price
With Board
Avg Card Price
Jund
$1791.59
$1922.47
-7%
$23.98
$18.75
Affinity
$605.99
$759.41
-20%
$10.04
$9.68
Burn
$560.83
$594.24
-6%
$9.03
$7.13
Grixis Control
$1001.40
$1188.10
-16%
$14.55
$13.48
Grixis Twin
$1061.85
$1229.10
-14%
$15.24
$13.94
UR Twin
$1171.76
$1311.72
-11%
$17.75
$15.72
RG Tron
$697.72
$800.51
-13%
$12.98
$11.99
Abzan
$1791.90
$1918.67
-7%
$24.88
$19.05
Average Modern deck price (no sideboard): $1058.38
% change from with-sideboard price: -10%
Average Modern card price (no sideboard): $16.06
% change from with-sideboard price: +17%
For the most part, sideboards make up about 10% of a deck's total cost, which makes them a quick way to save money on your tier 1 investment. Unfortunately for both formats, 10% isn't that much in savings,
especially if you are comparing between Modern and Legacy. We can see a big reason for this in the average card prices, which actually increase when you exclude sideboard cards. This is because sideboard cards (with a few exceptions like FoW and Karakas in Infect or Moon in Twin) are relatively inexpensive. Another factor is how people build sideboards, which leans towards singleton bullets and not playsets. When you're only running one Blood Moon instead of three, that's $100 back in your wallet. Even cutting all the Legacy sideboard cards, the deck cost average is still twice that of Modern (assuming we leave in the Modern sideboard cards). Both formats see some standout sideboard-savers like Infect in Legacy (which drops to Modern Jund/Abzan price levels) and Affinity in Modern (enjoying a 20% price drop down to Burn levels), but most sideboards aren't taking up a big enough share of deck price to matter.
Summary Statistics and Conclusion
Before we wrap up, here's a quick breakdown of all the different deck and card-price averages we looked at today. My big takeaway is that no matter how we cut up the Legacy decks, they are always more expensive than the Modern ones (and many of those cuts don't even make a lot of sense to begin with).
Category
Average
Deck Price
Average
Card Price
Legacy Baseline
$2729.36
$33.61
Modern Baseline
$1215.53
$13.72
Legacy: No Duals
$1640.07
$22.54
Legacy: No Board
$2481.11
$43.22
Modern: No Board
$1085.38
$16.06
There are likely other ways to break down the Legacy vs. Modern price issue, but this one is strongly suggestive of a real difference between the price of these formats. Modern's prices may be increasing, especially in the last six months, but they are still a far cry from Legacy's.
What are some other ways you would like to see this price issue analyzed? Any other datapoints you think should be included? Other conclusions to draw? Thanks for reading and until next time, don't forget the evidence when making your claims!