Are you a Quiet Speculation member?
If not, now is a perfect time to join up! Our powerful tools, breaking-news analysis, and exclusive Discord channel will make sure you stay up to date and ahead of the curve.
This metagame update almost didn't happen. With a banlist announcement coming up in just two weeks and a new midrange deck redefining the online metagame, it felt silly to analyze a format that is sure to be radically different before January even ends. I changed my mind after sitting down and going through the numbers. Although Modern is undergoing dramatic shifts with more to come depending on the January 18 update, metagame changes are already underfoot and we'll want to identify them before that fateful Monday. Besides, there are still almost two full weeks of Modern until the DCI makes its statement, and December's trends will certainly be at play over that time period.
We already saw some subtle but important movement in November's metagame breakdown. RG Tron and Amulet Bloom solidified their status as Tier 1 contenders, replacing linear alternatives like Infect and Merfolk. Meanwhile, Grixis evolved from its control roots into a midrange future, some fairer Tier 2 decks fell off the radar, and Retreat to Coralhelm staked a claim. Also, Zoo. Lots. Of. Zoo. Today, we'll track these November trends into December, see how they fared throughout the last month of 2015, and theorize about where they might lead into 2016. To reflect the New Year transition and the upcoming January changes, I'll spend less time on December and more on projections about where Modern will go from here.
[wp_ad_camp_1]
Tier 1 Decks
Despite some high-profile StarCityGames showdowns, a handful of large Italian and Japanese tournaments, and a regular spattering of mid-size regional events, December was a relatively quiet month for Modern. We only tracked 55 total paper events in the month, down almost 50% from both our November and October datasets. Collection was much more robust on the MTGO side, where we saw 55 events, almost 500 decks, and the biggest MTGO sample since Wizards upended the online community with its summer Daily and Premier changes. The MTGO data even included both a MOCS and a Premier, better-attended venues that fittingly saw December's breakout Tier 1 performer in their Top 8s. But, spoiler alert, more on Mr. Siege Rhino later...
Because December featured no true "major paper events" (i.e. an Open, a Grand Prix, or a Pro Tour), we are recycling the GP Pittsburgh Day 2 stats for the current breakdown. We're also jumping ahead to January to add in the SCG Cincinnati numbers to this update. Although the Cincinnati Open wasn't in the 12/1-12/31 date range, it makes qualitative sense to include it. First, its inclusions shores up our sample, compensating for the lower paper N. Second, December's trends were hard at work during the Open, so we only gain information by adding them.
With all that in mind, here are Modern's Tier 1 decks for December. As always, Tier 1 decks are defined as those strategies which you are very likely to encounter in a tournament. You need to test against these decks to prepare for any event, and you are in big trouble if your deck of choice fares poorly against the Tier 1 testing gauntlet.
Deck
Overall
Metagame %
MTGO %
Paper %
Major Event
Day 2 %
Affinity
8.3%
6.8%
7.2%
10.2%
RG Tron
6.9%
4.8%
4.9%
10.1%
Jund
6.6%
6%
5.8%
7.7%
UR Twin
6.2%
5%
6.5%
6.5%
Burn
6%
6.8%
4.9%
6.6%
Abzan
5.2%
5.8%
4.9%
5.1%
Amulet Bloom
4.2%
4.1%
3%
5.5%
Whoa, deja vu. Six of those seven decks are identical to those we saw in November's update, which suggests a stable metagame where format pillars continue to stand. This is in stark contrast to the October-November transition we observed a month ago, when the linear shuffle was in full force and ramp decks cemented their Tier 1 footing. The big exception to this is Abzan. As we'll see in the trend table below and talk more about after, Jund's jealous brother returned into Modern's highest echelon, a change that both signaled a big shift in December and forecasts further movement to come down the road.
Deck name
Meta% change
(Nov. to Dec.)
Meta%
(12/1-12/31)
Meta%
(11/1-11/30)
Meta%
(10/1-10/31)
Meta%
(9/1-9/30)
Affinity
-.3%
8.3%
8.6%
9.3%
11%
RG Tron
+.7%
6.9%
6.2%
5.5%
5.1%
Jund
-1.1%
6.6%
7.7%
8.7%
7.9%
UR Twin
+.7%
6.2%
5.5%
4.5%
3.4%
Burn
-2%
6%
8%
7.8%
7.5%
Abzan
+2.3%
5.2%
3.9%
3.8%
5%
Amulet Bloom
-1%
4.2%
5.2%
4.1%
3.7%
Stupid Burn, torpedoing my projection from last month's article. You can be sure that's the last time I bet against Affinity. With the exception of Affinity, all of the Tier 1 decks bobbled around between -1% and +1%, which is to be expected in any metagame period especially an off-month. Don't read too much into any of these trends. That is, any of them except Abzan. Abzan's resurgence (Jordan, toss me a Voice of Resurgence pun!) is a major Modern coup that, if sustained, will have huge implications for 2016.
Building off those numbers and the themes we've already described, here are some of the narratives we need to keep in mind when considering December Modern.
URx Twin is still the king at 12.5%
Don't know what else to play or prepare against? There's always Twin. December saw UR Twin return as the frontrunning weapon of choice for blue mages who want to compete against linear strategies. The URx Twin collective remains primarily split between UR Twin (6.2%) and Grixis Twin (dropping slightly from November to 3.8%). Jeskai (up to 1.5% after Bianchi's win at Pittsburgh) and Temur (just 1% and out of Tier 2) make up the remainder. Expect to see this share drop a bit as Tron adds more maindeck Spellskites, BW Eldrazi keeps making waves, and Abzan proves it's where BGx players want to be.
Tron is going nowhere
It's no coincidence Jim Davis chose RG Tron as his Modern champion for the SCG Players' Championship, and it's also no fluke that he took the event. This has just been a big month for Tron. SCG Cincinnati was the first Modern event ever where RG Tron had the highest Day 2 metagame share, just as December generally was the first month where the Urzatron rose to second most-played Tier 1 representative. Fulminator Mage and Crumble to Dust have put in major legwork to keep Tron at bay, but the deck has shown remarkable resilience to this hate while also not exceeding unhealthy shares. I expect the strategy's share to increase in 2016 as more players try Bx Eldrazi (a rough matchup for the midrange-ramp hybrid), but also to stay under control as sideboards get better at respecting the dangers of turn three Karn Liberated.
Abzan's rise, Jund's fall?
December's big story was Jund dipping 1.1% and Abzan vaulting off that dropped share to rise 2.3% points to 5.2% of the format. The change was most apparent on MTGO, where Abzan currently sits within .2% of Jund. To some extent, this reversal is an odd turn. Jund is much better against the rising Tron decks than its BGW alternative: Jund gets more from Dark Confidant plus Kolaghan's Command-recurred Fulminators than Abzan gets from Path to Exile trumping Lightning Bolt. This suggests there are more pressing metagame influences driving Abzan's surge than just Tron. The first of these appears to be Jund itself. Abzan is known for beating up its older sibling, and with players growing complacent around Jund's foothold, it was high time Abzan struck back. A second reason is Lingering Souls, which wrecks Jund, grind-oriented Grixis, and Twin players who are accustomed to the 50-50 slogfest against BGx. Add Eldrazi and Affinity to the picture, the former eating Bolts and Commands for breakfast and the latter succumbing to Stony Silence, and it's no wonder Abzan is edging in on Jund's Tier 1 territory.
In addition to these themes, remember that Affinity is now and will forever be the best aggro deck in Modern (and, unlike me, you shouldn't gamble against it in predictions). I'll touch on Burn a bit at the end of the article, but for now, it's enough to know Burn's fortunes are heavily dependent on sideboard choices and how the red mages shift along the Burn and Zoo spectrum. Red Deck still Wins in Modern and will always be present, but it lacks the raw power of Affinity which enables the artifacts to more consistently stay at the top. As a final note, Amulet Bloom sticks around Tier 1 for yet another month, again proving it's a force to be reckoned with in a metagame that should be policing it better.
Tier 2 Decks
We're tracking fewer Tier 2 entries in December than we saw back in November. Last month's insane 15 options has narrowed down to 12, with a number dropping down below Tier 2, some migrating up to Tier 1, and others rising up from the (de)void. Just as a reminder, Tier 2 decks represent those strategies which are viable and competitive in most tournaments, but not necessarily decks you will encounter. Skip your Tier 1 testing at your own peril. Missing out on those Tier 2 tests, however, is generally okay so long as you know how the decks work and don't make cataclysmic misplays like forgetting Infect plays Vines of Vastwood or Abzan Company can Chord of Calling into an active Spellskite.
Deck
Overall
Metagame %
MTGO %
Paper %
Major Event
Day 2 %
Grixis Twin
3.8%
2.3%
3.7%
4.8%
Infect
3.7%
5.0%
3.7%
2.9%
Merfolk
3.6%
3.5%
4.6%
2.7%
Scapeshift
3.1%
2.1%
3.2%
3.7%
Abzan Company
2.5%
1.9%
3.0%
2.3%
Naya Company
2.3%
1.2%
2.1%
3.2%
Living End
2.2%
2.9%
1.9%
2.2%
Grixis Midrange
2.0%
2.1%
1.6%
2.5%
Bogles
1.8%
2.1%
2.6%
0.9%
Ad Nauseam
1.8%
1.7%
2.3%
1.4%
Eldrazi
1.6%
3.5%
0.0%
2.2%
Jeskai Twin
1.5%
0.6%
2.6%
1.0%
Gone are Grixis Control, Gruul Zoo, Knightfall, Temur Twin, and Elves. In their place, we see Jeskai Twin make its way to Tier 2 for the first time in Modern's history, Grixis Midrange officially evolve from its Cryptic Command origins, and holy frikkin Blight Herders. With the exception of Bx Eldrazi, all of these changes are par for the course in a month of Modern. We'll see at least some of them reverse in the coming months (I fully expect Temur Twin to return), and others might be more of a metagame call than anything else (Grixis Control/Midrange is more of a continuum of options than two distinct decks). Instead of discussing those changes, which will continue to fluctuate into 2016, I want to take a moment to talk Eldrazi.
I made a New Year's resolution in yesterday's article to test first and board hype trains later. I've done the testing on both sides of the table and I'm here to report that Bx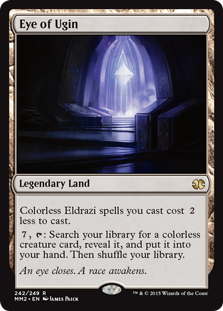 Eldrazi is the real deal. Is it as broken as many online ban maniacs and Chicken Littles attest? Certainly not in its current form, which many of those detractors would know if they tested before they typed. Is it still a powerful deck with strong matchups and a natural format niche? Better bet your foil Eye of Ugins it. The midrange/ramp hybrid has all the markings of a Tier 2 regular and I fully expect to see it in multiple metagame updates throughout 2016. It might even ascend to Tier 1, but let's not get too far ahead of ourselves. As I wrote about on Monday, BW Eldrazi is probably the tastiest of Eldrazi's many flavors, but the verdict hasn't been finalized yet. Prepare for a few months of every Bx(x) Eldrazi permutation under the Magic suns. When the dust settles, at least one variant will emerge victorious and we'll have our newest Modern mainstay.
Be ready for the Eldrazi in 2016. From a game perspective, this means knowing how to beat the deck and knowing how it works. If you think your Remands are going
to stop those Blight Herders, then hover over the Eldrazi again just to save yourself the tournament embarrassment. From a deck perspective, you need to know what Eldrazi beats and what Eldrazi fears. Jund, Abzan, and Grixis are food for the hungry-hungry processors. Same with anything that relies too heavily on graveyards, or decks that get choked out by the turn two Wasteland Strangler blowout. On the other hand tentacle, Burn, Merfolk, Affinity, and RG Tron are its natural enemies. Finally, from a format perspective, know how Eldrazi will affect the metagame. If BGx and Grixis decks take a dive, what gets better and what gets worse? If the metagame adapts with more blitz aggro decks, what gets better? You'll need to tackle all these questions as we move into 2016 and prepare for a new year of Modern.
Of course, there's that pesky X factor of bans and unbans. I'll save that for another article but some of the possible (dare I say, probable?) changes will have sweeping effects on Modern. But it's too early to think about that today.
Metagame Predictions for 2016
I'm still kicking myself for thinking Burn was going to surpass Affinity. The robots had been crushing it for months before the update, and I'm not sure what factors I imagined could alter that narrative. Thankfully, 2016 is here and the prediction slate is wiped clean. 2015 also wasn't as bad as that Burn forecast might make it out to be. Over the year, I made 22 total metagame predictions over ten articles spanning February through November. I got 15 of them right and seven wrong, for a respectable 68% accuracy rate. Thank Ulamog I'm doing much better than a coin-toss!
Before we get into the January and year-round prognoses, here's a final word on Burn and Affinity, and a great lesson for 2016.
Burn will surpass Affinity? Nope. 
Repeat after me: never bet against Affinity. I've used that phrase earlier in 2015 to describe other decks, but I think this is my most appropriate use to date. Affinity has been Tier 1 for every update of 2015, and has been the best aggro deck in every period since August. That's a five month reign, despite players knowing exactly what Affinity would do and packing the sideboard cards to handle it. Despite that, Affinity still managed to be on top. Not so with Burn. The red deck's fortunes have risen and fallen as players prepare for it with more impactful sideboard cards and shifting game plans. There are certainly metagames where Burn will be better than Affinity, but they are very rare and probably very isolated. As a whole, Affinity's power level will always keep it a head above the Lava Spikers. Also, somewhat miraculously, Affinity managed to keep this spot without ever reaching toxic metagame shares. It only exceeded 10% of the format once and hasn't been higher than that since August. This shows the deck is both powerful but also containable, a true format pillar we should always expect.
Time to turn to 2016 and lay out a possible roadmap for where the metagame might take us in the New Year. It was surprisingly difficult to make meaningful predictions for the whole year: there's just so much that can happen between now and February, let alone now and December. Without bringing banlist and reprint speculation too much into it, here are some short and long-term possibilities for the next 12 months.
Short-term: Bx Eldrazi hits Tier 1
Between Monday's article and today's, I've already talked Bx Eldrazi to death (although I promise I did my homework and testing before boarding this hype train). I promise this is the last one for day. Based on the deck's current trajectory, I see this strategy temporarily pushing into Tier 1 as pilots climb aboard and opponents keep forgetting how to beat it. After a brief stint in the topmost tier, it should fall back to Tier 2 as the metagame reacts. Expect endless banlist mania and whining in the interim.
Short-term: Abzan surpasses Jund
Abzan and Jund always swing back and forth, and I'm seeing enough pre-trends pointing towards an impending reversal. Two other shifts are going to seal this transition. First, the metagame is becoming decreasingly Bolt-friendly, which is always the first sign of an impending Jund downfall. Infect and Merfolk are out of Tier 1. Tron and Twin are at the top of the format. Eldrazi (they're back! sorry!) don't even care. With the quantitative datapoints aligning with this more qualitative analysis, I don't see Jund surviving for long. Second, I have a sneaking suspicion Amulet Bloom isn't long for this format in its current form. This dramatically diminishes the relevance of Blood Moon in the top-tier, which is one of Jund's biggest edges over Abzan. I'm still going to play the enchantment, but this banning will eliminate one of the more obvious reasons for others to play it, so this should seal the switch in the short-term.
Long-term: Modern gains another Tier 1 blue-based control deck
Twin aside, Modern's Tier 1 continues to lack a real blue deck to control the format. Part of this is because Modern has odd dynamics where traditional midrange and control decks aren't always the best policemen. Aggro is sometimes the regulator. Or ramp. That said, control decks still take on an important metagame role, regulating certain types of aggressive and synergy decks better than anyone else. These decks have been absent in Modern for a while, even if Grixis players tried mightily before ditching countermagic and shifting back midrange, and I think 2016 will be the year this stops. Whether through unbannings (Sword of the Meek! Ancestral Vision!), reprintings (Fact or Fiction?), or new cards (a Force of Will variant Twin can't use. Design it, Wizards!), something will enter Modern to push control in the right direction.
Long-term: Modern will retain its four format pillars through 2016
URx Twin, BGx Midrange, Affinity, and Burn: these are the central cores that power our format and keep the Modern Force in balance. We might see different variants of these decks (whether competing Twin types, Jund vs. Abzan, or the countless Burn hybrids), but these fundamental strategies are still the defining drivers in Modern. I don't see this changing in 2016, which sounds more conservative than it is. Wrapped up in this prediction is a guess at no major bans aimed at these decks, no major new cards to dethrone them, and no periods of time where all of them aren't viable at major events. Non-rotating formats depend on these reliable pillars, and 2016 should be a year where we can count on playing with them and against them. If Wizards undermines this with the January 18 announcement, their change in tone will have reverberations well beyond my prediction accuracy rate. I'm banking against it though.
I want to thank everyone for a great 2015 on the site and for all your support of both Modern Nexus and Modern more generally. We couldn't do it without you and we're all pumped for what 2016 has to offer. Especially if that offering is Innocent Blood!
Surprisingly creepy closings aside, that's all for our December metagame breakdown and our 2016 predictions. What trends did you observe in the 12/1-12/31 data? Any decks you have on your radar for January? What about broader themes you are looking forward to in 2016? I'll be checking the comments to respond to all of you and hope you enjoyed our metagame closeout piece for 2015!