Are you a Quiet Speculation member?
If not, now is a perfect time to join up! Our powerful tools, breaking-news analysis, and exclusive Discord channel will make sure you stay up to date and ahead of the curve.
Today I will attempt to outline my perspective on the recent Modern bannings, and hopefully provide an interesting counter-argument to the general emotionally charged language running around the Internet. As always, my opinion is my own, and I present it to you not in an attempt to argue or sway others to my side, but rather to inform, as best I can, regarding the process that leads me to my opinions. My opinion, yours, and everyone else's are all equally respected and valued, with the caveat that they originate from a foundation based on fact, with as little bias as possible. My goal for this article is not to change minds, but rather to provide insight into the formative process of a constructive opinion.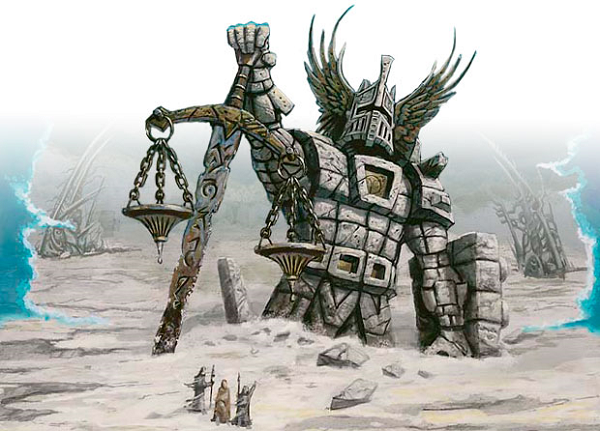 Who defines "balanced"?
Most of my points will center around rhetorical questions, because if the goal here is to be as unbiased as possible, I have to admit that I don't know the right answers. Instead, the best I can do is posit questions and attempt to answer them as best as I can. Magic players (of which I consider myself a member) often throw around the term "balanced" to the point that it has become a buzzword that carries no real meaning.
[wp_ad_camp_1]
In the context of a format of Constructed play, balanced can mean many things. Return to Ravnica block Standard was widely considered a highly "balanced" format, with Mono-Blue Devotion, Mono-Black Devotion, and U/W Control each sharing prominent positions at the top tier. While these decks were solidly better than the rest of the field, they were comparable in power level to each other. Without a clear "best deck", tournaments in this time period were approached with the notion that multiple archetypes were capable of taking home the trophy.
Players that enjoyed the intricacy of deckbuilding and gameplay defining RTR Standard would undoubtedly define that format as "balanced". Players not interested in playing one
of the "Big Three" would disagree, saying the power level gap between Tier 1 and 2 was too wide. So who is right? Without a clear, definite set of outlined rules and characteristics to define a format's identity, there really is no way to distinguish a format as being "balanced" or not. While highly valuable, weeks and weeks of metagame information, statistics, and long-winded semantics by content writers can only move the discussion so far, at which point we reach a horizon where all that information falls away, leaving only opinion. Is a three-archetype Tier 1 balanced? What about a Tier 1 that contains five archetypes? What about when Tier 1 contains two archetypes, but Tier 2 contains 20 different decks, each capable of beating one of the top-tier decks with the right planning? Can you truly answer those questions with any certainty, while at the same time removing all bias and prior opinions from the equation?
What exactly does a "healthy" format look like?
This topic shares similarities to the previous discussion on "balanced", but it's important to distinguish the differences between the two. Can a format be healthy without being balanced? Vice versa? What characteristics must a format have to be considered healthy? Is it format diversity? Room for variation regarding card choice and deck selection? Or something else entirely?
Innistrad Standard, due primarily to the presence of Vapor Snag, required almost every creature to boast an enter-the-
battlefield effect to even be considered playable. With only a small percentage of creatures in the available card pool actually "viable" for tournament play, can we call Innistrad Standard healthy? Delver decks were definitely powerful, but so were Zombie decks, R/G ramp strategies, and many others. In my opinion, the "healthy" stamp of approval changes frequently, and can be influenced by public perception, metagame shifts, and new cards entering the pool. The Modern format where almost every deck had to find a way to play Aerial Responder/Preordain was considered unhealthy. Why? It both increased the velocity and consistency of decks that employed those cards and put unnecessary pressure on other strategies to keep up. Normally, the feeling of being "punished" by not playing a certain card or strategy is a solid indicator that card or strategy is unhealthy.
What is the long-term goal of a format?
As competitive players interested primarily in playing and winning games, we often focus only on the present, or perhaps the near future, when thinking analytically about a format.
Is Affinity overpowered right now? Am I forced to play Blood Moon in my sideboard or die? Is playing any archetype other than Amulet Bloom this week a bad choice? If you answered yes to any of these questions, call the format police immediately!
One thing we must remember is that format conditions are constantly in flux. We can all remember weeks where Affinity was Public Enemy #1, where we had to make room for
extra copies of Blood Moon in our sideboard, where the top tables of an event were seemingly nothing but Infect. Every single week, conditions shift to a point where the right archetype, the right 75 can absolutely dominate an event. Stanislav Cifka destroyed an unprepared field with Eggs, a deck that while strong, was by no means overpowered. The matches weren't even close. Justin Cohen did the same thing with Amulet Bloom. While both of those decks ended up being banned, in Eggs' case it was due to tournament logistical issues, and the jury is still out on the Amulet ban. The point to take away here is that the snapshot of a format on any given week could be argued as being "unhealthy" in one way or another. Intervention becomes necessary (or at least justified) when these conditions stretch beyond a certain period of time. Jund was top dog for too long, as was Birthing Pod.
Can you remember a time where you didn't have to go back and change your sideboard because you have no way to kill a Deceiver Exarch through a Spell Pierce? When you chose Nature's Claim over Creeping Corrosion because it hits Splinter Twin too? When Spellskite was arguably the best sideboard card in the format for any deck because of its myriad uses, primarily against Splinter Twin and Infect? Since the creation of Modern as a format, Splinter Twin has been there, and players have been scheming and playing against it forever. Is four years enough time for a deck to be on top (or close) before it is pushed aside for something else to take the spotlight? Who decides?
Wizards' Objectives
Wizards of the Coast is not evil. Regardless of their handling of Magic Online, they are also not stupid. As a rational adult speaking to other rational adults, I shouldn't have to provide that disclaimer, but reading some comments on the Internet has me wondering. While they are a business with the primary motivation of making money, that doesn't mean they are some evil corporation plotting and scheming to stab us in the back and twist the knife while we cry out for help. Name one successful business that is actively trying to piss its customers off. Wizards of the Coast obviously believes they are making the best decision possible, so before yelling and screaming, let's try and figure out where they're coming from. Whether that changes your opinion on matters or not isn't important, but at least we'll then have something more constructive to add to the conversation than "we can't trust WotC to do what's best for the format" (an actual comment).
We've established Wizards is interested in making money, as they are a normal business and not insane. Wizards does this by selling cards, and bringing new players into

the game so they can then sell them cards. Arguably the best platform that Wizards uses to market their game is the quarterly Pro Tour events. Regardless of what we may think, regardless of how much we lament the poor commentary, the Pro Tours exist not for the professional players, not even for us, but rather for new players and those unfamiliar with the game. Wizards works extremely hard to craft a particular narrative and generate interest in these events, as their cost of operation is high, and the stakes even higher. A Pro Tour that nobody cares about will generate no interest, and potential new players will go back to playing Hearthstone instead of buying into and growing this great game of ours. More than almost anything, I believe Wizards is terrified of new players coming into Twitch chat, seeing a thousand variations of "Standard sux" and "ResidentSleeper" and heading back to whatever they were doing before.
Wizards has a heavily vested interest in crafting format interest year round, and this process is heavily exacerbated by the spotlight that the Pro Tour places on the mystical definitions of "format health" and "balance".
A while back, Wizards of the Coast attempted to make the move to remove the Modern format from the Pro Tour circuit. While the language surrounding this was unfortunately unclear and relatively poorly handled, their motivations for this change came from the understanding that Standard Pro Tours are vastly more interesting for the majority of the existing player base and almost all new players entering into the game. New players start with Standard first, and some eventually make the move into Modern. To a new player, the complex Modern interactions on-screen can be daunting and downright scary. It sounds silly, but seriously put yourself in a new player's shoes and attempt to figure out what is happening when one player suddenly casts Primeval Titan on Turn 2, or makes a million 1/4's, or cascades into Living End, or casts Scapeshift.
We've established Wizards is heavily interested in public perception heading into these spotlighted events. Modern, as a non-rotating format, has the unique danger of becoming
"stale", where most entities are already known and flashy "new tech" is rare. New players (and whether we admit it or not, most of us) are not interested in hearing commentary for an entire weekend about the intricacies of the top archetypes' specific deck composition. It's much more exciting to hear about the new Amulet Bloom deck, or storylines about the scrappy underdog decks attacking the big players. Those unfamiliar with production might not realize that a lot of time and effort goes into finding and nurturing storylines and talking points for any big event like the Pro Tour. You see it during NFL playoff games. You see it at the Olympics. As humans, we are drawn to the drama of the stage, and it's the commentators' jobs to cultivate this interest if possible. Pay close attention to this Pro Tour's commentary, and you'll hear the re-iteration of a few talking points over and over. Wizards is trying to tell a story with these events, and they can't do that if the story is "all these decks are the same as last year".
Sinister Motivations?
This brings us to now. Whether we agree or not, Wizards feels strongly that Splinter Twin's performance and effect on the format for the past four years have been significant enough that they would like to move forward without the Twin strategy. I hope players understand the Pro Tour influences the timing of bans only, and not the subject. Splinter Twin and Summer Bloom weren't banned because a Modern Pro Tour is coming up and Wizards wants to "shake things up".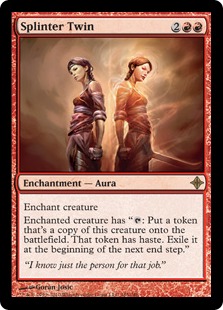 Twin and Bloom were banned because of the quantifiable effect that they were having on the format, and if a ban has to happen then timing that ban right before a Modern Pro Tour helps to craft an interesting narrative.
It's important to make that distinction because many players are of the opinion that "if this is how it's going to be then I'd rather not have Modern Pro Tours". While it is possible that Wizards would be more "lenient" in terms of letting Splinter Twin last longer in the format were a Pro Tour not taking place soon, I still believe Splinter Twin and Summer Bloom would have been banned eventually. Removing Pro Tours from the Modern repertoire of events does lessen the spotlight on the characteristics of the format by a significant amount, but in my opinion would do more to hurt the format than help it. I feel this way because when Wizards makes a public statement, I read it. Splinter Twin wasn't banned to make the Pro Tour more interesting, it was banned because it was having a negative effect on the format in Wizards' opinion. In the interest of format diversity, Splinter Twin is banned. Just because a side effect of this ban results in a more interest Pro Tour, we shouldn't be grabbing our pitchforks.
Needs of the Many or Wants of the Few?
So, I'll restate: Wizards is attempting to generate more interest in a format in an attempt to craft an enticing narrative to bring new people to the game. While it's difficult to quantify hypotheticals like this, let's try for just a minute. If Wizards' banning attracts 1,000 new players into the game, but forces 1,000 players into changing their preferred deck from URx Twin to something else, is it worth it? Ex-Splinter Twin pilots would undoubtedly say no, but step away from bias for a second. Would your opinion change had you not been playing Twin before? If so, why, and if not, why not? While there are definitely a lot more than 1,000 Splinter Twin pilots out in the world, does that number change anything? What if it was 1,000 new players at the cost of 15,000 Splinter Twin pilots? I'm sure you could expect some of those players to quit, but what about the undefined other ex-Modern players out there disenfranchised with the format that might be convinced into picking up a deck now that it looks like things will shift around a bit?
How much value should we place in "value"?
I could write a whole article on this topic, but I'll try and keep it concise. I'll preface this topic with a disclaimer that I have no paper magic collection, but have had substantial collections many times in the past and know full well the heartbreak associated with losing a deck to banning (I had just finished building Pod when it was banned). Get your pitchforks ready, because in my opinion, arguing about value gains and losses is irrelevant to the big picture.
Magic is an expensive game, as we all know, but many of us delude ourselves with the notion that we can play for free, or somehow cheat the system and get our money back.
We pay money for cards, and once we make that exchange, we should let go of that notion of "worth" while those cards are in our position. I have trouble sympathizing with players upset with the falling values of Splinter Twin and Scalding Tarn. You bought/traded for those cards to play with them. Were you ever intending on selling them? Had the bannings not happened, were you planning on selling those cards next week? Does it really matter that card values rise/fall while they are still in your collection? A $15,000 Magic collection is not worth $15,000 while the cards are sitting in your binder. Their worth is defined entirely by the value that you associate with their usage, not some number a few websites put next to a card image online. Anyone that's actually sold out of a collection will know that they can only ever get 50-60% of that glorified "retail" price anyways, unless they have some connections or are willing to do a lot of work.
I spent $399 for a Playstation 4 at launch. I paid a buddy $40 to wait in line for me in the freezing cold to get it at midnight because I couldn't go
myself due to a work commitment. I bought Battlefield 4 at launch for $60, along with a few other games. The value of that game system, and those games, and the hours I spent playing them is not equal to what I paid for them, or what they are worth today. When Sony announced a price drop from $399 to $299, when I noticed Battlefield 4 going for $30 on Amazon, I didn't lament my "lost value". I paid for the product because I wanted to enjoy it. I cheered for the price drop because it meant more people would buy the system, which means more games, more potential friends, and the promise of a brighter future for the console as more developers work to create games for the influx of gamers. I eventually got tired of Battlefield 4 and moved on to other games. I don't look at Battlefield 4 on my shelf and consider it worthless because I don't play it anymore. I've no intention of calling EA and demanding they do something to help me recoup my lost "value".
The way Magic players hold on to this notion of value to justify their hefty expenditures is understandable, but comes from a state of mind that is desperate to hold onto some semblance of control. An exchange of goods for goods is, by definition, an act of relinquishing control of one good in exchange for control of another. By all means, please continue this discussion of what is best for the community and the game at large, but leave your personal motivations regarding your unique perspective on card worth out of it.
Conclusion
Should Splinter Twin have been banned? Was it a "good idea"? I don't think we can actually accurately answer that question, but if you're asking if I approve, my answer is yes. I understand the fear associated with bans. I understand the confusion regarding Wizards' unclear motivations. To me, it seems obvious their intent is to promote an exciting narrative for the upcoming Pro Tour, and the recent bannings serve as the removal of a potential danger (in Summer Bloom's case) and the creation of an undoubtedly exciting shake-up in the format that will make for an exciting event to watch.
If Wizards intends to do this every year, as I think they have clearly shown, I believe they should officially say so, though I understand their hesitation to anger a clearly vocal player base. Misinformation and confusion will only serve to promote fear and hesitation, and if they feel strongly about an issue (which they clearly do, if they are confident enough to sponsor a banning) they should stand confidently behind their decision rather than timidly hoping players won't get angry. For the first time in four years, I'm excited to watch a Pro Tour that doesn't have the shadow of Splinter Twin looming over it. I have absolutely no idea what to expect, and I can't wait.