Are you a Quiet Speculation member?
If not, now is a perfect time to join up! Our powerful tools, breaking-news analysis, and exclusive Discord channel will make sure you stay up to date and ahead of the curve.
A reckoning is coming. After months of ban mania, speculation, theorycrafting, and general rage against the Wizards machine, the January 18, 2016 banlist update will decide if Amulet Bloom is an acceptable Modern deck. Many authors players have vehemently opposed the combo strategy since Justin Cohen's February run at Pro Tour Fate Reforged. Others, including the DCI, were more moderate. In the months following February, there have been three banlist updates. All resulted in a resounding "No Changes" despite the frenzied pleas of ban-hungry masses. I correctly predicted and praised Wizards' conservative approach those cases, defending their assessment of Modern health and their execution of the ban policy.
The time for inaction, however, has passed. Today, I will present evidence that Amulet Bloom violates the turn four rule, and agree the time has come to ban one of its staples.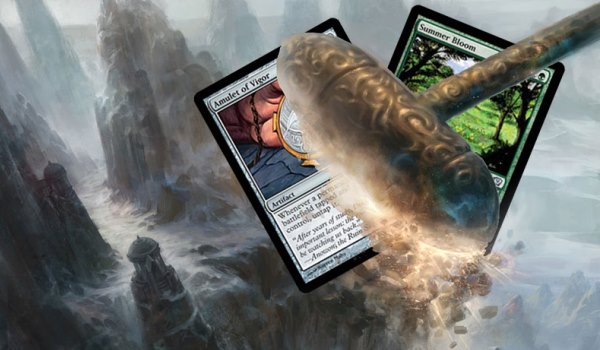 Whether you are a Modern Nexus veteran, or a newcomer who is either thrilled or furious that I'm targeting an article at this deck, know that I have not come to this position lightly. Indeed, I've spent most of 2015 shielding Amulet Bloom from criticism, both here and throughout the online Modern community. That changed when I finished the analysis that I conducted for this article. There is now enough data for me to demonstrate the deck legitimately breaks the turn four rule. This is not kneejerk alarmism to Bobby Fortanely's StarCityGames Cincinnati win. I'm not salty from losing packs at Friday Night Magic, or boarding a ban mania hype train because it's popular. Rather, I've crunched the numbers and concluded that Amulet Bloom is a turn four rule violator in need of banhammering. Read on to see the evidence that led me to this conclusion.
[wp_ad_camp_1]
Qualitative Evidence
We're going to start with the loudest and most obvious evidence in favor of an Amulet Bloom ban: the overwhelming player, author, and pro outcry against Bloom decks. To be clear, I don't think Wizards listens to the masses alone. If they did, Bloom and even Goryo's Vengeance would have been banned in the July announcement. Maybe even the March update, in the case of Amulet after Justin Cohen's explosive finish at Pro Tour Fate Reforged. That said, we know Wizards is aware of banlist buzz, and we've heard ample anecdotal evidence to suggest they at least consider it when making decisions. This means we should account for such qualitative evidence too, even if only as a single datapoint in a larger picture.
It's hard to find widely publicized sources that don't want Bloom banned. Prime Time specialist Chris VanMeter went on the record to state the
deck was unhealthy for the format, largely as a function of its speed. Seth Manfield agreed, explaining that Bloom probably wasn't too powerful for Modern per se, but that it leads to a problematic kind of Magic which Wizards probably discourages. StarCityGames also doubled down on Bloom ban talk in its Thursday, January 7th newsletter, with Cedric Phillips either predicting the deck's death or (get on those tinfoil hats!) hinting at some insider knowledge. Perhaps most notably, these opinions were shared by Bobby Fortanely, the SCG Cincinnati winner whose Amulet Bloom finish kicked off the 2016 discussion. Bobby says the deck is too good, too fast, and overall bad for the format, a line of thought echoed by fellow Top 8er Bill Comminos in his comments on r/spikes. Bobby and Bill were by no means the only Open players to fall on those lines. Seven out of eight players in the Charlotte Top 8 also want a Bloom card banned.
In case it wasn't clear, I don't place too much stock in these kinds of opinions alone. To be sure, stances like Bobby's are likely grounded in actual testing. Others, notably anything spouted by the average Twitch chatter or forumgoer, come from a place of hype and ban mania. They also don't cite a whole lot of sources, which is a degree of subjectivity that makes them hard to argue for or argue against. This isn't to say subjective, qualitative evidence is "wrong". It is just to acknowledge that we might have different experiences with a deck, all of which could even be "right" within those isolated experiential spheres. That's why I emphasize using qualitative data as just one piece in the overall puzzle.
Given Wizards' conservative approach to the banlist in past years, I suspect they feel the same way. Popular media should be treated as a single  source of data in larger calculations. So long as we maintain this critical lens, we can leverage opinion pieces to triangulate harder numbers at the core of both my own stance and Wizards' actions.
Reviewing the Turn Four Rule
Opinion pieces are fun and can attract a lot of attention, but many vocal ban proponents often lack (or ignore) the hard evidence underlying their sermons. Following this, it is impossible to have a coherent conversation about Amulet Bloom without understanding Wizards' turn four rule to the best of our ability. I specify "best of our ability" because Wizards has only provided so much concrete evidence on the rule (or any banlist policies) since the format's birth. This lack of communication, a larger issue to address another time, leads to incessant ban speculation, panic, and misunderstanding: we just don't have a lot of information to work from. Conditions like this force Moderners to piece together what little evidence we do have, like Constitutional scholars scouring the Founding Fathers' documents for clues about the Second Amendment's intent. Does this mean we shouldn't try to gather the evidence at all? Certainly not. It just underscores the importance of carefully analyzing existing sources before we can predict and understand Wizards' decisions.
If you haven't read my "Understanding the Turn Four Rule" article, do that now before going any further. As far as I have found, this is the most accurate single source that compiles Wizards' turn four rule information and synthesizes it into one definition. The article includes the language we need to grasp to have a discussion about Bloom. Without quoting every section of the article, here is a summary of the turn four rule as I understand it.
The DCI's other primary goal for Modern is to not have Tier 1 or high-end Tier 2 decks that win on turn three (or earlier) in 24%-30% of games. 
Note the percentage range comes from an analysis conducted in that article, one I'll touch on again today. More conservatively, it includes decks winning pre-turn four 17%-30% of the time, but I focus on the upper-end because that's where Storm fell when Seething Song took the ban axe.
The key to remember is this: the turn four rule includes both the consistency of a pre-turn-four win and the tiering of that deck. Most Modern commentators and players forget this second piece or willfully ignore it. Also notice the definition doesn't mention language around "warping" the metagame, being "unfun", or being "too hard to disrupt". All of this is either subsumed in the other two definitions, or doesn't even matter at all.
With this definition in mind, we can move on to Amulet Bloom and how it violates both aspects of the turn four rule.
 "Top-Tier" Evidence
We know there are two components to the turn four rule: a deck's tiering and a deck's win-turn consistency. I'm going to start with Bloom's "top-tier" status because it goes under-discussed in most Modern conversations. Wizards also opened its Song ban piece with a discussion of Storm's metagame standings, so it's worth doing the same today.
Since the format's birth, Wizards has banned three cards from three separate decks for violating the turn four rule. This doesn't count the initial wave of bannings, which were conducted based on spurious Community Cup-based results, or on no results at all. As such, all three of the post-Pro Tour Philadelphia decks were necessarily considered top-tier at the time one of their pieces got banned. This is our starting point. If we are to accuse Amulet Bloom of being top-tier , we need to do so in comparison to these other decks. This ensures we are comparing apples to apples (turn four violators to turn four violators) and not apples to oranges (turn four violators to random top-tier decks like Jund and Twin).
The first two of our three decks came out of Pro Tour Philadelphia: Shoal Infect and UR Storm. Blazing Shoal and Rite of Flame both got the DCI axe because their home-decks enjoyed excessive metagame shares throughout the tournament. Our third turn four violator was, of course, the infamous UR Seething Song/Epic Experiment Storm from 2012-2013. Wizards cited these decks' tierings in all the updates, most notably the Song announcement.
The table below shows different metagame shares in different metagame segments for each of the three decks. Some of the numbers are gathered from the respective ban articles. Others are calculated from Grand Prix/Pro Tour Day 2 listings, along with Top 8/16 standings. Taken together, these stats show us the range of numbers that constitute "top-tier" with regard to banlist decisions.
Deck
MTGO %
GP/PT
Day2%
GP/PT
Top8s
GP/PT
Top16s
18+ PT
Finishes
SCG Open /
Invitational T8s
SCG Open /
Invitational T16s
2011
Storm
na
13.2%
1
2
5.3%
na
na
2011 Shoal
Infect
na
4.6%
1
0
6.5%
na
na
2013
Storm
11.4%
4%
1
0
3.9%
na
na
Outside of 2012-2013 Storm's MTGO prevalence, these are relatively modest percentages for our top-tier, turn four rule offenders. All of their 18+ point shares are in the 4%-6% range, which is right where we Modern Nexites would put a lot of high Tier 2 or low Tier 1 contenders. Their Top 8 and Top 16 performances are also quite close but, somewhat surprisingly, not too excessive. There are no 28% Abzans to speak of. Of course, Shoal Infect and Rite of Flame Storm were only around for a single tournament, so there's a small-N issue of extrapolation at play in these numbers. Even so, the Shoal Infect and Rite Storm numbers are repeated in the Song Storm case, which suggests they are consistent even if we add more events to the equation.
Now let's drop Amulet Bloom into our table and see where the newcomer stands.
Deck
MTGO %
GP/PT
Day2%
GP/PT
Top8s
GP/PT
Top16s
18+ PT
Finishes
SCG Open /
Invitational T8s
SCG Open /
Invitational T16s
2011
Storm
na
13.2%
1
2
5.3%
na
na
2011 Shoal
Infect
na
4.6%
1
0
6.5%
na
na
2013
Storm
11.4%
4%
1
0
3.9%
na
na
2015
Bloom
6%
4%
4
4
4.4%
5
2
By all tournament metrics, Bloom lines up very closely with the other decks. Its Day 2 percentage and 18+ Points shares are perfectly matched with the earlier turn four rule violators. Bloom doesn't have the same MTGO numbers as UR Song Storm, but it more than compensates for this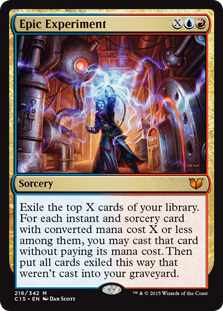 dearth with significantly more T8 and T16 finishes. I added a pair of columns for the SCG Opens and Invitationals (it's unclear how Wizards weighs them but they surely take note), where Bloom also distinguishes itself as a major player.
In all these categories, Amulet Bloom either aligns with each of its predecessors, or makes up for a small difference in one area with a huge gain in another. These prevalence-based numbers allow us to clearly identify the combo strategy as a "top-tier" Modern option, which triggers the first prerequisite of the turn four rule. As mentioned in the turn four rule article, and as hinted at earlier today, it doesn't matter that other Modern decks are also top-tier (e.g. Twin, Affinity, Jund, Burn, etc.). Those decks aren't also tripping the next step of the turn four rule, i.e. the consistent T2-T3 win, so the comparison is meaningless. All that matters is that Amulet Bloom's tiering is comparable to the other turn four violators, which the table above clearly shows.
"Consistent Pre-Turn Four Wins" Evidence
Of course, turn four rule breakers aren't only top-tier. They are also consistently winning before the turn four cutoff, which is yet another measure Amulet Bloom qualifies on. Unfortunately, Wizards does not release this kind of win-rate information. This has forced Modern aficionados to estimate Bloom's win-turn percentage based on anecdotal observations or goldfish games. The Seething Song ban update suggests Wizards was looking at something more concrete, namely the real data in real games. In that article, Wizards said they were "looking at the results of games", which points to some kind of MTGO, Grand Prix, and/or Pro Tour analysis to determine how frequently Storm was winning early. If Wizards truly uses this as their standard, we also need to look at real games to see if Bloom is meeting the turn four rule requirements.
First, we need to determine Storm's pre-turn four win-rate so we have a point of reference for Amulet Bloom. For both decks, I watched replays from almost a dozen events during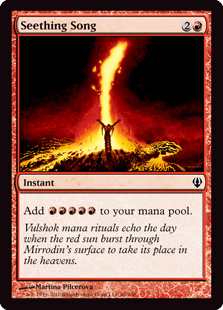 the decks' height of success. For Bloom, this meant starting the sample later in the year, after the deck was a known entity and when people were better at beating it and preparing for it. This resulted in a sample of about 30 games each for both Song Storm and Amulet Bloom, comprising roughly 15 matches at the Grand Prix, Pro Tour, and SCG Open/Invitational level. To account for a lower N, I bootstrapped each of the samples in 10,000 resamples, giving us both an average over the resamplings and a margin of error around that average. This lets us estimate pre-turn four win-rates for both Storm and Bloom in the same kinds of games Wizards likely considers in its own decision making. As a few important notes, the samples do not include matches by known deck-stackers. They also only account for actual kills or scoops by an opponent, but not situations where a turn two or three play led to an insurmountable advantage. Wizards likely looks at matches where a game "ends", so a forfeit is part of that but a strong board position is not.
Using these methods, I calculated the average T2-T3 win-rates as a function of total games (not of total wins). I also calculated a confidence interval around that average. We've seen confidence intervals in previous articles, but as a reminder, the interval captures a range of values in which the "true" average probably lives. It's similar to margin of error and lets us account for variance in our sample. Here are those numbers:
Song Storm (Coverage 10/2012 - 1/2013): 25% (17% - 33%)
Amulet Bloom (Coverage 9/2015 - 1/2016): 23% (15% - 30%)
I repeated a similar analysis looking at replays of a known Amulet Bloom player on MTGO. Analyzing around 70 games spanning 30-some matches, I found the following range for Amulet Bloom's pre-turn four wins.
Amulet Bloom (MTGO 9/2015 - 1/2016): 23% (17% - 29%)
Stated another way, Storm won on turn two or turn three in 25% of the total coverage games, but its "true" range is anywhere between 17% and 33%. For Amulet Bloom, it had the pre-turn four win in 23% of matches on camera, grouped around the 15% and 30% band. On MTGO, the deck averaged 23% in the sample, spread in the 17% to 29% range.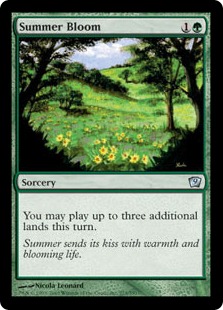 It doesn't take a statistician to see all these ranges are virtually the same. Although Bloom appears to be winning slightly less frequently than Storm (as seen in the average, high, and low values) there is no real statistical difference between their net rates. Amulet Bloom's and Storm's rates are about as different as a coin flipping heads 48/100 times and another going 52/100: the perceived difference is just a matter of variance. Statistics aside, this means the decks are winning at effectively the same rate, which is bad news for the Amulet Bloom pilots who attested their deck was actually slower than the old Seething Song combo.
Naturally, all of these methods have limitations. We still are only looking at less than 150 games, spread between around 10 players in total. Although bootstrapping helps address the N, if the samples are skewed towards high-skill players to begin with, even the resample might not capture the run-of-the-mill Bloom player and their performance. These samples are also mute to the differences in Game 1 versus Games 2-3 rates, and it's possible Wizards separates out those categories when assessing a deck's consistency.
Despite these limitations, the overall evidence suggests Bloom breaks the turn four rule on both of its critical counts. It's top-tier by the same measures as seen in Rite Storm, Shoal Infect, and Song Storm. It's also winning on turns two or three at the same rate as the Seething Song list. Coupled with the mountain of qualitative and anecdotal evidence, all of this points to Amulet Bloom being a legitimate turn four rule offender, one that Wizards will almost surely act against on the 18th.
Last Call for Amulet Bloom?
I've disclaimed this before and I'll disclaim it again: it's entirely possible Wizards doesn't follow this line of analysis when Monday rolls around. If that happens, I'd definitely want to see where this methodology went wrong. Admitting that possibility, I also think it is incredibly unlikely. The historical precedent and the current data strongly point to Amulet Bloom being a real violator, and I expect Wizards to act on that next week.
We still need to tackle the Primeval Titan lurking in the corner: knowing the deck's violations, what specific card should get banned from Amulet Bloom? I was initially going to write this up today, but it meant repeating about half of this article in tomorrow's banlist prediction piece. Rather than write this all out again I'm bouncing that to tomorrow. Spoiler alert: both Summer Bloom and Amulet of Vigor will feature heavily in the "Bannings" section.
What do you think about the different numbers presented today? Are there any questions left unanswered or points I should clarify? Do you have any other considerations we should take into account when aiming at Amulet Bloom? One thing I didn't get to include was a comparison to and an analysis of Infect, another possible turn four rule violator, and I'm sure some of you have ideas around that deck. Bring your responses down to the comments and join me tomorrow when I give my banlist predictions for January 18!
Correction (1/12): An earlier version of the article incorrect attributed a reddit quote to Bobby Fortanely instead of Bill Comminos.