Are you a Quiet Speculation member?
If not, now is a perfect time to join up! Our powerful tools, breaking-news analysis, and exclusive Discord channel will make sure you stay up to date and ahead of the curve.
By now you've read at least a dozen articles, a hundred tweets, and a thousand forum posts about the January 18th banlist update. The response to Splinter Twin's banning is likely to surpass the reaction to all previous Modern ban announcements combined, as the community rages, celebrates, and grieves for for months to come. I for one am feeling no better today than in my Saturday article on the banning, and I expect this won't change for much of 2016. Many others share my general sentiment but I believe most of their anger and fear is misplaced. A Twinless Modern metagame doesn't worry me, especially in the long-term where Twin's death opens up a lot of space for new cards. A Modern format where the DCI bans Splinter Twin before a Pro Tour, however, is a much more worrisome prospect.
It's no secret Pro Tour Oath of the Gatewatch was a major factor, even if not the deciding factor, in Splinter Twin's banning. Aaron Forsythe tweeted it on at least two separate occasions over the weekend, former Modern mastermind Tom LaPille predicted this in a 2015 interview, and numerous articles (e.g. MTG Goldfish and The Meadery) have also remarked on the relationship between this ban and the Pro Tour. Was it the sole factor? No: both the update and Forsythe's tweets suggest other elements were at play. But it was certainly a critical decider in Twin's demise, enough that Forsythe tweeted suggestively about it all weekend, and enough that most authors seem to agree on its importance.
Today, I'm not going to discuss the existence of that relationship or the relative weights of different factors. Nor will I talk too much about that wretched Summer Bloom and its much-deserved ban. Instead, I am going to talk about the metagame implications and format consequences of Twin's removal. One of those shouldn't worry you at all. The other should cause deep uncertainty and anxiety.
[wp_ad_camp_1]
The Good: Metagame Implications
Most Modern consumers are freaking out about the metagame consequences of this ban. As unhappy as I am with the Twin side of the update, I can't join the masses in this assessment. I believe the Modern metagame will remain quite healthy in the mid-term and long-run, even if it goes through some initial growing pains as it rebuilds without the URx Twin pillar.
The URx Twin collective was an integral policing force in Modern, setting a speed limit on the format and forcing other decks to pack interaction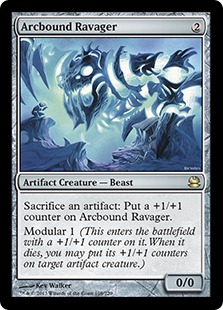 or flat-out lose on turn four. Losing Twin could point to a devolution into a linear arms-race, where players scrape for the fastest and least-interactive turn two or turn three win without worrying about Deceiver Exarch gumming up their plans. Immediate beneficiaries include Affinity, RG Tron, Bogles, Ad Nauseam, Suicide Death's Shadow Zoo, Infect, and a horde of similar strategies which appear poised to dominate Modern. Affinity in particular looks to disproportionately profit from this banning: if the deck could maintain 10%-12% shares with Twin in the format, imagine what it will do after! Could this linear-dominance play out in the short-term, namely during Pr Tour Oath of the Gatewatch? Certainly. Is it likely to be sustained into the summer and beyond? I am betting against it.
From a Stage 1 metagame perspective, there are plenty of decks which can take Twin's place to combat the Stage 0 linear strategies. This includes Scapeshift and Jeskai Control, particularly the more proactive Kiki-Jiki, Mirrorbreaker/Restoration Angel Jeskai strategies we saw during Shaun McLaren's run at Grand Prix Minneapolis 2014. These kinds of decks are, for the most part, worse than Twin but still very powerful at reining in non-interactive foes. Canny players will turn to them in the ban's immediate aftermath to gain an edge in a metagame that might be too polarized away from interaction. Those linear decks might also work against each other, cannibalizing each other's shares instead of rising up as a bloc. For example, Tron improves with Twin's departure, but gets worse with an inevitable Infect rise.
More importantly, the historical context of Modern tends to arc towards balance in the absence of truly broken decks. We saw a 25%-30% Abzan metagame during Pro Tour Fate Reforged, which gradually gave way to Grixis,
Jund, Tron, and a host of other decks emerging to restore format equilibrium. We saw the June metagame normalize around fair Grixis and Jund decks when everyone panicked about Tron and Bloom. In the last months of 2015, we saw a balanced vanguard of format regulars police a disturbingly linear October metagame. Twin was undoubtedly a factor in all that regulation, but as long as we find 1-2 decks to take Twin's role, it suggests the metagame itself isn't inherently broken and incapable of self-correction. Moreover, Twin had nothing to do with the Abzan decline, which further points to the metagame being able to make adjustments around other strategies. We've also seen Jund survive two bannings and emerge as a consistent Tier 1 contender, and we've seen Modern recover after the Birthing Pod ban into its healthiest metagames since its founding. The Pod mages even got a Tier 2 replacement in Collected Company Abzan decks, which could bode well for Twin expats looking into Jeskai Kiki Control or Blue Moon.
All of this has me cautiously optimistic for the 2016 metagame itself: the arguments in favor of self-regulation are at least as strong as, and probably stronger than, those about a linear takeover.
Worried about the future of Modern's much-lauded diversity? Get out there and start brewing! Or just sling your favorite deck with some sideboard changes and trust in the format's arc towards balance.
The Bad: Format Implications
I'm genuinely excited to see the metagame's evolution with Splinter Twin out of the picture. The same cannot be said about my prognosis for Modern as a format. Before we get any deeper into that sentiment, no, Modern is not dying. No, Modern is unlikely to become a failed Extended 2.0. No, Wizards is not trying to kill Modern. These panic-mongering stances are no better than the ban mania we saw all last year. Nor is it better than the inevitable ban mania that will roar even louder in 2016. I urge players to adopt more measured views on how Twin's banning is likely to help and hurt Modern in the future. If nothing else, I'm sure the upcoming Pro Tour will be the most-watched of its kind to-date, and that will be largely due to the ban and interest in a post-Twin Modern.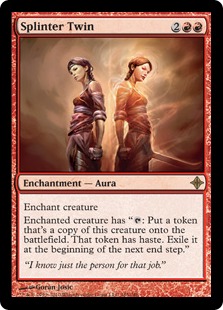 Unfortunately, these possible gains do not minimize the likely costs of a Twin banning. As I said in my Saturday article, as I and others observed in the comments of that article, and as many other Moderners discussed all weekend, this ban suggests a scenario most of us rightly fear: Modern has become a rotating format. In this new Modern, cards (not sets) get "rotated" out of the format as part of Wizards' plan to ensure format diversity and to shake things up at an annual Pro Tour. Although those cards may have been bannable independently of Pro Tour pressures (and other money-making demands), the Pro Tour rotation forces Wizards' hand and expedites the banning before the metagame can naturally police an offending deck. The end result could be the leading Tier 1 deck suffering an annual ban solely to ensure a more interesting Pro Tour.
Wizards has not outwardly stated this as a format or banlist goal, even though Forsythe's comments on Twitter are suggestive. That said, the mere possibility of this situation is enough to cause a major problem for Modern. The reality of this situation would, of course, be worse still.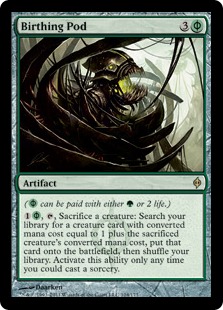 From 2013 until 2016, Wizards has brought the ban axe down on a Tier 1 deck in every January update. Taken individually, each of those cards (especially Deathrite Shaman, Birthing Pod, the delve sorceries) had significant quantitative and qualitative evidence underlying their banning. Taken together, however, it's hard for a new or veteran Modern player not to identify a pattern. This is true even if no actual pattern exists! Even if I didn't write this article to acknowledge these possibilities, Modern players across the world would still process these announcements, particularly the Twin banning, as a signal that Wizards is imposing artificial rotations to spice up a Pro Tour and coverage-heavy format.
Why would such an explicit, implicit, or simply imagined policy be a problem for Modern players? As I wrote in Saturday's piece, Modern was promised as "the nonrotating format without the card availability issues of Legacy". It was not promised as "the semi-rotating format without the card availability issues of Legacy, where decks can be banned not because they are necessarily unhealthy but because they make coverage a bit more boring". Modern players process this as a betrayal of a fundamental promise at Modern's core. This is true both for the Modern diehards who would stick around even if Lightning Bolt got banned (I, however, would not), and true of those newcomers who want a nonrotating format but don't want their investment jeopardized to an annual ban update.
I admit that the concept of a "betrayal" may be a bit strongly worded with respect to this announcement. But from reading comments across the internet, even by high-level players who have been critical of Modern in the past, it's the term that most readily comes to mind. I also admit this isn't the most quantitative argument I've made on this site, and I've had a few Modern/Magic friends ask me if I found these kinds of viewpoints to be unsupportable or unprofessional. I do not. I believe the overwhelming majority of Moderners feel this way as well, and although the metagame as a whole will likely be fine, format faith has been shaken. I also believe it's important to acknowledge the discomfort this update has caused players and our readers, and articles like this aim to be in dialogue with that. Honestly, this discomfort is not misplaced. It will be hard to defend against ban mania in the coming year with this banning fresh in our minds. Maybe Wizards really would ban Tarmogoyf just to shake up a Pro Tour.
Thankfully, Wizards can fix this through communication. If Wizards more clearly articulates their goals for Modern, we won't be left scouring Google to find tidbits of information on their esoteric ways. If Wizards did a monthly Modern check-in, we wouldn't have to ask leading questions all over Twitter just to get some clarity about a decision or the format's direction. Looking back to last year, if we had known that supporting the 2016 Modern Pro Tour would lead to a Splinter Twin ban, or just increase the likelihood of a ban period, I'm betting most people wouldn't have supported it at all. This communication gap does not inspire long-term format confidence and has gone from a strange Modern oddity to a real problem in light of this banning.
I believe this will be a good year for Modern as more players jump into the format. But I also believe, even though I have no controlled experiment to prove it yet, that Modern's growth will be less than it would have been with no Twin banning. Player confidence in Modern has been undermined, and I suspect this will undercut the format's potential, even if it won't destroy the format altogether.
Life After the Splinter Twin Banning
Metagame and format consequences aside, there are plenty of other possibilities which can rise from Twin's ashes. Ancestral Vision and Stoneforge Mystic look a lot safer now than they did a month ago. Jace, the Mind Sculptor too, even though we still have a pricing issue for that banlist inmate. We might also see Counterspell and other blue cards enter Modern now that Twin isn't around to abuse them, which could improve the format's health and diversity over time. There is no indication that Twin's banning was caused by these possibilities, but it's impossible to deny that they are now on the table as options.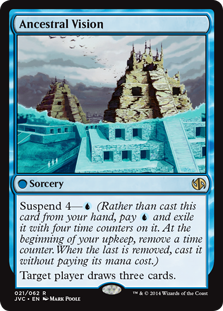 Sadly, these silver linings and Modern's metagame resilience don't detract from the update's blow to our collective confidence. They don't draw my attention away from the possibility that Modern really is becoming (or has always been?) a rotating format, where Wizards induces change through high-profile bans. Other players share this feeling and I am disappointed Wizards has put us in that position, or at least done nothing to dissuade us from that opinion. Maybe we'll see some clarification in the coming weeks or months, and I hold out hope for better Modern management. Until that happens, however, I'm nervous about what this means for next year and our time, money, and emotional investments into decks.
I want to apologize to everyone for not responding to all your Saturday comments individually. It's hard to get back to everyone with all the banlist buzz, but know I'm reading your thoughts and have you all in mind in articles like this. Let me know in the comments what you think about the update, today's piece, the future of Modern and Modern Pro Tours, the metagame, price volatility as a result of the ban, and really anything else you want to get off your chest. All of those topics could make great follow-up stories, and I'd love to talk more in the comments.