Are you a Quiet Speculation member?
If not, now is a perfect time to join up! Our powerful tools, breaking-news analysis, and exclusive Discord channel will make sure you stay up to date and ahead of the curve.
Last week's metagame snapshot article was a big hit, making the January 28 Daily Magic Update and releasing one of the only evidence-based portraits of our new Modern. You can be sure we'll add to that dataset and revisit it in a few days. For today, instead of taking the Ornithopter's-eye view to analyze broader metagame forces, we'll zero in on four cards poised to benefit both from Twin's departure and from the changed Modern climate. Some of these technology pieces are already seeing play in a post-Splinter Twin environment. Others are currently homeless, waiting patiently for an enterprising brewer to reverse their fortunes. With a format pillar toppled from the Modern structure, there are big shoes to fill and bigger gaps to exploit: we'll need to think outside the box if we want to succeed at shaping this Wild Twinless West anew.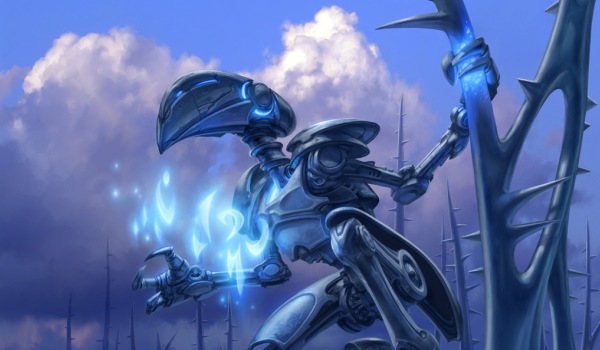 My initial list for today's article exceeded twenty cards, ranging from splashy sluggers (Phyrexian Obliterator, Zur the Enchanter) to demanding build-arounds (Restore Balance, Trash for Treasure). Also, Séance. Because Seance. Instead of spending the article cobbling together Goblin Charbelcher brews and Crucible of Worlds experiments, I want to look at the four cards with the highest chance of post-banning success. Well, maybe three cards plus the zany Johnny piece I'll start the article with. As we continue our quest for URx Twin's successor, we'll want to keep an eye out for these cards, and our minds open to the possible decks and strategies which could welcome these sleepers into their ranks.
[wp_ad_camp_1]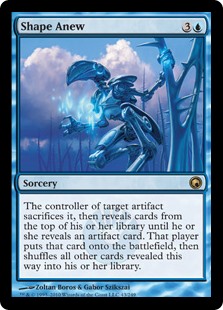 I know there are readers out there with 100s of these squirreled away like American gold-purchasers after Obama's election. Whether you're a speculator trying to cash in on a never reprinted Scars of Mirrodin rare, a Tinker expatriate who wants to live the Blightsteel Colossus dream, or a starry-eyed brewer who forgot Darksteel Citadel is more bombo than bomb, everyone has a secret love affair with Shape Anew somewhere in their past. Twin's departure means it's time to bring that fling into the open.
The Twin bans opens up both direct and indirect space for Shape Anew to shine. From a pure positioning standpoint, Shape Anew into some massive win condition like Colossus is no longer strictly worse than Deceiver Exarch into Splinter Twin. More importantly, the cards you need for Shape to work are significantly better in a no-Twin Modern. Take Blade Splicer. Here was a three-drop which profitably blocked Goblin Guide and Wild Nacatl all day long. You couldn't Lightning Bolt it at parity and a pair of the Splicers (or a blinked one) killed even big Tarmogoyfs.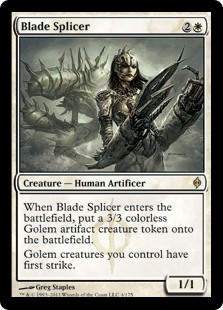 Unfortunately, Splicer cost three. Same as Exarch, one less than Twin, and one more than would ordinarily pass Modern's URx Twin barometer.
Today, Splicer, a fat Blightsteel Colossus, and the Ux(x) shells to support all these synergies are much better off than before the ban. You know who else can join the fun? Jund and Grixis breakout celebrity couple Pia and Kiran Nalaar, another strong card I'd want to play with or without Shape Anew. Indeed, this is the sticking point of the Shape combo and why I'm rooting for it in Modern: you can jam 2-3 copies in along with your win condition and then play whatever else around it. Unlike Polymorph, an almost identical card that also excites me in the new Modern, Shape's deckbuilding requirements aren't as stringent. This edge, coupled with the other advantages of the package, have me brewing up all kinds of blue-red strategies to adopt Tinker-lite. Jund, not Abzan, is even on the upswing, which means more Bolts and fewer Path to Exiles to ruin your Blighsteel fun.
Control mages are all scrambling to get the Jeskai configuration right, and I'm pumped to get these cards rolling alongside Restoration Angel. Bolt, Path, Lightning Helix, and Electrolyze offer early protection before the deck transitions into a Chapin-worthy grindfest of artifacts tokens, blink effects, and Snapcaster Mage value. Opponent miss a beat? Shape Anew out a Golen for the Pyrexian Iron Giant. Or bring in Platinum Angel or Platinum Emperion to seal the aggro deal. I'm sure there are other ways to build this, but Blightsteel Jeskai has a ring to it and I promised a more offbeat combo to start off the article. I'm sure a turn four Colossus delivered!
Twinless Modern is likely to be a more diverse format in the longrun, but short-term trends point squarely to a linear occupation. We're already
seeing this in last week's metagame update, and (spoiler alert) data from this weekend is likely to confirm those initial observations. When it comes to jamming up aggro, especially Burn, Kitchen Finks wears the crown. None of the Burn or Zoo creatures can safely attack into the Finks squad (ignore Zoo's Tarmogoyf, who at least gets chumped), which can easily lead to effective three-for-ones if an opponent manages the Ouphes poorly. These conditions make Finks a critical sideboard card and even a candidate for maindeck inclusion depending on the metagame.
We're already seeing this play out in both UW Control and Jund lists over the past week, not to mention a slot alongside Death and Taxes'
Flickerwisp engine. The aggro roadblock really excels alongside Jund's Dark Confidant, offsetting the lifeloss and ensuring the BGx deck can stabilize into the midgame. Finks gets a bit weaker in the Affinity and Infect contests, where aggressors can ignore the hapless milk-chuggers with flying or poison, but there's enough Burn and Zoo tromping around to justify the Finks. You'll need to be wary of Tron's and Eldrazi's Relic of Progenitus playsets, but Finks will give damage-based decks (and those dependent on one-for-one spot removal) fits. Just run them in a shell which can handle those matchups and you'll be fine: Wx Death and Taxes, or Hatebears depending on your preference, are both worthy homes. Jund, Abzan, and UW Control also fit this profile.
This was initially Supreme Verdict and Wrath of God before that. However, the article was reading too much like I was Iowa caucusing for blue-based control, so I'm moving back to the four-mana sweeper Wizards absolutely refuses to reprint. Magic's classic board wipes just couldn't find top-tier footing in URx Twin Modern. Not only was Twin taking up all the blue control space, but the sweepers themselves were pretty abysmal against the combo king. Nothing says desperation like Verdicting a solo Pestermite to slow the Twin clock. Twin also policed too many aggressive decks for Wrath effects to realize their two-for-one (or more) potential. Wizards knocked down those barriers on January 18, which signaled a triumphant return to the control board-clearers of old.
If you're playing Damnation, you're probably doing it in a Gerard Fabiano Sultai throwback or an attempt to resurrect the defunct
Esper wedge. Lacking Bolt, both color combinations struggle with early aggression, relying on watered-down removal like Disfigure and proactive walls such as Tarmogoyf and Lingering Souls to relieve pressure. Modern's new focus on linear and creature-based strategies make Damnation a nasty turn four knockout against aggro decks already on the back foot. Supreme Verdict occupies a similar spot in blue-based control, picking up percentage points in Merfolk (Cursecatcher laughs at vanilla Wrath) and Delver-invested metagames. You're even getting mileage in the BGx matchup, where the average Damnation is sure to kill at least a Tarmogoyf and a Siege Rhino, if not more. In all these cases, don't look for three or four-for-one exchanges to justify the sweepers' inclusion. If you can force two kills for one card, that's good enough in most matchups. As another metagame consideration, the Wraths dodge Eldrazi's Inquisitions and then blow up their early groundforce.
Or Curse of Death's Hold, if you want to be a little worse but save a little money (Editor's Note: More than a little money, Sheridan). Curse's asymmetric upside isn't worth the mana-cost downside, so I'll be sticking with the Champions of Kamigawa version instead. Besides, one of those arts is a lot scarier, and it's not the Liliana wannabe painting the ground purple. Aesthetics aside, Night is a monstrous four-drop in a metagame overrun with linear decks. Unlike the fallback Wrath effects, Night interacts decisively with Affinity and Infect. Burn's Guides and Monastery Swiftspears scrape through the Betrayal, as do Merfolk and Jund, but the enchantment still causes serious headaches for aggro players. The global -1/-1 also harries BW Eldrazi (Lingering Souls and Blight Herder hate it), but some versions are actually running the card themselves, so don't overestimate its impact.
In presenting Damnation and Night side-by-side, I'm definitely making a statement about different control options in a linear format. To be sure, Souls' Betrayal wasn't irrelevant against the 1/4 and 2/1 workhorses of Twin, but you weren't jazzed about the four-mana commitment with the Twin combo (and Remand) waiting in the wings. The overall metagame presence also wasn't as decidedly linear as we're seeing today. All of this has changed, which make both Night and the Wrath sweepers much more competitive than they were in December. If you're looking at a field thick with Affinity and Infect, Night of Souls' Betrayal is exactly where you want to be. Abzan Company, Elves, and BW Tokens will also push you to the enchantment. Burn and Zoo formats favor conventional Wraths, as well as those with Merfolk, Delver, Ux midrange, and the BGx overlords.
Hunting for Technology
Everyone from pros to weekend grinders is on the prowl for the next big Modern thing, and I'm sure we'll see breakout performers as Pro Tour coverage begins. Keep those TCGPlayer.com accounts handy and get ready to check out with a cartful of staples if you see something you like. Just be sure to stick with reputable vendors, lest the fruits of your speculation labor be reclaimed due to the dreaded "Out of Stock" excuse. Some Modern detractors are convinced the Pro Tour is going to be nothing but Affinity, Burn, and Tron, but if our early metagame numbers hold, I bet we see at least a few pioneers push the format to its next stages.
As much as I'd love this article to be "Twenty Cards to Play in Twinless Modern," my editor would lose his mind since there's no way I could discipline myself to write less than two paragraphs per highlight (Editor's Note: *Threatening eye twitch*). In case you're clamoring for more cool technology beyond these four cards and the morsels in the
introduction, here are a few more to get the brews flowing:
What other cards do you have on your post-Twin radar? How are you updating and creating new decks with Twin out of the picture? Any reactions to the cards presented today or where they might find homes? Join me later this week as we unpack more Modern data in advance of the Pro Tour, and I look forward to chatting with all of you in the comments.