Are you a Quiet Speculation member?
If not, now is a perfect time to join up! Our powerful tools, breaking-news analysis, and exclusive Discord channel will make sure you stay up to date and ahead of the curve.
Metagame diversity is my preferred measure of Modern health. More specifically, diversity as determined by the data analysis methods you've come to expect from Modern Nexus' Top Decks and metagame breakdown projects. Let's get this out of the way early: Pro Tour Oath of the Gatewatch does not meet those standards. No matter how you parse the Day 1, Day 2, or Top 8 fields (especially that Top 8...), the Pro Tour is overall one of the least diverse Modern events in recent memory. That's true at the metagame, archetype, deck, and even card level. For many, this provokes all the dramatic emotions associated with Twitch torches and pitchforks. Although I share some of this discomfort, I'm still optimistic about Modern's trajectory. You should be too. Today's article is my case for you to disembark the emergency-ban and Modern doomsaying hype trains. There are ample reasons to stay positive and I want us to keep those in mind as we put the Pro Tour in perspective.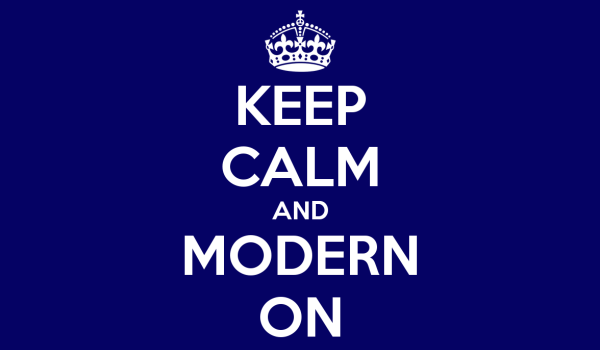 Some players have branded the Pro Tour backlash as alarmist and uninformed. These tournament defenders cite a sample size of one event, enshrine stories like Jason Chung's heroic Top 8 bid on Blue Moon, and fortify themselves in a "wait and see" position. For them, this is fine. Other Moderners swing too far in the opposite direction, clamoring for Eye of Ugin's beheading by end-of-business today, or Wasteland's emergency insertion into Shadows of Innistrad packs. As is often the case with these issues, the most defensible standpoint is in between. This is where we need to set up camp in the months between Pro Tour Oath and the impending Grand Prix trio in early March. Today, I'll start by acknowledging the problematic Pro Tour metagame and its quantitative context. Then I'll move into three ways you can denounce Modern panicmongering, followed by three glimmers of optimism in a format apparently ruled by the Drowner of Hope itself. Let's take a collective Leap of Faith and Modern-on together!
[wp_ad_camp_1]
The Pro Tour Metagame Mess
Whether you're analyzing the numbers, reviewing Pro Tour footage, consuming the community's reaction, or triangulating the intersection between those datapoints, all roads in our Oath of the Gatewatch Modern debut lead to the same terminus: the metagame was an unhealthy mess. If you disagree and don't want the silver linings torn away, I strongly encourage you to read this section to get the full evidence-driven picture of this Pro Tour wreck. Even if you agree without reviewing a single number, you'll still want to arm yourself with evidence to argue your point. There's a temptation for Modern veterans and newcomers alike to embrace the internet riot without understanding the kernel of its rage. This analysis will hopefully give you enough ammunition to shoot down most Pro Tour defenses, but not so much vitriol that you'll forget our "Keep Calm" objective.
Numbers and Conversion Rates
I'm a numbers guy (surprise!), so I was delighted to see Wizards post the Day 1 metagame only a few hours into Friday's Modern coverage. Day 2 statistics followed before Saturday's Constructed portion even began, and by Sunday, we had decklists for 24+ point players, those at 21+ points, and even the 18+ finishers. Be still my beating statistical heart. Wizards can sometimes be stingy with data, and I'm always pleased to see them release more around the Pro Tour. This is particularly useful following a controversy-generator like Pro Tour Oath, because it lets us drill into the numbers to figure out if things were better than assessed or worse than feared.
Unfortunately, our Modern weekend shows a metagame in disarray. By most meaningful statistical standards, Eldrazi was the tentacles-down best deck at the Pro Tour. Although some midrange strategies endured through the Eldrazi storm, the overall metagame was still decidedly linear, with almost all of the best decks preferring a race (or Eldrazi) to interaction.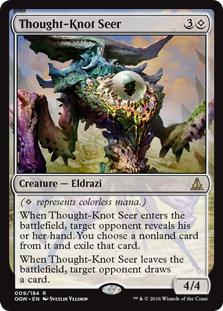 One of the most taxing challenges of analysis-design is separating your personal biases from the evaluation setup. It's easy for preferences and predispositions to infiltrate even the best-intentioned studies, and nowhere was that more present than in my Pro Tour Oath numbers crunch. I didn't even get all the stats until mid-Sunday, by which time most of the Eldrazi and linear narrative had already unfolded. To minimize these biases, I made sure I was looking at the data the same way I had in previous events (where no one had axes to grind against Thought-Knot Seer). I also incorporated a few controls and checks to account for influences like number of players per deck.
Following this method, I started with a simple breakdown of Day 1 to Day 2 to 6+ win standings for all decks with above-average prevalence on Day 1. This narrowed the field of 46 distinct decks down to only the 13 with nine or more Day 1 players. Other decks may have performed well, but they didn't have enough representatives to conduct a meaningful analysis. The table below shows those 13 decks, their shares at different Pro Tour moments, and their conversion rates. I'm starting it sorted on prevalence in the 6+ Wins bracket.
Pro Tour Oath: Deck Conversion Rates
Deck
Day 1
Day 2
6+ Wins
Day1 to
Day2
Day2 to
6+ Wins
Day1 to
6+ Wins
Affinity
13%
13.5%
16%
64.7%
51.5%
33.3%
Burn
13%
12.3%
10.4%
58.8%
36.7%
21.6%
Eldrazi
8.2%
10.7%
17%
81.3%
69.2%
56.3%
Infect
8.2%
10.2%
9.4%
78.1%
40%
31.3%
Jund
4.6%
5.3%
3.8%
72.2%
30.8%
22.2%
Death's Shadow Aggro
3.6%
4.5%
5.7%
78.6%
54.5%
42.9%
Abzan
5.1%
4.1%
3.8%
50%
40%
20%
Zoo
5.6%
4.1%
4.7%
45.5%
50%
22.7%
Abzan Company
3.1%
3.3%
6.6%
66.7%
87.5%
58.3%
Scapeshift
3.6%
3.3%
0.9%
57.1%
12.5%
7.1%
Tron
2.8%
2.9%
0%
63.6%
0%
0%
Jeskai Control
2.6%
2%
2.8%
50%
60%
30%
Mardu
2.3%
1.6%
2.8%
44.4%
75%
33.3%
Ignoring classification issues with Burn, Scapeshift, and Zoo, which I know cross multiple variants (e.g. Gruul Zoo and Naya Zoo) that should probably be separated, this overall metagame picture confirms the Eldrazi and linear themes many saw all weekend. Eldrazi's share only climbed from Friday's modest 8.2% to 10.7% on Day 2, then onward to a 17% high in the winner's listing. Kozilek's and Ulamog's minions also touted the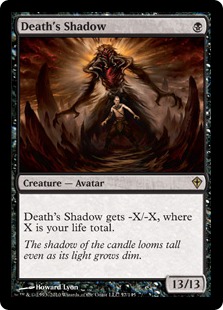 best Day 1 to Day 2 conversion rate at a whopping 81%. Combined with their unlisted Top 8 share of 75% and JC Tao's eventual win on UR Eldrazi, and the metagame starts looking as nightmarish as your average Eldrazi art.
Linear decks were also huge. Of the top five decks on both Day 2 and the winner's standings, the usual suspects of Infect, Affinity, Burn, and Eldrazi take up four slots. The Raging and Immense Death's Shadows are right behind at sixth. Thankfully, many of these linear options reported relatively mediocre conversion rates. Infect had a capable Day 1 to Day 2 rate, but then petered out into the winner's bracket. Suicide Zoo maintained decent numbers, but the decisive Day 1 to 6+ Win conversion was still under 50%. This suggests weaknesses to at least the linear decks (if not the Eldrazi), and a flicker of hope for the metagame.
Assessing Deck Viability
If you've been sorting the table on your own, however, you've probably noticed a major disruption to the Modern doomsaying: Abzan Company.
Trusty Melira, Sylvok Outcast, Kitchen Finks, and their merry Abzan band had a solid but unremarkable Day 1 to Day 2 conversion, but quickly seized the crown with the best conversions from both Day 1 and Day 2 to the winner's area. True, Company's prevalence remained low all weekend, but its conversion rates speak to a possible new sheriff in this one-story Modern town. Looking at the vaunted Day 1 to 6+ Wins numbers, Eldrazi came in not first but second, still sending a frightening 56.3% of its pilots to the 6+ range. The winner? Abzan Company, reigning the charts with 58.3%. None of the linear decks even cracked 50%. These figures suggest both a possible upset to the Eldrazi hegemony and also potential weaknesses in the linear decks, even if they also admit to the overall linear presence and the dominant Eldrazi lead.
To get a better picture of metagame viability in the top 13 decks, I created an index to rank them across different conversion rates while also controlling for sample size. I assigned points to each deck based on the ranking of their conversion rate relative to that of every other deck's (e.g. Eldrazi had the best Day 1 to Day 2 rate so it earned a 1 in that particular conversion category). I then adjusted each ranking for the number of players actually piloting their respective strategy, before aggregating the scores. This estimated a measure of deck competitiveness at the entire Pro Tour. The table below lists those scores alongside that critical Day 1 to 6+ Wins conversion rate.
Pro Tour Oath: Top Deck Viability Rankings
| Deck | Score | Day 1 to 6+ |
| --- | --- | --- |
| Eldrazi | 1 | 56.3% |
| Affinity | 3 | 33.3% |
| Abzan Company | 3.5 | 58.3% |
| Infect | 4 | 31.3% |
| Death's Shadow Aggro | 4.5 | 42.9% |
| Burn | 7 | 21.6% |
| Jund | 7.5 | 22.2% |
| Mardu | 8.5 | 33.3% |
| Jeskai Control | 8.5 | 30% |
| Zoo | 8.5 | 22.7% |
| Abzan | 10 | 20% |
| Scapeshift | 12 | 7.1% |
| Tron | 13 | 0% |
The scores have two meanings. First, they are net rankings, ordering the top 13 decks from best to worst. Second, they are also indicators of relative strength: they can be compared to other scores on the scale. For instance, a 1 would be much better than a 7, but a 7 and a 7.5 are relatively similar. Following this system, Eldrazi is the clear frontrunner at a flat 1. Affinity (3) and that upstart Abzan Company (3.5) come in second and third, but with a tiny difference between the two. There's a big score dropoff between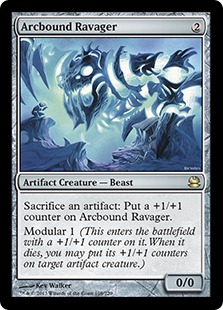 Death's Shadow Aggro (4.5) and Burn (7), and a three-way tie between Mardu, Jeskai Control, and the combined Zoo strategies at 8.5. Top-level takeways include Abzan Company's surprising relevance in the format, the paucity of midrange and control in a sea of linear options, and the uncontested Eldrazi throne. Snapcaster Mage has never felt so helpless!
Overall, the data showcases an overwhelmingly linear Pro Tour, but also one where other options remained viable (if not exactly favored). It points to promising rebels that can rise up against frontrunning strategies (get 'em, Abzan Company!), while also showing just how ahead many of the frontrunning strategies are. And, surprising few, it makes a very strong case for Eldrazi's dominance regardless of how we work our way out of the Infect, Affinity, and Burn/Zoo/Death's Shadow morass. In that overview, we see some causes for optimism but many more for worry, which is exactly where most Pro Tour viewers were throughout the weekend.
I present this case to support the assertion that the Pro Tour really was as bad as many claim. But, more importantly, I also do so to set the stage for a potential reversal in the Modern story. I want us to simultaneously acknowledge the challenges we face while also rejecting a tendency towards undue panic. I want us to admit the weekend's problems while also remaining optimistic about the future. Having laid the Pro Tour foundation in numbers, we can now turn to the lights at the end of the tunnel and start to work our way out of the debris.
Three Panics to Avoid
Before we can look for some realistic outs to the Modern diversity issues highlighted in the Pro Tour, we need to argue against some of the more common outcries. In the coming days and weeks, we will undoubtedly see numerous unsolicited commandments about how Wizards can improve Modern. We will also see a number of reasons we should be fleeing for the hills and unloading our Modern stocks in fear of a format collapse. In this section, I'll tackle three of those allegations and why we need to renounce them wherever and whenever they arise.
CAPS LOCK is locked and loaded, because this is an EMERGENCY BAN, not your kiddie-gloves annual ban. We're talking Memory Jar, dial-911, call-the-DCI-like-it's-1999 ban here. As much as I'm sure some of us would love to see Eye of Ugin's (or some other Eldrazi piece's) incarceration on Tuesday morning, we do not have enough evidence to support this sentence.
For one, the Pro Tour was just a single event with three Grand Prix tournaments following in less than a month. Those Grand Prix stages are critical datapoints in determining if the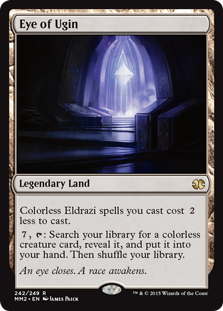 metagame, especially Eldrazi, is really as bad as it appears. After all, the Colorless Eldrazi strategies were largely unknown just four days ago, and it's possible their novelty was a main reason for their success. Moreover, post-ban Pro Tours always have a degree of warpage: see Abzan's 30% share at Fate Reforged. The only time Wizards implemented immediate post-Pro Tour bans was in 2011 after Philadelphia, but that was a different, younger era of Modern. We're in 2016 Modern with more format information and innovation than ever before. If there's a chance for the metagame to adapt, we'll see it exploited in March. If not, then I'll be the first person revisiting possible bans and all related discussion. We'll need to wait either way, and as one of Aaron Forsythe's weekend Tweets suggested, this is surely what Wizards will be doing too.
Even the most ardent ban proponents (mostly) oppose an emergency ban. For them, it's enough to wait until April when the foregone banning scenario will play out and a slew of linear cards will get shipped to the B&R gallows. Offenders include Glistener Elf, Become Immense, Inkmoth Nexus, Cranial Plating, and naturally at least a few cards from loathsome Eldrazi. Maybe just ban Mox Opal while we're gutting the format of fast-mana options like Simian Spirit Guide and Eye. Reading all the numbers above and sitting through the event, I can see where this line of thought originates, but it's one we need to discard if we want Modern to thrive.
From a data perspective, there's no evidence to go after anything outside of maybe Eldrazi. All of the other Modern decks have existed for a year or longer, proving their overall safety in the format. Although Infect might enjoy a temporary increase in a metagame that isn't respecting turn
two Blighted Agent with Vines of Vastwood backup, it always crashes down shortly thereafter. Moreover, in a year where Wizards was very attuned to the turn four rule violations of one deck, Infect was notably absent from the update. Infect hasn't gained anything since Fate Reforged, which suggests whatever speed limits it had in 2015 will likely endure into 2016, at least as long as the metagame continues to adapt. This is also true of Affinity, which has been checked by maindeck removal and powerful sideboard cards for years. These powerful strategies haven't suddenly become unbeatable. They are merely exploiting momentary metagame weaknesses. Counter-shifts will likely swing things back into alignment as we saw in 2015 and years before that.
Eldrazi represent a possible exception to the Affinity and Infect pattern: the deck has never existed in Modern in this form. Even there, Wizards will likely gather at least a few months of data before acting. This is precisely what happened in Treasure Cruise winter when the reprinted Ancestral Recall warped the format from October all the way through January. Delver metagame shares were just as uncontained then as Eldrazi's appear after the Pro Tour, and Wizards is likely to at least follow that precedent in managing this new uptick. If the combination of a Pro Tour, three Grand Prix tournaments, and all the events in between sees Eldrazi still around the 15%-20% range, a banning could be possible. But without that data, we need to hold off on the cries for sweeping and immediate ban action.
"Reverse the Splinter Twin ban immediately!"
According to the Twin revivalists, the URx staple was an integral policing force in Modern that kept the linear predators at bay. They allege Twin's departure is the main reason for both the Eldrazi coup and for the rampant linear decks which swarmed over Pro Tour Oath. The fix is easy: unban Splinter Twin and restore balance to the unstable Modern order. With the best Snapcaster Mage deck back in Modern, control pilots would have no difficulty herding the Affinitys and Infects of the world back in line, nor tilting the metagame away from the Eldrazi decks many now fear.
There are two reasons we must challenge this logic. On a strategic level, Twin is likely not the Eldrazi answer we are looking for. With maindeck Spellskite, a playset of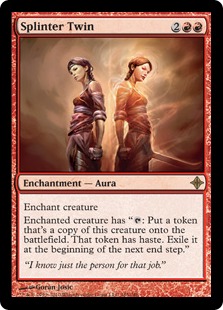 turn 2-3 Thought-Knot Seers, Dismembers, and an army of creatures outside Lightning Bolt range, our new Eldrazi would be at least evenly matched with their Twin predecessors. This assumes the Eldrazi player doesn't power out the turn one Chalice of the Void to shut off some of Twin's best spells. To be sure, URx Twin is an excellent regulator when it comes to Affinity, Infect, and the less-interactive Burn and Zoo hybrids. It's also a favorite against Tron, wherever Urza is hiding against all those Crumble to Dusts. But Eldrazi? Twin isn't the format moderator you want. I expect a Pro Tour with Twin would have been roughly as homogeneous but with an added splash of URx in the top-tables. Let's be honest: a Top 8 with six Eldrazi and two Affinity wouldn't have been much prettier than one with four Eldrazi and four Twin.
Strategic speculation aside, there are far more important stakes at play in a potential Twin-ban reversal. Wizards has implicitly (and, in some cases, explicitly) pushed a format policy in banning Splinter Twin. Even if we quibbled all day about Twin's matchup against Colorless/UR/UB Eldrazi, we would still have to acknowledge this policy and how it will play out in our format. As much as I am frustrated by the lack of transparent communication surrounding the ban and some of its factors, my silver lings of Twin's removal still hold. It opens up strategies, unbans, and reprints, while not leaving a gap which can't eventually be filled. We already saw players like Jason Chung, who got 9th at the Pro Tour, carve out a new blue-red niche in a Twinless Modern. If Wizards wants to promote this Modern vision, they need to do so unequivocally. Twin's ban may have dealt a blow to format confidence, but a reversal of that ban would be far worse, showing the Magic community that Wizards is more indecisive, volatile, and malleable than we ever feared. All of us must push on in the post-Twin world, which means admitting the growing pains which can come on the journey.
Rising Above the Madness
As we depart the Pro Tour, I'm counting on all of you to champion the rebuttals to these three common outbursts. Don't give in to the panic! Star Wars should be fresh on everyone's minds, and we all know where fear leads (to Donald Trump, because primary season is also on my thoughts). There are certainly Modern elements worthy of criticism, just as there are definitely worries we need to acknowledge in the coming months. These problems notwithstanding, we need to address those issues with critical minds, clear eyes, and a full heart. Without that perspective, we won't wrestle with Modern's core challenges and won't advance the format beyond where we stand today.
Three Hopes to Maintain
As we soldier into March and the upcoming Grand Prix weekend, we'll be tempted to despair at the unbeatable Eldrazi masters and admit inevitable defeat on the tournament floor. Don't sell yourself, your fellow players, or Modern so short! Since 2011, Modern has proven itself remarkably adaptive and resilient to many potentially damaging trends, and although bans have been needed at times to correct legitimate mistakes, the format always fights back first. Here are three causes for hope in the next months, and three arguments you can tell your friends and internet foes when conversation gets heated.
Trust in Metagame Trends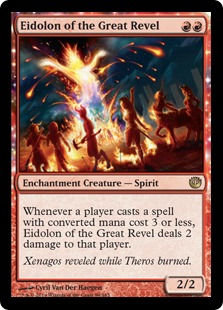 Modern often enters periods of temporary instability. For instance, Burn decks have occupied almost 20% of the metagame on numerous occasions in both 2014 and 2015. Abzan saw shares in excess of 20% after last year's Pro Tour, with linear decks consuming another 40%+ of the format. We can also find metagame spikes where bans were clearly warranted (the Melira Pod and Cruise era of 2014-2015), but for every bannable example we can easily find two or more cases where internal metagame forces were all the correction Modern needed. Eldrazi and linear decks are the sources of today's imbalance, and before we clamor for bans and other extreme action, we need to turn to the metagame for answers.
Without going deep into the Tier 3-4 fringe of Nykthos Ghostly Prison decks and offbeat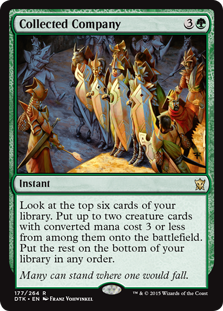 Ensnaring Bridge prison strategies, Modern already offers at least one glaring mainstream options in the Eldrazified world. Abzan Company, which we discussed in our statistics section, has considerable promise in this field. Even adjusting for number of players (Abzan Company had far fewer than Eldrazi), the combo/midrange hybrid is right at the top alongside Reality Smasher's gang. Whether playing the value game or comboing early under Eldrazi's limited removal suite, Company is the real deal against the Colorless scourge: Ari Lax himself agreed, further confirming the statistical analysis above. Other decks like Merfolk, Jund, Mardu, and Blue Moon might also join Abzan Company as mainstream metagame solutions to our current metagame threats, but even if no other options pan out, Melira's crew is ready and waiting to show how Modern regulates its own.
Trust in New Technology
Not an Abzan Company player? Still doubting Company's numbers, Chung's 9th place performance, or the
enduring strength of venerable Affinity? Modern's extensive cardpool offers numerous solutions to our Eldrazi puzzle, even if we have to do a little digging to unearth all the options. Players have combed Gatherer nonstop since Saturday, and although we won't be able to confirm their findings until the Grand Prix events in March, there's a lot of hardware at our fingertips. To start, I want to see more hard removal and sweepers. Eldrazi are notoriously Bolt-resistant, except those pesky Eldrazi Mimics, which means it's time to amp up our interaction. Terminate, Doom Blade, Roast, and mainstay Path to Exile all deserve more air-time than they are getting. Same goes for Damnation and the other Wraths. I'm also feeling countermagic more than ever. Chung demonstrated Mana Leak's and Cryptic Command's power all weekend, and I'd be shocked if we didn't see more control mages looking for the perfect permission and removal balance.
Technology hunting can go even deeper. Blood Moon and Magus of the Moon rock
Eldrazi's world in an aggressive shell (don't forget your pressure!), and the Endless Ones stand around looking stupid against a lone Ensnaring Bridge. Merfolk has Spreading Seas already with Sea's Claim waiting in the wings as backup. Through the Breached fatties plow through the Eldrazi board, Ghostly Prison stalls the Eldrazi advancement to a crawl, and Smallpox makes lopsided early gains in the right shell. This doesn't even get to the downright subterranean tech ideas such as Painter's Servant (sold out across the internet), Platinum Emperion in some kind of Unburial Rites/Shape Anew/Trash for Treasure shell, Tezzeret, Agent of Bolas alongside the previously-mentioned Bridge, and other maniacal inventions. It's possible none of these tools get the job done, but we won't know until we try.
Final note on technology: don't fall into the "Eldrazi can Dismember/Thought-Knot Seer/Ratchet Bomb anything I do!" trap. Most Eldrazi decks are running a measly 3-4 Dismember and rely only on a playset of Seers for more meaningful interaction. Modern's history is rife with strategies overcoming a mere seven or so interaction pieces, so don't get discouraged by their feeble defenses.
Get Excited for Possible Unbans
We might see bans in April if things don't improve, but much more excitingly, we also might see unbans. Blue-based decks had a relatively weak showing at the Pro Tour (to put it mildly, in most cases), which suggests the Twin ban didn't open up quite as much URx space as Wizards might have hoped. With the format's power level higher than many blue mages can handle, Wizards can easily turn to the ban list to bolster ailing control strategies and reinvigorate a community soured by Eldrazi and linear races. Indeed, this conservative approach to blue unbans may have been in the cards all along, as Forsythe hinted in January:
@rolandthree Visions will be up for discussion once we see how the post-Twin world plays out. Sword just makes Lantern more obnoxious, no?

— Aaron Forsythe (@mtgaaron) January 16, 2016
Speaking of the sorcery, Ancestral Vision is a card control players have been pleading for since Modern's birth. Although we can certainly voice fears about Vision pushing out BGx attrition strategies and contributing to a blue, Legacy-style dominion, these kinds of objections don't make a lot of sense when we see the current format in the Pro Tour data lens. Blue decks are lagging and Visions is the kind of jolt they might need to improve. That said, it's unclear how Vision would play in a world of turn two Seers and turn three Smashers, something Magic pros were quick to point out all weekend.
The thought of seeing someone suspend Ancestral Visions on turn one just made me burst out laughing.

Knife to a Missile fight.#PTOGW

— Cedric A Phillips (@CedricAPhillips) February 6, 2016
Phillips' worries might hold true after a possible unban, but they also might be missing the broader picture. In a vacuum, Vision is certainly weak against Eldrazi. But alongside all the disruption we saw players like Chung wield all weekend, the Recall-lite becomes much more potent. It also incentivizes players towards blue, a draw that is direly needed in a format where control makes up less than 10% of the field.
Overall, even if you disagree with the Vision unban (or would rather open up the floor to other candidates like Stoneforge Mystic and, dare I say, Jace, the Mind Sculptor), it's hard to deny the excitement surrounding meaningful unbans. Modern policymakers have implemented high-impact bans every year since 2013. Unbans have come too, but with the exception of Wild Nacatl's healthy fit in the aggro picture, they have been mostly invisible since their release. Big unbans could easily come in the wake of the swelling Eldrazi population, and I leave you with Brian Kibler's quote about a format where we might see many other cards released into the Modern wilds.
The decks from this tournament make Bloodbraid Elf and Ancestral Visions on the Modern banned list reminiscent of when Juggernaut was banned

— Brian Kibler (@bmkibler) February 6, 2016
Whether or not the Grand Prix weekend rights the Eldrazi wrongs from Pro Tour Oath, I expect we'll see some exciting unbans come that April announcement.
Marching into March and Beyond!
Panic, discontent, and uncertainty have taken hold of the Modern community, and it's up to us to stand fast against the Eldrazi and linear tides. Pro Tour Oath of the Gatewatch was a disappointing showing for our format, with some metagame figures uglier than your average Eldrazi Mimic. However, the Pro Tour is only one datapoint and there remains ample reason to stay optimistic and denounce fearmongering. Whether in Abzan Company's early promise, the potential for new technology, or the longterm dangers in the ban-happy suggestions, we'll need to keep our wits about us as we Keep Calm and Modern On into March. If nothing else, I'm really feeling those blue unbans in April!
That's all for today's article and I hope you've enjoyed this romp through the Pro Tour aftermath. Let me know in the comments what you thought of the analysis, the arguments, the article as a whole, and any outstanding opinions you didn't voice during the weekend coverage. I'll see you all Wednesday with more debriefing on Modern going forward!