Are you a Quiet Speculation member?
If not, now is a perfect time to join up! Our powerful tools, breaking-news analysis, and exclusive Discord channel will make sure you stay up to date and ahead of the curve.
Magic feels like it's under attack. Reddit has gone ballistic with the so-called #vendorleak scandal, incensed by stunning (or not so stunning...) allegations of merchant misconduct from an anonymous tipster. Wizards announced Eternal Masters to the joy of many and dismay of many more, reigniting debate about the Reserved List, Legacy, Modern, and future Constructed formats. Blake Rasmussen and Aaron Forsythe tried to quash some of the most conspiratorial rumors, at least for now. Meanwhile, Eternal Masters led to rocketing Reserved List prices, paralleling Modern's trend of spikes for niche playables that haven't seen tournament play in years. On their own, these events would have me feeling a little apocalyptic, but none of them incite doomsayers more than Modern's Eldrazi takeover. We'll explore this metagame Twilight Zone today.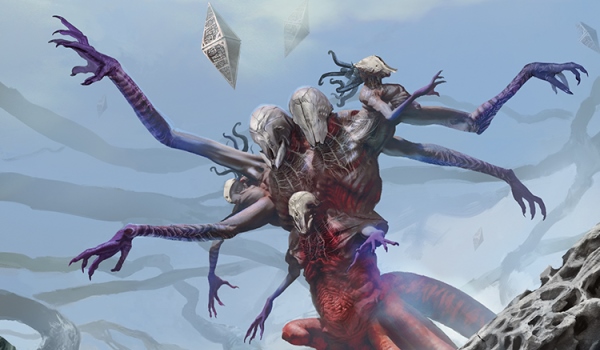 We've investigated the Eldrazi rampage before, both in a Pro Tour Oath of the Gatewatch debrief and in an explicit discussion of its ban potential. It's been about a week-and-a-half since Eldrazi Day 0 (February 5, a date which will live in Modern infamy), and we finally have enough metagame data to discuss the broader field in the Pro Tour's wake. 20 MTGO events, 34 paper, and roughly 500 decklists later, we're ready to analyze the Eldrazified Modern world. Today, we'll identify frontrunning Tier 1 and Tier 2 strategies, compare MTGO and paper scenes, and assess the Eldrazi's impact on Modern. There is still potential for internal regulation, but it fades daily with each new turn one Eldrazi Temple. Be forewarned: as befits our eldritch invaders, this is a disturbing metagame picture.
[wp_ad_camp_1]
Collecting Datapoints
In the spirit of my "Metagame Snapshot" and pre-Pro Tour "Metagame Report" articles, we don't have enough data to conduct a full metagame breakdown like we did in early January. Stay tuned for the March's Grand Prix aftermath for that more comprehensive metagame portrait! Thankfully, we have more than enough data to describe the format's evolution over the past eleven days. With a pair of well-attended Pro Tour Qualifiers
and a paired Daily and League each day (minus a few missed Dailies), MTGO brings 20 events and just over 210 decks to the analysis. Looking to paper, we see 34 tournaments spanning every continent and hemisphere and contributing about 270 lists. This is on top of Pro Tour Oath's Day 2 field and dozens of high-performing Pro Tour decklists.
By tabulating these datapoints and calculating a weighted average of the three groupings (based on the values of N relative to metagame periods with more data), we can make a conservative estimate for different deck shares in your average Modern event. We'll draw on those numbers today in diagnosing metagame diversity and testing if it really is Endless Ones all the way down.
Post-Pro Tour Metagame Summary
If you thought the Pro Tour Oath field was a mess, the current one is going to give you an Eldrazi-sized heart attack. Not Eldrazi Scion-sized either. We're talking an X=10 Endless One. Analyzing the period from February 5 through February 16, we see a Modern under siege. We'll make a stop in each of Modern's different competitive tiers, touching on core format themes along the way.
Our tour through the wreckage begins in Tier 1, which we define as the most-played strategies in Modern. You are likely to encounter these decks in tournaments and need to prepare for them in your testing and sideboarding. For more on our Tier 1 definitions, and those of other metagame classifications, check out our Top Decks page. With that in mind, here's Tier 1 in all its tentacled glory:
Tier 1: 2/5/16 - 2/16/16
Deck
Overall
Metagame %
MTGO %
Paper %
Day 2%
Eldrazi
25%
41.5%
22.3%
10.7%
Affinity
11.3%
11.8%
10.4%
13.6%
Burn
6.3%
2.8%
5.9%
12.3%
Infect
4.5%
4.2%
3%
10.3%
Jund
4.1%
3.3%
4.1%
5.3%
Abzan Company
3.7%
2.8%
4.1%
3.7%
These numbers are about as bad in context as they look in a vacuum. Maybe worse! Eldrazi's share is more than double that of the next highest deck (Affinity), which itself is about double the next highest after that (Burn). We've also never observed such pronounced gaps between different Tier 1 decks, which provides statistical backing to the format polarization we've all suspected. Thinking about Eldrazi specifically, the deck has paper shares comparable to the format's most stifling archetypes in the Bloodbraid Elf, Deathrite Shaman, Treasure Cruise, and Birthing Pod eras. Its MTGO prevalence is, quite literally, the highest I've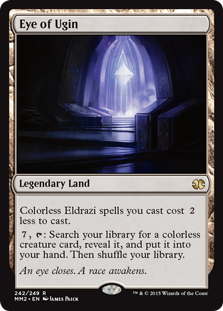 ever seen for any deck: only URx Delver came close in October 2014 at 25%. We'll talk more about distinct Eldrazi flavors later, but with a core overlap of over 20 cards (central to which are Eldrazi Temple and Eye of Ugin), it's as fair to group the Eldrazi dominators as it was to lump together Twin, URx Delver, and others.
The rest of Tier 1 isn't much better, with three linear decks edging the two midrange holdouts to the bottom. At least Jund is hanging on for dear life: I shudder to think of a metagame period where zero BGx representatives claim a piece of Tier 1 territory. Even if we grouped all the non-Affinity strategies together, they still wouldn't surpass Eldrazi's 25% throne. This pattern of Eldrazi doubling Affinity, and in turn exceeding everything else combined, is echoed in both MTGO and paper. Of course, MTGO is the real disaster here, where every single Tier 1 deck combined is barely over half of Eldrazi's online share. We could make some misleading spins on the data (Abzan Company is finally Tier 1 up from Tier 2! Paper is overall better than MTGO!), but these just obfuscate the real narrative of Tier 1: Eldrazi have truly taken over.
None of this precludes the possibility of a metagame reversal in March. Strategies such as Merfolk, Abzan Company, and even Jund are adapting to fight back. It does, however, make the turnaround much less likely. When decks consume such a commanding share, there's only so much they can realistically decline. Eldrazi at 20% of MTGO, an unlikely 50% drop, would still be a problem.
If you're still breathing after surveying the Tier 1 devastation, we'll look now to Tier 2. These Tier 2 strategies represent tournament viable decks, ones you can bring to your average event and have a realistic shot at the Top 8. From a gauntlet perspective, these are also the decks you'll need to understand how to beat, even if you don't sideboard specific cards to target them. As with Tier 1, Tier 2 has been dramatically altered by the colorless invasion.
Tier 2: 2/5/16 - 2/16/16
Deck
Overall
Metagame %
MTGO %
Paper %
Day 2%
Merfolk
3.3%
2.4%
4.1%
2.1%
RG Tron
2.7%
1.9%
3%
2.9%
Griselbrand
2.3%
0.5%
2.6%
3.7%
Abzan
1.8%
1.4%
1.5%
3.7%
Naya Company
1.7%
1.9%
1.9%
0.8%
Gruul Zoo
1.6%
0.5%
1.9%
2.5%
With a mere six decks, Tier 2 houses the fewest viable strategies we've ever seen in a Nexus metagame update. Our previous 10 breakdowns showcased Tier 2s averaging 13 decks each, ranging from 11 (the lowest in July 2015) up to 15 (in August and November). Today's six is less than half that average. Even comparing datasets of a similar size, our pre-Pro Tour Oath analysis found 13 legitimate Tier 2 contenders, despite covering the same date range and roughly the same sample size. Taken on top of the Tier 1 situation,
Tier 2 illustrates an unprecedented narrowing of the competitive field down to just a few decks. The remainder has been shipped to Tier 3, where one-time Modern regulars such as Bogles, Living End, and Scapeshift now wallow with sub-.5% shares on either MTGO or paper. Tier 2 also repeats Tier 1's linearity, with only Abzan deviating from this model (even if Merfolk and Naya Company at least pack a degree of interaction).
On the topic of linear strategies, I'm reminded of a fascinating r/spikes post on proverbial "canaries in the coal mine" in Modern. In essence, Reddit user Selkie_Love asks us to consider what cards, strategies, or shifts indicate metagame-wide danger. Tier 2 offers us an alarming example of this principle in action: Gruul Zoo. Not necessarily Gruul Zoo alone, which is just a function of Modern rewarding early, proactive strategies (which itself might be another broader symptom to discuss another time). Rather a) that in a metagame with just six Tier 2 decks, Gruul Zoo happens to be one of them, and b) that Gruul Zoo somehow makes the six-deck list when zero blue-based control lists can cut it. This simultaneously points to Eldrazi's ability to edge out fairer strategies and also warp the metagame towards more linear ones.
So where have all of Modern's blue decks and Tier 2 regulars gone? At the end of our Modern safari, I welcome you to the desperate Tier 3 hopefuls, all of which are frantically trying to carve out a niche in this Eldrazified climate. Tier 3 is our newest Top Decks category for 2016, including metagame-specific decks which might be strong choices depending on matchups you encounter. We've refined our Tier 3 math since last time, although the format has been thrown into such disarray that it's hard to tell by looking at the table below.
Tier 3: 2/5/2016 - 2/16/2016
Deck
Overall
Metagame %
MTGO %
Paper %
Day 2%
Ad Nauseam
1.4%
0.5%
1.9%
0.8%
UW Control
1.3%
1.9%
1.5%
0%
Scapeshift
1.3%
0.5%
1.5%
1.6%
Living End
1.2%
2.8%
0.4%
1.6%
Bogles
1.2%
0.9%
1.5%
0.4%
Abzan Liege
1.1%
0.5%
1.5%
0.4%
Suicide Zoo
1%
0%
0.4%
4.5%
Jeskai Control
1%
0.9%
0.7%
2.1%
Blue Moon
1%
0.5%
1.1%
1.2%
Elves
1%
0%
1.5%
0.4%
Kiki Chord
1%
0%
1.5%
0.8%
Titan Shift
0.9%
0%
1.1%
1.6%
Esper Midrange
0.9%
0%
1.5%
0%
Lantern Control
0.8%
0.5%
1.1%
0.4%
Jeskai Kiki Control
0.8%
1.4%
0.7%
0%
Abzan Chord
0.7%
0.5%
0.4%
2.1%
UR Delver
0.7%
0%
1.1%
0%
Jeskai Delver
0.7%
0%
1.1%
0%
Temur Delver
0.7%
0%
1.1%
0%
Allies
0.6%
1.4%
0.4%
0%
Mono U Tron
0.3%
1.4%
0%
0%
None of our 2015 metagame breakdowns tracked Tier 3, but even without those points of comparison we still notice worrisome patterns. For one, a bunch of decks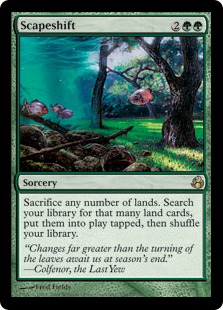 which should probably be in Tier 2 have fallen below the prevalence cutoff, dipping into Tier 3 instead. These include Scapeshift, Bogles, Grixis Control/Midrange (which don't even make Tier 3!), Elves, UW Control, Ad Nauseam, URx Delver, and others. Do all of these decks need to be Tier 2 at any given time? Certainly not, and we'd be hard-pressed to observe a metagame period in 2015 where this was the case. But should at least some of them meet the criteria? Definitely: 2015 saw zero metagame periods where at least 3-4 of those decks weren't Tier 2 instead of Tier 3. As we saw in the Tier 2 section, this points to an overall narrowing of competitively-viable Modern decks. Yes, it's a small window of data, but we did not see this same narrowing (and certainly not to the same extent) during the weeks between the Splinter Twin ban-effect date and the last day before Pro Tour Oath. This suggests it was Eldrazi, not Twin, which narrowed the field.
When considering Tier 3 decks, you'll want to focus less on their overall metagame share and more on prevalence in each column. This shows where a deck is most competitive and where it makes few (if any) showings. For instance, Living End is on a solid MTGO run at 2.8%. In paper, however, it's more "Dead End" at a paltry .4%. Elves and Kiki Chord see similar patterns, with the 0% shifted to the MTGO side and paper logging a respectable 1.5%. Read this way, the table gives a sense of which decks excel in totally Eldrazi-warped fields (i.e. MTGO) versus a more balanced but still Eldrazi-heavy metagame (i.e. paper).
Many Moderners won't be particularly shocked by these numbers. Shaheen Soorani certainly isn't, even if the end result still wouldn't have justified the preemptive banning some authors and players clamored for. Others, particularly those who still doubt the scale of the Eldrazi occupation, will be more aghast. Maybe you saw the Eldrazi coming. Maybe you didn't, tried to get Grixis to work, and then sold off what's left of your foiled Twin deck in an indignant fury. Wherever you fall on the Modern spectrum it's still important to understand these statistics, their relationship to one another, and their historical context. In the short-term, it helps you make informed metagame decisions, whether deciding to bring UW Control or Gruul Zoo to an event, or choosing linear decks to sideboard against. In the mid-term, it allows us to voice informed opinions about the Eldrazi and the field before, during, and after Grand Prix weekend. Most importantly, in the long-term, it reminds us to be critical consumers of metagame data, building a Magic culture that's more Neil deGrasse Tyson and less B.o.B flat-earther.
Eldrazi Field Notes
Before we close for today, we're going to make a brief stopover at the vast Eldrazi preserve to see what kinds of Eldrazi decks are seeing play. To be clear, the distinct variants of Eldrazi only matter so much from a metagaming and metagame health perspective. If you're trying to attack the field, you are up against Eldrazi Temple and Eye of Ugin decks with playsets of Thought-Knot Seer, Eldrazi Mimic, Endless One, and Reality Smasher. That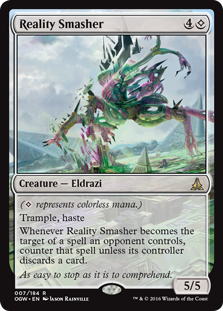 amounts to a 20-24 card-core which we need to target in our metagaming calls. If you, like Patrick Chapin, have given up on beating the Eldrazi and are just trying to assess format health, you'll take the Eldrazi collectively just as you did the same for URx Twin, URx Cruise Delver, BGx Pod, and BGx Deathrite Midrange. The banlist announcements in each of those eras explicitly group strategies together, and Eldrazi's core lends itself to similar classification as much as (and maybe more than) those earlier decks.
Despite those disclaimers, we'll still want to see which specific Eldrazi species are running riot. Metagamers need this information to know if they are facing spot removal and sweepers (RG Eldrazi), a midrange grindfest (UR Eldrazi), or a three-turn clock (Colorless Eldrazi). Metagame analysts need it to see how Eldrazi is itself evolving from its UR and Colorless Pro Tour roots to meet its opposition. The table below breaks down different color pairings in the Eldrazi supertype, splitting them between their MTGO and paper counts. First, let's look at the top 88% of Eldrazi decks, all of those making up 2%+ of the average Eldrazi pool.
Eldrazi Color Pairings (The Top 88%)
| Eldrazi Color | MTGO % | Paper % | Average % |
| --- | --- | --- | --- |
| Colorless | 30.3% | 50% | 40.2% |
| UR | 23.6% | 23.3% | 23.5% |
| RG | 22.5% | 1.7% | 12.1% |
| Mono Black | 1.1% | 8.3% | 4.7% |
| UG | 3.4% | 3.3% | 3.4% |
| UB | 0% | 5% | 2.5% |
| Jund | 2.2% | 1.7% | 2% |
The remaining 12%, consisting of a whopping 11 pairings, can be found in the spoiler box below. To me, those Eldrazi builds packing Urza's Tower and company are the funniest of the lot. The new ramp deck on the block couldn't just take Tron's metagame share: it had to steal their land too!
[su_spoiler title="Even MOAR Eldrazi!" style="fancy" icon="arrow"]
Eldrazi Color Pairings (The Other 12%)
| Eldrazi Color | MTGO % | Paper % | Average % |
| --- | --- | --- | --- |
| Mono Red | 0% | 3.3% | 1.7% |
| Urzatron | 1.1% | 1.7% | 1.4% |
| BW | 1.1% | 1.7% | 1.4% |
| BR | 2.2% | 0% | 1.1% |
| BG | 2.2% | 0% | 1.1% |
| RB | 2.2% | 0% | 1.1% |
| UW | 2.2% | 0% | 1.1% |
| Bant | 2.2% | 0% | 1.1% |
| GW | 1.1% | 0% | 0.6% |
| Mono Green | 1.1% | 0% | 0.6% |
| Mono Blue | 1.1% | 0% | 0.6% |
[/su_spoiler]
That's a lot of Eldrazi, which might come as a surprise or a snore depending on how you felt about Eldrazi after the Pro Tour. If you believed Colorless and UR flavors represented the strategy's zenith, you'll be taken aback to see RG variants (those with Kozilek's Return, Lightning Bolt, Ancient Stirrings, and others) almost tied with the Pro Tour winning combination. If you believed the Pro Tour was just the beginning, you'll see nothing unusual about the 18 different Eldrazi offerings, but
might be more startled by Colorless and UR Eldrazi's staying power at the top. In both those cases, Eldrazi have both lived up to expectations and challenged them, showing the archetype still has room to grow but also making a strong case for the Pro Tour lists' power.
If you're venturing forth into this hostile environment, you'll need to expect two different kinds of Eldrazi lists. Colorless Eldrazi represent the linear, face-CRUNCHing Stompy decks which try to win fast and hit hard. These decks pack the Chalice of the Void/Simian Spirit Guide package along with minimal removal and maximum beatdown. Basically every other Eldrazi list, although largely focused on UR and RG, play a more interactive game. UR's Drowner of Hope seeks to win the midrange grind against decks trying to block favorably. RG's Lightning Bolts combine a bit of extra reach with some early-game disruption against decks like Affinity seeking to go under the 5/5 trampling mobs. Other Eldrazi decks will fit in either the more linear or more midrange categories, and then again within either the grindier camp of UR or the damage and removal-heavy RG party.
As a whole, these numbers point both to the raw power of known Eldrazi lists, but also to the adaptability of the core Eldrazi engine (depend on Ensnaring Bridge and Worship at your own peril!). This deck is evolving both to beat the hate and overcome the mirror. We'll need to keep both in mind as we move closer towards the Grand Prix weekend.
Fighting Back?
As a deck, Eldrazi is beatable. You can do it with mainstream Abzan Company, offbeat Knightfall brews, throwback enchantment prison decks, or with all those Magus of the Tabernacles you maniac speculators bought out without a single tournament performance to back your investment. As a metagame force, however, Eldrazi is looking very problematic. True, we're only ten days into the Eldrazi period, but these signs are significantly worse than even the most warped week-and-a-half I've seen since starting to track metagame numbers a few years back. It's going to take some serious firepower for Grand Prix journeymen to innovate their way out of this mess, and even then, the broader issues across Tier 1 and Tier 2 might not be resolved: narrowed deck options, the absence of blue, a linear majority, etc. I'll keep Tweeting regular metagame updates as we draw closer to the March tournaments, but don't expect to see an Eldrazi retreat any time soon. After all, Emrakul is coming...
That's all for today's metagame update and our analysis of the current Eldrazi situation. And remember, as I talked about last week, even this current picture would't justify an immediate banning: we really do need to wait until April's scheduled update. Let me know in the comments if you have any questions about the numbers or their meaning, deck or card choices, Modern as a whole, or how the heck you are going to survive the Eldrazi hegemony (your pick of Affinity, drink, or angry Tweets/Reddit comments). See you all soon!