Are you a Quiet Speculation member?
If not, now is a perfect time to join up! Our powerful tools, breaking-news analysis, and exclusive Discord channel will make sure you stay up to date and ahead of the curve.
We are in countdown mode. T-minus one week, and Shadows Over Innistrad releases upon us, bringing with it an Eldrazi banning and good tidings for all boys and girls. The combination of Eldrazi's removal (good riddance) and the influx of (possible) new cards will undoubtedly shake up Modern for better or for worse, and my brain has been spinning trying to anticipate all the possible permutations the metagame might take.
Today, we'll put a preliminary stamp on Shadows Over Innistrad; grading the set as an exercise in evaluative process. Primarily, though, we'll be looking forward a week ahead, theorycrafting some ban decisions and anticipating what the format will look like with Eldrazi gone and Shadows here. Let's get started!
[wp_ad_camp_1]
Shadows Over Innistrad Spoilers Part Two
Last week, we took a hard look at the first half of the spoiled set, analyzing for potential Modern sleepers and staples. I anticipated this week's article to be exclusively Spoilers Pt. 2, but as often happens the back half of the New Set, spoilers were pretty lackluster for anyone not interested in Limited. This should come as no surprise to anyone familiar with
preview season; Wizards often releases 80% or more of the flashy mythics/rares early, leaving the last week/two weeks of to contain almost exclusively commons/uncommons and Limited filler. Historically, Modern aficionados have been able to find gems in this muck; Rending Volley, Become Immense, etc. This time around, no such luck. Why?
Wizards has taken a few steps recently in set design that have inspired some negative repercussions for Modern. Gone are the days of Return to Ravnica's hyper-powerful, multicolor spells, replaced almost entirely with slow, underpowered, overcosted, single-color options. Instead of Essence Scatter, we get [tippy title="Deny Existence" width="330" height="330"]
[/tippy]. Instead of Azorius Charm, we have [tippy title="Gone Missing" width="330" height="330"]
[/tippy]. What this means for Modern is clear; it sucks! Pair this with their design philosophy that moves away from One CMC "Mana Elves" and we get [tippy title="Loam Dryad" width="330" height="330"]
[/tippy] where we once had Birds of Paradise.
As a relatively seasoned Magic player that has experienced such wonders as Jace, the Mind Sculptor in Standard, Snapcaster Mage flashing back Vapor Snag, and Thoughtseize removing Llanowar Elves, it's hard to look upon these changing times with anything resembling positivity. I got to play with Abrupt Decay, and now they are giving me [tippy title="Murderous Compulsion" width="330" height="330"]
[/tippy]? A man can only take too much before his own [tippy title="Murderous Compulsion" width="330" height="330"]
[/tippy]s kick in.
This is all to say that the back half of Shadows Over Innistrad spoilers has absolutely nothing to offer. Keep walking, nothing to see here. This leaves us with the following set of cards that I anticipate "could" see play in Modern, and are therefore worth keeping an eye on.
Likely
[tippy title="Thalia's Lieutenant" width="330" height="330"][/tippy]
[tippy title="Asylum Visitor" width="330" height="330"][/tippy]
[tippy title="Traverse the Ulvenwald" width="330" height="330"][/tippy]
[tippy title="Arlinn Kord" width="330" height="330"][/tippy]
Possible
[tippy title="Thing in the Ice" width="330" height="330"][/tippy]
[tippy title="Olivia, Mobilized for War" width="330" height="330"][/tippy]
Niche
[tippy title="Declaration in Stone" width="330" height="330"][/tippy]
[tippy title="Falkenrath Gorger" width="330" height="330"][/tippy]
[tippy title="Nahiri, the Harbinger" width="330" height="330"][/tippy]
To clarify, this is an inclusive list of all the cards in Shadows I think could possibly see play of any level in Modern. [tippy title="Falkenrath Gorger" width="330" height="330"]
[/tippy] is not a good Magic card for Modern, but could show up in a Vampires deck so I'm including it here. The same with [tippy title="Nahiri, the Harbinger" width="330" height="330"]
[/tippy]: I don't expect her to see play, but she could pop up in some Mardu lists so I'm including her as well. Long-term (read: until the next set comes out) I would be surprised if more than two cards from the set
see sustained play, and downright shocked if any of the non-Likely options show up in more than one archetype.
My pick for best card in the set goes to [tippy title="Asylum Visitor" width="330" height="330"]
[/tippy], as its synergy with Modern as a format and black as a color gives it the highest possibly of multi-archetype play. The strongest individual card is [tippy title="Thalia's Lieutenant" width="330" height="330"]
[/tippy], which could do for Humans what Master of the Pearl Trident did for Merfolk. As a whole, I'm grading the set a C, as the set is lacking in terms of both staple singles and role-playing sideboard cards. My biggest question marks are [tippy title="Thing in the Ice" width="330" height="330"]
[/tippy] and Arlinn Kord, I could see that I'm underestimating them, and a month from now we could see either of these cards in more than one archetype. I feel confident in my opinion that they show promise, but ultimately fall a bit short of the standard for Modern.
Shadows Over Innistrad Grade: C
Looking Ahead
The rest of this article will begin to look ahead to what a possible Modern landscape would look like with Eldrazi out of the picture. The relative lack of influence from Shadows Over Innistrad will make this process easier, as I don't anticipate [tippy title="Asylum Visitor" width="330" height="330"]
[/tippy] to raise Black's stock in Modern a significant amount to tip any scales. So, we'll approach this in two parts; Modern with Eldrazi completely removed, and Modern will Eldrazi present, but nerfed. First, Context!
| | | |
| --- | --- | --- |
| 1 | Eldrazi | 34.9% |
| 2 | Affinity | 8.9% |
| 3 | Abzan Company | 5.8% |
| 4 | Burn | 3.8% |
| 5 | Infect | 3.8% |
| 6 | Living End | 3.2% |
| 7 | UW Control | 3% |
| 8 | Merfolk | 2.9% |
| 9 | Jund | 2.9% |
| 10 | RG Tron | 2.1% |
I highly suggest brushing up on the Grand Prix Weekend Wrap-Up before moving on, as most of our inferences will be based primarily on that data. Check out Sheridan's article detailing the post-banning, pre-Pro Tour metagame as well. Post banning, but before the Pro Tour, the metagame looked similar to the above chart (removing Eldrazi of course) in almost all areas, but with a few key differences. Tron performed much better than we see above, which points clearly to Eldrazi (or Eldrazi's effect on the metagame) being unfavorable for Tron. Picking up on key bits like this that can be easy to overlook is essential if we want to get a step ahead. Eldrazi has been top dog pretty much every week since the Pro Tour, with a couple clear challengers emerging over the following weekends to fight for Second-Best. Abzan Company and Living End experienced the best results (after Eldrazi) on GP Weekend, while Affinity took third and Burn/Infect were almost entirely absent.
We have to be careful to evaluate every piece of information with a grain of salt, it is essential to realize that the metagame we see now is based almost entirely on the effect Eldrazi has had on the landscape more so than individual archetype strengths/weaknesses. Archetypes that stand no chance against Eldrazi (control, Tron, Scapeshift) have largely disappeared in Eldrazi's wake but will undoubtedbly return when Eldrazi is banned. Still, the best place to start is Level 0, the "best decks" left standing after Eldrazi is banned.
Abzan Company
Collected Company decks came in many flavors following its release, primarily Elves and Melira/Anafenza Combo. Elves experienced a gradual decline into obscurity as they could not race other aggressive decks consistently when its lords had been dealt with. Abzan Company, on the other hand, contained multiple life-gain elements to buy time to combo properly. While it can often experience awkward, disjointed hands, Abzan Company as an archetype interestingly contains a surprising amount of power for a deck that packs individually embarrassing cards like Melira, Sylvok Outcast and Viscera Seer. Abzan Company has enjoyed relatively modest success against Eldrazi, as its lifegain elements work to stunt Eldrazi's unfair aggro and itss combo elements force Eldrazi to play Abzan's game.
Living End
Benefiting from the lack of control in Modern, Living End has been able to turn-three/turn-four opponents with impunity. As Eldrazi players have begun to move away from Relic of Progenitus, we've begun to see Living End's stock rise, and we can just as easily expect it to fall once players begin to consider the archetype in their sideboards. Living End has shown a weakness to dedicated hate, and I would expect that to continue in the future. Should Living End become a problem, I imagine it won't remain top-tier for long.
Affinity
With Eldrazi banned, Affinity regains its title as Linear Aggressive King. Depending on who you ask, this can be positive or negative, but we've  seen Affinity occupy the same relative position in Modern for a while now, and we have enough evidence to show it can be a format powerhouse if nobody prepares for it. That said, the tools also exist to keep it from dominating (read: the way things should be!). I fully anticipate a return to top-tier for Affinity, but I highly doubt it will even come close to dominating in the same style as Eldrazi. Without Eldrazi to worry about, other archetypes can return to dedicating 3-4 sideboard slots to fight Affinity, and we'll return to the relative comfort of getting squashed by Affinity Game 1 and then dominating post-board like usual.
Metagame odds and ends
Infect and Burn almost completely fell off the map at Grand Prix Weekend, but I anticipate a full return once Eldrazi is banned. Not only are both of these archetypes proven Modern powerhouses, they have both benefitted greatly from the reduced Lightning Bolts in the format. Depending on the market share post ban we could see a reduced number of viable archetypes compared to the Splinter Twin era, which could have a negative benefit on these archetypes. When Splinter Twin was legal it was common to see 15-20 viable archetypes on any given weekend, which made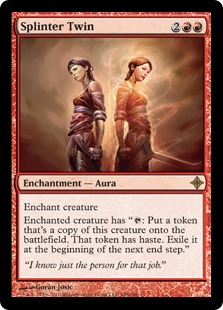 devoting sideboard slots to fight specific archetypes difficult. When players can't afford to play Leyline of Sanctity or Melira, Sylvok Outcast in their boards for fear of losing too much percentage in other matchups you begin to see archetypes like these overperform. With Eldrazi banned we can imagine a return to the Splinter Twin metagame but without Splinter Twin. Will this cause a "flood" of different archetypes to run wild, or will a few archetypes grab up all the market share into a new Rock/Paper/Scissors metagame? The answer to this question will influence archetypes like Burn and Infect which stand to benefit from a diverse "do what you want" metagame.
The other looming question mark is Tron's place in the new metagame. Tron stood to benefit greatly from Twin's banning, but it proved it couldn't handle Eldrazi effectively. With Eldrazi gone soon (and Twin still gone), could Tron rise from the ashes to take a shot at the throne? It boasts a strong Abzan Company matchup, and can be tuned to fight Affinity and Burn as well. Infect is problematic, but again, depending on the market share, Tron could afford to devote multiple sideboard slots to fight that matchup. Tron's insecure future is one of the most interesting questions I've been pondering as I anticipate an Eldrazi-less Modern.
Gone, but Not Forgotten
The other (less likely) April 4th scenario involves an Eldrazi nerf, but not total ban. Most likely this will involve the banning of Eldrazi Temple, and the Eldrazi shell remains, still powerful but not dominating. There's been a significant debate about which broken land will be banned, be it Eldrazi Temple or Eye of Ugin. Personally, if I were Wizards I would err on the side of the non-legendary Land, but I imagine banning either would accomplish a similar effect. Whether the Eldrazi deck is still viable with Eldrazi Temple gone is outside the scope of this article, I'm just interested in theorycrafting what the future will look like should Eldrazi still be around in some fashion, not whether that is likely to happen or not. I definitely consider it less likely, which is why this section is smaller (and second).
The most important repercussion of Eldrazi's continued presence in the metagame is the enduring repression of archetypes with unfavorable matchups, specifically Tron and control. While a nerfed Eldrazi archetype might be slow enough that a poor matchup for Tron suddenly becomes strong, I will continue with the assumption that Eldrazi keeps Tron down, so the resulting metagame will look much different as a result. With Eldrazi slower, other linear strategies like Affinity, Burn, and Infect become contextually stronger as a result, and we could see a landscape where one of these three becomes the new Public Enemy #1. This could result in differing cascading effects, and it is important to not get too far ahead of ourselves, so I won't explore the varying effects each possible King could have.
What is more interesting to me is how Abzan Company will stand up to dedicated hate, as I imagine that strategy becomes the next "best deck" with Eldrazi nerfed. It boasts strong matchups against the Big Three (Affinity/Burn/Infect) and can be tooled to beat almost anything. With Eldrazi continuing to keep Tron down, Abzan Company merely has to contend with faster combo and attrition style decks like Jund and Control (which I anticipate returns as well). Graveyard hate is strong against Abzan Company, as it shuts down both the combo and multiple latent synergies (Kitchen Finks/Scavenging Ooze). Abzan Company has shown it can play the fair game as well, however, and the Gavony Township backup plan is still as strong as ever.
Conclusion
The questions that Eldrazi's looming banning sponsors are complex and not easily answered, which naturally makes them good questions worth discussing. While we wait for Wizards to make the first move, all we can do is muse, and doing so will put us a step ahead once we enter our Brave New World. Plus, never pass up an opportunity to muse! Let me know in the comments what you thought of my process, and what changes you think will happen to the metagame with Eldrazi's banning. Will the deck disappear, or will its shell continue to linger in some fashion? Thanks for reading, and I'll see you next week.
Trevor Holmes
The_Architect on MTGO
Twitch.tv/Architect_Gaming
Twitter.com/7he4rchitect