Are you a Quiet Speculation member?
If not, now is a perfect time to join up! Our powerful tools, breaking-news analysis, and exclusive Discord channel will make sure you stay up to date and ahead of the curve.
On Saturday and Sunday, the Gatewatch made their last stand against the Eldrazi in three cities across the world. The Grand Prix battles were fierce. Opposition was stiff. Weeks of debate and analysis led to this point, and the Modern community rallied with the best technology and innovation in its arsenal. But in the end, the outcome was never in question. The metagame numbers, whether in Top 8, Top 32, or the Top 100 Day 2 decks, showcased the most warped metagame in the format's history. The Eldrazi menace made up over 40% of the collective Grand Prix field, making tales of Bloodbraid Jund and Deathrite BGx appear as a fond memory. Everyone played Eldrazi and won or played an anti-Eldrazi deck and lost, and as the weekend closed, Modern was in ruins and the Gatewatch lay defeated. The Eldrazi had won.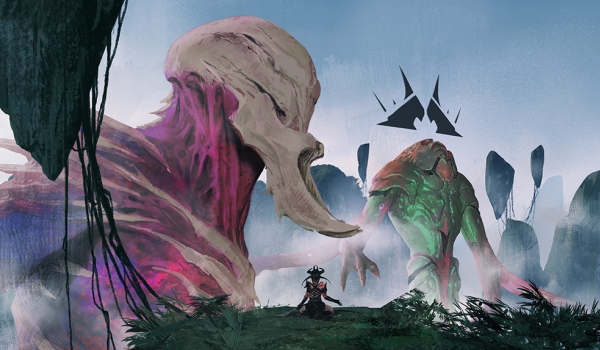 April 4 comes in 28 days, and this is the first of three articles I'll write on Eldrazi in that time period. Everything else will project the post-April metagame, discuss major Modern policy and management issues, or spotlight strategies and tech that might shine after April. There is no doubt this deck will be hit with at least one ban after this miserable month of unprecedented imbalance, so I'm not spending any more time than needed to discuss such an obvious offender. Today's article will summarize the horrors of Grand Prix weekend, revisiting predictions I made last week. Later this week, I'll publish a formal February metagame analysis, and will also mark the last time I talk about Eldrazi in a metagame context. That will bring us to the third article (date TBD): a scathing indictment of Eldrazi and a call for Eldrazi Temple's or Eye of Ugin's execution. Maybe both! Testing will tell. With that roadmap laid out, let's turn to the most broken Grand Prix events in Modern's history and see how bad things got for Aaron Forsythe to declare Modern a DEFCON 1.
[wp_ad_camp_1]
A Conquered Metagame
By the time you read this article, you'll already have consumed considerable media about the disaster of Grand Prix weekend. Forsythe already all but confirmed an upcoming ban in his Grand Prix Detroit interview. Twitter and Reddit have seethed with Eldrazi venom since Saturday morning. Even the normally positive coverage team was speechless at the percentages from the weekend's tournaments. Rather than recap all those figures alone, I want to situate them in the context of previous Modern events. Specifically, in Modern metagame contexts that previously saw format-diversity bans. This will give some historical sense of just how bad things became over the weekend and why you should be as outraged as I am. Maybe even as outraged as Twitch chat, but probably not: our comment section doesn't support the same range of expressive emoticons.
Since Modern Grand Prix tournaments began in 2012, the format has seen five format-diversity bans.
I'm not going to talk about those metagames in the banning context itself: I've already done that in my "Last Word on the Splinter Twin Banning" piece. I'm also not going to evaluate those bans. Instead, I'm going to use those bans as indicators of an unhealthy metagame. In the cases of Bloodbraid Elf Jund, Deathrite Shaman BGx Midrange, Treasure Cruise URx Delver, BGx Birthing Pod, and URx Splinter Twin, Wizards identified metagame elements indicative of some fundamental format imbalance. To understand the significant and unprecedented warpage of this weekend, we'll look at the Day 2s and Top 8s of those previous metagames.
Eldrazi in the Day 2 Metagame Context
The graph below represents the Day 2 Grand Prix and Pro Tour shares for each of the banned decks in the months preceding their bans. In some cases, this was as many as eight distinct events (URx Twin from Pro Tour Fate Reforged through Grand Prix Pittsburgh). In others, it was only three (URx Delver with a Grand Prix each in Madrid, Milan, and Omaha).
For people who process better with fewer numbers, here are the average Day 2 shares in each deck category.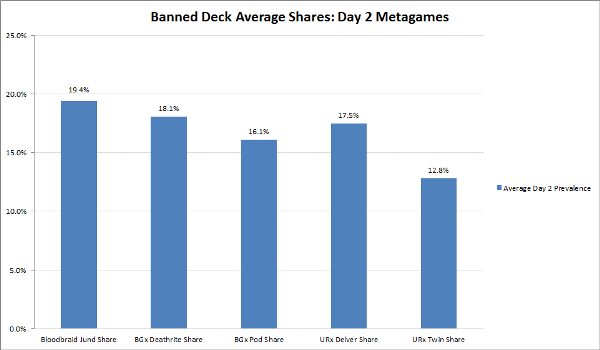 With the exception of URx Twin, which I've already discussed at length, all of these decks averaged in the 16%-19% range for Grand Prix Day 2 shares. Even adding URx Twin, we can reasonably assume that a metagame might suffer from imbalance when a deck can average between 12% and 19% over its entire lifespan. Of course, something like URx Delver was shorter lived, but still averaged 17.5% across Day 2s in a period of three Grand Prix tournaments.
That brings us to Eldrazi, the Pro Tour where they shambled onto the Modern scene, and the Grand Prix weekend we just endured.
We didn't get any formal Day 2 metagame breakdowns from this past weekend. Instead, we got a strange "Top 100" format I've never seen before in four years of Wizards' Modern metagame reporting. It's also not even a random sample of the Day 2 decks; it's literally the 100 players and decks with the most points going into the Day 2. Frank Karsten confirmed over Twitter that this was an issue of manpower and hours, not Wizards trying to deliberately obscure its unhealthy Day 2 metagames, but I'm still suspicious: Grand Prix Detroit had a big coverage team and similarly-sized events released proper Day 2 breakdowns in a timely fashion (see Grand Prix Pittsburgh). I'll keep an eye on this in future events and bookmark this weekend's coverage, but for now, we're just going to treat the Top 100s as Day 2s for lack of other data.
Here's that first graph again with the Eldrazi shares added.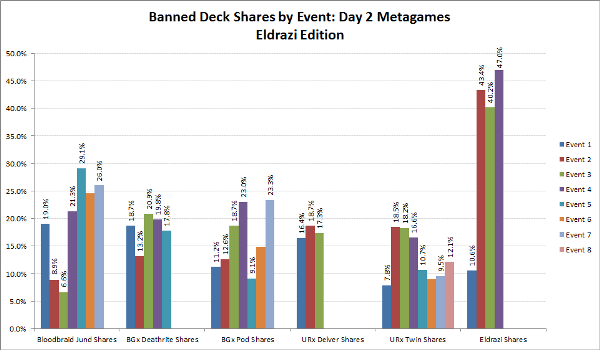 And that's what DEFCON 1 looks like. Notice how the piddly 10.6% Day 2 share from Pro Tour Oath eventually ballooned into that towering triple bar at the end? That's the trajectory of a true Tier 0 deck, and it even exceeds in magnitude (although matching in trend and direction) the overall metagame picture from the Pro Tour until today. Grand Prix Bologna was the most diverse of the three tournaments, with "only" about 40% of the field on the deck. Melbourne was next at 43%. Of course, the event with the most coverage, Detroit, was the worst of them all with a 47% Eldrazi share. The Detroit Top 100 article also contained some of the most unintentionally hilarious, public-relations spins on the metagame of any Modern event I can remember.
"So that's the Eldrazi. And it's behaving like an eight-hundred-thousand­-pound gorilla, but remember, this is Modern. There are 53 decks that are not Eldrazi, and among them are more than 20 archetypes."
"The Eldrazi numbers are large, but not insurmountable. And even if you do join the big, bad evil, there are variety types of evil to choose from."
"A Day 1 like this could mean the Top 8 could look like anything really. In a few short rounds, we'll see."
In fairness, the Eldrazi numbers were surmounted by a lone Abzan Company hero in Ralph Batesh. We'll ignore the fact that the Detroit Top 8 had six Eldrazi strategies alongside Abzan Company (and UR Storm, thanks to Modern hero #2 James Zornes) but hey, I guess they were technically surmounted in the end.
The average shares are actually a bit better because the 39%+ Eldrazi slice from Grand Prix weekend gets brought down by the 10.6% from Pro Tour Oath. Of course, that downgrades it from "abysmal" to "merely terrible." And hey, with Eldrazi averaging 35.3%, that's still 64.7% of the format on something else! #ThisIsFine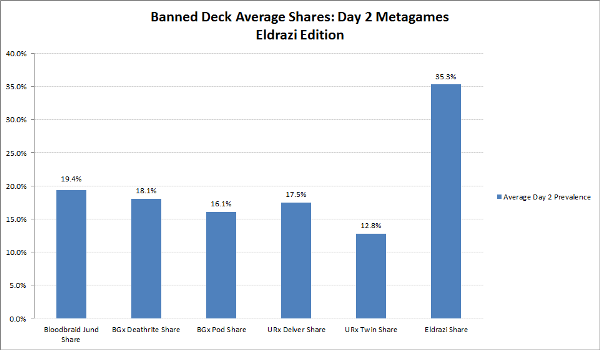 When I was drafting this article, I considered presenting these last two charts without the dramatic preview of the no-Eldrazi versions. That would have saved on word count and cut back on some degree of sensationalism, but to be totally honest, I'm comfortable with sensationalism in this case. Especially if it helps you relive the visceral shock I experience whenever I recheck these numbers. Eldrazi isn't quite twice as bad as the next most polarized metagame (Bloodbraid Jund). It's just 1.8 times as bad, and at least that much more imbalanced relative to all the other periods.
I highlight this historical Day 2 context to give qualitative illustration to a qualitative phenomenon that was rampant throughout the weekend. Eldrazi felt like it was everywhere, and it seemed like it was the least diverse a Modern event, let alone a series of Modern events, had ever been. Those feelings hardly bear repeating, with the majority of feature matches showcasing Eldrazi mirrors or Eldrazi vs. Anti-Eldrazi matchups, and most of Twitter (myself proudly included) decrying the unhealthy format. Hopefully, by seeing that field alongside historically imbalanced fields, we can now understand our dissatisfaction as a function of those past metagames.
Eldrazi in the Top 8 Context
Of course, Day 2 standings aren't the only pedestal for format diversity. Wizards is keen to cite Top 8s as both evidence for and against a healthy Modern, whether in banlist updates or in Modern hype pieces rolled out before major events. There is certainly a popular appeal to Top 8s: they are much more visible than the dull, numbers-heavy Day 2 (or Top 100) breakdowns, and generally receive more coverage in the content following a tournament. Sample size aside, these are also the ostensibly best decks of the day! Who doesn't want to gush over a cool Top 8 finish or diverse Top 8 field, regardless of what happened in the lower tables? Following this, it's important to acknowledge the historic Top 8 picture and see where Eldrazi fits into it.
Instead of showing discrete Top 8 showings for single events, I'm jumping right to the average Top 8 showing across all events for each deck. With only a few possible values for the number of Top 8 appearances for each deck, the event-by-event breakdown just looks ugly. The event summary chart looks much better, although the disproportionate Eldrazi share is ugly in its own way.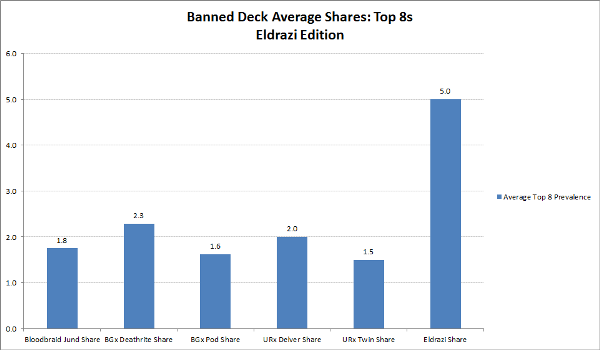 From Pro Tour Oath until the end of Grand Prix Detroit, Eldrazi never sent fewer than three pilots to these major Top 8s. Detroit and the Pro Tour both had six. Bologna added five and Melbourne was at a mere three. Step it up, Australian Eldrazi! Adding the StarCityGames Louisville Open would have included a four-Eldrazi Top 8 in the dataset, but I'm excluding SCG events from the other categories so I'm also removing it here. Speaking of those other categories, not even URx Delver, a deck that dominated for a comparable period of time, was even close to the Eldrazi dominance we've witnessed since the Pro Tour and culminating in the Grand Prix Three. Only Deathrite comes close at less than half the Eldrazi Top 8 prevalence.
Of course, our statistically minded readers will note different event Ns for each period.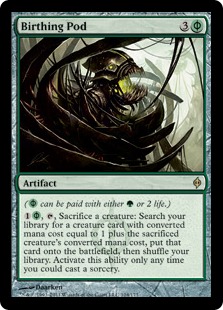 Eldrazi has seen play in four major events between the Grand Prix and Pro Tour scene. By contrast, URx Twin saw play in twice the number of significant events. This was also true of BGx Pod and BGx Deathrite Midrange strategies. With a wider time period, the averages for these decks get brought down by outlying events. Fun fact: 2013's Grand Prix Kansas City and Grand Prix Portland both saw zero BGx Midrange decks in their respective Top 8s (poor Birthing Pod decks with Deathrite don't count!). The simple averages also discount periods of time where a deck became uniquely broken. For instance, Bloodbraid Elf was much tamer before Return to Ravnica added Deathrite and Abrupt Decay to the mix. Same for Pod decks and Siege Rhino after Khans of Tarkir. 
To adjust for these differences, the chart below only looks at the four events where the deck had the most Top 8 appearances. This means we're comparing the worst of the Eldrazi with the worst of everything else. Because URx Treasure Cruise Delver only had three Grand Prix representatives in the dataset, I'm even adding the best-attended, highest-share Delver event from the period: StarCityGames' Modern Premier IQ in Ohio on January 4, 2015. That added three Delver decks to its share, which is over its baseline average of just two.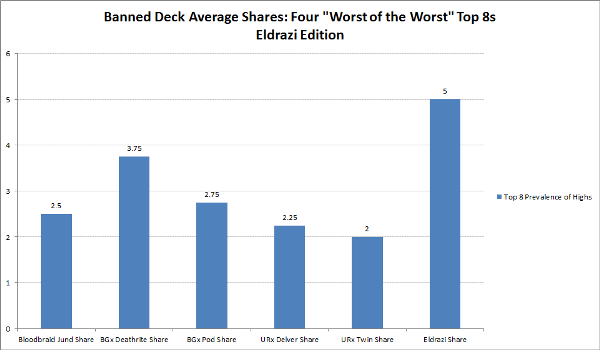 Even cherry-picking the four most lopsided events from each of the banned decks' history, we still don't encounter a deck matching Eldrazi. Deathrite BGx comes close with 3.75, a number brought up by 2013's Grand Prix Detroit which saw six Deathrite decks in the Top 8. I'm a Midwesterner myself, so you can't tempt me into making any Detroit cracks here or anywhere else in this article. I save my Midwestern jabs for the Green Bay Packers. Regional humor aside, this "Worst of the Worst" comparison only underscores just how lopsided the recent Top 8 results were in even the historical Modern context. Not even widely accepted offenders like Deathrite Shaman pushed their decks to this level of metagame control.
Eldrazi Everywhere Else
Outside of the Last Chance Qualifiers, there was virtually no segment of the Grand Prix metagame which wasn't writhing with Eldrazi. And even there, 50% of Detroit's Qualifiers were Eldrazi of some kind, even if Bologna and Melbourne almost looked normal. It wasn't like anything else even approached normal all weekend long. In case you want a final accounting of the carnage, here are all the highlights (lowlights?) of the weekend and just how much Eldrazi crushed/smashed/CRUNCHED each event.
First up, Melbourne with its pitiful 3/8 Eldrazi showing in the Top 8.
Bologna is next, with a much better Top 8 showing but a far more disappointing 39% Top 100 Day 2 share. Really need those Eldrazi to up their game!
We end with Detroit, the event that had the most coverage, the most players, and, surprise surprise, the most Eldrazi.
Whether in isolation or in the historical context of past Modern metagames, the Grand Prix Eldrazi weekend broke (quite literally) new ground in the format and how we view degenerate decks. Before this weekend, my benchmark of a broken deck was in the 15%-20% range, with major offenders hovering around 25%-30%. I hadn't believed Modern could host such a format-wrenching force as Eldrazi, but I've learned a lot about what a Tier 0 deck looks like in this format. Standard, Extended, Block, and other formats have had their share of Tier 0 nightmares before, but this has been the first one in Modern and has it been truly grotesque to watch it unfold.
Checking Predictions
I always try to be conservative when making predictions, taking the pre-trends as my guide and relying on Modern's natural ability to regulate imbalance (even if Wizards can't help themselves by tampering with this ability via bans). What can I say? I love Modern and I'm an optimist at heart. This led to a track record of prediction successes over 2015, but also to a major miss during Grand Prix Eldrazi weekend. Looks like the Eldrazi were simply too broken to be regulated and too powerful for my meager optimism: I'm 1.5 for 4 on predictions from last week. Oh well. I guess that's what happens when you bank against such a glaring and offensive Tier 0 monstrosity.
Here are those missed predictions, where they fell short, and how we can learn from them in the future.
Eldrazi averaging 25%-30% in Day 2s? NOPE!
In the best of circumstances, a Tier 1 deck might reach 25%-30% in one event. I stand by that assessment, but Eldrazi is a Tier 0 deck, not a Tier 1 deck. The ceiling is much higher. Having never experienced a Tier 0 deck in Modern, I was uncertain how Eldrazi would impact and uproot the format and instead placed my projections in the humbler, Tier 1 arena. Never again! We now know what a Tier 0 deck is capable of, and this will serve as a longstanding benchmark for future format health.
Eldrazi underperforming from Day 2 to Top 32? NOPE!
My metagame logic on this prediction was sound. Eldrazi decks would clobber the unprepared decks in a broader field on Day 1. Anti-Eldrazi decks that scraped by to Day 2 would then get their pass at the format monster, knocking many out of contention for Top 32. Ultimately, we would expect to see Eldrazi underrepresented in the Top 32 relative to their Day 2 share. Instead, they overrepresented in every event. What happened? I just underestimated how powerful Eldrazi was and how adaptable it was to hate. Even Living End, UW Control, and Abzan Company, probably the best Eldrazi slayers of the lot, still fell to Eldrazi in the top tables. This is another hallmark of a Tier 0 deck, and one I will remember: the Tier 0 deck still beats its so-called predators.
Abzan Company/Chord and Blue Moon excel? Not really...
I'm kicking myself for switching "UW Control" to "Blue Moon" at the last-minute in the previous article. What can I say? I love Blood Moon, get inspired by Jason Chung, and saw some favorable Moon adaptions leading up to the weekend. UW Control won out in the end, with a few Top 32s and even a Top 16, but at least Abzan Company proved its salt. Living End was the other big non-Eldrazi winner of the weekend, but again, this was clearly the case of the anti-decks ultimately losing to their supposed targets. That's the mark of a Tier 0 deck, and although Abzan Company had its biggest weekend at Detroit, the overall picture is still a bleak Wastes of Eldrazi.
2+ Eldrazi decks in each Top 8? Got 'em!
We've talked about this one enough for today. Eldrazi were everywhere and beat everything en route to their big performance. Anti-decks don't beat their prey if the prey is really a Tier 0 super-predator in disguise.
There are probably a few other Grand Prix takeaways worth discussing, such as attendance (strong at Bologna and Melbourne; middling at Detroit), coverage (Gaby Spartz and LSV rocked it all weekend long; lack of Shadows Over Innistrad coverage until Sunday rocked it less), and matchup quality (Jund and Dark Confidant flips a highlight; Eldrazi mirrors and cut-to-backup-match Lantern Control rounds not so much). I'm happy to discuss all of this in the comments, but for now, I'm ready to exit the Grand Prix wreckage and start looking ahead to the future.
Bidding Farewell to the Eldrazi
28 days left, two Eldrazi articles to go, and a whole brave new Modern future awaiting us on April 4. Most of the time, I spend my Nexus articles guiding readers away from the popular (mis)interpretations of recent events, metagame statistics, and some new Modern hype. Most of the time, however, we don't have a flagrant Tier 0 tyrant squashing our format into the dust. Today is the rare day where all the anger, buzz, hype, rage, and internet opinion is mostly right: Eldrazi is just as bad as everyone thinks. That's been supported by the internal data from the Grand Prix events themselves, the historical context of previous broken metagames, and the despairing din from every Moderner across the world.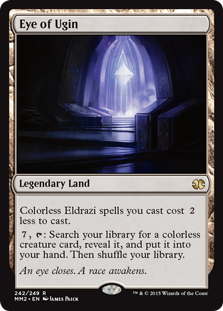 Thankfully, something will change in April and Wizards will act to ban at least one piece from the deck. Forsythe indicated a more limited ban approach in his Detroit interview, ideally one leaving the deck intact in some form, but I still expect an example to be made of either Eye of Ugin or Eldrazi Temple. Other targets are up for grabs and up for testing. Until then, keep your heads up and remember that even though the community Gatewatch failed to beat the unbeatable Eldrazi over the weekend, the R&D Gatewatch are ready to deal the death-blow in less than a month.
Let me know in the comments if you have any questions about the data, feedback about the article, ideas about future (non-Eldrazi) pieces for the next few weeks, or general reactions to Modern. We're almost out of the twisted, tentacled woods, and I'll see you all soon.