Are you a Quiet Speculation member?
If not, now is a perfect time to join up! Our powerful tools, breaking-news analysis, and exclusive Discord channel will make sure you stay up to date and ahead of the curve.
In the beginning of Eldrazi Winter, there was darkness and tentacles and a Tier 0 deck where there had once been diversity. And Wizards said, "Let there be bans," and there were bans. And, to surprise the players they had forsaken and restore balance to the Modern Force, Wizards said, "Let there be unbans," and there were unbans too.
Announcement date: April 4, 2016
Effective date: April 8, 2016
Magic Online effective date: April 13, 2016
Eye of Ugin is banned
Ancestral Vision is unbanned
Sword of the Meek is unbanned
Thus, Modern was saved by the Wizards Gatewatch and its players opened a new chapter of glory and possibilities.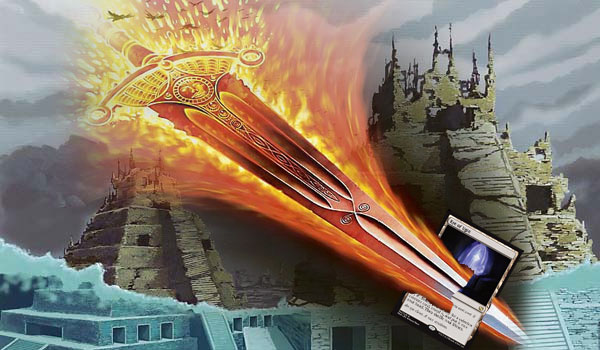 Following a week of fake banlist announcements that made all of us feel like we were living in Max Banlist Modern, anticipation was high for Monday's update. Anxiety, too! I'd even seen some buzz about a Mox Opal ban from multiple sources, and the mere prospect of that change was enough to have me awake three hours before the announcement in a sweat of ban mania. At 9:39, the April 4 announcement went live. I dropped my breakfast muffin on the floor in excitement, my cat proceeded to eat the breakfast muffin, and Modern was changed forever. Today's article will be a shorter piece analyzing the impact of these changes, with a deeper and more formal reaction to follow on Wednesday. With just over an hour between the update's publication and this article's deadline, and crumbs still on the floor, I'll save most of my analysis for Wednesday and just unpack the high-level takeaways today.
[wp_ad_camp_1]
Get #rekt, Eldrazi. This is literally the most justified ban I've seen in the format's history: not even demonstrable violators like Amulet Bloom warranted a ban quite as much as Eldrazi. At its height, the monstrosity occupied a 35% share of Modern, exceeding even the Bloodbraid Jund hegemony by 5%-10% and blowing Treasure Cruise clean out of the water. Aaron Forsythe made it clear at Grand Prix Detroit that some element of Eldrazi would be on the chopping block, and since that March weekend, it's been a question of "When" and "What," not "If."
Wizards' decision to ban Eye of Ugin has implications for both the immediate post-April 4 metagame, and for ban policy and format management down the road.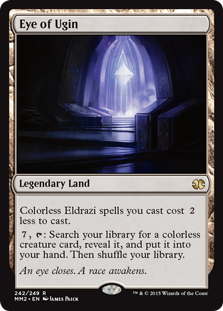 From a metagame perspective, it means Eldrazi will survive in some form off of a combination of Eldrazi Temple, Vesuva, and/or the Urzatron. In their announcement, Wizards predicted such a strategy to be "powerful yet beatable" and I agree with this assessment. Expect to see a number of Eldrazi decks linger through the summer even without their precious Eye of Ugin. This will include BW Processor decks like those we saw back in December, UR Eldrazi strategies such as JC Tao's at Pro Tour Oath, the UW Eldrazi variants which dominated Grand Prix weekend, and many others. Eldrazi decks will lose their explosive Eldrazi Mimic and Endless One starts, and the one-two punch of Thought-Knot Seer and Reality Smasher will become far rarer. That said, the deck will still exist, so pack your Ghost Quarters, Blood Moons, Fulminator Mages, and other hate cards accordingly.
By a similar token, the continued presence of Eldrazi bodes well for the best anti-Eldrazi decks of the past few months. Abzan Company is poised to remain a major Tier 1 player as we move past April 8. Naturally, Affinity will be a major player as well, although this would have happened whether Eye got banned, Temple got banned, or both walked the banlist plank. We're also likely to see more UW Control, Lantern Control, and Living End in Tier 2, along with the types of cards (especially sweepers) that made those deck viable in the Eldrazi world.
RG Tron decks take a sizable hit from the Eye of Ugin ban, something Wizards acknowledged in their announcement: "While the Eye does add a lot of late game power to the deck, the core gameplay of the deck—casting large threats with the Tron lands—remains intact." Some players will speculate that Eye's banning was also a backhanded safety measure against Tron. Although this might be true in practice, it does not seem to be Wizards' primary motive, and I'm unwilling to speculate on it without more evidence. This means Tron's share is likely to fall, although Eldrazi Tron decks may stay afloat. By a similar token, a point that relates directly to the unbans, traditional and hybrid control decks are likely to do much better in this post-Eye world. Even thrive! Eye of Ugin offered considerable inevitability to Tron and Eldrazi decks alike, and its removal secures the late-game for control deck.
From a banlist and format management perspective, Eye's removal is equally significant. For one, it shows Wizards is willing to do limited bans of even major offenders. It is possible this is motivated by ulterior, economic agendas (e.g. the infamous "sell packs" argument), but it is more likely this relates to format diversity. Wizards wants Modern to have diverse strategies, and they believe a depowered Eldrazi contributes to that. The ban also shows Wizards prefers to make surgical bans on engines, not sweeping bans on win conditions. As they said in the update, "Rather than ban multiple creatures, we find it preferable to ban a single land." We've seen this at play in previous announcements, including Seething Song's and Summer Bloom's banning, and I imagine we'll see it again. Banlist discussion should reflect this policy preference. As a final point on format management, the announcement suggests how R&D considers Modern in testing:
"When Battle for Zendikar and Oath of the Gatewatch were in development, the development team knew that all the Eldrazi creatures in the block would be more powerful in Modern because of these two-mana lands. While there was some risk that Eldrazi decks could be too strong, there was also the possibility that a fun new competitive deck would emerge."
Wizards of the Coast, "April 4, 2016 Banned and Restricted Announcement" (4/4/2016)
This quote, although potentially an after-the-fact justification and excuse for the Eldrazi Winter, most likely shows how Wizards "tests" and "designs" for Modern in their development process. We'll want to consider all of these high-level consequences, and many others, in more detail on Wednesday. For now, this is a good starting point in understanding the Eye of Ugin ban, and I'm happy to talk more about it in the comments.
Rest in small, banned pieces, Eye of Ugin. You will not be missed.
The Eye of Ugin ban was more predictable than an 11th hour Bulls loss to the Detroit Pistons this past weekend. The Ancestral Vision unbanning, however, was much more unexpected. To be sure, I and many others predicted this would be the probable unban in July, after Wizards had seen how the post-Twin metagame shook out with no Eldrazi to gum everything up. Wizards defied our conservative expectations and unbanned Vision today. They identified a notable lack of control in the metagame ("it is an underplayed portion of the metagame") and chose to act in advance of the June Grand Prix events, perhaps as a consolation for the miserable Eldrazi Winter, and perhaps knowing that Modern was unlikely to get less linear even after Eye's departure. Get ready for the blue-based control renaissance!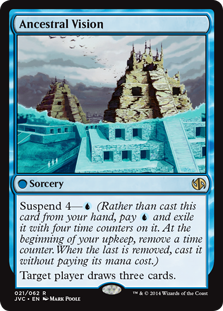 From a metagame perspective, Ancestral Vision is unlikely to break the format or plunge us into a Vision Spring of blue decks. There will certainly be an immediate uptick in these strategies as players try out their new toy, but it probably won't last and in all likelihood will fold into the rest of Modern's powerful strategies by June. That said, Vision is certainly going to have an impact, even if that impact doesn't outright break the format. Jeskai, Grixis, Esper, UW, Blue Moon, Temur Midrange, and a host of other strategies are drooling over this card and are all likely to benefit from its addition. Similarly, BGx Midrange decks are going to struggle with the turn one suspension before discard comes online, although this won't be nearly as back-breaking as the topdecked Treasure Cruise from Winter 2014. I'll be doing plenty of Ancestral Vision testing in the coming weeks, so you can be sure we'll report back on the card's prospects soon.
Thinking about banlist management, I see two immediate takeaways from the update. First, that Wizards is following through on the Splinter Twin ban by freeing some other control cards into circulation. This will likely be a net positive for the format, and I'm excited to see how control plays out in its new, Twinless, Visionary form. Second: Wizards expressed some worries about Bloodbraid Elfs power alongside Vision, which suggests the card may be a less probable unban than many believed. Jund mages may yet see the Elf but the announcement's phrasing makes it seem less likely.
Break out the Goblin Dark-Dwellers and get ready for control to rise again!
April's final unban is Sword of the Meek, a card that has long appeared to be the most ridiculous and unjustifiable entry still on the list from the initial 2011 bannings. I've wistfully called for a Sword unban in numerous updates, and I'm thrilled to see it finally released from undeserved imprisonment. Sword's most important impact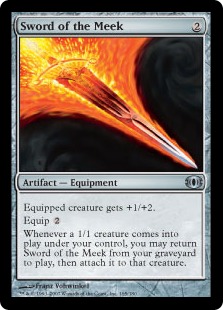 will be to stave the tide of linear, aggressive decks in Modern. Burn and Zoo hybrids, as well as Affinity, will struggle to punch through the repeated lifegain and Thopters in the Sword/Thopter Foundry engine. Some aggro players have expressed concern about Sword pushing these decks out of the format, but I believe this is unwarranted. The decks affected by Sword already enjoyed commanding pre-Pro Tour shares and are unlikely to retreat too much in the face of the new combo. It will also force them to run more interaction and, potentially, diminish the need for future bans or banlist speculation. That's a net win as far as I'm concerned, and I hope other players agree.
As for what decks actually use Sword/Foundry, the sky is the limit! Tezzeret strategies are the most obvious and immediate winners, but the hybrid cost in Thopter Foundry really opens up the combo in Jeskai, Grixis, Esper, or anything based in blue. Lantern Control, blue-based Tron, and perhaps even my beloved Puresteel Paladin decks may find the card useful as well. This kind of depth ensures players will be trying to "solve" the Sword/Foundry puzzle for months, and I don't expect anything definitive to emerge until at least September.
Sword's release suggests a number of banlist management points, but the most significant for me is the continued overturning of the initial banlist. Since Modern's start, we've seen Valakut, Bitterblossom, Golgari Grave-Troll, and now both Vision and Sword removed from that list. It's looking less and less sacred by the month. Of course, some monsters like Hypergenesis deserve to stay right where they are, but Swords' unbanning might start raising further questions about cards such as Stoneforge Mystic and Jace, the Mind Sculptor. We'll need to watch Vision and Sword closely to see if any ofthe other initial banlist rationale can be challenged.
The New Modern
Many players and pundits are going to focus on the immediate metagame implications of these cards, which are certainly huge. That said, it's important to also consider the long-term management consequences of these decisions. Like it or not, Modern is defined by its banlist and Wizards' use and understanding of that banlist. The three changes today give us significant datapoints as we look to the future and see how Modern is likely to change in 2016 and into 2017.
One big question mark still surrounds this update: is it enough to push back linear decks or are they just empty appeasements for control players? Time will tell, but I'm leaning heavily towards "Yes" on the former and "No" on the latter. Between the additional incentive these cards provide to control mages, and their immediate impact on games, we should see a new Modern with fewer linear deck and more interaction. For instance, Jeskai decks have always been favorites in the aggressive matchup, but have struggled mightily in other contests and can run out of steam in protracted aggro contests. Vision immediately addresses that, to say nothing of Sword doing its part. Remember: it's not like control mages will just settle for "turn two Sword, turn two Foundry, go." Lightning Bolt and Electrolyze will still be there to hold down the first few turns before the control gets online. These new control gems just strengthen existing strategies and make players more likely to invest in a control game-plan, which is a net win for format diversity and a net loss for linear dominance.
More academic analysis aside, this update frikkin rocks. It's the most significant unbanning in the format's history and the most appealing ban, all bundled into one awesome way to start the week. Looks like no one will have a case of the Mondays today! Join us this week as we explore the post-April 4 metagame in more detail and keep unpacking the consequences of this high-impact announcement. See you all in the comments and I hope you all bought those new staples from reputable dealers who won't rescind your purchase!