Are you a Quiet Speculation member?
If not, now is a perfect time to join up! Our powerful tools, breaking-news analysis, and exclusive Discord channel will make sure you stay up to date and ahead of the curve.
Welcome to the second week of the new Modern era! If the chatter in discussion threads and the various articles from the past week are any indication, everyone is happily brewing away with the new toys from Wizards. Control mages are eagerly waiting for Ancestral Vision to tick down and aggro players are happily ruining it by killing them first. Meanwhile, everyone is stuffing Thopters into any deck they can find. All is well in this new brewing season.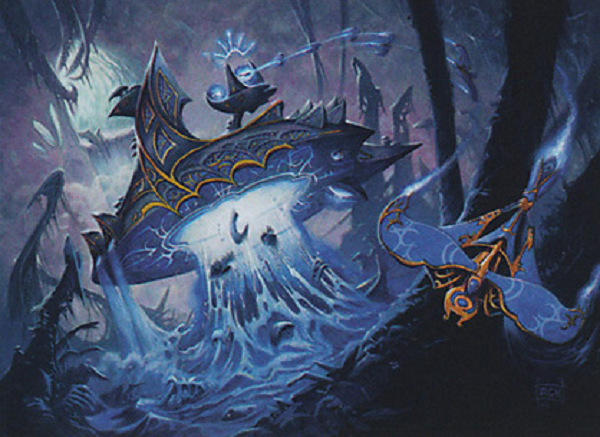 The most interesting part of all of this for me is the increasing chorus of voices claiming that the Thopter Foundry and Sword of the Meek combo (hereafter known as Thopter combo) is very, very good. Possibly to the point of being broken. I did warn you that this was possible last week (and other than this sentence I'm not going to crow about it) but what strikes me is how frequently the combo is described as unfair. Never being one to shy away from overanalyzing things, this week I'm going to evaluate the Thopter combo for its unfairness. What it does, how it does it, and what that means for answering the combo.
[wp_ad_camp_1]
The Thopter Combo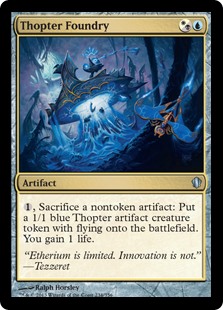 I know most of you already know this but bear with me; it will be important later. Thopter Foundry says "
, Sacrifice a nontoken artifact: Put a 1/1 blue Thopter artifact creature token with flying onto the battlefield. You gain 1 life." Sword of the Meek has some mostly irrelevant text and then "Whenever a 1/1 creature enters the battlefield under your control, you may return Sword of the Meek from your graveyard to the battlefield, then attach it to that creature." Sacrificing Sword to Foundry creates a 1/1, gains you a life and then triggers the Sword's return ability, allowing you to sacrifice it again as many times as you have mana available in a turn.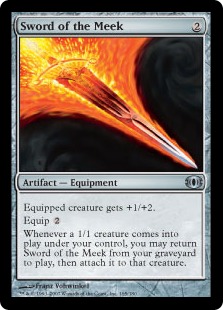 In practical terms this means that the Thopter player can make an army of flying chump blockers/attackers at instant speed and gain an equal amount of life, leaving mana open for counters during the opponent's turn. In other words, a nearly ideal control win condition. I say nearly because neither piece does much on its own and you have to assemble it the first time at sorcery speed. The combo also does not guarantee a win, it merely ensures that you will not die. As anyone who ever tried to beat Zoo using a Circle of Protection knows, spending all your mana not dying every turn without removing the reason you need to not die is a losing proposition.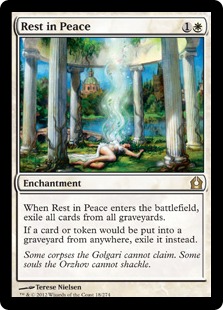 It is also highly disruptable, both before and after assembly. Whether it's countering Foundry, killing Foundry in response to Sword's trigger, or more dedicated hate cards like Rest in Peace and Stony Silence, if you want to defeat the combo it is fairly easy to do so. The Thopter Depths decks from 2010 Extended got around this using a combination of tutors and Academy Ruins, but as previously noted the best hate cards didn't exist at that time. It is for this reason that Thopter combo has not seen much Legacy success. The most recent high-profile success I can find is from the SCG Indianapolis Open in January 2015. When Miracles was still called Counter Top it often used the combo but I think it's telling that it has been abandoned in favor of Entreat the Angels.
Of course, all of this looks at the combo when it is behind and struggling to catch up. If you are in the driver's seat Thopter combo will make sure you stay there. Zoo and Burn cannot outrace the lifegain plus fliers and even making 3-4 tokens per turn will kill control and combo decks very quickly. It is possible for a deck like Merfolk or Bogles, which do damage in huge chunks, but any stumble will leave them unable to regain lost ground. I suspect this is the scenario players are focusing on when talking about how good Thopter combo is, but it is a valid point. But the question remains: is this fair or unfair?
What is Fair?
Oftentimes we hear the terms fair and unfair thrown around without anyone really defining what they mean. As an academic I find this infuriating since definitions are so important for intellectual inquiry, but they're also extremely difficult. Definitions have to be exclusive enough to meaningfully separate the term and yet inclusive enough to capture the entire intended subject. Jordan found this out last year when he tried to define fair and unfair as part of his Modern Archetypes series.
Based on the discussion Jordan generated and observations since then, I believe most players agree on what fair and unfair means--they just disagree on how to articulate the idea. It's very much a case of, "I know it when I see it," and we're all seeing it slightly differently. I'll prove it: What is a fair deck? What is an unfair deck?
How many of you answered Jund/Abzan for the first question? How about Affinity or Storm for the second? We all understand when a deck is being perfectly fair and conversely when something unfair is happening, though I suspect what that means for each player is slightly different, particularly when it comes to what constitutes unfair. What decks are fair provokes comparatively little discussion compared to unfair, so I feel confidant that we all have roughly the same understanding on that point: A fair deck plays by the rules. Necessarily this means that unfair decks don't play by the rules. So what are the rules?
I argue that an unfair deck is one designed to break the fundamental rules of Magic while fair decks operate within them. Draw one card a turn, play one land per turn, generate one mana for each land you control, pay the CMC to cast your spells, and if you want to break any of these rules you have to pay a price. GBx follows these rules scrupulously, even with Dark Confidant who makes you pay life to draw an extra card per turn. Storm joyously breaks these rules via enormous velocity from cantrips, extra mana generation from Goblin Electromancer and rituals, Pyromancer Ascension to do both and Past in Flames to do it all over again. Thus when I think of unfair decks I am thinking of decks that win by generating huge mana and card advantage over the course of a few (or one) turns while the fair decks gradually build up to wins through interaction and efficiency.
Is Thopter Combo Fair?
I say yes. Kinda. What Thopter combo does is actually a fair interaction--it is the end result that is unfair. The combo is using its available mana to generate a finite effect and is (normally) incapable of winning in a single turn or even that quickly, which is fair. The end result of life and Thopter tokens, however, can be seen as unfair, since it is a huge board presence that is technically card advantage.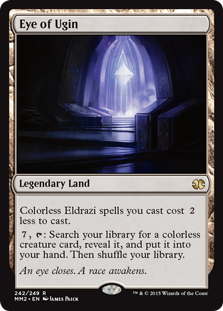 I therefore would classify the combo as "fair." I mentioned "fair" decks a few weeks ago in my Shadows preview article talking about Bygone Bishop but I haven't defined it until now. A "fair" deck is one that either does something fair in an unfair way or does something unfair fairly.
Affinity and Eldrazi are examples of the first part, being aggressive creature decks that leveraged a massive mana advantage to generate overwhelming board positions in a turn or two. I consider Infect an example of the latter since it is using something unfair, the infect mechanic, to kill in a fair way. I therefore place Thopter combo in the same category as Infect, a "fair" deck doing an unfair thing (generating huge card advantage and board position) fairly (paying mana over many turns).
Choosing the Battleground
I bring all of that up because if you're going to fight a deck you need to know what kind of deck it is, and that starts by identifying its fairness. Yes, the broad achetypes are important but circumstances and the card pool can make any deck unfair or fair, so you should always begin there. Determining the relative fairness of a matchup can play an enormous role in how you build your sideboard and play the matchup.
For example against Jund you either want to be going over the top with some unfair strategy like Tron or setting yourself for an attrition matchup to "out fair" them. Going for a "fair" strategy can be effective, but it can also backfire if Jund's answers line up well against you, as is the case of Jund vs. Infect.
As I mentioned above, if you're trying to beat a fair deck you don't want to be equally fair. You should either try to be more unfair and ignore their gameplan or be more fair and simply answer everything to win the resource war. In theory the same is true of unfair decks but the reality is a bit murky. If you're a fair deck up against an unfair one it's unlikely that you can sideboard into an unfair strategy that is better than theirs or you would be playing it maindeck. Increasing the fairness of your deck is the only option and that might not work if your answers don't line up well with the unfair deck's hand. Unfair vs. unfair is also odd since it's usually the more fair deck that wins. Look at Legacy Storm where a frequent and effective strategy is to board in additional Thoughtseizes and Dark Confidant in the mirror. "Fair" decks are quite tricky.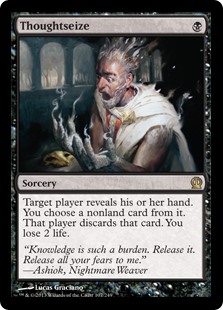 The first class of decks are generally hard to disrupt unless you can efficiently target their unfair component before they overwhelm you with their fair strategy. The second class generally fall apart in the face of attrition and answers (Infect vs. removal-heavy decks) or if their unfair thing is not effective against your deck (Extended Life against Aluren).
There is a third option as well: enforce fairness. This is the Death and Taxes strategy. It's usually based on mana denial from taxing effects and results in forcing decks to play more fairly. The more unfair the deck was to begin with the more effective DnT is, and vise versa. For instance Storm needs to draw extremely well to win through Thalia, Guardian of Thraben or Thorn of Amethyst, while Jund doesn't care if it has to pay extra as long as it gets the one-for-one and eventually grinds you out of resources. Thus, depending on the unfair thing you want to fight, it might be better to make them play fair rather than trying to be more fair yourself.
Fighting the Thopters
As a class two "fair" deck, Thopter combo can be effectively answered fairly with one-for-one answers rather than specialized sideboard cards.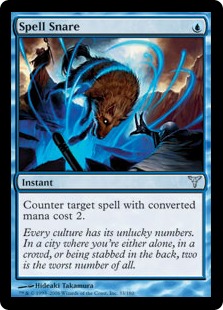 Last week I mentioned that Scavenging Ooze and Abrupt Decay are effective answers to the combo that see maindeck play. To that you can also add Spell Snare and Kolaghan's Command. The combo has very specific timing that allows it to be efficiently answered without it being able to protect itself and so the normal fair strategies should have little trouble. GBx will be a natural predator for this combo, and I expect that Abzan will take the edge thanks to the power of the white sideboard cards like Stony Silence and Rest in Peace, both against Thopters and other unfair decks. Its advantage against Jund will also contribute.
However, the lingering question is what the Thopter combo deck will look like. Context is everything and while the combo may be fairly answered the rest of the deck may make trying to do so a losing proposition. A more fair deck like Frank Lepore's may be able to ignore the disruption and use redundancy to overcome fair answers. An unfair shell might be able to bypass the hate by setting up for a single big turn or use tutoring for redundancy. If this happens then it becomes more important to restrict their mana and shut down the tutoring engine, which means the format might finally be unfair enough for Modern DnT to be good. Thalia is at her best against unfair decks that rely on mana efficiency. Aven Mindcensor/Leonin Arbiter are murderous against tutors. The more unfair the deck the more likely it is to fall apart when forced to be fair.
Prepare for Battle
Until we have a better picture of the metagame (Sheridan's working on it for tomorrow) and/or the makeup of the Thopter deck, I would shy away from the more specialized DnT style of deck. There will be too many fair decks in this first full week of new Modern for a punisher deck to really shine, and the fair answers should work well enough while pilots are still tuning and testing their Thopter builds. Once the optimal, or nearly optimal, list emerges this is likely to change. Keep your eyes open and your mind unclouded; this will get interesting. Disagree with my assessment or have your own take on the problem? I'll discuss it with you in the comments.