Are you a Quiet Speculation member?
If not, now is a perfect time to join up! Our powerful tools, breaking-news analysis, and exclusive Discord channel will make sure you stay up to date and ahead of the curve.
After months of chaos, Modern is starting to settle into a groove. Splinter Twin and Amulet Bloom have only been dead for six months, and in that time we've seen the Eldrazi menace come and go, numerous challengers to the throne rise up and be defeated, and more plot twists and surprises than a Game of Thrones episode. In times like these, preparation (and innovation) are rewarded more than ever, as small tweaks can change matchups completely around. "Metagame decks" like Blue Moon, RW Control, and Grishoalbrand are born out of this relative calm, destroying unsuspecting opponents and taking events by storm. Today, I think I've found the Next Big Thing. Behold, Esper Control in Modern.
Esper Control, by MrCafouillette (5-0, Modern League)
This deck is the real deal. For the past couple weeks I've been streaming every weekday on Twitch, and I've been thoroughly trounced by MrCafouillette (the alias of one Guillaume Wafo-Tapa) and his Esper monstrosity in two Modern League events. Competitive Modern League is no Star City Open or Grand Prix, but it's no FNM either. 5-0's are attainable, but not handed out for free. Tight play, (and a tight list) are just the basic prerequisite, and I've come around to paying attention to all 5-0 decklists in recent weeks. Still, bad lists can sneak through and put up numbers, which is why we often can't trust a decklist with one good finish.
[wp_ad_camp_1]
So how about four? MrCafouillette has 5-0'd four Competitive Modern League events recently. How recently? Try the past two weeks. Since June 30, when his deck first popped up on MTGGoldfish's metagame page, he's taken nearly the same list into each event (with only minor changes) and wrecked the field. I know, because I'm one of the many victims left shaking my head at what happened, and he did it to me twice. He last 5-0'd with this deck Tuesday. Being on the front lines, I can tell you that for now, people are still scoffing at this deck, but that won't last for long. Today, I'm being sneered at on stream, while they jeer and call me "Esper Guy." Tomorrow, they'll be the ones sent home with crushed dreams.
This is the version I've been playing on stream for the past week, based heavily on Wafo-Tapa's above list.
Esper Control, by Trevor Holmes
Core Cards
Think Twice / Esper Charm
Esper Charm is the best card in the deck, and the reason we are playing three colors. An instant-speed Divination or Mind Rot, with a free Demystify tacked on in case we ever need it gives us a ton of play in one card, and gives our draw-go strategy real punch.
In true Wafo-Tapa fashion, this deck is as pure draw-go as it gets, with no spells (besides Supreme Verdict) that can't be played on our opponent's turn. Esper Charm can single-handedly help us recover from mulligans, power through opposing discard, and pull ahead from any opponent looking to trade resources. At any point in the game, Esper Charm can turn into Mind Rot when needed, destroying our opponent's hand in the midgame when they've played out their lands and only have a few spells left.
The discard mode on Esper Charm is absolutely the main selling point for playing this spell. Normal gameflow will see opponents with only a few cards left in hand around turn five, which coincidentally happens to be right on time for Snapcaster Mage on Esper Charm. Seriously, casting Esper Charm on three to find a fifth land and Snapcaster Mage to flash it back, making our opponent discard a Path to Exile and Collected Company feels absolutely dirty. Then, as if that wasn't enough, we get to untap. As a Grixis Control player or Jeskai Nahiri deck facing this archetype, you will learn to hate this spell. I did, until I fell in love with it myself.
Think Twice is curious, but necessary once you understand the mechanics behind the archetype. We aren't looking for specific answers often or interested primarily in consistency à la Serum Visions. Think Twice lets us overcome our inherent card disadvantage due to our 26 land count and just power through our deck as consistently as possible.
When our primary goal is draw-go, no card fills in the gaps better than Think Twice. It's been a while since a "true" Draw-Go deck has been in current conversation in Magic, so it's possible a lot of the principles might have been forgotten. Of course win conditions and removal are important, but Draw-Go lives and dies based on how well it can utilize left over mana.
Think Twice serves the necessary task of bridging us to the mid-game, helping us find extra lands to cast Cryptic Command , which in turn pulls us toward our late-game, where we are flashing back Think Twice and keeping the value coming to build up to our win condition spells. Serum Visions, while unquestionably better in the abstract, doesn't fulfill the same specific requirements that this archetype is looking for. It's possible that some number of Serum Visions belong in the deck based on pure rate alone, but for now, I've been playing the full four Think Twice and have been happy to do so.
Path to Exile / Supreme Verdict
The best options at their spot on the curve, these cards speak for themselves, so I'll only talk about the numbers and what they don't do. Three copies of Supreme Verdict is necessary when we're spending so much time and mana making sure we're constantly hitting land drops.
As seen by the lack of Mana Leak in this list, we're often not interested in countering many things before Turn 4. Instead, we're just looking to hit land drops, draw cards, and stay alive until Supreme Verdict can reset the board and we can begin to take control. It might seem enticing to some to look first at Supreme Verdict when finding slots to trim for pet cards, but more often than not we are really relying on Verdict being there on Turn 4 when we need it. Three is the perfect number: just right.
Path to Exile is excellent, but can feel rough when we have it in our opener against Birds of Paradise. We're not Grixis Control or Jeskai, so Lightning Bolt isn't an option for us. While against Affinity and Burn giving an extra land isn't too bad, when we're casting Path against Noble Hierarch out of Abzan Company or Infect, the phrases "spinning tires" and "what are you doing with your life" come to mind. We don't ask much out of our Paths in this archetype, as they are really there because we need to be doing something before casting Supreme Verdict, but some extra help in the one/two mana interaction category would definitely be nice.
Cryptic Command / Logic Knot / Remand
Cryptic Command is the grown-up version of Think Twice, now drawing cards while countering our opponents'. I said it differently before, so I'll restate: Think Twice is smoothly guiding us into the midgame, while Cryptic Command is forcefully throwing us into victory territory, all the while kicking our opponent onto their butt.
Logic Knot is a "better" Mana Leak, and by that I mean not really better at all, just different. When we're looking to play past Turn 10, drawing Mana Leak late sounds absolutely horrible,
so we have to look elsewhere for options. Deprive is definitely possible, but we really want to be progressing our mana and effectively setting ourselves back a turn to counter a spell seems loose. With 8 fetchlands, Logic Knot almost always has at least some fuel, and even on Turn 2 Force Spike is often enough. In the late-game we can counter anything, either the hard way with extra mana, or the easy way with a plump graveyard. Remember, we're not casting Kolaghan's Command or delving Tasigur, the Golden Fang here, so our graveyard is often a resource just waiting to be used.
Remand has definitely been better recently, but is still great right now. While we don't care too much about the blue matchups, as we're just bigger and better with Think Twice and Esper Charm, the ability to reset Ancestral Vision or even just Do Blue Things with it is useful. Also, while we can't durdle around forever, in the midgame all we really want is to slow our opponent down enough while we continue to hit land drops. In that scenario, Remand is almost always awesome, to the point that I haven't been boarding it out when I normally would as it fills the need of "early thing to do."
Sphinx's Revelation / Secure the Wastes
Our win conditions are that, but they also double as midgame spells that let us stay alive until the point where we can actually start taking over. Secure the Wastes is miles better than White Sun's Zenith, as we can just dump an early one on Turn 3 for two tokens and move on with our life, knowing we can Snapcaster Mage it back or find a second one later.
Against an opponent pacing their spells, Sphinx's Revelation for two on turn five can really just put the game away by itself. When we're just drawing into lands and more ways to draw cards, every time we're tapping mana for spells it feels like we're winning. It might be slight exaggeration, but I truly feel like if I can make it out of the woods around turn five or six in solid shape, I literally cannot lose.
Once we've taken over the game, Secure the Wastes can be cast in the very lategame to kill our opponent from two turns in any position, or even just for four or five to chip-shot them to death. Which mode we're casting depends entirely on the gameflow. As draw-go pilots, we're really just opportunists at heart. Opponent cast a thing? Respond with Cryptic Command. Opponent is quivering in his boots? Snap off a Secure the Wastes for three and get to work. More than anything, the major lesson with this deck is to use as much mana as possible, as simply as possible. I've cast Cryptic Command to bounce a land and cycle, just to make sure I could hit six mana and flash it back and put my opponent back a turn.
Flex Slots
Spell Burst
Spell Burst can vary in value, but its range really only shifts between great and excellent. Even when we're not casting it with buyback, being able actually counter whatever we want without having to jump through hoops like with Logic Knot is excellent.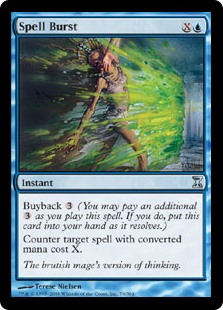 When we do actually pay buyback, it feels downright dirty, and in many matchups just having this spell resolve can often earn a concession. There's not much more demoralizing from the other side than having your control opponent say "No," when it cost them actual nothing. Countering an Ancestral Vision for one mana is absolutely amazing, and the same can be said for Living End. I've even Spell Burst an Ornithopter when my opponent went Glimmervoid/Springleaf Drum, clearly planning on dumping his hand all over the table. He ended up behind that entire game.
Mystical Teachings
This card is a little more fun, and not "amazing" but still solid. Most of the time, we're just getting Sphinx's Revelation, which feels really slow and durdly and isn't very impressive. If that's all you find yourself doing, I would suggest cutting it, but I've also found myself tutoring for Spell Burst when my back was against the wall versus Living End , and Secure the Wastes when I needed to kill my opponent quickly before Etched Champion pecked me to death.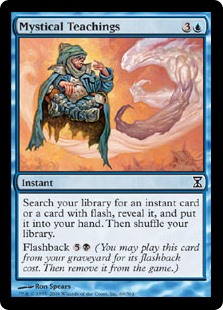 Even a match versus Storm had me digging up an Esper Charm to find another answer to Pyromancer Ascension. Still, the card is slow and we don't really want many slow cards, so this could easily be the first card to get cut. Still, Mystical Teachings is a guilty pleasure of mine, and the degenerates that watch my stream love it, so for now it stays.
Disfigure
The addition I'm most confident in, Disfigure came about out of a desire to have a fifth card in the main that can kill something before Supreme Verdict. In addition, see the above rant about Path to Exile on Birds of Paradise. Disfigure has been solid, and the mana has been more than accommodating, but it is definitely "off-plan" as far as the archetype is concerned. Still, five one-mana kill spells feels like the sweet spot for me right now, but I could easily imagine this card switching to a third Remand or some other spell, should the online metagame shift away from Suicide Zoo, Infect and Affinity.
Conclusion
Esper Control has popped up here and there in Modern without making too many waves, but I think we're on the cusp of a serious shift. With such a strong pedigree in its history, Esper Control is poised to break out with a big finish. It's possible a few years from now some other scrub will write an article like mine from last week, where we called out Shaun McLaren's high-profile Pro Tour victory as the genesis of Jeskai in Modern. So, what are you waiting for? Get working, so you can be the one he writes about.
Thanks for reading,
Trevor Holmes
The_Architect on MTGO
Twitch.tv/Architect_Gaming
Twitter.com/7he4rchitect