Are you a Quiet Speculation member?
If not, now is a perfect time to join up! Our powerful tools, breaking-news analysis, and exclusive Discord channel will make sure you stay up to date and ahead of the curve.
I have a difficult relationship with spoiler season. On the one hand I really like it. It's a lot of fun to see the next set emerge. I love the anticipation, the discovery, and the discussion that inevitably follows. On the other since I write early in the week I never have the full spoiler to work with. And I can't very well wait until I do, because by the time I get the chance everything that could be said already has! #Magicwritersproblems
That said, I enjoy talking about the new cards too much to let not having the full spoiler stop me! Sheridan and Jordan kicked us off already with [tippy title="Emrakul, the Promised End" width="330" height="330]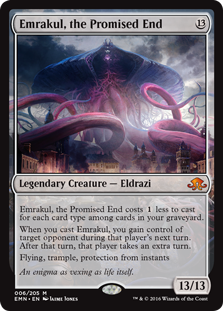 [/tippy], [tippy title="Thalia, Heretic Cathar" width="330" height="330"]
[/tippy], and [tippy title="Gnarlwood Dryad" width="330" height="330"]
[/tippy]. Today I'll be talking about a wide variety of new spoilers and some other cards that I find particularly interesting. Some are definitely Modern playables (and one has the potential to be format-redefining) while others are simply interesting and thought-provoking cards to keep in mind when you are brewing and refining decks.
[wp_ad_camp_1]
Curious Homunculus // Voracious Reader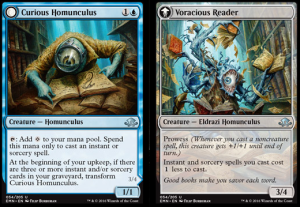 Of all the cards spoiled so far, this is the most Modern-playable card I've seen, to the point that I suspect that it's a Modern plant. I mean, look at it! It's a turn three 3/4 with prowess!
I'm actually really surprised by this Homunculus because I can't see it getting flipped early very often in Standard, nor am I certain that any deck is willing to put the effort into the feat. Enabling delirium or filling the graveyard haven't been playable strategies so far. While just playing Magic normally will flip the Homunculus, I'm not certain that by the time you could do so a 3/4 with prowess will be that good, even if it has another ability (more on that shortly).
Modern is another beast entirely. Gitaxian Probe and Thought Scour make flipping into Voracious Reader on curve remarkably easy. The much higher concentration of cantrips make fueling prowess over several turns relatively easy. The Goblin Electromancer ability makes it much easier to get a lot of prowess triggers and there are plenty of instants and sorceries that benefit from it. This is a Modern card.
The question is where does it belong, which I think is a deceptively complicated question. My first reaction is in Delver, but after some thought I'm less certain. The problem is that supporting Homunculus is at odds curvewise with the established Delver formula. The general plan of a UR Delver deck is to play Delver of Secrets // Insectile Aberration on turn one, (hopefully) flip it on turn two, attack, and play Young Pyromancer, with the intention of hemorrhaging tokens onto the board and winning before the opponent can effectively respond. Homunculus doesn't fit into that plan. To make it into an effective early beater you need to spend a turn setting it up. Yes, you could play it after Pyromancer but a 3/4 on turn four or five isn't that appealing, especially since you've almost certainly emptied your hand by then.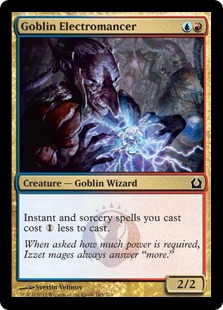 I could see an argument for having Homunculus as a late-game card, but in Delver if you're getting to that point you've lost. Using the Reader as a beatstick starting turn three requires work on turn one that precludes anything else and makes fueling Pyromancer later tricky. I'm not saying that Curious Homunculus doesn't have a home in Delver. I am saying that it requires a retooling of the deck to accommodate, and it isn't yet clear whether that's worth it. Then again, I'm not a Delver player so maybe someone who is can chime in about its actual playability.
Where I think Homunculus belongs is in Storm. Voracious Reader is Goblin Electromancer with better stats and cannot be Celestial Purged. Storm also already intends to stock its graveyard with instants and sorceries quickly for Past in Flames and Pyromancer Ascension. Since Electromancer generally needs to spend a turn exposed to enemy fire before he's used then this isn't much of a change, and is arguably an upgrade. On top of that, Reader is a much better backup plan than Electromancer if you cannot combo off. A 3/4 with prowess is just better than a 2/2 vanilla.
The other thing to consider are the fail states. Dredge is becoming a deck and graveyard hate is getting more popular (like I said it should be). If you cannot fill your graveyard, then as far as Delver is concerned a 1/1 for two is unplayable. Yes, it makes colorless but most Delver spells are one mana and don't need the acceleration. In this scenario Storm would much rather have Electromancer, but it can still make use of the extra colorless mana. Curious Homunculus is a Storm card.
Will it make Storm a tiered deck again? I don't know. I do know that Homunculus will entice more players to pick it up, and that might increase its win rates enough without actually changing the matchups. We'll have to wait and see, but I wouldn't sit on this one.
Eldritch Evolution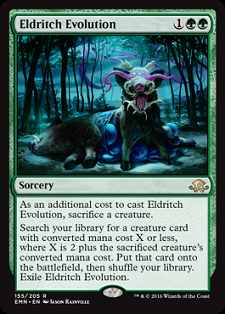 First off, I have bad news for whoever was behind the Allosaurus Rider buyout; that "combo" isn't playable. I know that when you saw it spoiled you thought it was Natural Order for three mana. It isn't. Not even close.
Natural Order is good because it turns Dryad Arbor into Craterhoof Behemoth. You can't sacrifice a worthless creature to Evolution and have it be good. For Evolution to be worth it, the sacrifice must be a good creature itself. Therefore unless you win on the spot it really isn't worth it. Elves can already tutor for Ezuri, Renegade Leader so I don't think it needs this.
Besides, Modern Elves hemorrhages its hand onto the board which makes it hard to cheat out Rider and it really isn't worth it to spend all your mana from Elvish Archdruid just to play Rider so you can evolve it into a Behemoth. It's just not going to work out.
There are other possible uses for Evolution and Rider but I don't think they're as good. Yes, you can get any nine-or-less cost creature but what do you want besides Craterhoof to end the game? Akroma, Angel of Wrath? Iona, Shield of Emeria? If that's what you're doing isn't Gifts Ungiven a better tutor? You could get Griselbrand I guess, but there's already a deck built around doing that where it's much easier to achieve. And that's not even getting into the issue of what you do if Evolution gets Remanded.
That said I do think this card has a place in a Toolbox deck as a compliment to Chord of Calling. The ability is close enough to Birthing Pod's that I suspect it is good enough for at least a little play, helping you tutor up the chain when Chord isn't available. Just don't think that it's a combo card and you should get plenty of mileage.
Eternal Scourge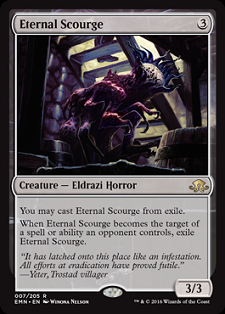 Is there a way to abuse this card? It seems like there should be. Being effectively immune to removal and replayable from exile seems like it could be abused in some way. Combo players, get working. I want to find out if my instincts were right and I need you to do it because I cannot figure out how to. I'm sure it will be wonky and weird but that's okay---I just want to know if it can be broken.
As a fair card it's hard to evaluate. A 3/3 for three isn't that special even if it is playable in any deck. The only way to get rid of it (other than countering) is sacrifice, sweepers, and combat, so it might have a home in control sideboards, though I suspect Geist of Saint Traft is just better in all cases there.
I suspect that this is a card you use against control to run them out of answers, especially when paired with Rest in Peace. If there's no graveyard, then there's nothing to stop you from endlessly replaying Scourge and hoping that's good enough. A little optimistic put that way, but it might work.
I could also see this as a Dredge card. The deck normally folds to graveyard hate, particularly Rest in Peace. Scourge actually wants you to exile it, so it provides a way to keep the threats coming even when your deck has stopped working. Is that good enough? Probably not, but certainly worth exploring.
Nephalia Academy
I don't know of any deck that actually wants a colorless land, but the effect is so unique that I had to bring it up. Academy ensures that you can redraw any card that Thoughtseize, Inquisition of Kozilek, or Liliana of the Veil strips from your hand, which might be worthwhile.
The effect is so unique that I'm not sure what to think. Wheel of Sun and Moon is the only thing I can think of that's similar and that's not really an accurate comparison. In any case that card never saw play. The "opponent controls" clause prevents you from directly abusing this card, but as a counter to Jund's disruption I'm intrigued. This might be playable.
Unsubstantiate
I've spent an inordinate amount of time thinking about this card. It looks really good. Then you think about it and it stops being good. Then you remember the value of flexibility. Then you wonder if the flexibility makes either effect worth it. If you don't draw a line somewhere you'll never stop speculating and give yourself a migraine.
The problem is that flexibility is really good and worth quite a bit on a card. None of the individual modes of Azorius Charm are good enough at two mana for Constructed, but put them together and you have a format staple. Dismiss was a good card but Cryptic Command is better. So the question is are the "modes" of [tippy title="Unsubstantiate" width="330" height="330"]
[/tippy] worth two mana?
I don't think so. I think this will be a heavily discussed dud in Modern. The problem is that you have a worse Remand stapled to a worse Unsummon, but the Remand effect is actually Venser, Shaper Savant's ability which we don't see very often and therefore struggle to evaluate. I know that it gets around uncounterability and that tempo is good. The problem is that this card isn't good enough.
If you are using the first ability against anything that isn't Supreme Verdict or a creature played with Cavern of Souls then it was Remand but worse because it didn't cantrip. If it's the second ability you're after, then Echoing Truth is better at two mana and Vapor Snag is much better at one. Flexibility adds some value, but I don't think it's enough in this case.
If Unsubstantiate had another mode then it would be playable. Consider Azorius Charm again---restrict the card to any two modes and it likely becomes unplayable, but at three it's fine. Buying a turn against Verdict is nice, but Verdict doesn't see enough play for that to be a reason to sleeve up this card. The abilities aren't powerful enough and there is not enough flexibility to justify playing this card over more powerful, specialized versions.
Whispers of Emrakul
Hymn to Tourach is an insane card. Whispers is Hymn plus setup. Therefore, I expect many players will use this thinking it is as powerful as Hymn.
And I don't think it is. In fact, I'm certain it's worse because you have to set it up instead of just jamming it into Force of Will.
Which does not make it bad because, as previously mentioned, Hymn is insane. The problem is that you can (mana providing) always play Hymn on two for two cards and that is unlikely to happen with Whispers. You have to get quite a good draw and hit well with Thought Scour to make that happen. Delirium has proven more difficult to achieve than expected, which has led to the consensus opinion that it isn't worth the effort (Traverse the Ulvenwald players notwithstanding). If you find a way to consistently hit delirium without harming your own deck then Whispers might be the most powerful card you can play. If you aren't then it isn't playable.
The biggest strike might be the fact that it's black. Yes it's not as black as Hymn but that's not the point (also it's worth it for Hymn because insane, etc.). Most Traverse decks are RUG and stretching for black would be asking a lot. It's possible that a BUG deck will finally emerge to take advantage of Traverse and Whispers, in which case its stock will rise enormously. But as things stand I don't see this getting much play. Two mana to discard a random card is just not worth it.
By the Light of the Silver Moon
We've still got a week before the full spoiler is out and Emrakul gets sealed in the moon (look Wizards, we all know that's where you're going with this. Don't be coy, just admit it). There are still a lot of cards to be spoiled, and plenty of new cards to discuss next week. And seriously, if you can figure out how to abuse [tippy title="Eternal Scourge" width="330" height="330]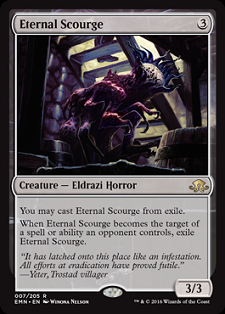 [/tippy], let me know.