Are you a Quiet Speculation member?
If not, now is a perfect time to join up! Our powerful tools, breaking-news analysis, and exclusive Discord channel will make sure you stay up to date and ahead of the curve.
The prerelease is now behind us, and while we wait for release day to get our preorder cards, the testing and brewing process is already underway. I realize that most of that will be happening in Standard, but I also know that I cannot stand the thought of Bant Company and would much rather try to mine Modern value out of Eldritch Moon. While I respect the power of Eldritch Evolution and am intrigued by the potential of Curious Homunculus, I am at heart an Aggro-Control player and I always begin by investigating cards that can go into Merfolk and Fish-style decks.
Much of the hype surrounding the new set has been focused on Spell Queller. Rightly so; the card is very powerful and aggressively costed for Standard (as if Bant Company wasn't powerful enough). Far less has been said about it in Modern, possibly because everyone sees the three toughness and assumes that Lightning Bolt makes it unplayable. We know that Lightning Bolt isn't the barrier to playability that many make it out to be, and when you consider how much of the format costs four or less it definitely becomes a card worth trying out. So I did.
[wp_ad_camp_1]
What is Spell Queller?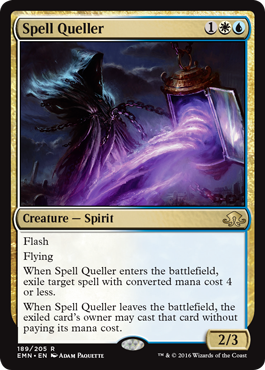 When beginning any statistical or scientific inquiry, it is essential to have a known baseline to compare your results to. Reaching an interesting result is all well and good but if you can't prove that it is something new and valuable compared to the status quo then you're just wasting time. And grant money. And good luck getting more money if that's all your research is doing.
The problem we have is that there really isn't a card like Spell Queller in Modern. The closest in terms of creatures that counters spells when entering the battlefield I've found are Silumgar Sorcerer and Mystic Snake, and those are imperfect comparisons. We'll use them certainly, but we need to go deeper. While decent comparisons for Queller, neither has seen play in Modern so they're imperfect baselines.
Therefore, before we really dive into whether Queller is playable or where, we need to look into how it stacks up against known good cards in Modern and then compare to Sorcerer and Snake. This isn't the best situation analytically, but I think we can come up with a reasonable composite picture of Queller's playability.
Basic Stats
Three mana, two colors
2/3
Flying
Flash
Not a bad creature to start off with. Pestermite was a format staple for years at that cost and had worse stats, though it was easier to cast. 2U may not be that much more difficult than 1WU with Modern's fetch/shock manabase, but I think it will be a barrier in this case. UW is typically a control color in Modern, and this is pretty obviously a tempo/aggro card which will limit the decks that can play it. Vendilion Clique is also very playable as a 3/1 with a double blue cost, which indicates that color commitment isn't that big a barrier to playability when the stats are right. Call it even with a slight edge for Queller since better stats make up for the harder casting cost and worse deck flexibility.
Queller also matches up quite favorably against Snake and Sorcerer. Sorcerer is a 2/1 with a double blue casting cost, which makes it worse than Vendilion Clique. At four mana Mystic Snake is a 2/2 without flying and much more difficult color requirements. Queller bests them handily.
Verdict: Strong Playable (3.5 on the Channel Fireball scale)
It's better than its closest cousins and at par with known playable cards, so on stats alone it is a good Modern card.
Ability
When Spell Queller enters the battlefield, exile target spell with converted mana cost 4 or less.
When Spell Queller leaves the battlefield, the exiled cards owner may cast that card without paying its mana cost.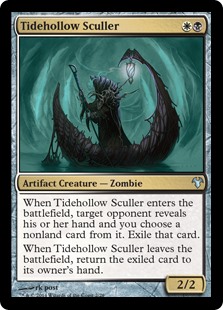 This is Fiend Hunter and Tidehollow Sculler's ability but for spells. Both have seen some play over Modern's history, but have always been limited by their narrowness. Sculler is good against combo and control decks and fairly bad against aggressive decks, whereas Hunter has the opposite problem, and even then is only good against removal-light aggro. Sculler mostly sees play in Eldrazi and Taxes where its ability is abused with Eldrazi Displacer, while Hunter is a Chord target. Since both see some play, I'll argue that the ability regardless of the target is Modern-playable, and thus so is Queller.
The main problem is that the flickering tricks that let Sculler and Hunter exile multiple cards don't work with Queller. It's pretty rare to have more than one spell on the stack at a time, so you won't have the option to choose a second target when you flicker Queller and exile the first spell permanently. You could potentially exile your own spell under Queller but I have no idea why you'd want to. It might not be a big deal, but it is points off.
On this metric, Queller blows Silumgar Sorcerer out of the water. Sorcerer is not a good card on stats and the ability is not good enough to see play. Its ability is too narrow and requires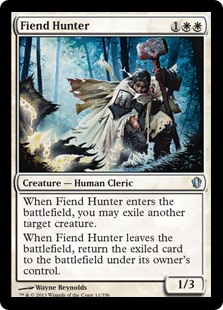 an extra payment. Mystic Snake on the other hand just counters the spell. No muss, no fuss, no restrictions based on CMC. Just Counterspell. I think that on average this is better than the Nightmare ability by the same standard that Sculler is usually left on the bench in favor of Inquisition of Kozilek---When you want something gone, you want it to stay gone. The only time that Queller's ability is better is against uncounterable spells, which are few but not so few that it is irrelevant. On that basis I think that Queller is merely good. It has better stats than other cards with the same ability, but it doesn't have the same flexibility or power as Mystic Snake.
Verdict: Solid role-player (2.5 CFB)
It's not the most powerful or flexible ability, but it does what you want it to do. Sounds like a role-player to me.
The Bottom Line
So on stats it's a strong playable and on ability it's a solid role-player. What does that mean? Putting it all together, I see Spell Queller as a more expensive Tidehollow Sculler with a reactive, more narrow ability. In exchange it gains a point of toughness and two good keyword abilities.
Given where Sculler sees play now and the types of spells you're likely to counter (more on this below) I think this is a tempo/aggro-control card. It isn't a permanent answer, but it buys time and attacks in the air to shorten the clock, and in those kinds of decks it should see play as a way to protect against removal and fight combo decks. It won't turn the format on its head or completely alter a deck, but it will do good work in certain decks and inspire more players to pick them up.
Verdict: Strong role-player (3.0 CFB)
I realize that I'm low compared to a lot of other reviewers, but I'm only dealing with Modern, and Modern is very different from Standard. It's faster, making the necessity of the card lower, and removal is better and more plentiful. These combine to keep Sculler and its ilk down now, and I imagine that they will do the same for Queller. It will be a good card, but not as much as in Standard.
Let's Find it a Home
My initial reaction, as I'm sure it was for many of you, was to jam Queller into a UW Spirit deck. So I did.
UW Spirits, by David Ernenwein
Let me start by saying that this deck was weird. The mana is not right, and I don't think that Mutavault is good here. Anafenza was really demanding colorwise and made colorless lands awkward. That said, it destroyed Jund and Jeskai in testing. Rattlechains was far and away the best card in the deck and combined with Drogskol Captain made spot removal a dicey investment. You'd two-for-one the grindy decks into oblivion and using Spell Queller on sweepers was very satisfying, especially when you Vialed it in.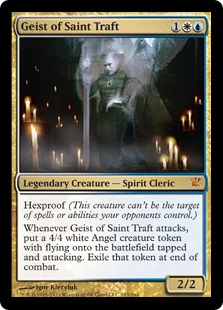 The problem with the deck was closing speed, and this made Queller a poor inclusion. Sometimes Geist of Saint Traft just crushed your opponent and sometimes Figure of Destiny went unanswered, but usually you just chipped away with 2/2's and that was shockingly slow. I didn't beat Tron when they were having an average or better game and I never beat Zoo or Burn. I got lucky against Infect a few times, but it was definitely luck rather than the deck. Merfolk scale in a way that Spirits don't, so there wasn't a way to quickly steal wins---you had to grind out damage. That was fine when you were in a grinding matchup, but if you had to race at all you lost. For this reason this deck doesn't compete with Merfolk, but I do think it competes with Death and Taxes. Same average creature size, and where they have taxes and a soft-lock we have hexproof and counters. It might be a worthy trade-off.
This closing speed problem made Queller much worse than I thought. You would counter a spell and then plink away. Unless you managed to assemble a couple Captains then you lived with the constant fear of losing Queller and getting blown out.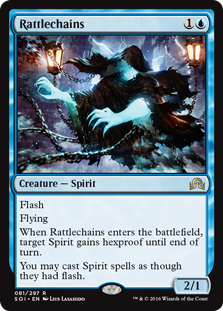 The clock was too slow to make great use of the tempo that Queller gained you, and so its performance was lackluster and disappointing.
The deck's core (the hexproof creatures and flash) is good enough that I plan to keep working on the deck, but word to the wise: Anafenza isn't very good. I put her in to be a two-drop that increased your clock but you wanted to play Rattlechains and Captain fairly reactively which was at odds with Anafenza's desire to be proactive. Ana rarely got through on the ground and was overall the weakest card in the deck. I'm taking her out for a couple Spectral Flights and another Geist to try and speed the clock up---stay tuned for results.
Everything Eventually Flows into the Sea
Those of you who excel at picking up on extremely subtle clues probably figured out a long time ago that I would try Spell Queller in Merfolk. The rest of you should have gotten that from this section's title. I've been trying Vendilion Clique out as a way to increase my threat count and interact with control/combo decks---since most of the cards that you care about cost less than four already, it seemed like a good fit.
UW Merfolk, by David Ernenwein
And it has been. The problem with Clique was that if they had redundant copies of spells you wanted to remove then you were screwed. Queller forces them to pay mana, which usually means that they can't play their extra copy. It also has the benefit that you don't Clique away one card just for them to draw another copy and crush your soul. I'm not bitter.
Queller in Merfolk has been testing as well or better than Clique and much better than in Spirits. Merfolk is a far more proactive deck and its clock is mighty enough that your opponent is less likely to get the opportunity to get their spell back. Frequently you exile their Cryptic Command or sweeper and win on the spot. It's not great in the creature matchups, but the body is solid and blocks surprisingly well, which is far more than Clique did. It's worse in the grindy GBx matchups, but its improved impact in control and combo matchups probably makes up for that. Playing Kira to protect it is also pretty good.
Use the Right Tool for the Job
I know I'm weird about how I build my Merfolk decks and admit it's not for everyone but that's not the point. In Modern Spell Queller isn't the powerhouse that it is projected to be in Standard, but when used properly as a way to protect an already substantial clock it is very powerful. It should see plenty of play in Fish and Delver decks. If you were thinking that Unsubstantiate would see play I think you'll be disappointed because Queller sits in almost the same niche and is a better and more powerful card.
I'm open to suggestions on the Spirits deck, and if you've also tried it I'd love to hear your results. As always, I'll see you in the comments.