Are you a Quiet Speculation member?
If not, now is a perfect time to join up! Our powerful tools, breaking-news analysis, and exclusive Discord channel will make sure you stay up to date and ahead of the curve.
One of my favorite things about Modern: the power level is high enough to allow us to play with Lightning Bolt, but low enough for Standard sets to consistently impact the format. Eldritch Moon injected some welcome lifeblood into my pettest deck, Monkey Grow, with Bedlam Reveler. The set also gave a boost to another of my pet decks, Colorless Eldrazi Stompy.
As much as I love resolving Treasure Cruise-casting Tarmogoyfs, it was only a matter of time before I returned to my big, dumb Eldrazi buddies. How does that age-old adage go? Once you turn-two Thought-Knot, you never go back? Call it eternal devotion... to colorless, that is. Eternal Scourge gives Colorless Eldrazi Stompy something it desperately needed after the Eye of Ugin ban: a compelling reason to play turn-zero consistency tools Gemstone Caverns and Serum Powder.
[wp_ad_camp_1]
First, About Monkeys
Before we begin, I need to take out the trash. Last Friday saw me unveil a modified Monkey Grow that included Traverse the Ulvenwald and Bedlam Reveler in the sideboard. I attended a pair of PPTQs last weekend with that deck and went 3-2 in each, leading me to believe the deck---or my play---still needs work.
While I have many notes on the tournaments and the deck, I doubt analysis this close would prove entertaining for an average Modern Nexus reader, or even particularly helpful for a burgeoning Monkey Grow player. If I'm mistaken, please let me know in the comments. In the meantime, we'll take a look at my other recent project---Colorless Eldrazi Stompy---and leave the follow-up Monkey Grow article for when I have more concrete insights about Reveler and Traverse.
Next, About Eldrazis
Like Mom always said, decklists speak louder than words:
Colorless Eldrazi Stompy, by Jordan Boisvert
To the judges out there, how badly would you want to deck check this thing? You'd be done in sixty seconds! As usual, we'll go over the deck's core components and see what's new with Colorless Eldrazi Stompy post-Eldritch Moon.
A Streamlined Threat Suite
Serum Powder rewards deckbuilders for constructing piles full of four-ofs. Colorless Eldrazi Stompy effortlessly fulfills this requirement. With four Relics, four Dismembers, four Mimics, and eight three-drops, the deck almost always has plays for the first couple turns of the game.
Casting spells early paves the way for Thought-Knot Seer and Reality Smasher to turn slipping boards around. In this section, we'll go over the less obvious creature inclusions.
Eldrazi Mimic: The Sincerest Form of Flattery
Eldrazi Mimic is a card I long forewent in Colorless Eldrazi Stompy, but doing so was a mistake perhaps even bigger than running Serum Powder in a deck with few ways to abuse it. Mimic fulfills a crucial role in this deck by pressuring linear strategies. He's functionally Delver of Secrets in those matchups, coming down on turn one or two and hitting for three, four, five in the next few turns. Sometimes, the best counterspell for Ad Nauseam is simply not letting your opponent live long enough to cast it.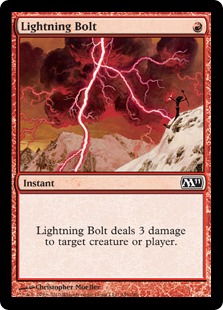 Granted, Mimic sucks against interactive decks. Eldrazi doesn't love trading one-for-one, especially after brutalizing its own hand with a series of Temple-searching mulligans. It would rather grind out card advantage with Eternal Scourge or Matter Reshaper while impacting the board. In non-Burn Lightning Bolt matchups, Mimic gets the axe post-board for relevant interaction or the infinitely more durable Endbringer. Notably, this deck already has an edge over interactive strategies, so Mimic's downfalls here aren't deeply felt.
Mimic also looks less appealing in a deck with only four Sol lands. As an actual two-drop, he's decidedly unexciting. The consistency bonus our manabase gets from Powder and Caverns, combined with our dedicated aggro gameplan, make it acceptable in my eyes.
Endless One: Endless Fun
Sure, Thought-Knot and Smasher get all the accolades. But Endless One is quietly one of the most important creatures in Colorless Eldrazi Stompy. Its strengths lie in helping us curve out beautifully.
Double-Temple hand full of four-mana threats? Slam a 2/2 Endless One on turn one. Removal-heavy opener versus an interactive deck? Play it as a 4/4. The game stalls out and it's turn eight? Guess we'll make an 8/8---or larger, Temples depending. Endless One is tremendously versatile.
Matter Reshaper: Killing Bolts Since '15
Reshaper trades very favorably with any removal spell in Modern, but then again, so does Eternal Scourge. I do like that it cantrips after removing a Nacatl or Goblin Guide. Still, Reshaper is the worst creature in the deck. Whatever advantage it grants us in interactive matchups, we pay for with its lackluster performance against linear combo.
What About Scourge?
The newest addition to the deck deserves its own section. Without Eternal Scourge, this build of Colorless Eldrazi Stompy wouldn't be possible---it would just be another bad Serum Powder deck from yours truly. Scourge adds a great deal of synergy and allows us to play consistency tools necessary to give us fast mana comparable to that of the Hierarch-toting Bant Eldrazi deck.
The Eldrazi Itself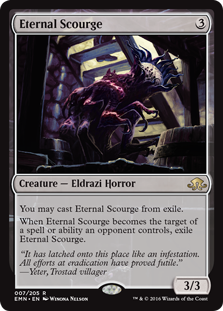 Eternal Scourge is a fine Modern card in its own right. The Eldrazi decks of old combined Affinity's explosive starts with the resiliency of a buffer aggro deck, but could still be grinded out by Jund's removal-heavy Confidant draws or Blue Moon's Snapcaster-powered stream of Roasts. Scourge makes it very difficult for interactive opponents to actually remove all our threats.
Bolt, Path, Terminate, and Abrupt Decay all turn into Unsummon when they target the Scourge, making the new Eldrazi a huge pain for anyone slinging removal spells. Even Nahiri can't remove it permanently. The only way to get Scourge out of the picture is to kill it in combat, which doesn't even work with a Relic online. That Relic and Scourge interaction gives us a recurring removal spell against x/3-heavy aggro decks like Zoo, and an endless chump blocker against vanilla monsters like Gurmag Angler and Tarmogoyf.
The real reason to play Eternal Scourge in this deck might be its interaction with Serum Powder and Gemstone Caverns, but it's important to remember it's a real card by itself.
"Mulligan to Eight" with Serum Powder
I've been playing Serum Powder in Eldrazi Stompy decks since I brewed my first one, and eventually came to the conclusion (emphasis on "eventually") that the card didn't do enough in this shell. After the Eye ban, Powder became more attractive as a way to ensure we opened with Sol lands. But it still wasn't quite good enough. Eternal Scourge gives us a great reason to revisit the artifact.
Exiling a hand with Serum Powder and Eternal Scourge doesn't just give us a "free mulligan" to seven---it gives us a free mulligan to eight. With Scourge in the exile zone from Serum Powder, we can cast it as though it were in our hand, meaning our new opener functionally has more cards than our last one.
This interaction incentivizes us to mulligan very aggressively into Sol lands and Serum Powders. A four-carder with a pair of Scourges in exile is really a six-carder. And we got to see more than three hands along the way, greatly increasing our chance of opening Eldrazi Temple. If you consider a Sol land as counting for two cards, a four-carder with two Scourges in exile and a Temple in hand is in a certain sense a seven-carder---and our Temple lets us jump the opponent in mana production too!
A final note on Serum Powder: having six mainboard colorless sources under Blood Moon gives us a big edge over Bant Eldrazi in fighting the enchantment.
Play and Draw with Gemstone Caverns
We don't even have to open Temple to benefit from a fast-mana effect. Gemstone Caverns provides another way to start the game ahead on mana.
The card's major drawback---exiling a card from our hand---exists to make the card more fair. If we're going to functionally be on the play by starting the game ahead of our opponent on lands, we need to give up the only advantage to being on the draw: getting that first turn draw. Our on-the-play opponent doesn't get to draw for turn when we start the game with Caverns in play, so it makes sense that we would give up a card to play it.
Eternal Scourge in the opener negates this drawback, since exiling it to Caverns is the same as not exiling a card at all. (It's actually even better, because then opponents can't move Eternal Scourge to the graveyard with an Inquisition of Kozilek.) That means we get to be on the play in games we should be on the draw with no drawback at all. In fact, we're given an advantage, as our opponent doesn't get to draw on their turn!
Caverns also enables some broken lines on the draw, like turn one Eternal Scourge, turn two Thought-Knot Seer, turn three Reality Smasher. With a single Eldrazi Temple in hand, all of these plays become par for the course.
It's true that we won't always open Caverns and Scourge together. But the odds of us opening either Temple + land + threats, Caverns + lands + Scourge, or any combination of lackluster cards + Powder are so high that we can frequently mulligan into exquisitely competent hands. The Caverns + Scourge interaction just gives us another combination that turns decent hands into great ones.
We would play four Caverns in a flash if they weren't legendary. At three, I rarely have a problem with clunky multiples.
A Modified Disruptive Suite
One major draw to Colorless Eldrazi Stompy has always been Chalice of the Void. In such a fast format, Chalice at one neuters plenty of linear decks, and even cripples interactive lynchpins leaning on Serum Visions or Thoughtseize. But this version omits Chalice in favor of Relic of Progenitus.
Who Needs a (Spirit) Guide?
Basically, anyone playing Chalice of the Void. Tapping out on turn two for the artifact is a lot less appealing when we're already facing down Goblin Guide, Wild Nacatl, Experiment One, and Burning-Tree Emissary. Simian Spirit Guide becomes necessary alongside mainboard Chalice. We don't have room in this deck for the eight-card disruption package of Chalice and Guide, and we can't really play the former without the latter.
My testing with the snotty Ape also didn't convince me of his applications outside of powering out Chalice. We have enough ways to find fast-mana hands without him, and rarely want to lose more cards after mulliganing so much. Guide also clunks up our openers and makes mulligan decisions much harder. We don't want eight nonland mana-producers in a deck so focused on powering out threats and disruption.
Remember Dismember
Another reason we can't play Guide and Chalice is we'd have to cut down on Dismembers. I tried playing 0-3 of this card and always found myself wanting more. It's Lightning Bolt and Path to Exile rolled into one, and for a drawback that isn't even relevant in many games. When Sol lands enable you to out-aggro almost any opponent, four life is a more-than-acceptable price to pay for such an insane effect.
Enter the Relic
Relic of Progenitus was a staple in Eldrazi decks before Oath of the Gatewatch, when pilots were casting Blight Herder and Oblivion Sower instead of Thought-Knot Seer and Reality Smasher. In this deck, it combines with Eternal Scourge to create a stream of battling Eldrazis, but the main reason to play it is that it interacts so efficiently with Modern's best decks.
Relic is a huge pain for Tarmogoyf and Snapaster Mage decks alike. It does significantly less work in our linear matchups, generally switching out for Chalice post-board. It still has some relevance against Infect, where it powers down or shuts off Become Immense. And man, do four Relics hurt Dredge. Between mainboard graveyard hate and our fast aggressive starts, I've found that matchup unloseable.
It's possible that another card should be played in this slot. I do like that Relic can be cycled away when it's dead, unlike other hate cards. Another bullet on my to-test list is splitting the Matter Reshapers with a pair of Blight Herders to further benefit from the mainboard Relics.
Notes on the Manabase
One big benefit of going colorless is not having to worry about mana. We can just play enough lands and be good to go. Here are some notes on the lands I've chosen to include:
4 Ghost Quarter: This card is nuts in Colorless Eldrazi Stompy. Quarter does wonders for keeping Tron decks off their mana while we stomp them, and harasses three-color decks trying to fetch around their own Blood Moons. It's also good for cutting opponents off red before putting them on a short clock with unkillable Blinkmoth Nexi.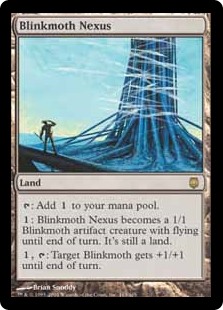 4 Blinkmoth Nexus: Still the best manland for the deck. Gives us reach in the late-game and a way to interact with fliers like Flickerwisp or Delver of Secrets in Game 1. Other than Restoration Angel, Modern's fliers all trade with the Blinkmoth.
2 Mutavault: A more aggressive Blinkmoth (no, it's really a Blinkmoth!). I wish we could play more of these, but the other utility lands are too important.
2 Cavern of Souls: The main reason not to max out on Vaults. Mana Leak can spell trouble for this deck in some cases, and Cavern addresses that weakness without even costing a card. It's especially satisfying to sandbag the Cavern until blue opponents leave up their counterspell mana.
2 Sea Gate Wreckage: I like a pair of these in a four-Powder deck. We almost always see one in longer games, which is when the Wreckage shines. Works well with late-game Powders and makes it difficult for grindy opponents to stabilize.
1 Urborg, Tomb of Yawgmoth: It doesn't hurt to have one Urborg, since the upside can be so radical in some matchups. Not having to pay life for Dismember makes the Phyrexian removal spell even sillier.
2 Wastes: What can I say? I like when Path to Exile ramps me up every time. Double Wastes is also great against Ghost Quarter.
The Old Scourge of the Format
Few Modern decks were ever as hated as Colorless Eldrazi Stompy. Even the ostensibly superior UW Eldrazi deck that came to dominate the format didn't inspire the rage of the mythical turn-one Chalice deck that dominated Pro Tour Oath of the Gatewatch. But some players have always wanted to play such a strategy in Modern. I'm sure I don't speak just for myself when I say I love casting Thought-Knot Seer and hate tapping Brushland. Eternal Scourge might be the card we've been waiting for.