Are you a Quiet Speculation member?
If not, now is a perfect time to join up! Our powerful tools, breaking-news analysis, and exclusive Discord channel will make sure you stay up to date and ahead of the curve.
Cost reduction mechanics are among Magic's most powerful—delve and affinity have terrorized many a constructed format, and the legendary moxen remain among Magic's most fabled examples of "Power" to this day. Granted, Enraged Giant is no Black Lotus. But improvise may very well be Modern-playable.
This article is the one I had planned to write last week, before Wizards announced its bans seven days early. With my requisite Temur Delver article out of the way, we can at last get to my experiments with improvise.
[wp_ad_camp_1]
Cheating On Mana
Ever since Modern's inception, cheating on mana has been one of the primary ways to succeed in the format. From Storm, to 12Post, to Birthing Pod, Modern has never suffered a shortage of ways to ramp up on tempo. The decks I just mentioned have all been banned by now. The format's only remaining OG mana-cheat deck is Affinity, named for a mechanic that reduces the cost of spells with affinity by one generic mana for each artifact the card's caster controls. Even affinity is a far cry from improvise. When it comes to mana-cheat mechanics, it's safe to say Wizards doesn't make 'em like they used to.
A Fair Way to Cheat
Storm, 12Post, and Pod all represent methods of mana-cheat that Wizards no longer endorses. So does Dredge, a deck the company recently had to nerf for its tendency to force players into sideboard wars. But R&D seems aware that some portion of the playerbase likes getting a bargain deal on mana costs, and they haven't simply stopped printing cards that cheat on mana.
These days, mana-cheat cards are otherwise reasonably costed spells that allow players to cast them for cheaper by drawing from a given non-mana resource. The obvious epitome of this concept is delve. Cards in the graveyard are a finite resource, but they're built up over time like mana.
Treasure Cruise and Dig Through Time, the most broken delve spells, hit the Modern banlist long ago. But other cards with delve continue to excel in the format. Notably, those cards are fair, reasonably costed creatures. The kind of stuff we might play in limited even if it didn't have delve—5G for a 4/4 Trample, or 5B for a 4/5 with a grindy ability. It's important to note that in decks that have easy access to the resource required by a mana reduction mechanic, these reasonably costed, fair cards become extremely powerful.
Take the Eldrazi. Eldrazi Temple gives the deck a reason to play cards that might otherwise make the cut in Limited or Standard formats, but are far from Modern-playable on their own. Including a narrow card like Eldrazi Temple happens to be an acceptable sacrifice for some decks, such as Bant Eldrazi and WB Eldrazi and Taxes.
The difference between delve creatures and the Eldrazi: the Eldrazi are clearly more powerful. Since Wizards designs principally for Standard, that should come as no surprise; after all, Standard has no built-in way to reduce the costs of Eldrazi spells.
Back to Modern. Running Eldrazi Temple is a much more serious cost than simply playing Magic. Filling the graveyard for delve occurs naturally in many decks, whereas Eldrazi-featuring strategies must not only weaken themselves to Blood Moon and land destruction effects, but actually draw Eldrazi Temple to enjoy a mana reduction on their spells.
Analyzing Improvise
Weaknesses
Improvise is functionally a "fixed" affinity. In practice, Affinity lets us cast multiple spells with improvise mana, while improvise limits us to one per turn.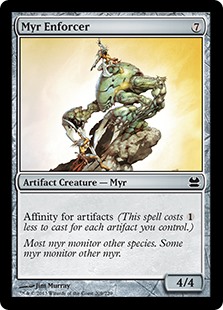 Cards with improvise hold an on-paper power level much closer to that of delve spells than to that of Oath of the Gatewatch's Eldrazi haymakers. Since untapped permanents are a finite resource each turn, like cards in the graveyard (although less finite), improvise cards get to be stronger than affinity cards. The improvise Myr Enforcer, for example, costs one less mana and has trample and haste.
The mechanic's main deckbuilding constraint is that it can't be splashed into anything. Improvise demands a deck with a high count of artifacts that work while tapped to function optimally, whereas delve works pretty much everywhere.
Synergies
Improvise happens to work very well with a wide array of playable cards. The existence of lockdown permanents like Chalice of the Void and Relic of Progenitus, as well as easy engine-grease options, had me very excited during spoiler season.
The best grease cards are Relic of Progenitus, Pyrite Spellbomb, and Mishra's Bauble. The former two cost one mana, so they can't be played in builds with Chalice of the Void. But they both "replace" themselves in terms of mana, making for easy ramp, and can be traded for another card at any point in the game (ideally once the field is full of other artifacts). Spellbomb has the added benefit of interacting with aggro-combo as we set up; Relic slows certain strategies way down while annoying three-color midrange decks to no end.
Bauble's status as a zero-mana artifact gives it a special role in improvise decks. Here, Bauble is literally a Mox when it comes to casting improvise spells. Tormod's Crypt and Welding Jar are examples of more situational zero-mana artifacts that can work in improvise decks. But Bauble remains a cut above the rest, as it cycles once we don't care about adding to the artifact count.
Another option for turning on improvise is equipment. It's rare that equipment needs to tap to function, so assuming we find an equipment spell worth running, it can slot into an improvise deck painlessly.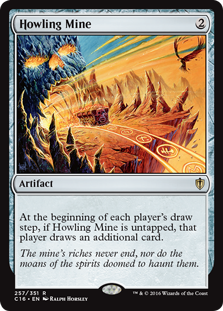 Improvise also has a special interaction with Howling Mine. Mine only draws each player an extra card when it's untapped. I have been looking for a way to turn the Mine sideways before passing to opponents forever, but all my fruitless Gatherer searches ever returned was Lodestone Myr. When I read the improvise mechanic, my mind immediately went to Howling Mine.
The new mechanic and Mine are best buds. In builds with multiple Mines, it's not uncommon to draw 2-3 cards each turn, tap down all the mines for an improvise card, play a bunch of cheaper artifacts, make an attack, and pass the turn to repeat again later, all while keeping opponents off Mine's extra draws. Mines draw into more Mines, and the card advantage snowballs.
When I played four Mines, though, I lamented how bad it could be early against linear aggro and combo decks. Modern has no shortage of these strategies. Even though Mine stomps the slower interactive decks, Infect, Burn, and even Tron could care less about the extra cards and would often leverage free cards pulled early into an insurmountable advantage. Or worse, an Oblivion Stone!
Brewing UR Improvise
I started in blue-red because they're the colors I like to play, and the most appealing improvise cards were blue or red (barring Herald of Anguish, but more on him later). Bastion Inventor was my favorite of the bunch, followed closely by the hasty Hooting Mandrills, Enraged Giant. Simple creatures with buff bods—my kind of Magic!
The First Attempt
UR Improvise 1.0, by Jordan Boisvert
The first decision I made was to run Chalice of the Void, which heavily informed the rest of my shell. I also wanted to play some number of equipment spells for the costless improvise boost. After some tinkering and goldfishing, I realized how busted some draws were: Citadel, Bauble, Opal into Mine on turn one let me cast an improvise threat every turn as of turn two while drawing multiple cards and excluding my opponent. This build ran an additional 4 zero-cost artifacts to maximize that kind of sequence.
Rushing out lock pieces with Simian Spirit Guide, I soon found, was not where I wanted to be. My pieces were ineffective too often against some decks, and didn't give me the speed I needed to pressure opponents who could ignore them. It also proved easier than I'd expected to spend the cards in my hand with a Mine or two active, further decreasing the need for Guides. Turn-one Chalice is possible in this deck even without the mana monkey.
Bastion Inventor also underwhelmed me. While a solid threat against midrange, Inventor was decidedly terrible against decks that don't pack Terminates in the first place.
Accorder's Shield was nice in some cases, but usually just sat around. I frequently had better things to do with my mana than pay three to equip the Shield. It turns out having a 4/7 vigilance is only relevant in a few matchups, and even then, in a few game states.
On to the positives. Besides the occasionally explosives draws and the Mine interactions, I loved Maverick Thopterist and Enraged Giant. These cards demonstrated the power of cheating on reasonably costed creatures. Thopterist was often a two-mana Pia and Kiran Nalar, playing roles similar to those of Lingering Souls in a variety of matchups. Giant just applied a ton of pressure very quickly. I rarely missed hexproof on the red beater, as a 4/4 six-drop is already pretty tough to kill in Modern. It also benefited from the Slash Panther/Reality Smasher effect, making it difficult for opponents to lay a planeswalker, plus it, and pass hoping to keep their permanent. Reverse Engineer made it tough to run out of steam against attrition decks and helped find crucial cards in postboard games, although I generally sided a couple out against the faster linear decks.
Puzzles and Plates
UR Improvise 2.0, by Jordan Boisvert
This version marked a dramatic improvement. While looking for cards that could accelerate my gameplan, I stumbled upon Cogworker's Puzzleknot, which costs two but then adds two mana back for improvise. Puzzleknot has another benefit: it puts a body on the board as early as turn one. Combined with Cranial Plating, Puzzleknot's 1/1 Servo provides a real plan against Tron and other decks that aimed to go over us. Even fair decks are forced to burn removal on the 1/1 when we have a Plating in play, and Mox Opal can produce white to sacrifice Puzzleknot and make another body if needed.
Cranial Plating also helped the build. Besides synergizing with Puzzleknot, Plating works very well with both Maverick Thopterist (which puts fliers into play) and Enraged Giant (which has haste and trample). I won multiple games out of nowhere by casting Enraged Giant, equipping it, and swinging for 10 damage. Threatening this play gives UR Improvise a bluffing aspect reminiscent of Twin, wherein opponents want to hold up mana when possible to interact with a sudden lethal attack.
I also added four Thoughtcasts, which should have been in the deck from the start—I had just forgotten the card existed! Thoughtcast helps us get going when we open a slower opener, and keeps the gas coming once we set up.
A pair of Dismembers made their way to the mainboard too. Dismember represents the most efficient way to interact with creatures in a Chalice deck. We can't play too many in the main because the life loss becomes an issue, and because I'm not sure we need that much creature interaction in the dark. For what it's worth, though, Mox Opal can produce black to help pay for Dismember.
After a few days of matches with this build, I realized what a nightmare Oblivion Stone was for us. The three Needles in the side, as well as the copies of Metallic Rebuke, seek to address this problem.
Losing the Chalice
UR Improvise 3.0, by Jordan Boisvert
This is a newer build that I'm not entirely sold on yet. It gives up Chalice of the Void for more early interaction in the form of Pyrite Spellbomb and Relic of Progenitus. It gets going faster than the Chalice version, but it has fewer free wins. I'm not sure it's worth transitioning to this sort of build, since despite superb options like Galvanic Blast being available to us without Chalice, we still probably don't want them over the nuts and bolts that make improvise tick. I started with four copies of Blast, quickly trimmed them down to two, and eventually just cut them altogether.
Other Variations
For all three iterations of the deck, I stayed in blue-red colors. This might strike some readers as strange, since the nastiest improvise card—Herald of Anguish—is black. But Herald costs double black, quite an investment considering the other black improvise cards are hardly Modern-playable. Committing to Herald would mean giving up Blood Moon and crafting a more painful manabase.
I'm also not convinced the seven-drop is fast enough for Modern. Sure, it's great in midrange matchups, but so is Bastion Inventor. Against linear combo and ramp decks, Herald does next to nothing.
Maverick Thopterist, for its ability to ramp up the artifact count, put wide pressure on the board with Cranial Plating, and trump efficient removal spells like Lightning Bolt, seems better suited to Modern. Running Herald incentivizes us to drop Cogworker's Puzzleknot for Ichor Wellspring or Mycosynth Wellspring, which makes Cranial Plating barely defensible. But losing Thopterist is the nail in the coffin for Plating. I think the ability to win games out of nowhere with Plating and apply pressure to goldfishy opponents with otherwise lowly Servo tokens gives UR a huge edge over other color combinations right now.
Gotta Tap 'Em All!
At this stage, I'm still unsure whether Version 2 (with Chalice) or Version 3 (with Spellbomb and Relic) is better. I'll have to do some grinding and take some notes to figure that out. What I am confident of at this stage is that improvise has legs. Whether it makes waves in build-around shells like mine, UB Tezzeret decks, or somewhere else, I believe we'll be seeing the newest mana-cheat mechanic in Modern.