Are you a Quiet Speculation member?
If not, now is a perfect time to join up! Our powerful tools, breaking-news analysis, and exclusive Discord channel will make sure you stay up to date and ahead of the curve.
I knew they were going to take actions in Standard with the new banlist update—especially with it being moved up to this week. The pessimist in me expected that Modern would be left untouched. To be fair, I enjoyed Modern prior to this announcement, much unlike Miracles Legacy, though I'm very happy that action was taken. I think these changes will be net positive for the format.
So let's talk about the new Modern. I'll look at both bannings in terms of the logic that led to them, and the metagame impacts we can expect as a result. Finally, I'll touch on the larger conclusions we can draw regarding Wizards' approach to managing the banlist, and what it means for Modern moving forward.
[wp_ad_camp_1]
Golgari Grave-Troll is Banned
I was concerned that this wasn't going to happen, as unbanning and re-banning a card isn't a great image. I'm very happy that they made this move anyway. The dredge mechanic is kind of neat in very high-powered formats, and very obnoxious in formats trying to promote reasonable gameplay. The management of the Modern banlist largely pushes the format towards attacking with creatures or needing to survive a fast onslaught if you want to go bigger.
Dredge just kind of circumvents the rules of engagement, taxes sideboard space, and is surprisingly resilient to hate.
A lot of players would have liked to see Cathartic Reunion get the hammer, which sort of makes sense considering how much power the card lent the deck, though I believe it's really bad form to put the medium card on the banlist. How many looting effects will we ban in the name of Dredge? Frankly, one is too many. You could make a case for Prized Amalgam as well, though ultimately what it comes down to is that a Golgari Grave-Troll deck will rarely fall in line with the play experience Modern is intended to offer. Those other cards have the potential to contribute to less oppressive strategies.
Make no mistake—you can still play Dredge in Modern. Stinkweed Imp showed up from time to time before the unbanning of Grave-Troll, and other dredgers like Golgari Thug will happily serve as scabs. The hit to consistency going down from dredge 6 to dredge 4 will be felt, however, and you can expect the deck to decline in popularity. Dredge is also a deck that mulligans frequently to find the pieces it needs to play the game, and losing its biggest dredger will make these mulligans more punishing. Personally, I'll be removing the graveyard hate from my sideboard unless updated builds of Dredge start making waves. I'm fine taking the loss to a fringe deck, especially now that the deck is more likely to lose to itself.
Gitaxian Probe is Banned
This card was very polarizing. You can tell by the combination of cheers and complaints as response to this banning. Personally, I would contend that there is no way Mutagenic Growth is reasonable if Gitaxian Probe is not, though this ban ultimately hits many of the same decks.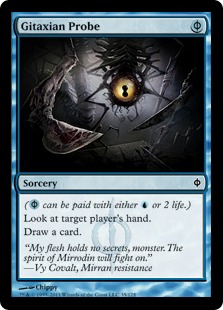 I was curious about Pyromancer Ascension making a comeback in the era of Fatal Push but it doesn't look like it was meant to be, as Storm is one of the decks that is absolutely killed by this ban.
This ban doesn't kill Infect by any stretch of the imagination. It makes it harder to build a graveyard for Become Immense, and it will force you to respect more possible options now that you won't know to a certainty the contents of your opponent's hand. That said, the strongest Infect players were already winning these games anyway, through analysis of the opponent's likely holdings and careful management of risk. It's going to be harder to recommend this deck to a newer player, though ultimately Gitaxian Probe was merely the best support card for an abstractly powerful shell. Infect will live on.
Decks like Death's Shadow Zoo and UR Prowess feel this ban a lot more, as they cared about paying life and/or cantrips specifically. Perhaps there will still be playable versions of these decks post-ban, though I'm not optimistic about their positions. Just tossing in Serum Visions or some pump spells is a fine and easy solution for Infect, but these decks lost a much more meaningful element of their game plan.
A number of Modern decks with varied threats have been taking advantage of Mutagenic Growth. Most are hurt by the absence of Gitaxian Probe, given that these decks prominently feature Monastery Swiftspear and other prowess threats. I will say that making these decks significantly worse while leaving Infect more or less intact makes it so that Lightning Bolt will be on average better against your linear aggressive opponents. That's a positive for players who advocate the more interactive and reactive decks.
Part of the reason that I believe Infect will stick around is that the deck does a solid job of going long against the interactive decks. Playing Grixis Delver against Infect is a match of attrition, and the fact that the creature-based combo deck doesn't have to play the game especially aggressively is part of what makes it so powerful. That said, removing Gitaxian Probe definitely reduces the frequency that they are just able to shove and end the game quickly. In that way, this impacts the power level of Infect even though the deck isn't going anywhere.
The Logic Behind Git Probe's Demise
The specific wording of the justification here is worth discussing:
Gitaxian Probe increased the number of third-turn kills in a few ways, but particularly by giving perfect information (and a card) to decks that often have to make strategic decisions about going "all-in." This hurt the ability of reactive decks to effectively bluff or for the aggressive deck to mis-sequence their turn. Ultimately, the card did too much for too little cost.
While this ends up being the biggest death knell for the barely viable Storm (which rarely even cracks Tier 3 in our metagame standings), this ban appears to be targeted more to the free information aspect than the free cantrip. 
In the past I personally have made the case that Preordain is definitely too good for Modern—this paragraph certainly falls more in line with the crowd that thinks spell-based combo is due for a shot in the arm. I wouldn't read too much into this, as it doesn't explicitly state anything suggesting that they care about the strength of spell-based combo, just that this reasoning doesn't demonstrate that it was the target.
It also illustrates one of the less acknowledged principles of the turn four rule as applied by Wizards in banning decisions. The problem is not simply that a deck is capable of a turn-three kill, but rather that it pulls it off. Without Probe, the creature-combo decks will certainly have fewer turn-three kills on the goldfish, but realistically they are still quite possible. What's significant here, is that Wizards cares about the outcome in games. If Grixis, Jeskai, Jund, or some other interactive deck can successfully delay the kill—whether through bluffing or punishing a mistake—that's acceptable in Wizards' eyes.
Metagame Predictions
The impending downswing in Dredge is most relevant with regard to sideboards, though decks that had positive game-one matchups against Dredge, such as Tron, will be hurt slightly too. Bant Eldrazi is pretty happy to remove those seven graveyard hate spells from their sideboard. Of course, the removal of Gitaxian Probe from the format hurts several of Tron's bad matchups, so if anything I would expect Tron to get better on sum.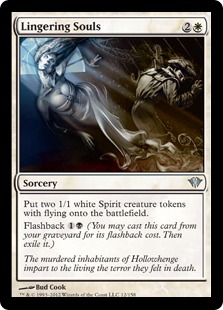 The combination of the removal of Gitaxian Probe from the format and the addition of Fatal Push will almost assuredly slow things down. Not to mention that when the fair decks remove the graveyard hate from their sideboards, they'll have even more tools to punish the fastest decks in the format. Time will tell just exactly how much the format will slow down, but I wouldn't bet on all of the fast decks being dead—there are still plenty of tools to beat down and combo-kill.
I would expect an uptick in both Jund and Abzan out of the gates. A lot of players just like Jund, and Lingering Souls is being discussed by many as a great threat in a field of Fatal Pushes. The more players pick up these decks, the happier Tron players will be. Though as I mentioned above, Infect will still be plenty powerful, and will stop Tron from taking the format over entirely.
As we all know, Modern is too diverse to make a blanket statement about what the "best deck" is, and there will definitely be ins, outs, and innovations post-banning. I believe that these bans are definitely positive for the format, even if I wouldn't have made the exact same changes.
Understanding Wizards' Approach
With every round of bannings and unbannings, we get a little more insight as to what will come off or be put on next. With Grave-Troll, the crime came down to requiring very narrow hate cards, being able to beat those hate cards, and being absurdly consistent all the while—making sideboards matter entirely too much. With Gitaxian Probe, the message was clear that they wanted to reduce the number of turn-three kills in the format. I expect that both Dredge and Infect will continue to be watched in whatever form they take going forward. Wizards clearly does not want Dredge to be Tier 1, and if it becomes a successful deck again I would expect Stinkweed Imp or some other element also to get the axe. With regard to the Gitaxian Probe banning, I'm sure that any lingering turn-two-to-three kills with Mutagenic Growth and Become Immense are very much on their radar.
The relevant subtext is that things don't have to get Eldrazi bad even in the post-Modern Pro Tour environment for the ban-hammer to swing. Even though Modern is very popular right now, they are still paying attention to format health. This is excellent, and something that Legacy players can't necessarily claim about their format. I'm excited to see where Modern goes from here, and am very optimistic about Snapcaster Mage's position in the beginning of the year.
Thanks for reading.
-Ryan Overturf
@RyanOverdrive on Twitter