Are you a Quiet Speculation member?
If not, now is a perfect time to join up! Our powerful tools, breaking-news analysis, and exclusive Discord channel will make sure you stay up to date and ahead of the curve.
Goyf, Smasher, you name it—efficient beaters are really my thing. It shouldn't surprise that I've put in a lot of reps with Death's Shadow Jund, and the deck's namesake Avatar definitely rules. Since even before the Probe ban, I've wondered about Shadow's potential in fair blue shells, and my thoughts always come back to Delver. A threat of Shadow's size and cost looks perfect for the Temur-colored grow strategies I'm so fond of. Of course, there's one problem: Death's Shadow is black.
Wait a minute... this is Modern! Since when has splashing colors been an issue for anyone, anywhere? It took me a week of nonstop tweaking to arrive at a functional manabase, but I think my pipe dream of Death's Shadow in Temur Delver has become a reality. This article unveils Temur Shadow, explaining the roles its cards play, its meticulous manabase, and the creation process behind the deck.
[wp_ad_camp_1]
Brewing Temur Shadow
Last week, I identified the strength of leading on an aggressive one-drop in an article comparing Death's Shadow variants. Unfortunately, adding Wild Nacatl to Death's Shadow Jund didn't give me the early-game oomph I was looking for. Nacatl could be chumped just like Goyf and Shadow, and was even outclassed on the board fairly quickly. I needed Delver of Secrets. Delver's flying ability allows players to attack from a unique angle and combines well with Lightning Bolt and Snapcaster Mage.
I pondered the pros and cons of Death's Shadow Jund and Grixis Delver, wondering if there wasn't a way to meld the two into a four-color, has-it-all grow deck à la Counter-Cat. If I found a perfect suite of creatures and spells, I could see if the mana proved problematic enough to convince me not to have my cake and eat it too.
Death's Shadow Jund: Pros and Cons
The biggest draw to Death's Shadow Jund is the deck's incredible consistency. Death's Shadow Jund is the sleekest, most efficient deck in Modern right now. The built-in "conditions" of its spells—being at a low life total and having many card types in the graveyard—don't require tangible deckbuilding concessions (besides Tarfire over Lightning Bolt), and cost pilots zero mana to fulfill during games (as Wraith and Bauble cycle for free).
Jund also achieves impressive creature consistency with Traverse the Ulvenwald, a card that even grants the deck an easy toolbox element. The deck gains an aggro-combo dimension with Temur Battle Rage, which it can run effortlessly thanks to packing 8 creatures (with Traverse, a functional 12) that exceed five power.
An oft-cited pro of Death's Shadow Jund is that it achieves delirium and a low life total faster than Grixis with Street Wraith, Mishra's Bauble, and Tarfire. I'd argue that it only does so because it has to; if Jund had access to an efficient turn-one threat like Delver, which helps with delirium once killed and promptly puts the game away if unanswered, it wouldn't need to work so hard on delirium, and it would be happy
taking hits from opposing creatures while Delver clocked in the air instead of cycling Wraith to enable earlier Shadows.
Death's Shadow Jund's biggest strength—its razor-sharp focus—is also its downfall. Hosers like Runed Halo, Rest in Peace, and Leyline of Sanctity turn off multiple crucial cards in the deck. Surgical Extraction can even win games against Death's Shadow Jund by exiling all copies of either Death's Shadow or Tarmogoyf, leaving the deck with only four ways to actually win. Decks looking specifically to beat Death's Shadow Jund will be able to, and usually with cards that have utility in other matchups.
Due to its lack of permission, Jund can't answer the top of its opponent's deck, making it softer in topdeck wars.
Grixis Delver: Pros and Cons
The pros of Grixis Delver are fairly obvious. It can apply early pressure and enjoy free wins with turn-one Delver, and achieves spell consistency with Serum Visions and Snapcaster Mage. Grixis also uses these blue cards to gain an edge in topdeck wars over Jund. Such benefits add up to give Grixis the upper hand in Death's Shadow mirrors.
Another supposed pro of Grixis is that it produces threats resistant to Fatal Push, but I don't think it really counts. The only reason Grixis runs Tasigur and Gurmag is that Goyf and Traverse are off-color, or we'd see Death's Shadow Jund employ delve threats as well.
One big issue with Grixis is that some of its threats require mana to set up. Tasigur, the Golden Fang and Gurmag Angler simply don't work without Thought Scour. Besides, Tasigur and Gurmag are almost always smaller than Goyf.
Grixis also lacks toolbox aspect of Traverse the Ulvenwald, meaning it has to max out on Snapcaster Mage to see the Wizard throughout the game. More Snaps means more lands. This concession makes it a far clunkier protect-the-queen deck than I'm interested in.
Finally, Grixis has trouble dealing with certain types of permanents, namely enchantments.
Bridging the Gap
Temur Shadow is built to preserve the pros and eliminate the cons of both Death's Shadow Jund and Grixis Delver. It succeeds at the cost of adopting a new con: a shakier manabase.
Temur Shadow, by Jordan Boisvert
Temur Shadow: Spells
Threats
There's little to say about the creatures in this deck that wasn't covered in the above discussion on Jund vs. Grixis. I will say that Temur Shadow has an identical creature base to Monkey Grow's (and is otherwise very close in composition), except Hooting Mandrills has been replaced with Death's Shadow.
I also want to touch on the two Snaps. Snapcaster Mage can be clunky in an 18-land deck, but having multiples for Traverse chains and late-game utility has been stellar. Snapcaster provides insurance against both grindy decks (Grixis, Abzan) and creature decks (Revolt Zoo, CoCo). I could only see going down to just one copy in metagames infested with linear combo and ramp.
Disruption
Lightning Bolt is still the best card in Modern by a huge margin, and we get to max out on it in this deck. Two
copies each of Tarfire and Fatal Push fill out Temur Shadow's removal suite, giving it 8 high-impact, one-mana kill spells.
Thoughtseize, Mana Leak, and Stubborn Denial handle cards we can't easily one-for-one with removal. This category extends to unanswerable creatures (Wurmcoil Engine), value spells (Collected Company), and planeswalkers (i.e. Elspeth, Sun's Champion). Permission plays better with Delver of Secrets than discard, since it costs opponents tempo to spend mana on spells that don't resolve. But Thoughtseize is a must in this deck to enable Death's Shadow, and besides, it's Modern's most efficient catch-all.
Consistency
I've employed a Serum/Traverse consistency package before to some success in Temur Delver. Combined with Snapcaster Mage, these eight spells ensure we have little trouble finding exactly what we need at the right stages of the game. Consistency by redundancy is all well and good, and Modern's go-to consistency plan. But the ability to manipulate the top card of our library provides many more benefits, including helping with land drops, drawing us out of stalemates, and enabling narrow hosers in sideboarded games.
Utility
Mishra's Bauble is a necessity in this deck to help achieve delirium in linear matchups. But it also has some interesting play with Delver of Secrets, as opening both gives us two shots at flipping the Wizard on our next upkeep. Kolaghan's Command and Temur Battle Rage occupy flex spots in Temur Shadow, the former excelling in grindy scenarios and the latter shining during damage races.
Kolaghan's Command is a mainboard answer to problematic artifacts like Chalice of the Void or Ensnaring Bridge. It also gives us a laudable grinding plan with Snapcaster Mage.
In games with Death's Shadow variants, plenty of situations arise in which Temur Battle Rage would be the best possible draw. Death's Shadow Jund packs a pair so they can have it in these situations, and Grixis runs none since they don't have Tarmogoyf and Traverse to maximize the odds of Rage being live. By the same token, Rage happens to be terrible when we don't have Goyf or Shadow on the field. Serum Visions allows us to dig for our single copy when we want it.
Temur Shadow: Mana
I actually finalized my creature and spell layout for Temur Shadow within the first day of testing, and worked tirelessly all week tweaking the mana. A convoluted manabase is the price we pay for integrating the strongest aspects of Grixis and Jund. Temur Shadow doesn't just splash; it's a bonafide four-color deck.
Like Counter-Cat, Temur Shadow aims to set up a pair of complementary shocks and chase them with a third land (usually a second blue or green source, depending on our hand). I designed this manabase bottom-up, first choosing ideal basics, then shocks, then fetchlands.
Basics
Blue and black are our most represented colors, so we play Island and Swamp as basics. Playing only one basic isn't an option in a format full of Ghost Quarter and Path to Exile. Forest doesn't work in the main as it fails to cast too many cards. Mountain has the same issues and doesn't help against Blood Moon.
Shocks
The deck has two shock pairs: Breeding Pool plus Blood Crypt, and Steam Vents plus Overgrown Tomb. As most of our spells are blue or black, we want those colors on separate lands, allowing us to cast more spells each turn cycle. Each shock pair achieves this goal while giving us access to all four colors.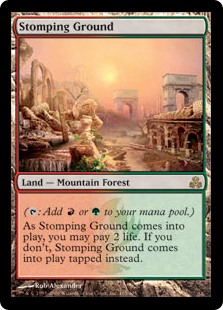 Stomping Ground enables Traverse the Ulvenwald as an early mana fixer. An opener with Traverse, a fetch, and no other lands asks us to fetch Ground and tutor either Island or Swamp depending on the cards in our hand. If we won't need red for a few turns, fetching Tomb is also an option, meaning fetch plus Traverse is guaranteed to yield three colors of our choice (so long as green is one of them). Beyond that opening play, all of our fetchlands find Overgrown Tomb, Stomping Ground, and Steam Vents, so getting our fourth color becomes as simple as drawing any fetch.
Watery Grave seems like an easy include in this deck, as it casts the most of our spells by itself and pairs with Stomping Ground. But I think the card's a trap for a few reasons. First, starting games off with Watery isn't actually good. We want blue and black on separate lands, so following Watery up with a Stomping Ground (its color pair) makes our mana awkward until we draw a third land.
Second, it's rarely a land we want to lead on and be stuck with for a couple turns. Starting on Watery seems appealing when we open a one-lander with Serum Visions, as Watery still casts Thoughtseize and Fatal Push should Visions whiff on a land. In reality, we would rather have Steam Vents in these situations. Vents casts more early interaction. Bolt and Tarfire are better at keeping us alive while we look for land drops than Thoughtseize, which doesn't impact the board, and Push, which we only play two of.
Third, since we frequently use Stomping Ground to Traverse into a basic, having Watery Grave in the deck to compliment it with is less vital, as following our basic search up with any fetch will grant us access to all four colors.
Fourth, shocks clog. Opening a non-pair, two-land combination of shocks and basics strands us on three or even two mana. Fetchlands, on the other hand, find us any color we need, either to compliment the shocks and basics we open or to set up our manabase from scratch.
Fifth, we don't have space for Watery. Running it as a 19th land would necessitate going under 26 instants and sorceries for Delver, as cutting a fetch would impact both our openers and our late-game negatively. It's true that Watery Grave is a great third land once we've set up our core shocks, but at that point, we have all our colors and have made three land drops; I doubt the marginal advantage a Watery would add compensates for the five major strikes against the card outlined above. After all, Pool or Vents (depending on the pair we have in play) are also ideal third lands.
Fetches
Fetchlands are critical to Temur Shadow. Sure, they synergize with Goyf, Bauble, and even Serum Visions, but that's not all. Running as many as possible gives us an edge in the early game by helping us hit the right colors, and one in the late game by making Death's Shadow that much more menacing.
Serum Visions and Traverse the Ulvenwald allow us to keep one-landers, which comes up quite often in an 18-land deck. As a result, all of our fetchlands must get both Steam Vents and Stomping Ground. This requirement takes Verdant Catacombs and Polluted Delta out of the equation.
We also want all of our fetchlands drawn after a turn-one Vents or Ground to perfect our mana; as we'll have our third color from Traverse on a Stomping Ground, we're in the clear there. But since we'll need exactly Tomb on a Steam Vents, we can't run Scalding Tarn, as we risk seeing it off Serum Visions and hating ourselves.
That leaves Wooded Foothills, Misty Rainforest, and Bloodstained Mire. Foothills is our best fetch, as it gets every shock at the minimal detriment of skipping out on basics. It's our best land to open with, as it promises any color, and only ever lackluster in certain late-game scenarios that require us to fetch basics.
Misty and Mire are close, and both can set up perfect mana on their own. Two of either finds Vents-Tomb, while one of each gives us access to every shock combination. We max out on Misty because Breeding Pool is usually a more important third land than Blood Crypt. Double green represents Traverse plus Goyf, and double blue represents Serum into Delver or Snap-Leak. Similarly, we're more likely to search up Island in the late-game than we are Swamp.
A Word to the Wedge
Honestly, I could write a whole article (or two!) about this manabase. The actual spells in Temur Shadow are so powerful that the deck is quite forgiving relative to the other Delver decks I've built—no Disrupting Shoals or Simic Charms to trip over here! I therefore expect most of the losses people experience picking this deck up for the first time to come from mismanaging their fetchlands.
My advice to those struggling with the mana is to pay close attention to the lands they fetch and the problems they encounter, and to start planning their mana one or two turns ahead. Doing so will reveal the benefit of unintuitive available options. Stuff like burning a turn-two Traverse on Island to make a turn-four land drop, by which time we'll be able to commit a 4/4 Shadow and represent Snap-Stubborn (as opposed to allowing that extra G on turn two to go unused). Or using a valuable fetch like Wooded Foothills to get Breeding Pool instead of a less valuable one like Bloodstained Mire (since removing Pool from the deck in fact makes Mire more valuable than Foothills). Or getting Blood Crypt as a first black source with an opener full of black spells (in case we draw Misty Rainforest as our third land and need access to Overgrown Tomb). Practice makes perfect; don't get discouraged, and don't fall back on Watery Grave!
Temur Shadow: Sideboard
Sideboards change rapidly in Modern to accommodate the format's shifting climate. I might want a different 15 in a month, but here's a brief explanation of the cards I'm currently playing.
Bullets
Removal
Utility
Collective Brutalityis a highly flexible card that wrecks Burn and is great in Delver mirrors. It's also easy to board in for less effective cards depending on the matchup.
Forest is good in grindy matchups, where it's an extra mana-producing land; in Ghost Quarter/Path to Exile matchups, where it generates "free" plusses; against aggressive decks that pressure our life total, where it's a green source we can fetch painlessly; and against Merfolk, where it gives us another green source to fetch as they try to Spreading Seas us off our colors. It also comes in with Destructive Revelry as a plan against Blood Moon. We then prioritize searching out the basic, knowing we have an answer for Moon in the deck should the enchantment come down (it helps that eight of our fetches find green). Having Forest on the field also lets us Traverse for our other colors under Blood Moon. I did try Forest in the mainboard at one point, but cut it for many of the same reasons as Watery Grave.
Fly over the Valley of the Shadow of Death
I've been turning Eldrazi sideways for longer than I care to remember, but Temur Shadow has me excited about grow again. The more I play with the deck, the more I believe I've finally found a Probeless Delver deck I like enough to actually use. I look forward to answering questions about the deck in the comments.