Are you a Quiet Speculation member?
If not, now is a perfect time to join up! Our powerful tools, breaking-news analysis, and exclusive Discord channel will make sure you stay up to date and ahead of the curve.
As of this morning, Amonkhet is fully spoiled! I've already written at length on As Foretold and Gideon of the Trials, which jump out to me as the two best cards in the set (with As Foretold leading by a substantial margin). For more on those two, check out my article from last week. Today's focuses on the slightly-less-exciting Amonkhet cards I think are still likely to see Modern play in some capacity, and on the duds getting attention anyway.
The Good
Besides As Foretold and Gideon of the Trials, Amonkhet's Modern playables will probably slot into existing archetypes.
Vizier of the Menagerie
Vizier evokes Courser of Kruphix, a more defensively-slanted creature with a similar ability for lands. A couple of factors have me thinking Vizier might make it in Modern despite its higher casting cost.
For one, there's no limit to the amount of creatures we can play per turn, so Vizier can possibly draw us more than one card on the same turn. Courser caps out at one extra card per turn, barring the presence of some goofy effect like Azusa, Lost but Seeking's. Creature-heavy decks in the market for some card advantage, like Bant Eldrazi or any Genesis Wave-style deck, might be able to employ Vizier profitably.
Second, improving the creature's power by one point goes a long way in terms of playability. Sturdy creatures like Courser and Vizier excel in role-shifting midrange strategies like Todd Stevens's GW Company deck from last month. Having three power instead of four is a a great boon to Vizier in similar archetypes, which need their cards to switch between aggressive and defensive roles at will (explaining Tarmogoyf's ever-crucial role in Modern midrange decks).
Vizier also has two abilities I think will be overlooked at first, but start to add up as the card sees more play. That it hides the top card of its owner's library from their opponent is great for longer games. One deterrent to running Courser of Kruphix in traditional BGx shells is the information it leaks to the other side of the table.
The Cleric's other sleeper function is its ability to act as Oath of Nissa for creature spells by filtering mana. I doubt this ability generates decklists on its own (unlike Oath's, although I would love to see Vizier in a revamped Domri Obliterator list), but it's far from irrelevant. It gives Abzan Company a way to cast its creatures under Blood Moon, or color-intensive threats like Voice of Resurgence with utility lands like Gavony Township, for instance.
Where it goes: Bant Eldrazi, Abzan Company, Elves, Mono-Green Devotion
Nissa, Steward of Elements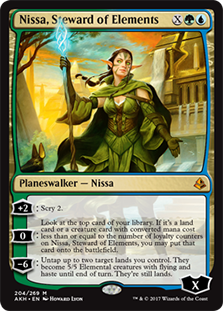 Weird colors, weird abilities, weird casting cost. Fortunately for Nissa, Modern is a weird format. Her ability to scale in long games makes Nissa very interesting, despite her inability to protect herself. The decks that will try her out are ones that tend to have lots of lands in the mid-game and struggle with consistency issues—again, Bant Eldrazi springs to mind. It helps that her 0 ability works best in decks full of lands and creatures, but light on noncreature spells. I could see Nissa working in some ramp-happy creature deck that also wants Vizier.
Where it goes: Bant Eldrazi
Cut // Ribbons
I was hoping none of these hideous aftermath cards would be Modern-playable, but Cut // Ribbons is too juicy for me to ignore. Cut leaves a little to be desired. Modern already has this effect for one mana in Flame Slash. Luckily, the spell's flashback mode is a game-winner.
Ribbons domes opponents for X, only costing pilots an extra BB. That's exactly the kind of mode Removal.dec wants on its binned cards. Grixis Control has all but inherited UR Twin's title as Bolt-Snap-Bolt deck of the format, and Ribbons meshes perfectly with that gameplan.
Considering Twin, Blue Moon, and other black-less blue-red decks ran Roast to deal with problematic creatures, Cut's extra mana cost over Flame Slash doesn't seem like a deal-breaker. The main concern is whether players will want it over Terminate. Fatal Push and Lightning Bolt already handle early creatures admirably, so Cut just lightens the load there. Later on, Cut addresses Thought-Knot Seer, Hooting Mandrills, and Restoration Angel, but notably misses Tasigur, the Golden Fang and Reality Smasher.
It's possible BRx mages will need their two-cost removal spells to hit these creatures if they're going to sleeve them up alongside Push and Bolt. But if not, Cut // Ribbons seems like an exciting complement to midrange strategies in those colors. Either way, I doubt it rises above one copy per list.
Where it goes: Grixis Control, Mardu Midrange
Cast Out
Here's the most boring of the spoiled cards covered today, but Cast Out nevertheless deserves a mention. The main reason to play Cast Out over Oblivion Ring (or, alternatively, Detention Sphere) is its flash keyword.
Flash makes Cast Out more attractive for hyper-reactive decks like Esper Control. It also increases the card's cost, and the jump from three to four mana makes the cycling add-on a lot better. In the early-game against aggressive decks, having the option to ditch an O-Ring effect for a shot at drawing Supreme Verdict gives the card some welcomed flexibility.
Where it goes: Esper Control, UW Control (Think Twice builds), Pillow Fort
Censor
Well, it ain't Counterspell. But Censor has some makings of a Modern-playable card regardless. To explore Censor's role in Modern, we'll have to understand Mana Leak's two shortcomings.
First, Leak loses value in longer games. When opponents have seven lands, it gets really tough to counter their Fatal Push with Mana Leak. Leak then generates a unique tension in Modern control decks, which by their very nature strive to bring the game to a state in which Leak ceases to counter anything.
Second, Leak shines when it trades up on mana with enemy spells. In other words, it needs to counter spells that cost three or more to put casters ahead on tempo. Since Modern is so full of aggressive and linear decks, it's rare that Leak properly executes this function. If it's just going to hit Goblin Guide or Tarmogoyf, it might as well be a one-mana spell like Fatal Push.
Censor addresses both of these issues, at least to a degree. In longer games, it can simply be cycled away for something else. This second mode would have been incredible on Mana Leak, but it's less impressive here, as Censor is likely to lose in-game value much quicker than the Stronghold staple. Opponents only need to wait one turn to play around Censor, compared with three for Leak. Decks like Tron and Ad Nauseam, then, will have a much better time laughing it off.
As for trading up on mana, Censor still does that. Some of Leak's juiciest targets include Collected Company, Chord of Calling, Liliana of the Veil—Censor will always counter these spells on-curve, which is when they're most likely to pose problems (or even be cast).
In decks that put on enough pressure to keep Leak live the whole game, like Temur Delver, Censor seems pretty useless. But decks that want a two-mana permission spell and struggle to deal with Leak's downside in longer games, or ones that shift gears at some point to no longer need countermagic, should give it a try.
Where it goes: Jeskai Nahiri, Blue Tron
Pull from Tomorrow
Pull is probably the worst of this bunch. This card would have been awesome for UR Twin, but with that deck dead and gone, it mostly just lacks a home. The blue decks that do want a "draw X" effect don't mind splashing white for Sphinx's Revelation, which has lots of upside over Pull in its text box alone. White also gives control mages Path to Exile and Condemn, which are premier removal spells in Modern this season.
Trevor alluded this week to Pull being played in Scapeshift, but I don't see the Temur versions of that deck putting up results anytime soon. RG variants are much more proactive, an asset impossible to overstate in Modern. Pull doesn't solve that problem for green Cryptic Command decks.
All that said, I'd be surprised if Pull didn't find its way into a couple of Ux sideboards as a one-of. Grixis Control seems like the likeliest home for the card right now. Pull also opens up some deck design space for UB and Sultai, which just got their Bolt/Path analog in Fatal Push and can't hate having a Sphinx's Revelation analog too.
Where it goes: Grixis Control, Temur Scapeshift, UB Faeries
Glorious End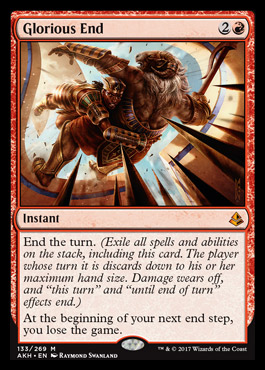 A beautifully designed card with plenty of unintuitive interactions. Time Stop has never been a competitive staple due to its steep mana cost, but Glorious End might be cheap enough to actually make some waves in Modern. If it does, we'll finally learn how to properly cast this kind of card!
Of course, there's also the drawback to worry about. Do we cast End on an opponent's upkeep and then win next turn? Or after they alpha-strike us during a board stall so we can crack-back for lethal? Or in response to a key spell they've been waiting to resolve? Or in response to the "lose the game" trigger from our last End, to get one more chance at winning?
All of these individual examples seem narrow and bad, but taken together, they present a good deal of flexibility. Add to that flexibility Glorious End's interaction with cards like Angel's Grace and Gideon of the Trials (and Sundial of the Infinite, as snubbed-Johnny-insurance), and we have ourselves a card that may see play in some interesting Modern decks.
Where it goes: Who knows?
The Bad
I also want to touch on a couple cards I believe have generated unwarranted hype.
Rhonas the Indomitable
Three mana for a bulky beater that doesn't do anything without another bulky beater in play. That's way too much to ask from a creature that dies to Path to Exile, Condemn, and Restore Balance without generating value.
Harsh Mentor
Burn's creatures each represent 4+ damage. How much will Mentor realistically deal? What does Burn cut to make room? Are those cuts worth readjusting the curve to pull away from other two-drops, which happen to be the best cards in the deck? Of Modern's non-Burn decks, only Zoo is aggressive enough to want Mentor, and they're too focused on curving Emissaries into Bushwhackers to waste time even with Eidolon of the Great Revel.
The Fun
Before I go, I want to remind everyone that there are multiple ways to play Modern. It's true that there's often a best deck or three for a given event. But at the local level, many players just sleeve up what they have, what looks interesting, or what they've been tuning for years. Smaller tournaments like FNMs are ideal settings to grow as a deckbuilder by challenging yourself to build cohesive piles of, well, trash.
Take this little Amonkhet-inspired number I've had some fun with online (and even some success!):
N(a)yan Cats, by Jordan Boisvert
This deck is awesome at brute-forcing other creature decks, and the hoser enchantments in the side win a lot of games on their own.
Regal Caracal's whopping converted mana cost of 5 forces us into lots of lands, which luckily also supports two of Modern's most aggressively-costed cats, Steppe Lynx and Scythe Tiger. Another blessing in disguise is Tarmogoyf's Lhurgoyf creature type. Later, pal—let's run Rest in Peace instead!
Modern's deep card pool is a dream for brewers, and it only improves with each released expansion. Did I miss any standouts from Amonkhet? Have an Amonkhet-infused brew of your own to share? Hit me up in the comments.