Are you a Quiet Speculation member?
If not, now is a perfect time to join up! Our powerful tools, breaking-news analysis, and exclusive Discord channel will make sure you stay up to date and ahead of the curve.
Since last Monday, it seems like Jace and Bloodbraid are everywhere. This should hardly be surprising. Exciting, powerful cards promote similarly excited brewing, and as the decklists reveal, players are actually following through. But this isn't Eldrazi Winter, and the new decks aren't obviously overpowered. There's more going on. It will take a few months before the impact is fully observable, and longer to really evaluate that impact. Today, I will discuss why.
For my part, I have been working on finding the right home for Jace. I have yet to succeed, but I have eliminated some options (i.e. Miracles). What has surprised me are the number of players that are already expressing frustration and distaste for the new cards, primarily Jace. While there is the odd comment on finding Bloodbraid underwhelming, the Elf seems to either be getting passed over or praised. It will take time to really understand how this unbanning will affect Modern, not in the least because it's surprisingly tough to build a Jace deck.
Bloodbraid Slots Right In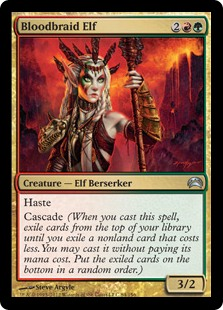 Jund seems to be avoiding any serious shade, unlike Jace. Bloodbraid has it easy compared to Jace because players already know how to use the Elf. We did have it in Modern before now. As a result, it's a lot easier to find the right home for Bloodbraid and to play it correctly. There are a lot of players, especially pro players, that played with Bloodbraid for years before it was banned; they know what they're doing. Regardless, Bloodbraid is far more straightforward than Jace. Even BGx master Reid Duke has confirmed that casting Bloodbraid is better than anything else you could be doing.
On the flip side, I've seen far fewer attempts to innovate or explore Bloodbraid than Jace. In paper, I've only seen one Bloodbraid deck that wasn't straight-up Jund Rock. Instead, it was Jund Elves with Shaman of the Pack. Of course, Bloodbraid does belong in Jund, and oftentimes wants Kolaghan's Command; once you have those together, the rest of the deck just follows. But I'm sure we'll see more Bloodbraid innovation show up in Modern as time rolls on.
The Jace Problem
Then, there's Jace. Jace is Vintage-playable and a Legacy staple. However, it doesn't have an obvious home in Modern. Jace has never been in Modern before, and saw less play than Bloodbraid in Standard or Extended. It was ubiquitous there for about nine months, but saw little play beforehand and then got banned; Bloodbraid was played nonstop for its entire legality. That Standard also saw a huge decline in players because of Cawblade's dominance. While Jace is played heavily in Legacy, that's not a readily accessible format for most players, meaning they might not have any history or experience with the card. This makes it hard to know how to effectively weild Jace. It's also tricky to know where to run Jace, as Legacy lessons only partially apply.
I don't have an answer to the deckbuilding questions, but part of the problem is definitely players misplaying Jace. The forum posters are partially correct: Jace isn't always the most impressive turn four play. Which is why you don't always play him on turn four. Jace is not a planeswalker you just slam down; you have to find the right moment. It's not a simple metric of just being ahead on board or out of other cards or any other metric. It's very contextual, as is choosing which ability to use. As a result, optimally using Jace requires lots of practice.
Deckbuilding Challenge
Jace was unbanned to promote slower blue decks. This is a given; four mana planeswalkers have no place in aggressive decks. But just how slow? I'm not sure yet. Most decks in Legacy are
very proactive because of Deathrite Shaman's ubiquity, and they play Jace. So did Miracles, a frustratingly slow deck for many pilots.
Modern contains a variety of slow control decks and tempo decks, but where is Jace best? Proactive decks like Jace because their other threats present immediate trouble, so killing Jace instead is often dangerous. Jace then finds additional threats to swamp the opponent. Slower decks like Jace because they can take their time to build up the mana to play and protect it, then use its card advantage to grind out a victory. Drawing two cards a turn is very important for an answer deck.
All that said, I've won more with Jace in the slower UW Control than in Jeskai Tempo, and it wasn't close. The tempo deck proved to be a very poor home. However, it's possible I just misbuilt the deck and it is actually better than UW. This uncertainty is reflected in the deckbuilding frustrations I mentioned. It seems like this should be easy, but it's proving otherwise.
All that being said, I have yet to lose a game with either deck where I untapped with Jace in play, regardless of the matchup. This strongly indicates that the effort of finding Jace's home will be rewarded.
Head-to-Head
What about the age-old notion of Jace and Bloodbraid answering each other? I'm not convinced. Jace is a contextual card, while Bloodbraid is always great. Jace is not an effective answer to Elf, but Bloodbraid is the best non-permission response to Jace. If there is an intentionally worse play than Unsummoning opposing Bloodbraids, I don't want to know.
Meanwhile, Bloodbraid gains back tempo, catches you up on card advantage, and then kills or at least heavily pressures Jace.
On the other hand, my Jace decks have won the head-to-head matchup more often. So far I have beaten multiple midrange Jund variants fairly easily and lost only to the Jund Elves brew, and other Jace players in my LGS are seeing similar results. It's also consistent with what I'm seeing online. This isn't too surprising; blue control decks had several advantages over Jund before the unban, namely answer density and resilience, and that hasn't changed. UW was especially problematic for Jund thanks to virtual card advantage from the mana denial plan and planeswalkers. That hasn't changed. What has changed, relatively speaking, is Liliana of the Veil. The Veiled One was Jund's best card against UW previously, but Jace is better. Now, UW can make up the card loss each turn, improve their card quality, and dig two cards deep to find an answer each turn. That is a tidal shift. Yes, Bloodbraid does answer Jace, but UW has the deck manipulation to actually see Jace more often than Jund sees Bloodbraid, which tips the scales.
What Does it Mean?
I'm not prematurely claiming Jace decks are better than Bloodbraid decks. However, Jund seems to be ahead in terms of the deck tuning process, and may even be a real deck already. Every decklist I've seen so far is similar to my test list and they appear to be doing well. Bloodbraid also receives more praise than Jace from big name players. I think this is all linked. Building new decks in Modern is usually very hard, and finding room for curve toppers in existing decks more so.
One of Jund's problems is its weakness to UW decks, which could be a function not of the matchup itself, but of inexperience. The UW lists are all in flux, and it's hard to know what is actually important in the matchup. Jund is Jund, just boosted. If you knew the matchup beforehand, you know it now. This may change once things settle down. However, given the observed increase in Jund wins and the current advantage Jace decks have, I think it fair to say that this matchup will be critically important to the new Modern. If things develop as I predicted, it will be the matchup of Modern.
The Catch
It may sound like I've changed my tune about these cards. It certainly sounds like they're not obviously overpowering the format yet. The key word is yet: My testing data showed that Bloodbraid and Jace impacted fair, interactive decks the most, with a negligible effect on other strategies. I found across-the-board improvement in both tests, but not always statistically significant results. The cards pull you ahead in attrition matchups and eventually generate an insurmountable advantage, meaning that playing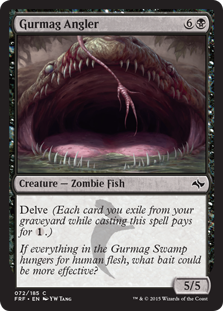 these cards in that type of matchup is superior to not playing them. I think the results of my data will play out over the long-term, as Modern moves closer to solving itself, with decks gradually fading away until only the best remain.
If Jace and Bloodbraid really are too powerful, it will gradually become clear as they replace the older decks at the top of the metagame. In the meantime, the less powerful, but more streamlined and balanced, decks will still win. Why wouldn't they? Good decks should be defeating speculative and unrefined lists. What matters what that process yields. If it's better than the alternatives, as I strongly suspect is the case, then we have a problem.
Looking Forward
Intuition and my data certainly indicate that midrange decks will all move towards having either Jace or Bloodbraid, but that has yet to be proven. Admittedly, my testing provides only one data point. The Classic at the Worcester Open is the first reasonably big event for this new Modern; then, the Team event in Madrid. The first huge Modern event is GP Phoenix the week after. There just isn't enough data to draw meaningful conclusions right now.
Now is the transition period: the old stalwarts are trying to hold on while the new decks try and find their footing. Of course players are going to have bad results and get frustrated. This is normal. The question is not what is going on now, but a few months from now, when we've all come off the brewing high and have settled into the new decklists. Then, the picture will begin to become clear. I'll be watching how things develop, but don't expect any confident proclamations until after GP Hartford in April.
Join my next week for a discussion of my experience testing Jace shells in the new Modern.