Are you a Quiet Speculation member?
If not, now is a perfect time to join up! Our powerful tools, breaking-news analysis, and exclusive Discord channel will make sure you stay up to date and ahead of the curve.
Now that Dominaria's Prerelease is over, the brewing season has begun. Players are plugging in likely candidates, looking for the missing pieces in their decks. While there are plenty of interesting new cards in Dominaria, I'm still stuck on a reprint. I've been working on verifying my belief that Skirk Prospector is the real Modern standout. The results have been encouraging.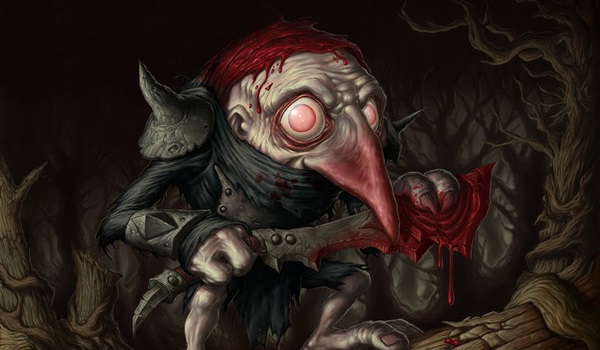 The First Pass
The focus of my efforts has been tribal Goblins. This just makes the most sense, as Prospector needs goblins to sacrifice. I left off last week with this list.
This deck was fine, but it didn't wow me. Prospector was great, but not in the way most would expect. Mana acceleration isn't really useful in the deck, as it's almost entirely one-drops, but it can struggle to make land drops. Prospector turns superfluous one drops into mana, so we can play lords and then attack for real damage, like a more flexible Aether Vial. I really wished that I had better payoff cards for all the mana we generated, but Goblin Grenade is more efficient and reliable than Banefire.
However,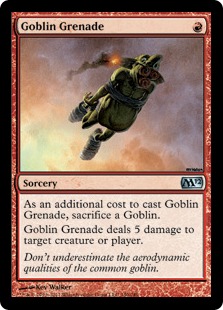 Lightning Bolt was surprisingly bad, and my testing wasn't going well overall; in testing games over the past two weeks, I went 6/12 against Jund and 8/19 against UW Control. The main issue was that I didn't really have any haymakers or evasion to finish games. A few sweepers or the right removal and I just petered out.
Something was missing, and I had thought a combo was that thing. But I found the combo too inconsistent to be a real consideration. We have to draw and play it naturally, making it very vulnerable to disruption. This indicates to me that the only reason similar combos work in Company decks is that Collected Company is insane. I did combo out my opponents a few times, but once they became aware that it was possible, they adjusted their play patterns to hedge. This did mean I could sneak in damage and gain tempo as they feared a combo death, but it rarely changed the outcome of the game. More was needed.
Goblins 2.0
I mentioned at the end of last week that Paul, my Goblins expert, played maindeck Blood Moon. When my first crack at Goblins underwhelmed me, I changed my deck to accommodate Moons.
Blood Moon is really good in this deck, much like how Spreading Seas is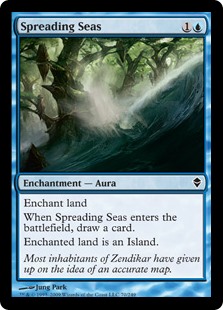 great in Merfolk, only potentially more devastating. In testing, I crushed Jund on several occasions using Prospector to play a topdecked Blood Moon turn two. Once my opponent became aware of this possibility, he tried to fetch for basics first, which wasn't always possible and sometimes hurt his development. The UW deck played more basics naturally and didn't mind Blood Moon. My results have improved to 8/14 against Jund while still a mediocre 7/15 for UW.
One thing that couldn't be quantified was the discomfort this deck caused for my Jund opponent. He says that knowing what the deck is capable of and having to defend against being Mooned out, comboed out, or blitzed was really disquieting and tense. He could protect against an early death well enough with discard, but knowing what was lurking in my deck hung heavily on his decisions. Moon did what I wanted the combo to do.
In Comparison
These results are nice, but they don't really answer whether this new Goblins deck is actually good. A deck's value can't be accurately judged in a vacuum, you need context. The most successful versions of Goblins right now employs Bushwhacker to blitz opponents. It couples a swarm of one-drops with the haste and power boost from the Bushwhackers to deal enormous damage in an attack or two, finishing the opponent off before they can react.
8-Whack, Queek (5-0 Modern League)
This deck kills quickly or never. Its creatures are outclassed by everything, and while Goblin Grenade is a potent burn spell, it can't win the game by itself. If the opponent stabilizes above ten life, 8-Whack won't win. Goblins doesn't have this problem, as it has more late game creatures that don't require a critical mass to be playable. Lords are obviously better with more subjects, but they're better on their own than Goblin Bushwhacker once in play. Having the combo kill also gives Goblins hope when the early rush gets stifled while 8-Whack is all-in. However, this is just the situation on paper. Reality may be different.
To accurately judge the value of my deck against the established 8-Whack list requires testing. Unfortunately I didn't have time to do that last week. Fortunately, I knew some players doing online testing for the upcoming SCG team opens and after calling in a favor they agreed to gather some data for me. They ended up playing 40 games with each deck: 10 games each against Affinity, Jund, GR Tron, and Ironworks Combo. These preliminary results may prove enough to tell whether Goblins is a worthwhile pursuit.
8-Whack
Games Won: 19/40
Win Percentage: 47.5%
Average Win Turn: 3.53
New Goblins
Games Won: 23/40
Win Percentage: 57.5%
Average Win Turn: 4.04
Combo Kill: 1 turn four, 2 turn five
This admittedly small sample validates my hypothesis. The Goblins deck is noticeably slower, and the combo is inconsistent, but the deck's win percentage is higher. Goblins could only muster five turn three kills, but two of the turn five kills were functionally turn two ones thanks to an accelerated Blood Moon against Jund. Had they gone pure beatdown in those games, they were on track for a turn 3-4, but Jund would have had answers to play. This indicates to me that the trade off of speed for resilience is valid, and that Goblin tribal with Blood Moon is worth pursuing.
Blood Moon on the Rise
My experience and the wins from turn two Blood Moon made me wonder if there's value in going for that as a primary strategy. Blood Moon is a very powerful card can lock out manydecks by itself. Those games against Jeskai and Jund when I functionally won on turn two made me wonder if I could use Skirk Prospector to reliably play a Moon effect on turn two and have it be better than current versions.
The logical endpoint of this thought is Legacy Moon Stompy, which I'm told is very good. All the best decks are 3+ colors and depend on fetchlands and cantrips to function. Shutting them down kills the deck, and Legacy has the means to do so while the only answer is Force of Will and sometimes Daze. Between all the fast mana and the "Sol" lands (Ancient Tomb and City of Traitors) it's hard for the deck to not have three mana on turn one.
Legacy Isn't Modern
Moon Stompy is a powerful deck, and apparently a good choice if you're not playing the best deck, Grixis Delver. However, there's a problem: this strategy doesn't really work in Modern.
Yes, prison decks exist, but they're not all-in like the Legacy deck. Fast mana is weak in Modern. The Sol lands aren't legal, and the best accelerants are banned. The only way to turn one a lock piece is Simian Spirit Guide, and that is mathematically unlikely. As a result, it is far more likely that an opponent will be given the opportunity to play Magic, and when that happens, Moon Stompy struggles to win. It's just not a deck that can win fairly, and that's the subtle reason it hasn't worked in Modern.
Modern is about robustness while Legacy depends on maximized efficiency. Because of all the cantrips and Deathrite Shaman, most Legacy decks run very low to the ground, generally 2-3 lands lighter than their Modern equivalents and almost entirely one drops. The only four drop that regularly sees play is Jace, the Mind Sculptor. Furthermore, basics are rare in Legacy, while in Modern, most decks play 2+. As a result, Legacy decks are far more vulnerable to being locked out by Chalice of the Void on one or Blood Moon. It can happen in Modern, but it's far less likely.
Modern Prison will then put up results, but not consistently, and it doesn't play much of a factor in the metagame. When prison decks do emerge, they tend to be slower hybrids between prison and control (Lantern is the exception). The most successful version is Sun and Moon, which put up results back in 2016.
"Sun and Moon, Todd Stevens (32nd Place Modern Open 2016)
Sun and Moon can play hard prison, but that's not its purpose. The lock pieces exist to slow opponents down enough for the anti-creature cards to clean up the board. It's a creature control deck that integrates prison locks, not actually a prison deck. That honor lies with Lantern Control, and now that it's become a known part of Modern, it isn't very effective.
Can We Come Close?
Just because Legacy-style prison hasn't worked so far doesn't mean it can't. Early Blood Moon is still incredibly powerful and while not having Sol lands hurts, it is still possible to play Red Prison in Modern. Jordan has tried before, but has since transitioned to colorless Stompy decks. There are Ponza decks that look similar to what he was working on, but those are more tempo-focused. I know other players have had some success, and I've lost to turn one Blood Moon, but I've also seen that deck fail to win a match in an entire tournament.
The issue has been that the current incarnations play a lot of air in order to guarantee a fast lock. But what if we replace the rituals with a goblin package?
The idea of this deck is to use Prospector and Spirit Guide to accelerate into lock pieces, then win with Goblin beatdown or Chandra. We can also just use Goblins to gum up the board until Ensnaring Bridge comes down, let Rabblemaster build up tokens, then turn them all into mana to Banefire for lethal. Thanks to Prospector and Guide, it is very easy to drop a Moon or Trinisphere turn two, and turn one is possible though unlikely. A turn two Chandra is also possible with Prospector and War Marshall, though I've never done that and don't know if it's actually a strong play.
Is It Good?
Well...sort of? I goldfished 20 games with this version and the Sun and Moon deck for comparison, and Goblin Moon dropped a three mana lock piece on turn two 12/20 games compared to 5/20 for Sun and Moon. Not surprising, considering how many each deck is playing. Including Chalice ups those numbers to 16/20 and 11/20, with Goblins having to decide between Chalice or another piece 7 times compared to once for Sun and Moon. In other words, Goblins have a high chance of successfully locking the game early compared to the more successful version. This is a very strong vote in its favor.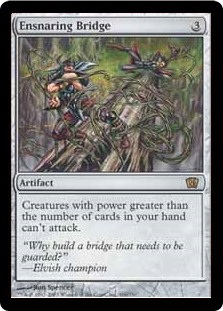 However, that should be taken with a grain of salt. I was just playing alone; I can't say that the piece I deployed would have actually locked a real game against a disruption-packing midrange or combo deck. Furthermore, the Goblins deck is very vulnerable to aggro. Realistically, it won't win against anything fast without Ensnaring Bridge. I played a few games between Goblins and Merfolk, and it was pretty one-sided for the fish. Goblin Moon won once because it got an early Bridge and Merfolk didn't find Echoing Truth. Merfolk doesn't really care about Chalice for one or Blood Moon in the first place, and Aether Vial renders all the lock pieces except Bridge irrelevant. Goblins also cannot present a fast enough clock to realistically race Merfolk and it has no cheap interaction. I know from PPTQ experience that the matchup is better for Sun and Moon.
Given that the metagame appears to be speeding up, I don't think that this version is viable. It is solid against midrange decks and combo, but just can't keep up with aggressive strategies. However, that doesn't mean that the idea itself is bad. Dropping Blood Moon on turn two is lights out for many decks, and combo dreads the combination of Trinisphere and Chalice. Ensnaring Bridge is the best answer to aggressive creature strategies available, but my build could not find it consistently. Faithless Looting or Cathartic Reunion could be the answer, though that would slow the deck down and I don't know if it would be worthwhile.
Goblin Rush
I stand by my original statement that Skirk Prospector is the real Modern gem in Dominaria. Turning otherwise worthless goblins into mana has proven to be powerful in the past, and I think that it will be again. At the very least it enables some broken starts.
While I believe there is promise for it to find a home outside of Goblin tribal, the evidence is weak. The boost Prospector gives Goblins is simply more immediate. Whether the combo is actually good enough remains to be seen. I know that the threat is very strong, but the consistency problems are real.
Another option is simply to cut Redcap and run more Blood Moons, but I think it's important to maintain the threat of the combo. What I'm trying now is four Moons and two Banefires instead of Goblin Grenade, and it feels far better than my tested version. In any case, I hope it works out for Goblins. That's the only way that my long-held dream of Tivadar of Thorn being playable will ever come to pass.