Are you a Quiet Speculation member?
If not, now is a perfect time to join up! Our powerful tools, breaking-news analysis, and exclusive Discord channel will make sure you stay up to date and ahead of the curve.
If you're just collecting and trading cards, you're leaving money on the table. Learn how to get more out of your cards and join thousands of QS readers who fund their hobby by subscribing to our free newsletter. It'll change the way you play Magic forever.
Peter Knudson follows up on the format that took the web by storm, digging into alternative Horde lists, the concept of Survivor decks, how to handle Planeswalkers, and a proposed banned list.
Read the original article here: "Horde Magic: A New Way to Play Magic and Survive Zombie Invasions"
Horde Magic got a lot of people really excited. It makes me super happy that I'm not alone in my love of killing zombies.
What I love about Magic is how it generally adheres to the philosophy of 'open-source.' For those not familiar with the term, open-source is often used in the context of computer software, where the final product's source code is freely distributed to the public, so other developers can improve it, expand on it, or change it how they wish. When you appeal to the hivemind for improvements, great things can happen.
Magic is mostly open-source, in my mind. While it's true that Wizards of the Coast designs and develops each Magic expansion, that's not the final story. The Magic community is vast and highly engaged in their hobby and want to see only the best for it. The hundreds of Magic blogs and forums are a testament to players demanding their own Magic content. Community driven formats such as Commander and Overextended pop out of nowhere and change the way people look at their collection. Does anyone even remember where the idea of a Cube came from? People still argue as to what is correct Cube Philosophy, which shows how generative and awesome the idea is.
Also have you seen Space: The Convergence Cube? It's freaking sweet.
Etc, etc. Magic circle-jerk is over.
The point is that I hoped Horde Magic get people excited enough to try it out, make changes, and bring the format to a sweet place. And boy they did.
If you want to hear what some people are saying about Horde Magic, Rob Rothe's thoughts, Adam Styborski's recap, and this thread on The Source are great places to start. The conversation has made its way to kitchen tables all across the, well, world.
I'd like to now take a look at some peoples' thoughts on the format and give my take. Many left their thoughts in articles, various forums, and on Twitter, and you should continue to feel free to send me a message if you wish to share your own opinions.
Scaling Problems
A few people mentioned the issue of scaling and how the Horde deck doesn't scale. @bassiuz mentioned that, while his two-player experience was fine, it got too easy as he added more players. Indeed, simply adding more cards to the Horde deck won't always make gameplay as adequately difficult as you'd like, especially if the Survivors are using fully-powered Commander decks. He mentioned decreasing the number of start-up turns.
I'm in favor of scaling the number of start-up turns for 3-4 player games down to 2. It puts people on the back-peddle faster and will certainly help with the scaling problems.
However, I've got some problems with changing more rules to fix the scaling problems. When looking at the power-level issue in Horde Magic, you've got two levers: the rules and the cards that the Horde can play. I like the current set of rules because they are simple, easy to remember, and achieve the gameplay that I was looking for. While some players felt the games were to easy, others did not. This leads me to believe that the issues some had with the difficulty is in the cards themselves, not the rules.
Adam Styborski (@the_stybs) wrote an excellent break down of the rules on the Mothership. So if you're finding the Zombie Horde too easy, make the Zombies way scarier! Which means sayonara, Maggot Carrier, Rotting Zensnake, and Walking Corpse!
Some sweet additions you can add to your Horde:
Noxious Ghoul: Honestly, this was in one of my original lists, but I have no idea how or why it got cut. Back you go! It's a very good card in the Horde deck because it's a board sweeper, plays well autonomously, and is very flavorful.
All is Dust (h/t @ahalavais): Board sweepers are great because they don't let the survivors pile-up defenses without consequences. Even the threat of an All is Dust turns every play into cost-benefit situations (and Magic loves those!). All is Dust beats everything, and while it's not Zombie-flavored, which is kinda sad, it actually plays really nicely as it resets ALL the things.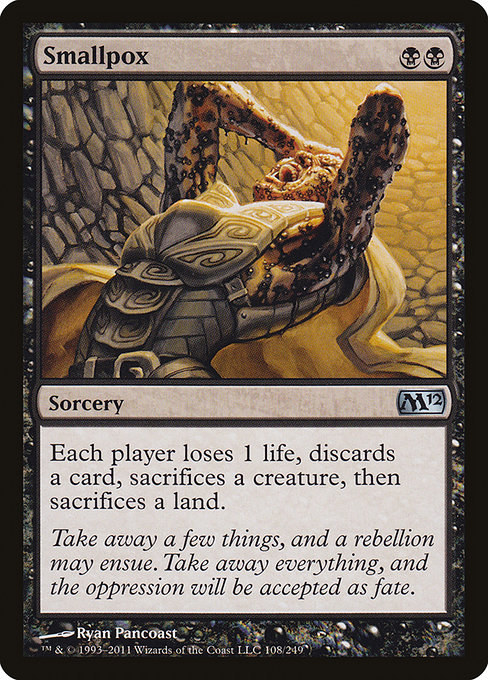 Smallpox: At first I wasn't a huge fan of having zombies make any choices at all, but if all they are doing is sacrificing a creature, it's not a big deal. Just have the Horde bin a zombie token. No biggie. And Smallpox is a devastating hit early, so I'm endorsing it as a good addition.
Mnemonic Nexus: I must admit, I'm a bit of a flavor purist. That means no cards that don't reference Zombies. However, the user K405 from MTG Salvation listed this card as a potential addition, and I must admit I'm intrigued. Imagine getting this played on you after you've gone through almost the whole Zombie pile. Damn!
Vulturous Zombie: A big hitter, and also addresses the noticeable lack of flying creatures in the Zombie deck. While I don't think there should be too many flyers, like any good tower defense, there have to be some flying units.
Living Death: Having another board-sweep/game changer can make the game more interesting and Living Death is also pretty flavorful, so it has my vote of confidence. Although, it does have the ability to just end the game if played late, so be sure to save your Moment's Peace or Counterspell for this bad boy.
Planeswalker Problem
Sort of a big, glaring omission from the original set of rules. How do we deal with Planeswalkers?  Jace, you've ruined ANOTHER perfectly good format.  Good going.
There are a number of suggestions, but after considering the options, this is what I'm going with.
If the Survivors control a Planeswalker, flip a coin at the beginning of combat.  If it comes up heads, the Horde randomly allocates one Zombie per point of loyalty for each Planeswalker the Survivors control, starting in a random order (in case there are multiples).
It's not pretty, but it gets the job done.
It's also fairly flavorful. Imagine Planeswalkers being "that guy" in the group, the one you sort of feel okay about leaving behind. If the coin comes up heads, you're put in a hard spot: do you spend blocks and resources in order to stop the onslaught facing your Walker, or do you leave it behind and keep running?
Pre-Constructed Survivor Decks
Fixed experiences are never bad. One way to experience Horde Magic is to create some preconstructed Commander decks explicitly designed to battle against the Horde. Each Survivor Deck would have it's own role, so one player might play the role of the Cleric, while another could be a Warrior. Here is a Survivor deck, courtesy of @mtgcolorpie:
[deck title="G/W Survivor (h/t @mtgcolorpie)"]
[Commander]
1 Tolsimir Wolfblood
[/Commander]
[Creatures]
1 Ancestors Chosen
1 Avacyn
S Pilgrim
1 Borderland Ranger
1 Captain of the Watch
1 Carven Caryatid
1 Catapult Master
1 Champion of the Parish
1 Conclave Phalanx
1 Dearly Departed
1 Elder Cathar
1 Elder of Laurels
1 Elite Inquisitor
1 Eternal Witness
1 Fiend Hunter
1 Grave Bramble
1 Hamlet Captain
1 Juniper Order Ranger
1 Knight-Captain of Eos
1 Mentor of the Meek
1 Mirran Crusader
1 Overgrown Battlement
1 Perimeter Captain
1 Skinshifter
1 Slayer of the Wicked
1 Soul Warden
1 Souls Attendant
1 Stalwart Shield-Bearers
1 Steward of Valeron
1 Sunscape Familiar
1 Temple Acolyte
1 Tracker
1 Transcendent Master
1 Tree of Redemption
1 Unruly Mob
1 Veteran Armorer
1 Veteran Armorsmith
1 Vine Trellis
1 Wall of Blossoms
1 Wall of Hope
1 Wall of Mulch
1 Wall of Omens
1 Wall of Reverence
1 Wall of Roots
1 White Knight
1 Yavimaya Elder
1 Reinforced Bulwark
1 Solemn Simulacrum
1 Darien, King of Kjeldor
[/Creatures]
[Spells]
1 Even the Odds
1 Hail of Arrows
1 Hold the Line
1 Ray of Revelation
1 Captured Sunlight
1 Day of Judgment
1 Rampant Growth
1 Armadillo Cloak
1 Bonds of Faith
1 Marshals Anthem
1 Mirari
S Wake
1 Promise of Bunrei
1 Righteous Cause
1 Sigil of the Nayan Gods
1 Behemoth Sledge
1 Sharpened Pitchfork
[/Spells]
[Lands]
13 Plains
9 Forest
1 Elfhame Palace
1 Evolving Wilds
1 Gavony Township
1 Graypelt Refuge
1 Kabira Crossroads
1 Llanowar Reborn
1 Nantuko Monastery
1 New Benalia
1 Stirring Wildwood
1 Temple of the False God
1 Terramorphic Expanse
1 Vitu-Ghazi, the City-Tree
1 Pendelhaven
[/Lands]
[/deck]
I like this for a Survivor deck for a few reasons.  Firstly, it's not overpowered - meaning that beating the Horde is more of a challenge than with your typical tricked-out Commander deck.  Secondly, it's thematic, which is right up my ally, and the copious amount of soldiers demonstrate the role of "fighter" in a party of Survivors.  I'm brainstorming ideas for the Wizard and Cleric currently; hopefully some sweet teamwork can come into play.
Other Horde Decks
I haven't seen a list for the Squirrel Horde yet, but I'm still hoping someone will make my dreams a reality.
The creative juices started flowing and there are a number of interesting alternative Hordes you can check out. Granted, these are probably untested, but good starting points nonetheless!
[deck title="Sliver Horde (h/t @wobbles)"]
55 Metalic Sliver
5 Venser's Sliver
3 Planar Clensing
4 Sinew Sliver
4 Muscle Sliver
1 Plated Sliver
1 Blade Sliver
1 Sidewinder Sliver
1 Spined Sliver
1 Crystalline Sliver
1 Frenzy Sliver
1 Ghostflame Sliver
1 Talon Sliver
1 Two-Headed Sliver
1 Winged Sliver
1 Frenetic Sliver
1 Horned Sliver
1 Shadow Sliver
1 Bonesplitter Sliver
1 Fungus Sliver
1 Root Sliver
1 Shifting Sliver
1 Toxin Sliver
1 Vampiric Sliver
1 Watcher Sliver
1 Brood Sliver
1 Lymph Sliver
1 Might Sliver
1 Spitting Sliver
1 Battering Sliver
1 Fury Sliver
1 Virulent Sliver
1 Sliver Legion
[/deck]
Slivers are pretty sweet in Horde Magic because they have a peon-type unit that gets pumped, which makes the game get increasingly harder as the game progresses. @wobbles also noted that Sliver Overlord should be placed at the bottom, which would create an awesome "End Boss" feel. So, with that in mind, what would the end boss be for the Zombie Horde?
[deck title="Cat Horde (h/t d0su from MTG Salvation forums)"]
60 Cat Tokens
1 Blade of the Sixth Pride
1 Glittering Lion
1 Glittering Lynx
1 Grizzled Leotau
1 Leonin Arbiter
1 Leonin Skyhunter
1 Mirri, Cat Warrior
2 Mist Leopard
1 Penumbra Bobcat
1 Phantom Tiger
1 Skyhunter Skirmisher
1 Springing Tiger
2 Stalking Tiger
1 Blistering Firecat
1 Crazed Firecat
3 Leonin Armorguard
1 Jedit Ojanen of Efrava
1 Jhovall Queen
1 Marisi's Twinclaws
2 Nacatl War-Pride
1 Panther Warriors
1 Phantom Nishoba
1 Pride of Lions
1 Sabretooth Nishoba
1 Savage Firecat
1 Spirit of the Hearth
1 Intangible Virtue
1 Purify
1 Sulfuric Vortex
1 Volcanic Awakening
1 Yawning Fissure
2 Collective Unconscious
1 Beastmaster Ascension
1 Warp World
1 Titanic Ultimatum
[/deck]
Really interesting idea here and I can't wait to try this one out.  Cat tokens are excellent because they're identical to Zombie tokens, so we don't have to play around with power-level too much (as opposed to 1/1 tokens).  I really like the breakdown of non-token cards: you've got your mediocre cat flips, some bigger, scarier cats, and then your game-enders.  It's multi-colored, but stays on theme.  Honestly, it looks tough to defeat, but that could be considered a challenge by many Horde Magic fans.
[deck title="Merfolk Horde (h/t @Bassiuz)"]
58 Merfolk Token
1 Vodalian Zombie
1 Meekstone
2 Wake Thrasher
1 Rebuild
1 Hollowsage
1 Coral Merfolk
1 True Conviction
1 Riptide Pilferer
1 Inundate
2 Inkfathom Infiltrator
2 Summon the School
3 Merrow Reejerey
1 Phyrexian Rebirth
2 Lord of Atlantis
2 Hysterical Blindness
1 Veteran of the Depths
1 Stonybrook Schoolmaster
1 Merfolk of the Pearl Trident
1 Aura of Silence
1 Waterspout Weavers
1 Isolation Cell
1 Grand Abolisher
1 Balance
1 Deepchannel Mentor
1 Rootwater Commando
1 Grand Architect
1 Sunken City
1 Day of Judgment
1 Vodalian Soldiers
1 Wanderwine Prophets
2 Gaeas Skyfolk
1 Cosi's Trickster
1 Merrow Witsniper
1 Shoreline Raider
[/deck]
Merfolk was not a tribe I thought would make a good Horde deck, but @bassiuz might just prove me wrong.  Merfolk tokens are 1/1, but there are enough lords that it might not be an issue.  Hysterical Blindness, Veteran of the Dead, Summon the School, and Balance (for the lulz) are perfect examples of cards that you can find in your collection that make great Horde Magic cards.
Banned List
One of the first things people noticed about Horde Magic was that certain cards automatically destroy the Horde deck. This is not fun, can be an obvious flaw, but there isn't anything we can do about that, except...
Well, every format has a banned list, so why not Horde Magic?
Here is a good place to start (Thanks @gg_crono for help compiling this list - you caught a lot of them!).
The following cards are hereby banned from use in the Survivor decks:
[deck title="Horde Magic Banned List (10/25/11)"]
1 Aether Flash
1 Aurification
1 Barbed Foilage
1 Caltrops
1 Crawlspace
1 Dueling Grounds
1 Dread
1 Elesh Norn, Grand Cenobite
1 Ensnaring Bridge
1 Eradicate
1 Grindstone
1 Haunting Echoes
1 Island Sanctuary
1 Lethal Vapors
1 Leyline of Singularity
1 Magus of the Moat
1 Mind Funeral
1 Moat
1 No Mercy
1 Platinum Emperion
1 Platinum Angel
1 Silent Arbiter
1 Solitary Confinement
1 Stormtide Leviathan
1 Surgical Extraction
1 Tainted Aether
1 Teferis Moat
1 Time Stretch
1 Trepanation Blade
1 Urabrask the Hidden
[/deck]
Obviously a rough list at the moment, but it catches a lot of the auto-wins. Please sound off with more possible additions in the comments below, if you have 'em.
Until Next Time!
I'm stoked that so many people tried out Horde Magic. As always, I'm always down to brainstorm new ideas, so hit me up on Twitter. I'll follow up this article with an updated banned list and some new Horde deck ideas in a few weeks, so definitely check back if you find this format fun.
I've got a few more up my sleeve, so stay tuned.
Hit me up on Twitter (@mtg_pete) or in the comments below.
-Peter Knudson
Read the original article here: "Horde Magic: A New Way to Play Magic and Survive Zombie Invasions"