Are you a Quiet Speculation member?
If not, now is a perfect time to join up! Our powerful tools, breaking-news analysis, and exclusive Discord channel will make sure you stay up to date and ahead of the curve.
I know for some of you this is old hat, but collection flipping is something we were all new to once. For me, it's kind of new again in that I recently acquired several collections that I've decided to buylist because I don't need that much inventory for my case at the LGS.
It's been a long process working through these, and I've re-learned some old lessons, so to speak. Today I want to share a few tips on how to most efficiently manage your time working on collections.
If you've never done this before, then consider this an intro article as well. I'm not going to delve into the "how" or "why" of buying collections, but rather talk about physically processing it and turning it into cash. It's been a long time since I've done an article about the benefits of collections and how to go about buying them, so let me know if that's something you want to see in the future.
Anyway, today we're talking about what to do when you're staring at 10,000 cards in front of you that you need to turn into cash.
We talk about how "MTGFinance" isn't all about the speculations on bulk cards we want to hit $10. It's not all about buying Master of Waves the morning of the Pro Tour. A lot of it is grindy work, in the sense that it's actual work rather than just buying 100 copies of the next big hype target.
A few days ago I sat down to do just this. Here's what I was staring at.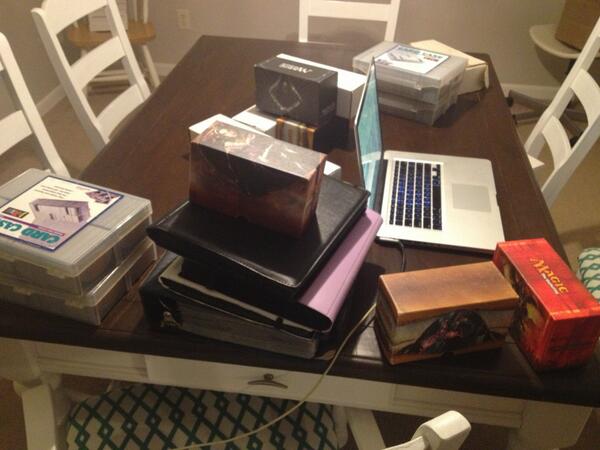 Picking the Bulk
I'm sure most of you know what this is, and basically how to go about it. If not, a brief description is you've got a ton of unpicked bulk commons/uncommons to sort through. I sit at my couch, grab a drink and put on country music videos in the background when I'm doing it.
When picking bulk, there's a tendency to pull out everything you've ever heard of before just in case it's worth money. The more you do this the better you get at it.
I typically target cards that I think could buylist for a quarter or more. I know this may be a higher threshold than many people work with, but I think it was Paul Feudo who once said "only pick nickels if you hate yourself."
Basically, grabbing something like Elvish Visionary that you can get a nickel apiece on is just not worth your time unless you like working for very little. Grabbing that first Visionary may not eat up a lot of time, but working through hundreds of nickels later just to make a few bucks really does chew up time.
My target is typically stuff that I think is in the quarter range on a buylist (MTG.GG is a great tool for this, by the way). Something like Tezzeret's Gambit buylists for a quarter to 50 cents, and that's what we want.
I'm not opposed to picking cards worth a dime on a buylist like Farseek, but I don't really make it a habit. A lot of time the stuff you think will be a quarter on a buylist will end up a dime anyway, so I don't really go out of my way to look for more of this stuff.
When picking, here are a few tips:
Underpick on the stuff you know is cheap. Like I said, don't go crazy on the Nettle Sentinels.
Overpick on stuff you have no idea about. Sometimes I'll see stuff that may be either valuable or complete bulk. Sometimes you hit big and sometimes you don't, but at the least you learn for next time. For me last week, those cards were Smother and Go for the Throat. I know Smother used to be worth something and I thought Go for the Throat may be a little too. It turns out Smother is actually just bulk now, while Go For the Throat actually buylists for up to a dollar, which is far more than I expected.
While you're picking the bulk, just throw these all into one pile. We'll come back to this later. Knock out all of your bulk at once and then put the now-picked bulk to the side, ready to send it off to your favorite bulk buyer.
Now go back to your "pick" pile. This is when you start to check whether a card is actually worth buylisting using MTG.GG and begin making piles to divvy up to stores.
Buylisting
The next step is actually selling it, and once you've sorted it into piles for stores, this is the easy part. At this point I have a few tips.
Don't worry about sorting it yet, just get everything into their system. Many stores use different systems for ordering the cards, and it's too much work at this point to figure that out. Just get everything into the system first.
Be wary of condition. This changes a lot in the end. Most stores will just mark down cards that aren't in the desired condition, but some will reject them altogether, so make sure you keep an eye out.
Once you've placed the order with the store, they'll almost always give you a list with the order they want the cards placed in. I've seen stores do this alphabetically (which actually makes sense), but also sometimes in color order. Either way, you'll need stuff sorted by sets, so if you have some way to do that efficiently beforehand, you'll save yourself some time here.
Shipping
It's easy to overlook this part once you finally get through all the cards, but it's actually hugely important. After all, if your cards are damaged in the mail you'll lose out on a lot of money.
Depending on the size of the shipment, I use either a deckbox or a fatpack box or a larger card-holding box. It's important that you pack it very tight with protective material like bubble wrap or foam peanuts. If you don't have something like that, at least use something soft to pad the box for your cards. Then tape the entire thing together really tight. The goal is to prevent any shifting at all of the cards.
When you ship, use either a good box from your postal service of choice, or if you can, use a padded or bubbled envelope. Make sure to tell whoever is shipping for you that it's fragile and not to be bended. Do not forget to get insurance on your package. Delivery confirmation is also good; if you have insurance this usually comes as part of the deal.
When selecting payment, I know it's easier to just use PayPal, but remember that you'll get hit with a fee when you do. Take the slower-but-more-profitable option and just have them ship you a check that you can take to the bank and cash. Sure, it'll be a few days slower, but you're also saving cash on the transactional end of the deal.
All of this assumes you're selling to an online dealer. Things become much simpler if you're able to sell in person, and even though the prices on some of the smaller stuff in particular will be lower, you'll save on shipping costs and time. Speaking of…
Time Is Money
This is probably the most important thing to remember with any collection. Turning a $500 collection into $1,000 is a great feeling, but if you spent 50 hours doing it you're working for just above minimum wage, and that isn't a great feeling.
Of course your first few times will go more slowly, but when you get the hang of it things move much faster. This goes back to the issue of whether or not to pick nickels and dimes from the bulk. Yes, it adds up quickly, but it also makes your shipment larger and takes up valuable time. Your rate becomes much better if you stick to pulling quarters or more from the box.
Wherever that line falls for you, I want to emphasize that you have to consider the time you're investing into a collection when calculating your profits. Sure, it doesn't change the fact that you did or didn't make $500, but you'll learn a lot more about what you need to buy and sell at if you track how efficiently you're spending your time.
This is the bread and butter of "MTGFinance" for many of us, and figuring out how to optimize the process for yourself makes a big difference at the end of the day.
Thanks for reading,
Corbin Hosler
@Chosler88 on Twitter
P.S. I did an AMA (Ask Me Anything) on Reddit earlier in the week. Check it out if you get a chance!