Are you a Quiet Speculation member?
If not, now is a perfect time to join up! Our powerful tools, breaking-news analysis, and exclusive Discord channel will make sure you stay up to date and ahead of the curve.
I'm glad in hindsight that we produced Brainstorm Brewery Satyr tokens. I'm not sure about the lore that explains how Xenagos went from Planeswalker to god to fallen god, but it looks like the $@%& has hit the fan in Theros. Are we paying 7 mana to make some dudes? Compared with Army of the Damned it's a poor investment, but in Limited, this seems OK. I don't think we want this in Constructed, though. I don't know what this is preselling for, but it's too much. Could be good in a sealed pool with Purphoros, God of the Forge, I guess. So good luck with that.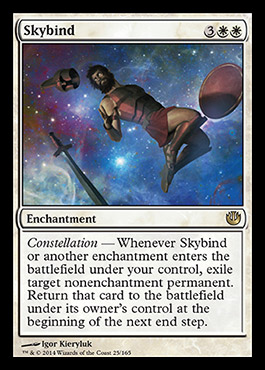 So. Skybind. This has a constellation trigger that has a lot of potential. However, so much of the format is enchantments. You won't be setting up loops with this, but you won't be removing many of their blockers, either. This has utility outside of Theros where you have more things to flash, but you have to play it in a deck with enough enchantments to trigger it but few enough that you have something to flash. This is tough to play with. You can flash their lands for a turn, I guess, but how good is that? This has a lot of potential and it's begging to be broken. Cards like that have potential. If you think you can break with, wait for it to go to bulk and scoop it.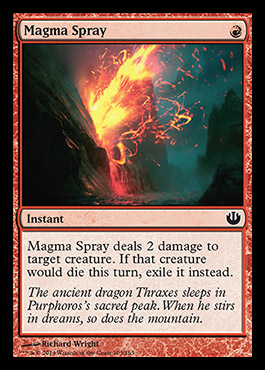 Relevant reprint I guess? Now that this is Standard-legal again... do nothing? No one foils a Standard deck. I don't see the foils going up based on Standard. Is that a thing? No...that's not a thing. This was already legal in Modern so this does nothing.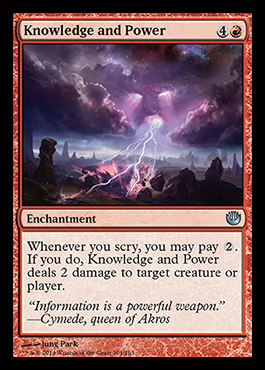 This isn't financially-relevant, but why is this card so bad? It's so bad. This could have been good and then at the last second someone said "can we add 3 to the mana cost for no reason?" Compare this to Lightning Rift. If this cost 1R it might enable a new archetype. It would be terrible, but it would be the kind of thing someone would try to build. Scry cards cost too much, this costs too much to play and its activation cost is too much. No one has that much mana. Why didn't they make this good?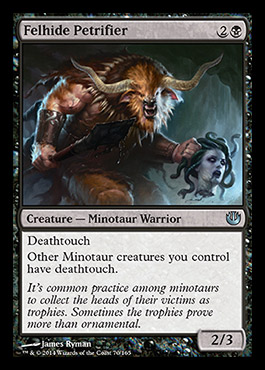 This set getting a 1-drop minotaur could be what the deck needs, and this is a good enabler. Look, I am scraping the bottom of the barrel here because the uncommons in this set are going to have to pick up some slack price-wise and I think this could go up. That's saying something considering 99% of the cards are going to go down. The older minotaurs could go up as well. I'm not saying buy these, I'm saying pay attention and prepare to be able to find these just laying on draft tables.