Are you a Quiet Speculation member?
If not, now is a perfect time to join up! Our powerful tools, breaking-news analysis, and exclusive Discord channel will make sure you stay up to date and ahead of the curve.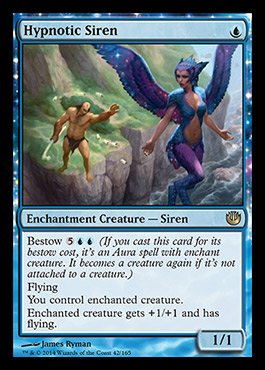 This is an interesting card. I am a big fan of cards that can scale late into the game. If drawn early, this can be played as a simple beater in Mono-Blue Devotion, perhaps in Judge's Familiar's slot. Late in the game, this can swipe their best dude. 7 mana is kind of a lot, but Nykthos can make this happen earlier than you may think. Having a (small) amount of value left if they deal with their creature is better than a card like Mind Control which goes to the yard, and Hypnotic Siren can be bounced and replayed if it falls off.
All in all, this is an interesting card with an effect that is historically good. While past cards have required you to have more creatures than them, attack without being blocked or jump through similar hoops, this just wants you to have some mana. In a pinch, you can pay 7 mana for an extra damage and flying on your own dude. I expect this to head toward bulk, but it has potential and I would watch it.