Are you a Quiet Speculation member?
If not, now is a perfect time to join up! Our powerful tools, breaking-news analysis, and exclusive Discord channel will make sure you stay up to date and ahead of the curve.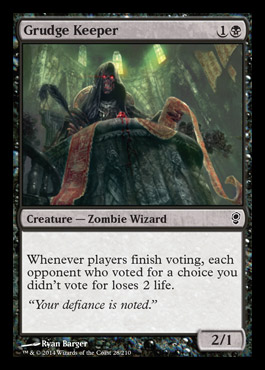 Here's a card that is so dirty it gets its own spoiler on an otherwise slow day.
This card is going to be easy to draft in quantity and you will have no shortage of triggers, but maybe not enough for him to deal more than 2 or 4 damage a game. You can draft cards that force people to vote, but he forces you into a color, which sucks because you can't just go "mono-votes goodstuff" unless he is part of a cycle and the other colors got similar keepers. "Knowledge Keeper 1U 1/3 Whenever players finish voting, you draw and discard a card then  for each opponent who voted for a choice you didn't vote for" etc.
The thing that is kind of clunky about Grudge Keeper is that your own Will of the Council spells aren't the best way to trigger Grudge Keeper. The later you get to vote, the better he is, but you may find yourself voting against your best interests in an attempt to get value. When you vote first, it's easier for an opponent to play around. This card is very clunky, but it has real potential depending on the rest of the set.
What do you think? Are you excited to be punishing opponents with this guy, or is he relegated to the bench?