Are you a Quiet Speculation member?
If not, now is a perfect time to join up! Our powerful tools, breaking-news analysis, and exclusive Discord channel will make sure you stay up to date and ahead of the curve.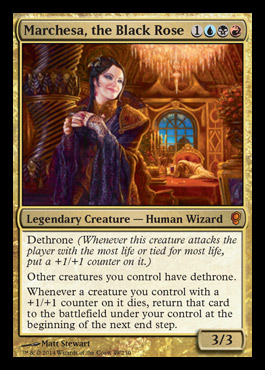 Great googily moogily. This card is solid. Sol. Lid.
Dethrone is a very, very cool ability. It is quite powerful, but it also requires you to play suboptimally if you want the payoff. If you can make Marchesa indestructible with something like Darksteel Plate, you can wrath with abandon (well, you can Choice of Damnations with abandon, anyway) and get the dudes that survived combat back, untapped. Sweet deal.
This wants to go in a deck with a lot of creatures but also a lot of control elements and I think Grixis is a good combination for that. This puts counters on Thraximundar, Deathbringer Thoctar and even Sage of Hours. This does work. Having to attack the player doing the best and not finish off someone weaker is an interesting twist, and if you do that well the person who needs dethroned may change. If you do it too well, the person who needs a dethronin' may be you, and you can't get triggers anymore. I love the nuances that this card brings out in multiplayer games. This will be fun in draft, it's a cool general for EDH and I am liking Conspiracy so far.