Are you a Quiet Speculation member?
If not, now is a perfect time to join up! Our powerful tools, breaking-news analysis, and exclusive Discord channel will make sure you stay up to date and ahead of the curve.
Let's get back on it, shall we?
Scourge of the Throne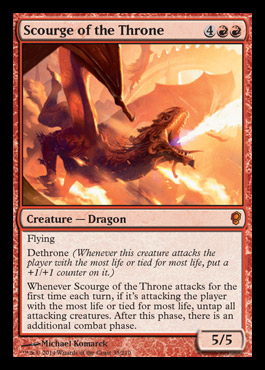 Yep, that's a Dargon alright.
The community seems split on Dethrone as a mechanic. I personally like the dimension it adds to the game. Layers of decision making are skill testers and they separate the good players from the bad. This Dargon is very cool and I've already seen players discuss how to jam it. I think Hellkite Charger is more busted in a lot of cases, but I still expect this to see play. I bet it's too much money pre-order, though.
Drakestown Forgotten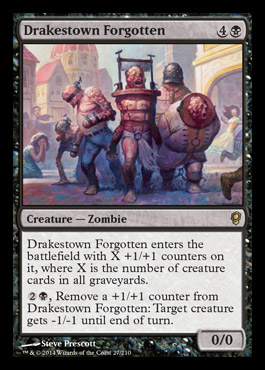 It's a zombie, so it's got that going for it. I think this has potential to be huge, but I don't know if that's enough. I like the second ability, but it's very mana-intensive. Obviously nutty in Limited.
Iterative Analysis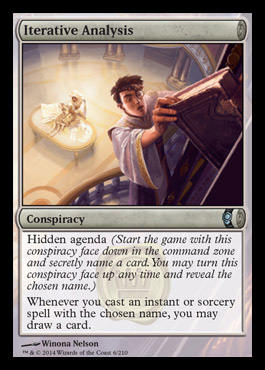 This seems a little weak, but, like most of these Conspiracy cards, there is a real sense of "better something than nothing" and this can potentially win you a game on the back of drawing you a free card for nothing. Potentially.
Paliano, the High City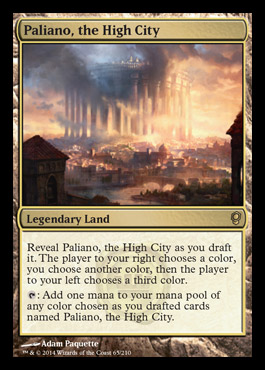 Sweet! This card is pretty cool. Hoping your opponents guess what colors you're in incorrectly and give you a second mana in your colors is great. But if you pack this early, do you know your colors? Will you draft according to what this will tap for? Can an opponent subtly influence what you take? This is going to be a better than average non-basic land in play and it's going to spice up drafting so much. I love it. Love, love, love it. Outside of draft, this card is worthless.
Unexpected Potential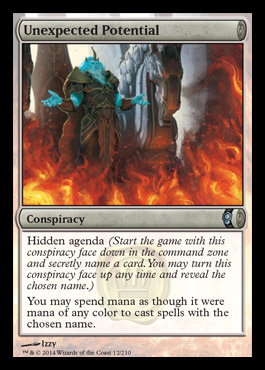 Splashing just got a whole lot easier, huh?
Muzzio, Visionary Architect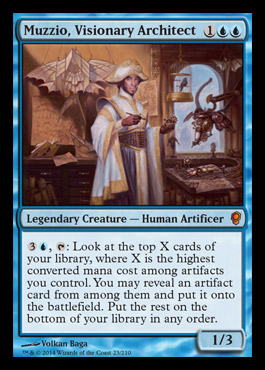 Well this has real potential. I can see this being good in a situation where the only artifact you control is Sensei's Divining Top. The fact that it isn't an artifact with mana cost X or less, but rather any artifact lends itself to this being very strong. I can see you putting out some huge artifact creatures very early. Would you rather play Sharuum, the Hegemon? Probably! But this guy could be a sweet commander, or just get jammed in a Sharuum deck. I like this a lot. He could retain some value since he's better suited to EDH than Conspiracy drafts.
Grenzo, Dungeon Warden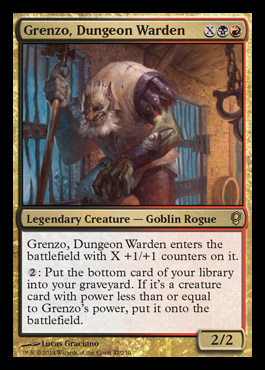 My reaction when I saw this card
This has real potential. I would look at Shirei, Shizo's Caretaker decks for a starting point. This can be played turn 2 and the fun can begin. Maybe Heartstone to churn through cards, or Ashnod's Altar or Phyrexian Altar to keep you going. All sorts of cheap creatures have non-trivial triggers when they enter or leave play. A deck with Living Death effects will really benefit from a yard full of dudes, even puny ones. The deck isn't obvious right away, but this seems breakable. As far as financial values are concerned, I see this as a $5ish card and I hope it gets to that level quickly. There is a deck here, I know it.