Are you a Quiet Speculation member?
If not, now is a perfect time to join up! Our powerful tools, breaking-news analysis, and exclusive Discord channel will make sure you stay up to date and ahead of the curve.
Worldknit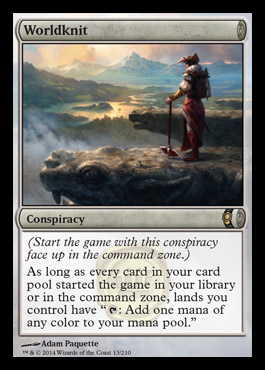 Sweet baby Heliod. This card is all-in, isn't it? You're drafting 5 color goodstuff with this guy in your first pack. Those poop 23rd cards? Well, they're in the deck. The good thing is, we haven't seen any way to remove Conspiracies (yet) so you're reasonably safe pretending you have a Chromatic Lantern all the time. I would not take this late since you're likely not going to want to jam your draft chaff in your deck if you weren't planning for it since pick one. This reminds me of a college professor I had who would give anyone who got every answer on the final exam wrong an A in the class. Get one question right? You fail the final. High risk, high reward. I love this stupid card.
Backup Plan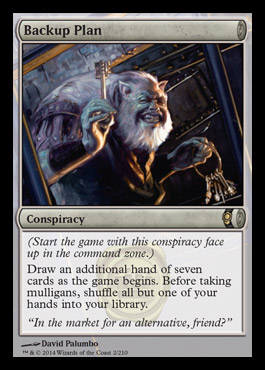 So the rares are good, huh? Not quite as punishing as Serum Powder, this little mulligan enabler lets you pick your poison for real. I know I'll have cards I want in both hands and have to shuffle one away, and that's before I mulligan. I don't know how much I will like this guy, but it does more than nothing and I can see this being a lot of fun to play with. I can dig it.
Exploration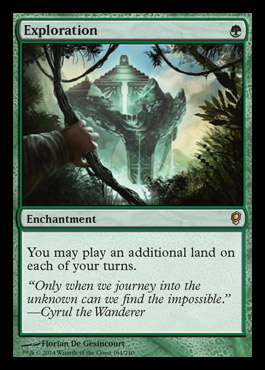 Yep. That's an Exploration all right. Is your LGS still taking preorders?
Misdirection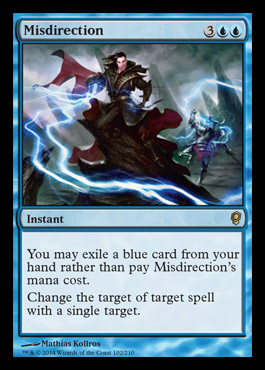 The hits, they keep on coming!
Decimate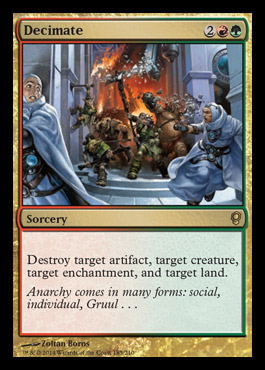 @Time_Elemental and I were literally discussing this card this afternoon on the Money Draught podcast and we couldn't figure out why it had such a low rate of EDH adoption for such a powerful effect. I supposed people just forgot this card existed. It's about $5 and on its way to getting cheaper. Be careful of this guy in limited- you can't cast it unless there is an artifact, creature, enchantment and land in play to target. It's better-suited to multiplayer. Hey, guess what Conspiracy is?
Rout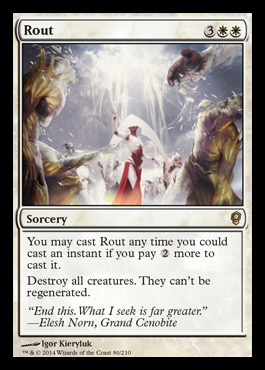 Not a reprint people were clamoring for, but a solid card nonetheless. Fated Retribution sees play in Standard and I think both can work together in EDH. Solid card.
All in all, these new reprints announced today make Conspiracy seem even spicier. I'm looking forward to jamming as many games of this as I can.