Are you a Quiet Speculation member?
If not, now is a perfect time to join up! Our powerful tools, breaking-news analysis, and exclusive Discord channel will make sure you stay up to date and ahead of the curve.
Spirit Bonds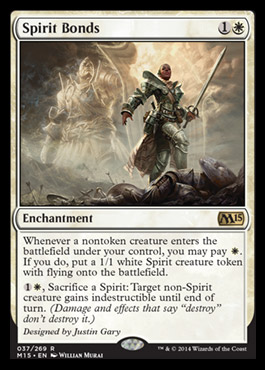 This seems pretty nutty in limited. I don't know that it gets you as much card advantage as, say, Mentor of the Meek, but with no restriction on the creature's size, this is a solid addition to your deck. It will require you to play stuff behind curve, but a 1/1 flier in limited can win games, and indesctructibility is nothing to sneeze at. Solid role-player, probably not financially significant unless Standard really pumps its brakes.
Shield of the Avatar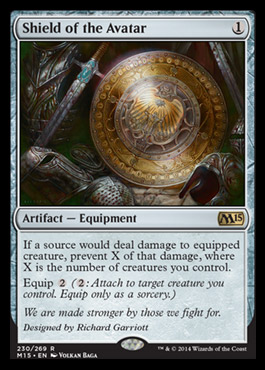 This is a bad Darksteel Plate in EDH and standard doesn't want equipment that doesn't boost a creature's power. A "win more" card if ever I saw one.
Yisan, the Wanderer Bard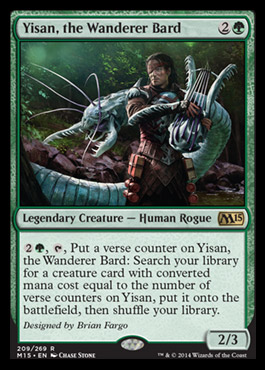 Vorel of the Hull Clade EDH players might want this guy for finding creatures with odd-numbered casting costs, but this is really slow. Despite putting the card into play, this guy isn't a tenth as good as Fauna Shaman and I don't think it's worth it if you're going to get clocked by our next card.
Ob Nixilis, Unshackled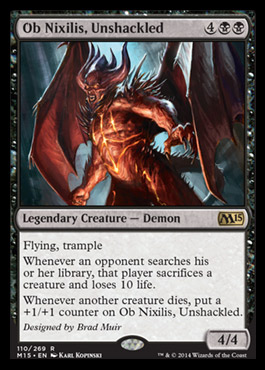 Yep. Nuts to your Wanderer Bard.
I really like this guy in a modern deck like Brad Nelson used to run with the old Ob Nixilis. Getting this guy on turn 3 is very good. It turns your Path to Exile into a totally unfair removal spell, shuts off their fetches and Birthing Pod and generally makes life miserable for a lot of decks in Modern. I could see this as a sideboard card in Legacy Reanimator and I imagine foils of this will really be nutty due to EDH demand. He's a demon, he's a legend and he has two powerful abilities and 2 good keyword abilities. Why isn't this guy mythic? He would be the second coming of Griselbrand if he were.
Goblin Kaboomist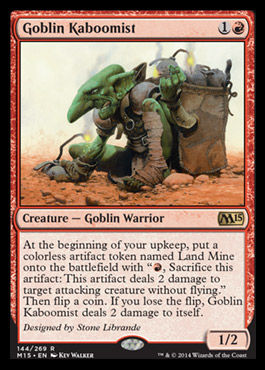 Meh
Aggressive Mining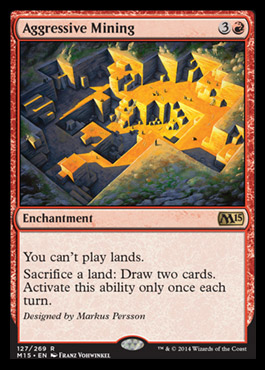 This is the card red wants to have in play late in a game of Limited. Is this the card red wants to draw early or even devote a spot to?
The real question is whether Standard decks will want this enough for it to matter financially. The only constructed deck I could see wanting this also contains four copies of Seismic Assault, which could be saucy. I can't predict the future, but I'm not betting on this being worth above bulk.
Master of Predicaments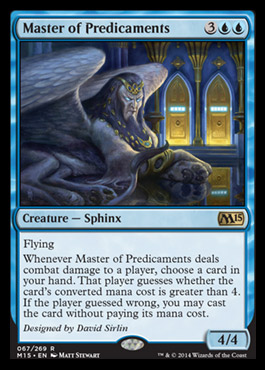 This is a really saucy card. It allows your opponent to make mistakes. It is slightly game-able, though; if I want to keep big stuff off of the board, I will always guess that the mana cost is above 4 so if they drew something big, they can't play it. Most of the time, though, you guess the mana cost is low because lands put the odds heavily in your favor. This is one of the coolest sphinxes I have seen, but that probably isn't enough to make it worth more than a buck or two.
Soul of Shandalar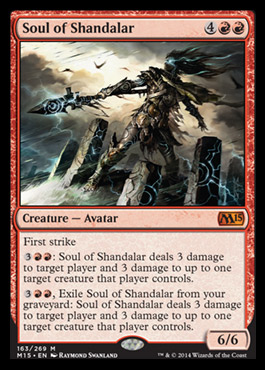 Someone on the Wizards website compared these to the Titans cycle and I threw up a little.
Return to the Ranks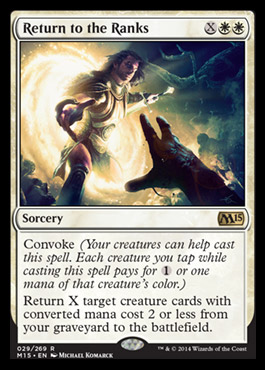 Now THIS I can get behind. This is a much worse Immortal Servitude, true, but Immortal Servitude is leaving us soon. The more I look at this card, the less I like it. It didn't even take a paragraph for me to be disappointed. Immortal Servitude never got above $1.50. Can this possibly be worth more than that?
Soul of New Phyrexia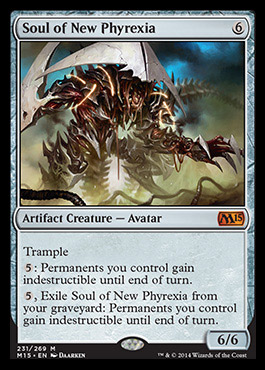 So we have 6 chances to whiff on a mythic instead of 5?
Jalira, Master Polymorphist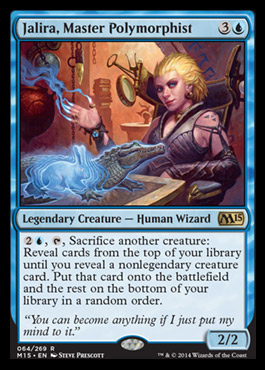 This is a card we've discussed before but now we know the full text of the card. I think this is fine. I could see building EDH around it, or upgrading creatures in a creature-light Limited deck. Popping this in response to an unfavorable trade or removal spell in Limited is going to be pretty good. EDH demand should keep this above bulk, but I think foils are safer. What is it with the terrible "soul" cycle at Mythic and good, Legendary creatures at regular rare? This is a bad EV financial set so far unless those souls end up more popular with casuals than the Titans did - they'll have a lot of slack to pick up because competitive players are already wrinkling their noses.