Are you a Quiet Speculation member?
If not, now is a perfect time to join up! Our powerful tools, breaking-news analysis, and exclusive Discord channel will make sure you stay up to date and ahead of the curve.
---
We took a few days' breather off over the weekend and WotC decided to dump on us today. I'll cover the rares here, but the rest of the spoiled cards will get their own detailed breakdown in the comprehensive spoiler coverage page linked at the top. Be sure to check that out as well. Let's get on it.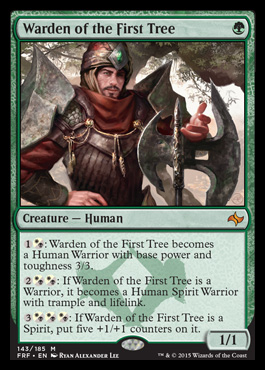 I have seen a lot of mixed reviews online. Durdles have said "I need a playset" and the good (condescending) people over at /r/spikes have said "Seems like a really bad Figure of Destiny" and maybe they're both right. Can't this be terrible and appealing to durdles? Let's look at what it actually does.
It comes down as a 1/1 on 1 sometimes, and can be a Watchwolf on turn 2 at the cost of having a second creature. I'm not super impressed so far. For 4 more it becomes a 3/3 Trampler with Lifelink. 6 more mana puts it over the top and makes it a 8/8, briefly, before someone casts Hero's Downfall on it.
Yes, I realize "It dies to removal" is a facile argument, but in the context of the other things that Abzan-colored decks are trying to do, isn't what it takes to make a creature a 8/8 with no hexproof sort of relevant? Until something changes, Abzan decks are on the Whip of Eerebos plan and this is bad on that plan.
Could this be the last weenie a Soldier of the Pantheon, Fleeceman Lion etc deck needs? A 3/3 Trample, Lifelink is formidable. But spending all turn every turn to get this guy there could be too onerous. This is a $10 preorder and I think this likely ends up around $5 based on what Abzan is going now and the format's reluctance to play small creatures that you can't summon unless you tap a Mountain.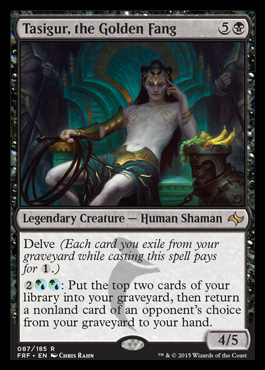 Ewww.
Standard likely would only run one curve-topper type creature and this has stiff competition from Soulflayer and Necropolis Fiend and common sense. Standard is out, which leaves EDH.
EDH don't want this. This has a few things going for it.
It's in Sultai colors
It puts things in the yard
It can be a political card, allowing an "opponent" let you select a removal spell you need to thwart a third player
You can pay his commander tax by delving more cards, making him easier to recast
The negatives outweigh the positives, the most important of which is that this is worse than Sidisi, Brood Tyrant, a general people aren't enthusiastic about. Why would you not build The Mimeoplasm and build this instead? This has "bulk rare" written all over it.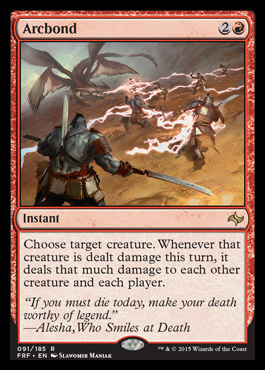 I don't doubt this effect is worth 3 mana. The real question is whether this card is worth a slot in your 75.
I have seen a lot of people with "cute" ideas, and I don't know if "cute" cuts the mustard. That said, I remember "cute" plays like "Harvest Pyre targeting Boros Reckoner" getting there for a while.
I think this card will appeal a lot to casual players for whom playing Stuffy Doll is an option. This may see some small (as in not enough to drive its price up) play in EDH but it's hard to make a case for it getting a slot in the deck. But this does the largest percentage of a life total in damage in Standard. Unlike Harvest Pyre, this card isn't good on its own. If they block with a big creatures, you can use that against them, but I think red wants to be doing a set amount of damage. This is a cool card in the same vein as Deflecting Palm, a bulk rare.
This would be sweet if you gave the creature lifelink, though.