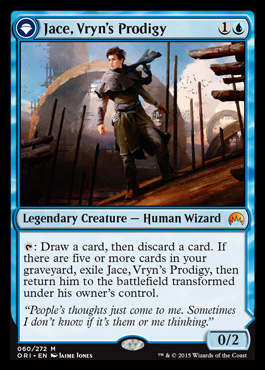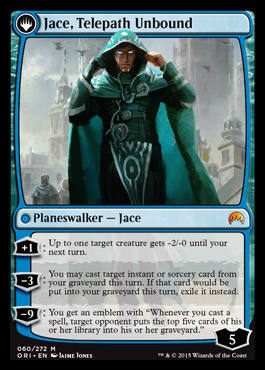 I always wondered what it'd take to print a Planeswalker at 2 mana.  The answer?  Don't print a Planeswalker at 2 mana.  I'm a bit disappointed in Jace, Telepath Unbound  as he takes a full turn cycle to flip over, has an underwhelming ability, and can't put on any offensive pressure whatsoever. Compare him to Liliana, Heretical Healer who can hold her own in combat and doesn't necessarily take a full turn cycle to flip.
On the flip side, literally, I think he's also just awful.  His ultimate takes four activations of his pathetically bad +1 ability (and really, only +1?  Come on…) and his -3 (again, really?) is a sorcery-speed Snapcaster Mage which doesn't even manifest a threat on the board.  I understand that we're only investing 2 mana in this card, but it feels like we can do a lot better for 2 mana than a Merfolk Looter that can't beat down, even if he turns into a mediocre Planeswalker in a turn or two.
I'm disappointed in this Jace, to be sure.   My primary formats are Commander and Cube, so I am inclined to be more forgiving than someone like Adam Yurchick or Brian deMars; their criteria for a strong Mythic are likely much higher.  I don't foresee  this card appearing in Pro Tour or Grand Prix Top 8 deck lists any time soon.
Whatever the preorder price for this latest Jace, it'll be too high.  Steer clear.
---
Are you a Quiet Speculation member yet?
If not, now is a perfect time to join up! Our powerful tools, breaking-news analysis, and exclusive Discord channel will make sure you stay up to date and ahead of the curve.
---
Have you joined the Quiet Speculation Discord yet?
If you haven't, you're leaving value on the table! Join our community of experts, enthusiasts, entertainers, and educators and enjoy exclusive podcasts, questions asked and answered, trades, sales, and everything else Discord has to offer.
---
Want to write for Quiet Speculation?
All you need to succeed is a passion for Magic: The Gathering, an aptitude for getting value from your cards, and the ability to write coherently. Share your knowledge of MTG and how you leverage it to play the game for less – or even turn a profit.