Are you a Quiet Speculation member?
If not, now is a perfect time to join up! Our powerful tools, breaking-news analysis, and exclusive Discord channel will make sure you stay up to date and ahead of the curve.
My Saturday morning kicks off a lot like yours. I roll out of bed, throw on some Future, have a latte. Get on Facebook. Then, my inbox starts exploding. "Is Modern dead?" "How do you feel about the ban?" Dead? What ban? Wait, there are links. Links from Magic players I've never met. The same link, multiple times. I click the link and read. Faster and faster, missing chunks of text. Missing entire paragraphs. I'll just go back to them later. I reach the end.
"In the interest of competitive diversity, Splinter Twin is banned from Modern."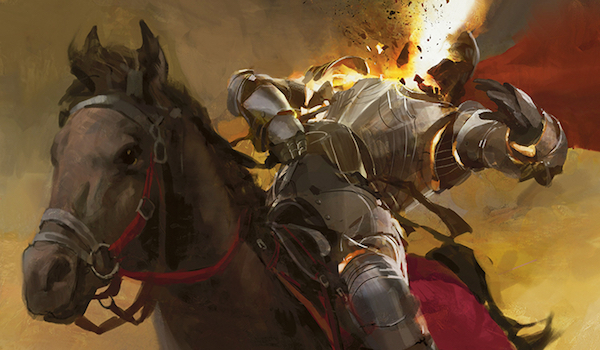 How do I feel about the ban? I don't know how I feel about it. I'm having many feelings right now. I need some time to think. Let me get back to you.
It's been six days, and I've thought about the Splinter Twin ban. I've also read and heard about it. All week. It seems like Modern players think this ban is about the Pro Tour. They call it unfair and premature. They don't believe Twin had it coming.
I feel the opposite way. Wizards' January 18th announcement outlines a number of causes for the Splinter Twin ban, and they check out. This article explores the viability of Wizards' rationales, dissects unofficial reasons for the ban, and forecasts the future of Modern.
[wp_ad_camp_1]
Processing the Pre-Ban Metagame
Before discussing whether Wizards was justified in their banning of Splinter Twin, we'll check out the most recent Modern Nexus metagame breakdown, from January 6th, 2016. Visualizing the pre-ban metagame should give us an idea of Wizards' view of Modern.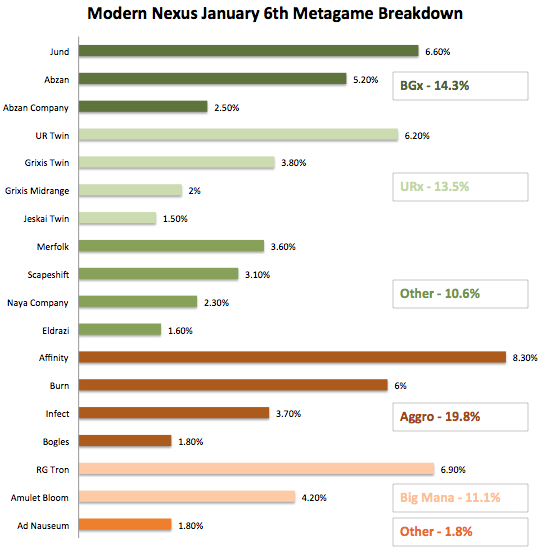 I've organized the Tier 1 and 2 decks into six categories, coloring interactive decks green and linear decks orange. We'll refer to this chart throughout the article.
BGx, URx, and Linear City
Modern decks have historically identified with one of three camps. BGx combines flexible removal, catch-all discard spells, and efficient beaters to grind out fair decks and pick apart synergies. These decks include Jund, Abzan, and the more aggro-aligned Abzan Company. URx gets the awesome power of Bolt-Snap-Bolt, Blood Moon, and stack interaction. UR Twin, Grixis Midrange, and my beloved RUG Delver all huddle under the URx umbrella.
BGx and URx represent Modern's pillars of interaction. If you want to interact in this format, you almost always sleeve up one or the other. A spattering of unique decks (Merfolk, Zoo, etc.) comprises a third interactive category, which doesn't fall into BGx or URx. These archetypes have usually occupied a minority share in Modern, even taken together. We can call just about everything else in Modern "linear."
Twin's Banning, According to Wizards
In their January 18th banlist announcement, Wizards gave several justifications for the Splinter Twin ban. This section analyzes each. In keeping with its other banlist announcements, the company chose its words carefully and appeared purposefully cryptic in some of its language. That language is all we get with these kinds of announcements, so it's crucial to carefully dissect the text if we want to fully understand the announcement.
Metagame Presence
"We also look for decks that hold a large enough percentage of the competitive field to reduce the diversity of the format."
Metagame presence bans are well-documented in Modern. Deathrite Shaman, Bloodbraid Elf, Birthing Pod, and Treasure Cruise all crumbled under the banhammer because they helmed ubiquitous decks.
Let's consult the January 6th breakdown. Combined, the Tier 1 and Tier 2 Splinter Twin strategies make up 11.5% of the metagame. That's only 3.3% higher than Affinity, at 8.2%, and about even with BGx Midrange decks, at 11.8%. But we're not seeing a Liliana of the Veil ban.
Twin doesn't seem that offensive to me on the metagame dominance count, so I don't love the inclusion of this sentence in Wizards' announcement. In terms of writing composition, it serves to bridge "gracefully" from explaining the Summer Bloom ban to detailing the Twin ban. Realistically, all it does is confuse players who look at the numbers. Splinter Twin just doesn't make up an influential chunk of Modern compared with past offenders. Moreover, Twin has often hovered around 10% representation in Modern. Wizards hasn't banned it for this reason before, so it makes little sense to ban it for this reason now, especially considering Modern's recent shifts and the looming Eldrazi future.
It appears from the rest of the announcement that metagame dominance is not the primary reason Wizards banned Splinter Twin.
Winning Too Much
"Antonio Del Moral León won Pro Tour Fate Reforged playing Splinter Twin, and Jelger Wiegersma finished third; Splinter Twin has won two of the four Modern Pro Tours. Splinter Twin reached the Top 8 of the last six Modern Grand Prix. The last Modern Grand Prix in Pittsburgh had three Splinter Twin decks in the Top 8, including Alex Bianchi's winning deck."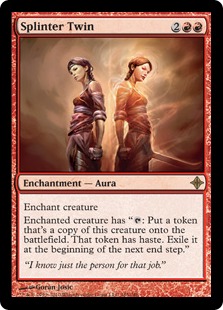 Many Modern players consider this excerpt the scariest part of Wizards' announcement, and I think it's the reason for most of the outrage related to the ban. If Splinter Twin gets banned for "winning too much," doesn't Modern become an environment where players root against their own decks for fear of a ban on their own expensive 75? In that case, doesn't this announcement set a paranoid tone for Modern and encourage ban-mania?
I don't think so. After all, banning the winningest deck is nothing new in Modern. Many Twin players I've spoken with, and read, erroneously consider the ban on their namesake card unprecedented. In fact, Modern boasts a rich history of banning decks that succeed too much in Wizards' eyes. Take this quote, from the Birthing Pod ban announcement:
"Over the past year, Birthing Pod decks have won significantly more Grand Prix than any other Modern decks and compose the largest percentage of the field. [...] Pod won five of the twelve Grand Prix over the past year, including winning the last two."
Wizards cares about how well decks perform, and how many Top 8 slots they take up over the course of a given year. The evidence above, like that from the Twin announcement, is restricted to a few sentences. Wizards writes so sparingly on the subject because they've already dedicated three paragraphs to this position, back when they banned Bloodbraid Elf:
"[...] Jund has been the most successful deck at high-level tournaments. Yuuya Watanabe won the Magic Player's Championship playing Jund. Then, Yuuya came in 2nd at Pro Tour Return to Ravnica by playing Jund again.
At that point, it was clear Yuuya was dominating, but the status of Jund in Modern was less clear.
Since then, we have had four Modern Grands Prix. Jérémy Dezani won Grand Prix Lyon playing Jund. Jacob Wilson defeated Josh Utter-Leyton in a Jund-on-Jund finals to win Grand Prix Chicago. Willy Edel won Grand Prix Toronto, also playing Jund. And, finally, Lukas Jaklovsky came in 2nd, playing Jund, at Grand Prix Bilbao. Beyond that, Jund took six of the Top 16 decks at Bilbao."
R&D wouldn't include such an expansive history lesson in a banlist announcement unless it desperately wanted to tell us something: decks that win too much get banned in Modern. Splinter Twin meets this criterion for a ban.
We don't know Wizards' exact parameters for "winning too much," but we at least have some data to mull over. Prior to the Twin ban, Birthing Pod got the axe in January 2015. The most recent ban at that point had been Deathrite Shaman's, in February 2014. Between each banning, we've had seven GPs to consult. I've analyzed each one to compare Twin's win ratio with Pod's.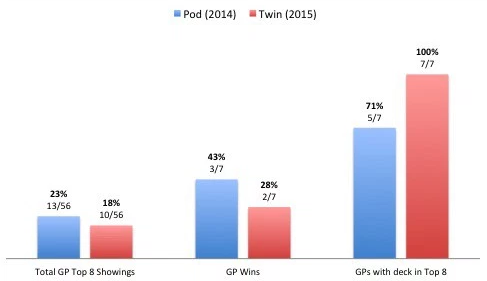 2014 GPs: Richmond, Minneapolis, Boston-Worcester, Kobe, Madrid, Milan, Omaha
2015 GPs: Vancouver, Charlotte, Copenhagen, Singapore, Oklahoma City, Porto Alegre, Pittsburgh
Pod leads Twin in number of decks in all GP Top 8s for its ban cycle by just 5%, and in total number of GP wins by one. These two decks, during their respective cycles, are the only ones to win multiple GPs. Additionally, Pod was absent from the GP Boston-Worcester and the GP Kobe Top 8s. Splinter Twin, on the other hand, made at least one appearance in every GP Top 8 since the Pod ban. Notably, Twin hardly made a showing in 2014, holding a 0.7% Top 8 share and winning zero GPs.
"Winning too much" may be a vague, debatable measure for us, but these numbers indicate that Wizards adheres to strict cutoff points when analyzing data. In comparing Twin's results from the last year to Pod's similar ones from the year before, that Wizards banned Twin for this reason becomes totally unsurprising.
Keeping Other Archetypes From Succeeding
"Decks that are this strong can hurt diversity by pushing the decks that it defeats out of competition."
It stands to reason t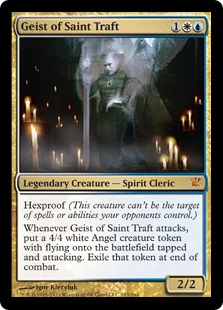 hat if Twin by default occupies 18% of all major event Top 8 spots in a given year, the remaining 82% become more competitive, and fewer decks can make it in.
From a brewing perspective, the Twin ban does open up deck design space. No more must players fear tapping out on turn three for Geist of Saint Traft or Domri Rade. Even if a URx player counters the spell, he won't just win on the next turn. Previously, decks with these cards were forced to leave mana up against URx unless their opponent graciously tapped down one of his three lands for a Serum Visions.
We obviously don't know what the Modern metagame will resemble without Twin. Neither does Wizards. But that's fine with them. They'd just like URx to give up some shares at the top tables.
Homogenizing URx
"[Decks that are this strong] can also reduce diversity by supplanting similar decks. For instance, Shaun McLaren won Pro Tour Born of the Gods playing this Jeskai control deck. Alex Bianchi won our most recent Modern Grand Prix playing a similar deck but adding the Splinter Twin combination. Similarly, Temur Tempo used to see play at high-level events but has been supplanted by Temur Twin."
This passage refers to the homogenization of URx, which Wizards correctly identifies as overwhelmingly packing the Splinter Twin combo.
In the January 6th metagame breakdown, the non-aggro linear decks are mostly Big Mana decks. Each flavor of Big Mana has its own fastlands - RG Tron uses the Tron lands, Amulet uses Karoos, and Eldrazi uses Eye of Ugin and Eldrazi Temple.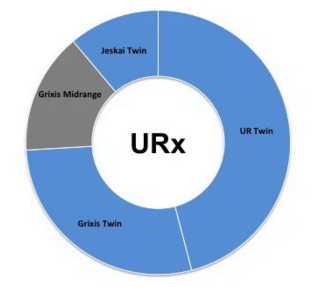 The three decks don't share a single card between them. As for the aggro decks, Affinity and Burn sit firmly at the top of the heap, but they don't exclude other unique strategies - Bogles, Merfolk, and Naya Company - from the top tiers. Like the Big Mana decks, each aggro strategy has its own set of staples.
In BGx, things appear a little less diverse. Abzan Company totes a miserly 2.3% metagame share compared with Jund and Abzan's combined 11.8%. The URx section suffers from similar issues. Of the four decks, together represented at 13%*, only one - Grixis Midrange - omits the Splinter Twin combo. This deck clocks in at just 2%.
*I've included Scapeshift in its own interactive category, since RUG builds share their percentage here with toolbox-oriented Bring to Light ones. If we cut Scapeshift's 3.1% share in half, and add 1.5% to the URx bracket to account for RUG Scapeshift, Splinter Twin still shows up in a whopping 73% of all Tier 1 and 2 URx decks.
The recent breakdown numbers initially suggest Rock decks revolving around Liliana of the Veil and Abrupt Decay homogenize BGx as much as Splinter Twin homogenizes URx. But Wizards seldom bans cards for a single reason. Rock decks don't meet the other listed criteria for a ban, and Twin decks do.
Cards have been banned for this reason before. On December 20, 2011, Wizards banned Wild Nacatl from Modern for homogenizing aggro decks:
"We looked at our Modern tournaments and previous Extended tournaments to find when the attacking decks were fairly diverse, and when they were dominated by Zoo.
[...]
The problem is that other decks try to use synergy to get rewards, but those rewards aren't any better than the Wild Nacatl. For example, the Doran decks use Treefolk Harbinger to find Doran. When it all works, the Harbinger is effectively a 3/3 for
. With shock lands, Wild Nacatl is a 3/3, and doesn't let you down when your opponent kills your Doran. With some effort, Student of Warfare becomes a 3/3 first strike creature, but that isn't a sufficient reward for the effort compared with Wild Nacatl. This creature is so efficient it is keeping too many other creature decks from being competitive. So, in the interest of diversity, the DCI is banning Wild Nacatl."
Wizards eventually overturned the Wild Nacatl ban, but the banning still set a precedent for removing cards from Modern that homogenize certain archetypes. In the Twin ban announcement, Wizards mentions Shaun McLaren's Pro Tour Born of the Gods finish with Jeskai Control to make the same point. According to Wizards, the "rewards" of casting Splinter Twin in URx greatly outweigh those of trying to win with Spinx's Revelation or Huntmaster of the Fells, and come at a minimal deckbuilding cost to URx mages. Whether or not we agree with this assessment, Wizards has the numbers on their side; among Tier 1 and 2 Modern decks, Splinter Twin undeniably shows up in a remarkable portion of URx strategies.
Non-Announcement Reasons for the Ban
I'm not alone in wishing Wizards were more transparent about ban criteria. It's a shame so many players felt blindsided by this announcement. As stated above, I don't think Wizards swung the hammer clumsily this time, nor do I think they ever have. Still, more communication on their part would likely calm the Modern community's angrier voices.
Naturally, increased transparency only goes so far. If Wizards painstakingly detailed every true reason for the Splinter Twin ban, and players had access to the company's unadulterated expectations for Modern, the implications are scarier than the prospect of a yearly banning. Imagine Modern finances if every speculator knew months in advance which decks would be legal for the coming season. Modern would also become solved more quickly, and Wizards takes pride in the format's apparent openness.
Twin wasn't only banned for the reasons Wizards gave us. This section tackles some other factors that may have contributed to the decision.
Shaking Up Modern for the Pro Tour
I won't spend much time on this section, since the idea of Wizards banning Twin just to shake up the Pro Tour has already been written about to death. But I will say that I disagree with this position, which goes like this: "We can't have a solved Pro Tour format. Splinter Twin won two of the four Modern Pro Tours, and Wizards might want to keep the deck from winning more than half. Wizards will continue to ban cards before Pro Tours to make the event more interesting, without considering format health." In defense of this argument, Aaron Forsythe's recent Twitter posts do admit a relationship between Modern bans and the Pro Tour, and suggest that bans will happen with higher frequency in Pro Tour formats.
Corbin Hosler's MTGPrice article displays these tweets in all their glory, and adds to them an important layer of commentary. Many Modern players have read Forsythe's remarks as indicating the Twin ban only happened because of the upcoming Pro Tour. As evidenced throughout this article, Modern data and history both suggest this claim is untrue. Moreover, Forsythe himself refutes this idea, replying to an insinuation that Twin was banned only to hype the Pro Tour with: "That is a pretty imaginative interpretation of my response."
It can be difficult to articulate a complex position while respecting Twitter's 140-character limit. I wish Forsythe had released his comments through a medium more conducive to total transparency, such as the Wizards website. That said, Modern players citing Forsythe's comments as evidence that Wizards doesn't care about the health of its darling format should re-read them. 
Resisting Hate
Like Birthing Pod, Splinter Twin was nearly impossible to "hate out." Here's a tweet from Sam Black in response to the ban: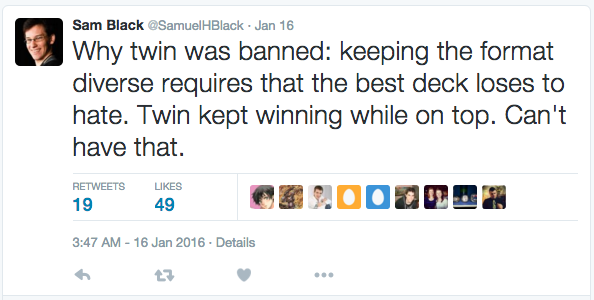 Modern's typically linear Big Mana decks - Tron, Bx Eldrazi, and formerly, Amulet Bloom - all lose to hate. Specifically, they lose to Blood Moon, a card that sees immense play across Modern for this reason. (To be clear, they lose to a combination of Blood Moon and pressure, or what I call "good Blood Moons.") Twin doesn't just not lose to Blood Moon, it wields the card masterfully. Wizards has probably watched Twin succeed with concern for awhile, printing eye-rollingly tactless checks like Rending Volley that ultimately did little to curb the deck's supremacy. I buy into Black's argument that Twin's resilience contributed to its banning. Notably, Black's opinions on the Twin ban have been explicitly endorsed by Aaron Forsythe.
Limiting Card Design Space
Cards like Preordain and Ancestral Vision have never been safe to come off the Modern banlist, and that predicament owes a lot to Splinter Twin's legality. Twin pilots would add these spells to their lists immediately, and Wizards' conservative policy doesn't unban cards that slot into existing top-tier decks. The case could be made that Twin's presence might prevent them from printing library manipulation, or other strong URx cards, in the future.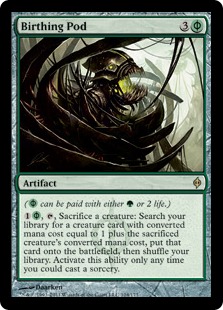 In their Birthing Pod ban announcement, Wizards confirmed that having Pod legal in Modern interfered with future creature design:
"Each year, new powerful options are printed, most recently Siege Rhino. Over time, this creates a growing gap between the strength of the Pod deck and other creature decks. [...] The high percentage of the field playing Pod suppresses decks, especially other creature decks, that have an unfavorable matchup. In the interest of supporting a diverse format, Birthing Pod is banned."
It's reasonable to blame Twin for Preordain's and Ancestral Vision's permanent resident status on the Modern ban list. Possibly, the deck's existence gives Wizards another reason not to reprint "control" cards like Counterspell for Modern.
Turn Four Rule Abuse and Breaking Interactive Shells
This position is my own, and therefore diverges from Wizards' ban announcement canon. While Modern has a turn four rule that Twin didn't violate, I think an interactive deck of its dexterity has no real business winning that quickly. Splinter Twin doesn't exemplify Modern's turn four rule - it abuses it.
Birthing Pod gave BGx a robust, recursive engine. Pod decks jammed an infinite life/damage combo into an already resilient midrange shell, and enjoyed tremendous success in Modern during the card's legality. By the time Pod was banned, pilots had transitioned to combo-less, value-laden Siege Rhino builds. It became questionable to play a traditional BGx deck at all, as "splashing" copies of Birthing Pod gave these decks an entirely new angle of attack. Sure, Abzan had to run dorks to make it work, but a Pod would turn those dorks into Tarmogoyfs, then Kitchen Finks, then Siege Rhinos for the rest of the game. When Wizards banned Birthing Pod at the peak of its dominance, Abzan Midrange decks continued to police Modern.
Splinter Twin gave URx decks a tool of similar potency, giving the fair, competent midrange shell a fairly consistent fourth-turn combo. Defendants of Twin in Modern argue that the deck exemplified the "turn four rule," since it never went off before then. Let's revisit Wizards' introduction of that rule:
"We used two criteria to guide us in choosing what cards to ban. First, we have a rule of thumb about Legacy that we don't like consistent turn-two combination decks, but that turn-three combination decks are okay. We modified that rule for Modern by adding a turn to each side: we are going to allow turn-four combination decks, but not decks that consistently win the game on turn three."
It seems to me that Wizards is specifically referring to combination decks. Any Splinter Twin pilot will tell you in a heartbeat that he's not playing a combination deck. Like Birthing Pod, Twin is a formidable interactive strategy that happens to have an oops-I-win. It doesn't make sense from a format design standpoint to have a deck like Splinter Twin exist, because it becomes incorrect to play a dedicated combo deck with the same turn four restriction. Twin "goes off" by the same time, but doesn't fold to hate, has mana to interact early in the game instead of setting up an elaborate combo kill, and polices Modern's faster linear decks.
 Summer Bloom was banned because it enabled the Amulet deck to consistently combo off on turn three. Assuming that ban didn't completely kill the deck, but instead made it consistently combo off on turn four, there would be no reason to play Bloom over Splinter Twin.
In my opinion, proficient interactive decks that house an instant-victory combo should not be able to reliably execute that combo on the same turn as dedicated combo decks. Based on their Pod and now Twin bans, Wizards may agree with me. Collected Company emerged as a poor man's Birthing Pod for one more mana, and now inhabits a similar shell in Modern. Wizards even points to a five-mana replacement for Splinter Twin in their banlist announcement:
"We considered what one would do with the cards from a Splinter Twin deck with Splinter Twin banned. In the case of some Jeskai or Temur, there are very similar decks to build. In other cases, there is Kiki-Jiki as a replacement."
Kiki-Jiki, Mirror Breaker pushes Twin's winning turn up by one, and complicates relying on both Cryptic Command and Blood Moon. It also allows opponents to disrupt the Twin combo with a hate card more widely played than even Moon itself - Lightning Bolt!
Modern's Twinless Future
The absence of Twin from the format should change the makeup of URx decks, but not how people feel about buying into Modern.
URx Without Splinter Twin
I'm not concerned about the viability of URx in Modern's future. RUG Scapeshift typifies a reasonable combo deck for Modern. It plays the same interactive cards as Twin, including Electrolyze and Snapcaster Mage. Sometimes, it even dips into tempo threats like Vendilion Clique for better beats. But the deck rarely wins before turn six, and that only happens with ramp effects that compromise the URx shell. Scapeshift also loses to dedicated hate. Unlike previous iterations of URx, it cannot rely on Blood Moon to defeat greedy opponents.
Should URx end up sucking, I can see Wizards releasing Splinter Twin from the banlist. After
all, there's a precedent for this kind of action, set with Wild Nacatl's unban in February 2014:
"At the time Wild Nacatl was banned, we hoped that this would allow room for other aggressive decks to shine. Artifact-based aggressive strategies have remained popular and a few other aggressive decks have emerged, but the Zoo decks eventually disappeared as a result of the ban and nothing else emerged as a viable traditional aggressive deck. We expect that with the return of Wild Nacatl, those decks will return as a viable option."
The Wild Nacatl ban ended up a death knell for non-Affinity aggro strategies in Modern, effectively reducing format diversity. Wizards reacted by eventually acquitting the kitty of all former offenses. Similarly, if URx drops to a dangerously low metagame share, Wizards may reverse the Splinter Twin ban. Or begin unbanning the blue cards Twin has held hostage for years.
Format Confidence and Investing in Modern
The biggest issue players appear to have with the Twin ban is that it compromises their financial confidence in Modern. Nobody wants to invest thousands of dollars into a deck that may only survive for one year. While Wizards has banned cards from top-tier Modern decks with relative frequency over the past few years, I don't think that fear is warranted.
For one, Wizards justifies bannings on multiple levels. To quote Aaron Forsythe, they don't ban "randomly." This article specifically examines the Twin ban, but Treasure Cruise, Dig Through Time, Birthing Pod, and Deathrite Shaman - Wizards' other four most recent bans - all came with detailed explanations. Modern players didn't react to those bans with a level of revulsion approaching that surrounding the Twin ban, although I can name you a couple fuming Pod-foilers.
As for those foilers, Modern prices are largely unafflicted by bans. The last five cards banned in Modern flexed their dominance in shells comprised of irrefutable format staples. Deathrite Shaman's ban didn't weaken the stock of Abrupt Decay and Tarmogoyf, and Pod's ban hardly dented that of Noble Hierarch and Siege Rhino. Likewise, removing Treasure Cruise, Dig Through Time, and now Splinter Twin doesn't menace the value of Serum Visions and Snapcaster Mage.
These cards continue to define Modern, and will likely command a premium for years to come, regardless of bans. Given that bans raise Pro Tour viewership and increase Modern buzz, Modern staples should actually increase in price, as they have for years. Financially speaking, a brief overview of Modern's banlist history actually incentivizes investing in format pillars.
This topic deserves its own article. I still wanted to mention it here, as the argument that bannings destroy the value of Modern collections doesn't hold any weight. In the name of format diversity, a possible yearly banning - backed up by data - should not discourage new players from buying into Modern.
Picking Up the Splinters
Hopefully, this article removes some stigma from the upcoming Pro Tour and gives readers a deeper understanding of the January 18th announcement. I look forward to engaging with you in the comments below, and to the exciting future of Modern. Until then, happy brewing!