Are you a Quiet Speculation member?
If not, now is a perfect time to join up! Our powerful tools, breaking-news analysis, and exclusive Discord channel will make sure you stay up to date and ahead of the curve.
I get a lot of questions and comments pertaining to Grixis Delver, with a lot of the focus being on the sideboard. My sideboard notably doesn't take advantage of the sorts of hammers that you see in many Modern decks. I'm not about "destroy all artifacts" or "exile all cards in graveyards" cards, and instead have crafted a sideboard that allows me to solidify consistent gameplans. Today I'll go over the current sideboard that I would play, and my strategy for a variety of Modern matchups.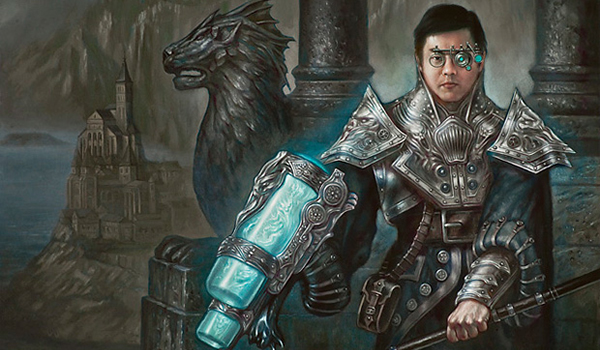 Let's start by taking a look at an updated decklist. Albertus Law won GP Guangzhou with a list that looks significantly different from mine, though I don't see it as a manner of metagame updates, rather as stylistic differences. Law's list is more about stealing games with an aggressive tempo plan, whereas my build is more about being able to interact at every stage of the game. His build is certainly fine, though this is the list that I currently endorse:
Grixis Delver, by Ryan Overturf
The maindeck departures are minor, but worth discussing. I changed Pillar of Flame out for Dismember, which is worse against Burn and decks without creatures, but is a concession to Tarmogoyf and Bant Eldrazi. Both of these are larger portions of the current metagame, and Dismember also plays dramatically better against Infect. The other major change is subbing out the second Remand for Vendilion Clique. There aren't too many combo decks right now, which means there are plenty of decks where Remand is extremely marginal. Kevin Jones said Clique was great, and it's a nice tool to help you clock the Bant Eldrazi deck, which can be a tough matchup. The other change is adding a Darkslick Shores over a Bloodstained Mire. This is another Kevin Jones special, and what it primarily adds is just an extra mana-producing land. I don't care about taking damage, but I do care about having a bunch of lands in play for Snapcaster Mage wars.
With regard to the sideboard, you'll recall that I'm off Ancestral Vision, though the slots that it previously occupied have been in flux. There is a strong argument for using graveyard hate in that slot, which I'll get to later. For now I'm content to let the field and public perception hate out Dredge. Dredge hate is as narrow as Dredge's dwindling metagame share, and with so few pilots willing to pick the deck up now, I'm willing to throw that matchup. I would rather focus on matchups that are more popular, closer, and that allow me to use widely applicable sideboard slots. Fulminator Mage is my most recent experimental slot, as it helps both the Tron and Jeskai Control matchups, which are on the closer side. It has been successful in other decks, so it probably works here.
Now that you've got the updates, let's talk shop. I'll go through the major decks I expect to face in Modern and discuss how I see each matchup and what to do post-board. Editor's note: The categories here are just for organization---they're not meant to be a vigorous classification scheme.
[wp_ad_camp_1]
Interactive Decks
Bant Eldrazi
There are a lot of swings in this matchup. Their hands either offer a completely broken strategy or a mish-mash of medium nonsense. Eldrazi Temple is great, and Cavern of Souls is a beating, but hands that only have one Temple and/or crutch on Noble Hierarch are super weak against us.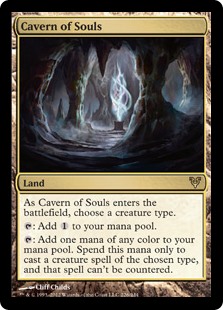 Theoretically if you wanted to hammer them they can't cast their best spells (or Matter Reshaper) through a Blood Moon, though at that point you're just adding more variance to your draws. I choose to accept that sometimes you get them and sometimes they get you.
Magma Spray is neat here because it's another way to punish their Hierarch hands in addition to being great against Reshapers. Mana Leak is going to suck sometimes, but Spell Snare is very bad here despite the fact that they're likely to have Spellskite. You just hope not to get Caverned, and fifty percent of the time, it works every time. I don't know how good Fulminator Mage is here, but given that their only advantage comes from their lands it seems great.
Out:
-4 Spell Snare
-1 Remand
-1 Kolaghan's Command
In:
+2 Magma Spray
+1 Go for the Throat
+3 Fulminator Mage
Jund
This is the matchup I'm asked about most commonly, and the impression of many seems to be that it's a bad one. It's not. In fact, I would argue that this is among the better matchups for my configuration. Patience is key, and as long as you play with Liliana of the Veil in mind you should be fine. It is their only card that has power level near that of Snapcaster Mage, and leveraging your Mages and counters against Liliana while Snaring and Terminating their threats will more often than not be a recipe for victory.
I haven't played this matchup with the Fulminators yet, though there's really nothing in the maindeck that is actively bad here. I sideboard very minimally, and post-board they generally don't get to add much of significance. Sometimes they Thrun you, but your delve creatures are bigger and Delver flies over.
Out:
2 Thought Scour
In:
1 Countersquall
1 Go for the Throat
Abzan
This is arguably your worst matchup. The differences between this and Jund are that Path to Exile can't be hit by Spell Snare like Terminate can, and that Lingering Souls is a beating.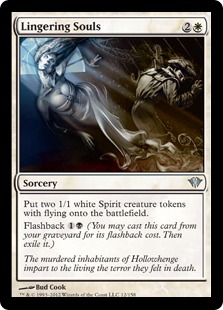 There aren't really maindeck cards that are especially bad in the matchup, it's just that strategically they are significantly advantaged.
Spell Snare is going to have variable value here depending on how many twos your opponent is on, though it is considerably less good than against Jund. As of now, it's the card that I'd recommend cutting to make sure that you have play against Lingering Souls. It's possible that trying to cheese them with Fulminators is reasonable here, though I don't have enough data on that plan to report. Given that Souls are backbreaking and only cost three, I believe that just bringing in Engineered Explosives and Countersqualls is correct. The nice thing about Explosives is that you can use it to kill a Gofy/Scavenging Ooze in a pinch, which helps offset the fact that you're boarding Snares out.
Out:
4 Spell Snare
In:
2 Engineered Explosives
2 Countersquall
Jeskai Control
Patience is very important here, and making land drops is all that matters in the early game. In Game 1 you are an underdog, as Nahiri, the Harbinger doesn't die to Lightning Bolt, while Delver of Secrets does.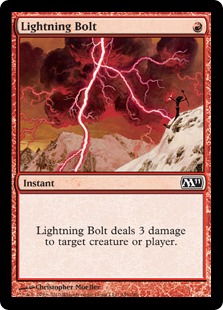 If they have Electroylze, forget about it. Post-sideboard it's all about winning counter wars and making land drops. As such, Cavern of Souls is great here. Be patient, picks fights that matter and that you can win, and don't tap out if your opponent is likely to punish you for it. I think you're favored in a three-game set, but unless your opponent is less skilled in Modern blue mirrors it's not by much.
My current configuration forces you to leave black removal spell in post-board, and Dismember and Terminate both have unique downsides. Dismember can't get hit by Spell Snare, but the life loss and inefficiency can hurt. I could go either way on that one.
Out:
1 Dismember
3 Terminate
4 Delver of Secrets
In:
3 Fulminator Mage
3 Countersquall
1 Dispel
1 Cavern of Souls
Hatebears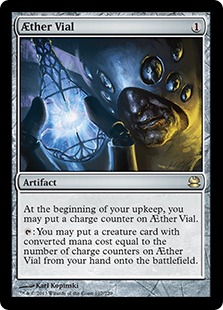 Death and Taxes is really strong against Legacy Delver, but Modern Hatebears doesn't execute at a disruptive level anywhere near that of Legacy D&T. The matchup in this format is solidly positive for Delver, and if they don't have an Aether Vial it's hard to imagine losing.
In:
2 Magma Spray
1 Go for the Throat
Aggro
Burn
This matchup is super close, and if you play well you will put your Burn opponent's skills to the test. Spell Snare covers a lot of their best spells, and the delve creatures are excellent here.
Play conservatively, but be mindful of what combinations of cards can kill you in 1-2 turns and how to best play around what they might have. Some players seem to think that an aggressive Delver plan is how you win, but Delver is actively terrible here, largely because in order to block a Goblin Guide you need to flip it first. Aggressively interacting is how you win this matchup, and getting Delver Searing Blazed or just having Delver versus a creature-heavy draw is how you lose.
Remember to fetch for lands that can actually cast your spells. Many players are afraid to find duals, but if you save two points now to not be able to cast relevant spells later you'll take a lot more damage down the line. You'll often need 2-3 blue mana up in later turns, and you'll generally want 2 black and red mana as well to enable you to represent the most possible combinations of your interactive spells. This deck is color-mana-hungry, and shocking yourself is better than leaving yourself in one-spell territory in the mid to late game.
Out:
4 Delver of Secrets
1 Remand
1 Dismember
2 Thought Scour
1 Termiante
In:
2 Magma Spray
1 Dispel
3 Countersquall
2 Spell Pierce
1 Go for the Throat
The Termiante for Go for the Throat switch is very minor, but it can matter with regard to managing colored mana.
Death's Shadow Zoo
Terminate is really good here, and having a fast clock against a deck that is trying to beat itself up is great.
They'll often have Tarmogoyf post-board, though savvy players can actually leave themselves without any two-mana spells to catch with your Snares. Killing the creatures is the plan, and as such cutting Snares is generally fine considering that your strategy makes their Temur Battle Rages pretty bad. Watch out for Mutagenic Growth, and don't be afraid to use red removal as sorcery speed to play around it. Aim to kill all of their stuff more so than to race, though either plan can get there in many of the games.
Out:
4 Spell Snare
1 Remand
1 Kolaghan's Command
In:
2 Magma Spray
1 Go for the Throat
2 Engineered Explosives
1 Dispel
Affinity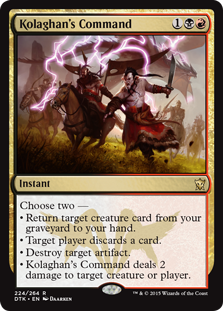 This matchup is solidly positive, though Etched Champion can get you. Spell Snare counters almost all of the cards that make their deck playable, and Kolaghan's Command is gas here. This is yet another matchup where you might consider Fulminating, though on the draw they are definitely slow, and you have a ton of game here anyway.
In:
2 Magma Spray
2 Engineered Explosives
Infect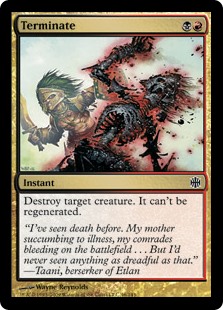 Much like Burn, this matchup really puts the relative skills of both players to the test. Speed is good, but this matchup is all about attrition. Kill everything, and avoid casting removal spells in combat as much as possible. It doesn't feel great to take any infect damage, but if you go for a Terminate in combat and they just Vines of Vastwood their creature it's often game over. In most games you can fetch untapped duals indiscriminately, but be mindful of just dying to Noble Hierarch. Mana efficiency is all that maters. Your spells are better than theirs, but you have to survive long enough to turn the corner.
Out:
1 Remand
1 Kolaghan's Command
In:
2 Magma Spray
Merfolk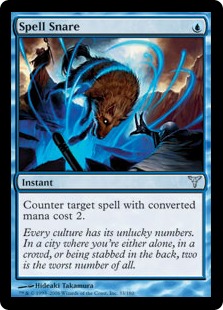 Kevin Jones thinks this is the deck's worst matchup, though I think it's fairly even, maybe slightly favorable. They punish hands that stumble, but their weakness is that the majority of their cards are terrible. You don't have enough stuff to bring in to take out all of your counters, so I leave in Spell Snare. They're always trying to Spreading Seas you, they don't always have an Aether Vial/Cavern of Souls, and often they have to commit two creatures in a turn to be competitive, which causes them to play into it anyway.
In:
2 Magma Spray
1 Go for the Throat
2 Engineered Explosives
Ramp
Breach Titan
This is the new hotness with regard to Valakut, the Molten Pinnacle decks, and it is a much better matchup than Scapeshift, as countering Scapeshift with one Mana Leak is almost never possible.
Always leave up Spell Snare for their two-mana spell if you have it, even at the expense of casting a Delver. Counter their stuff so they can't get off the ground either to naturally Valakut you or play around Mana Leak[/card], and find a way to pressure them while doing so. Don't play two Delvers into [mtg_card]Anger of the Gods, and don't counter an Anger that only kills one Delver. Save those counters for their business spells unless you're very counter-heavy or have an avenue to kill them in short order with Countersqualls and Bolts.
I'll state again that I haven't played with the Fulminators yet, but it's worth experimenting with them here. The swaps posted here are tried and true, but theoretically something like trimming Scours or Bolts for Fulminators could improve the matchup.
Out:
4 Terminate
1 Dismember
1 Kolaghan's Command
In:
3 Countersquall
2 Spell Pierce
1 Dispel
Tron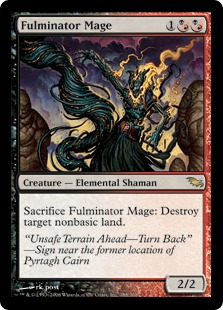 Now here's a matchup where I know you want Fulminators. This deck is stupid and playing against it is the worst. A lot of wins come from the fact that you're way better against their bad hands than other decks. You can also catch their Sylvan Scrying with a Spell Snare[/card] or their [mtg_card]Expedition Map with a Spell Pierce post-board, which can conveniently also tag Karn Liberated[mtg_card] or [mtg_card]Ugin, the Spirit Dragon in a lot of spots.
World Breaker and Ulamog, the Ceaseless Hunger have made this matchup a lot harder, and this is a big motivation for the Fulminators. Those cast triggers are obnoxious, and I can't wait to Stone Rain some Tron players.
Out:
4 Terminate
1 Dismember
3 Lighting Bolt
In:
3 Countersquall
2 Spell Pierce
3 Fulminator Mage
Combo
Dredge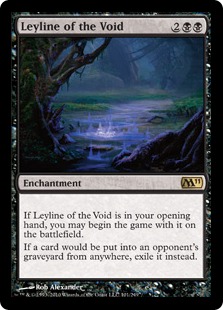 You probably can't win without graveyard hate. As I said above, you just bank on the field both not to pick up Dredge and for those who do to get smashed by those packing hate. Locally, this deck barely exists, but if it did I would just pack four Leyline of the Void. Theoretically you can play Magic with two hate pieces, but your actual gameplan is so bad that I would just play the card that you know wins if you want to use any sideboard space at all. Just take the opportunity to go get lunch if you get this pairing.
Out:
4 Spell Snare
In:
2 Magma Spray
2... Engineered Explosives?
Living End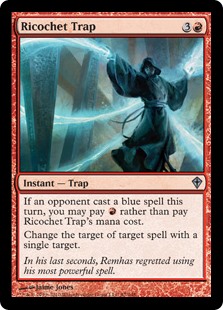 This isn't a very popular matchup, but I included it because more information can't be bad, and also to illustrate that graveyard hate is unnecessary. Living End and every other non-Dredge graveyard deck relies on casting spells, which means that you have game against them. Sometimes you can actually just get them by hitting a couple creatures with Thought Scour, but most often you're able to prevent Living End from ever resolving.
Spell Snare is useless here and Terminate is fighting the wrong battles, but things get way better post-board. The Dispel may look weird, but it lets you fight Ricochet Trap/mtg_card] efficiently and can also catch a [mtg_card]Beast Within. Unfortunately, even after bringing in the Cavern of Souls you're still stuck with two Terminates in the deck, but the matchup is still solidly positive.
Out:
4 Spell Snare
2 Terminate
1 Dismember
In:
3 Countersquall
1 Dispel
1 Cavern of Souls
2 Spell Pierce
Abzan Company & Kiki-Chord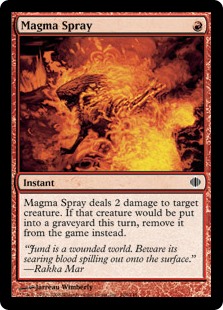 You don't see a ton of this one anymore, though even if you did it's another great matchup. Collected Company is a strong card, but this deck isn't generally great against Mana Leak. So you just have to one-for-one their creatures and counter all their Companies. This is the matchup where Magma Spray is more than just another one-mana removal spell, as it wrecks Voice of Resurgence and Kitchen Finks. You're great at disrupting their combo, and they're great at getting punched in the face by Delver.
Out:
1 Remand
1 Kolaghan's Command
1 Thought Scour
In:
2 Magma Spray
1 Go for the Throat
I haven't played against Eldritch Evolution yet, and if you see it you should leave Remand in, probably over another Thought Scour.
Elves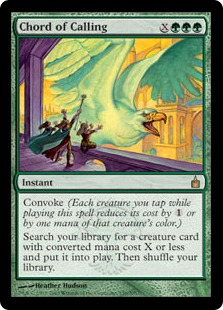 This deck got a lot better with the addition of Dwynen's Elite, but I still believe it is very winnable. You don't have haymakers, and despite wanting Snares for the Elites you can't afford having them because of Cavern of Souls. Luckily, they play Collected Company and Chord of Calling to make it so your Mana Leaks are always live. Use your removal spells wisely, and don't bolt Llanowar Elves aggressively. They have lords and Nettle Sentinels that you want to kill. Be mindful of your life total and carefully calculate when you want to start attacking, and you should be fine.
Dispel may look out of place, but they're basically never winning without resolving Collected Company, and the stuff you're bringing out is just less effective.
Out:
1 Remand
1 Kolaghan's Command
4 Spell Snare
In:
2 Magma Spray
2 Engineered Explosives
1 Go for the Throat
1 Dispel
Creatureless Combo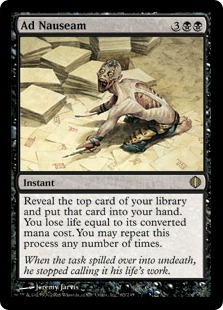 These matchups get less and less popular all the time, but you're bound to run into Ad Nauseam or Pyromancer Ascension from time to time. Basically, all of these matchups are removal-out, counters-in matchups, and all of them are solidly positive. Easy!
Out:
1 Dismember
4 Terminate
1 Kolaghan's Command
In:
3 Coutnersquall
1 Dispel
2 Spell Pierce
Maximizing Sideboard Space
Woof! That was a lot of information! You may have noticed that Dredge was the only matchup that was listed as convincingly problematic, while many matchups are considered favorable. I think that Grixis Delver is among the best decks in Modern, though it can be quite difficult to learn. It's important to utilize sideboard options that apply broadly, and you'll notice that I'm getting a ton of mileage out of almost all of my sideboard cards---a nice departure from lists that jam narrow cards for a small set of decks. There are a ton of decks in Modern, so I certainly didn't cover everything. But this is a great starting point and should offer general insight with regard to theorizing how to modify for other matchups.
If you decide to pick the deck up, I wish you the best of luck. It's a blast to play once you get the basics down. If you take issue with Modern having a lack of interactivity, then this deck should set you on the right course. I've been known to play these decks even when they're bad, but Grixis Delver is actually very well positioned currently, which makes now a great time to get on the Delver train.
Thanks for reading.
-Ryan Overturf
@RyanOverdrive on Twitter