Are you a Quiet Speculation member?
If not, now is a perfect time to join up! Our powerful tools, breaking-news analysis, and exclusive Discord channel will make sure you stay up to date and ahead of the curve.
I've been tweaking Temur Delver variants, especially my beloved Monkey Grow, for well over a year now. The archetype does everything I want to be doing in Modern: it throws Bolts, it attacks with efficient threats, it counters spells, it cantrips, and it steals games with Blood Moon. For a long time, it also struggled to beat decks filled with removal.
Bedlam Reveler promised to change that, though it took me a few weeks to get the hang of casting the Devil effectively. I'm still learning to play Monkey Grow with the new transformational sideboard, but Reveler has increasingly lived up to my expectations. Last weekend, my efforts culminated in a PPTQ win.
[wp_ad_camp_1]
The Deck
I played practically the same list as I did in my last few PPTQs, with the sideboard change of replacing Roast and Ancient Grudge with a pair of Spite of Mogis and swapping the Natural State for a second Destructive Revelry.
Monkey Grow, by Jordan Boisvert
The list performed very well for me and I think this build is optimized to address Modern's relatively unshifting top tier. Jund will always be a premier interactive deck; Infect, Affinity and Burn will forever sit at the top of the proverbial linear aggro heap; synergy-based aggro like Merfolk and Company decks will never truly disappear from the metagame. Monkey Grow can handle Modern's swaths of linear decks with its mainboard and the format's two reigning interactive decks, Jund and Jeskai Nahiri, with the Traverse-Reveler plan from the side. The deck's biggest weaknesses are still Chalice of the Void and Rest in Peace, neither of which sees much play.
I went 4-2 in another PPTQ after my last article, beating two Burn decks, Affinity and Jeskai Control and losing to Bant Eldrazi and Delirium Jund. After that event, my faith in the Reveler package began to waver. In hindsight, I can attribute the package's initial failings in that and other events to two major factors:
Oversiding. I brought in the Reveler package a little too often. Against Dredge and Infect, for example, we'd rather have Hooting Mandrills; until recently, I had been bringing in Bedlam Reveler.
Recklessly taking damage. I acknowledged when I first introduced this build of Monkey Grow that interactive Lightning Bolt decks can opt out of out-grinding the Reveler plan by simply going under it. A series of burn spells to the face became the only way I would lose to Jund and Jeskai, grindy decks that can't outlast the card advantage provided by chained Revelers. Of the two decks, Jeskai defeated me more often in testing, since it could more reliably act as a Burn deck. In this event, I was much more conservative with my life total on the Reveler plan. I played tapped lands instead of cantripping, paid mana for Gitaxian Probes, immediately killed enemy Snapcaster Mages, and Disrupting Shoaled early Lightning Helixes at my face. This modified play style paid off and I felt invincible against Jeskai in all three of my matches against it.
Report: PPTQ Dublin, GameKeeper Montreal, 9/10/16
For the second-to-last semi-local Modern PPTQ of the season, Montreal natives again came out in droves to race their linear decks against one another's. My girlfriend Kelsey and I caught a ride with another player to Henri-Bourassa and settled in for six rounds of Bolt-slinging fun. Again, not a Mimic in sight.
Round 1: Jeskai Control (2-1, win roll)
Game 1
My opponent mulligans to six. I keep a hand full of green guys in the dark and cautiously play my lands without fetching until my opponent drops Celestial Colonnade. No longer fearing Blood Moon, I crack my fetches for shocks and play two Goyfs after a Serum Visions makes them Bolt-proof. In the meantime, my opponent suspends an Ancestral Vision, and draws three after taking a few hits from 2/3 Goyfs. I respond to his subsequent Supreme Verdict with two Snags to save my beaters. They die to Path-Snap-Path after I recast them, and Cryptic Command keeps Hooting Mandrills from resolving next turn. I lose to Snapcaster beats, one hit from Colonnade, and a pair of Bolts.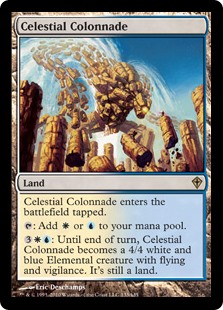 Sideboarding:
-4 Hooting Mandrills
-3 Thought Scour
-1 Mana Leak
-1 Stubborn Denial
+4 Traverse the Ulvenwald
+2 Bedlam Reveler
+3 Blood Moon
Game 2
My opponent goes to six again. I rush out a 0/1 Tarmogoyf to bait removal and cast Blood Moon on turn three. It works; Goyf eats a Path to Exile (wow!) and the Moon cuts my opponent off white. He resolves a Think Twice and I hard-Shoal the flashback, then hard-Shoal another Think Twice from his hand, stocking my graveyard for Bedlam Reveler. I make my land drops and cast Reveler with zero cards in hand, drawing two Goyfs and a Probe. The game ends a couple attacks later.
Sideboarding:
-2 Disrupting Shoal
+1 Mana Leak
+1 Stubborn Denial
I bring in more taxing counterspells for Shoals after having seen a Gideon Jura with Gitaxian Probe in Game 2.
Game 3
My opponent leads with Colonnade. I lead with Island, Serum Visions to set up the Blood Moon I opened, and fetch Forest to Traverse the Ulvenwald for a Mountain on the second turn after casting Probe for mana. Probe shows me Snapcaster Mage, Cryptic Command, Negate, Timely Reinforcements, Spinx's Revelation, and Steam Vents. Knowing he's dead in the water to turn two Moon, my opponent holds up Negate in fear for a couple turns, giving me time to land a Delver and then a Snapcaster, flashing back Probe for life. He can't take five forever, and eventually taps three of his four lands for Timely Reinforcements. I Bolt his face at end of turn and use the window to resolve Blood Moon. He can't get through Shoal/Leak/Denial without white or blue and Delver kills him.
My opponent apparently boarded out Lightning Bolt against me, since he never saw Delver of Secrets until Game 3 and put me on some sort of Temur Midrange deck (a characterization which actually isn't far off from my transformative "final form"). Once I learn this piece of information, I realize he never had a chance in the sided games.
Round 2: Burn (2-1, lose roll)
Game 1
I get turn one Probed and show Hooting Mandrills, two Bolts, Mana Leak, two Serum Visions, and a Wooded Foothills. Happily expecting Infect, I'm dismayed to see Scalding Tarn across the table, and even sadder to get Bolted on my end step after fetch-shocking to cast Serum Visions. I Bolt a Monastery Swiftspear and fetch Island to not take damage and cast Delver. I probably should have taken more damage and gotten a green source here, as Delver eats Searing Blaze and I can never cast Hooting Mandrills. I lose to a string of Spikes.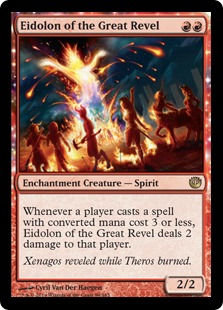 Sideboarding:
-1 Snapcaster Mage
-4 Gitaxian Probe
-2 Vapor Snag
-1 Thought Scour
+4 Traverse the Ulvenwald
+2 Blood Moon
Blood Moon comes in on the play to stop Path to Exile, Deflecting Palm, and to a lesser extent Lightning Helix, all cards that can wreck me post-board. Blanking Destructive Revelry (which now has a target, but still can't be cast unless they are untapped when I cast the Moon) and Atarka's Command is another bonus.
Game 2
I land a turn two Goyf and a turn three Moon, cutting myself off green for the rest of the game. My whole hand is blue and red and I don't draw another green card, so it works out. My opponent shoots me with Boros Charm after seeing the Moon on top with a Goblin Guide, which I kill with Lightning Bolt, and unfortunately doesn't draw another multicolored spell so Moon ends up doing nothing but eating three mana. But Goyf backed up by Disrupting Shoal (pitching Delver to counter a Bolt and a hard-Shoal countering Goblin Guide) is enough to take it down.
Sideboarding:
-2 Blood Moon
+1 Snapcaster Mage
+1 Thought Scour
Game 3
I ship a slow hand and open a Mandrills, pitching Delver to Shoal to counter a one-drop even though I have Bolt. I play Scalding Tarn and pass, then crack, shock, and take two more to Bolt an Eidolon and put a third card in my graveyard. Mandrills comes down on turn two off a fetchland and is quickly removed by Path to Exile, which at least nets me a valuable third land. Some turns and Rift Bolts later, another Eidolon accidentally trades with my flashed-in Snapcaster Mage, and a third Eidolon then trades with a flipped Delver on defense. I hard-Shoal a Lava Spike to dump instant in the graveyard and turn on delirium, allowing me to Traverse for Mandrills, cast him for one, and hold up Mana Leak. I Leak Boros Charm and Shoal Swiftspear while attacking for four three turns in a row to take the game at 6 life.
This matchup is a lot better than I thought it was right after dropping the Huntmasters. Traverse the Ulvenwald helping with land drops makes a huge difference against Burn, and eight functional Tarmogoyfs plus Disrupting Shoal is still great against them. This match was the first time I'd cast Traverse with delirium while keeping in my Mandrills (a card combination I only ever have against Burn, since Lay of the Land is a card I want there), but it apparently can happen and is worth keeping in mind, especially with three Tarfire in the deck. That "oops, I hit delirium" did win me Game 3.
Round 3: Jeskai Queller Control (2-1, lose roll)
Game 1
I take some damage fetching, Probing, and dancing around the interactive hand of Leak, Spell Queller, Path, Desolate Lighthouse, Mountain, Glacial Fortress I see on my first turn. I Bolt one Queller to resolve a Tarmogoyf. A second Queller closes out a counter-war over Path to Exile, and I scoop at 12 life to my opponent's board of Snapcaster and Queller when I have nothing substantial left in hand.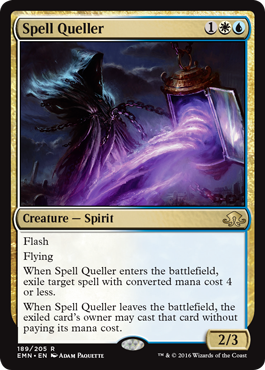 Sideboarding:
-4 Hooting Mandrills
-3 Thought Scour
-3 Stubborn Denial
-1 Mana Leak
+4 Traverse the Ulvenwald
+2 Bedlam Reveler
+3 Blood Moon
+2 Spite of Mogis
Spite of Mogis comes in over more Negate effects to kill Spell Queller (notably, Roast or Forked Bolt would have fallen short here, and Dismember would have paved the way for my opponent to beat me with burn spells). Leak can also deal with the 2/3 flier, so Stubborn Denial gets the axe entirely.
Game 2
Expecting my opponent to favor a grip full of removal, I keep a patient hand of Probe, Vapor Snag, and five lands. I pay mana for the Probe on turn one and see Visions, Snare, Leak, Bolt, Glacial Fortress, Hallowed Fountain, Mountain, Flooded Strand. We make land drops for awhile, and I draw a Blood Moon, which I don't try to resolve. My Goyfs get countered and I soon seize a window to lock my opponent off white. We draw and pass for a while and I eventually start casting Bedlam Revelers. One gets double-Bolted and the second forces a scoop.
Game 3
I pay life for a turn-two Probe, seeing Remand, Mana Leak, Dispel, two Path to Exiles, and Lightning Bolt. My opponent has two nonbasic lands in play, and I have a Moon in hand, so I slam the Goyf and force him through the inevitable Remand with Shoal pitching Leak. Goyf gets Path to Exiled the following turn and my opponent fails to make a third land drop, so I cast Moon with my Forest from Path on turn three and put the game away with a Reveler some turns later.
While Bedlam Reveler is proving integral to my success against Modern's interactive decks, it's becoming increasingly clear to me that the real MVP in these matchups is Blood Moon. I've always felt the enchantment does more work against Jeskai than against Jund, but in reality, it's just a stellar play against either when backed by constant pressure. Reveler ensures the threats keep coming, and Traverse works double-duty by fixing my own mana, making Moon better than it has ever been against Bolt decks.
Round 4: Dredge (0-2, lose roll)
Game 1
I Shoal a turn one Insolent Neonate, which buys me a ton of time, which I can't do much with thanks to a painfully slow hand. I tap out for Mandrills on turn three, but it's not fast enough for my opponent, who jump-starts himself back in the game with a Faithless Looting after dredging Life from the Loam for two turns.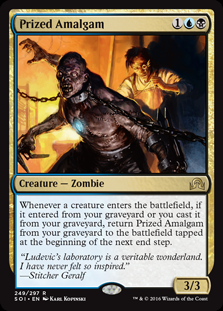 Sideboarding:
-2 Vapor Snag
Game 2
Instead of leading with Delver of Secrets // Insectile Aberration, I hold up Stubborn Denial, hoping to snag Faithless Looting. My opponent punishes me for this play with Insolent Neonate, and I draw Disrupting Shoal the turn after it resolves.
I swing with a Mandrills a few times and he double blocks with Stinkweed Imp and Amalgam. I Tarfire the Imp two turns in a row. Three Amalgams grind me out, although my 5/6 Goyfs and a flipped Delver get close to closing the game. I Stubborn Denial a huge Conflagrate aimed at my head, but a timely pair of dredged Narcomoebas provide enough defense for my opponent to deliver a lethal counter-attack after blocking me.
I wasn't happy with my sideboard plan in this match. I didn't see Leyline of the Void at all from this opponent and am not sure Revelry deserves a spot in the 60 here. Vapor Snag would also have been good at multiple stages in the game to bounce an Amalgam or Stinkweed Imp. Leak is still good in this matchup, if mostly to counter dredged-up Stinkweed Imps, which Bolt effects are also good for.
The tension in my second game came from wondering when to hold up permission on the first turn and when to just slam threats. Since Denial only hits one enabler card, and the worst of the two, it might be better to never assume Faithless Looting is coming when I have something else to do. Our last game was a very close race; had I played the Delver turn one, I might have won it. These games demonstrate how useful Gitaxian Probe is against Dredge on the play.
Round 5: Burn (2-0, lose roll)
Game 1
I know my opponent is on Burn from scouting, and keep a hand with Hooting Mandrills. I Shoal his turn one Swiftspear, then Thought Scour myself in response to his turn two Eidolon. Mandrills comes down on turn two and easily races my opponent's duo of Eidolons.
Sideboarding:
-4 Gitaxian Probe
-2 Vapor Snag
+4 Traverse the Ulvenwald
+2 Pyroclasm
Game 2
I open two Goyfs, Traverse, Serum Visions and lands, and topdeck Tarfire for the turn one Swiftspear. My opponent fails to make a second land drop this game, and I play a 5/6 Goyf for each of the following turns (turn two Goyf, turn three Serum and Goyf, turn four Traverse with delirium and Goyf).
The whole match is over in eight minutes, giving me time to watch Kelsey unintentionally draw against her pair-down, who couldn't ID into Top 8.
Round 6: (Intentional Draw)
Drew into the Top 8!
Top 8, Round 1: Counter-Cat (2-1, on the draw)
Kelsey and I play a lot at home and therefore know this matchup really well. She has been playing Counter-Cat for about a year and is undefeated today so takes the play when we are paired. Her list is the one I posted a few months ago, with these changes:
-1 Mutagenic Growth
-1 Remand
-1 Gitaxian Probe
-1 Huntmaster of the Fells // Ravager of the Fells (SB)
+1 Hooting Mandrills
+1 Spell Snare
+1 Mana Leak
+1 Lightning Helix (SB)
Game 1
My opponent leads with a Delver, which I Tarfire. We both follow up with Tarmogoyfs. Kelsey Paths mine and I Shoal, then kill hers with an attack and a Lightning Bolt. Snap-Path successfully removes my Goyf and I resolve a Mandrills. She drops two Nacatls and her own Mandrills, which trades with mine when I attack. I land another one and we continue racing. At 5 life, she turns her team sideways to deter me from attacking, since she'd have lethal next turn. But I have Lightning Bolt in hand and get to crash in with Mandrills for lethal.
Sideboarding:
-4 Hooting Mandrills
-3 Thought Scour
-2 Disrupting Shoal
-3 Mana Leak
-3 Stubborn Denial
+ All 15
We found during testing that I had to bring in Revelry in this matchup, or I would auto-lose to a turn two Isochron Scepter with Path or Helix imprinted. Counter-Cat also brings in Revelry for Blood Moon.
Game 2
Probe shows me two Bolts, Destructive Revelry, Forest, Mutagenic Growth, and Wild Nacatl. Kelsey accidentally fetches Island instead of Steam Vents to get around Moon, immediately realizing after I cut her deck that she needed a red source to compliment Temple Garden and cast her Bolts.
She Grows her turn one Cat in response to my main phase Tarfire, and soon lands a total of three Nacatls and a Delver. My lone Tarmogoyf plays defense, but when she lands one of her own, I'm forced into action. I almost tap out for a slow Bedlam Reveler. Goyf gets Pathed, and Reveler blocks a 2/2 Nacatl. I tap my final land to Tarfire the flipped Delver and take five from Tarmogoyf.
The Reveler drew me into Snapcaster Mage and Vapor Snag, which will buy me another turn against Kelsey's offensive and allow me to make an attack with the Reveler. It hits for six and brings Kelsey to 4. At 2 life, I'm still dead to a topdecked red source, which she doesn't draw. But Path to Exile removes Snapcaster and I lose to tiny Nacatls.
Sideboarding:
-2 Destructive Revelry
I sometimes board out my Revelries in this matchup since Kelsey expects them and will hopefully pace her Scepters anyway, but I still lose to turn two Scepters with this plan if she goes for them. Luckily, she never draws the artifact.
Game 3
Probe shows me two Mutagenic Growths, Tarmogoyf, Bolt, Path, Arid Mesa, and Scalding Tarn, meaning Kelsey can't fetch Forest to get around Blood Moon. She plays a turn two Tarmogoyf with an Island and double-Growths her Delver after I Bolt it. Tarfire finishes the Human Wizard off before it can transform.
I resolve the Moon on-curve. Goyf hits me and I respond with a topdecked Goyf of my own and a Bedlam Reveler. I double-block her Goyf and a Snap-Bolt kills mine, but another Goyf and a Delver of Secrets // Insectile Aberration from my Reveler draws close out the game before she finds Forest to pop the Moon and cast her Paths and Huntmaster.
As hopefully evidenced by this match report, Counter-Cat vs. Monkey Grow is a hugely dynamic matchup with a ton of role-shifting and game state analysis. It's too bad Kelsey and I couldn't have met in the finals instead, but I'm glad the one Tarmogoyf deck I did get to face at this event was of my own making.
Top 8, Round 2: Jeskai Queller Control (2-1, on the play)
I'm again paired with Norman Fried, who hasn't lost a match since I beat him in Round 3.
Game 1
I open with a Delver that doesn't instantly eat Lightning Bolt, leading me to put my opponent on Lightning Helix. I fetch for Island, Serum with a blue up to Deny the instant, attack, and pass. Sure enough, Helix comes down on Norman's main phase, and I counter it. Delver flips and cracks in uncontested for a couple of turns, and when my opponent's at 5 life, he goes for Snapcaster-Helix. I respond to the near-tap out with Tarfire and Lightning Bolt to the face for lethal. Not a Dispel in sight!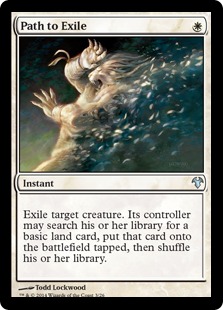 Sideboarding:
-4 Hooting Mandrills
-3 Thought Scour
-3 Stubborn Denial
-1 Mana Leak
+4 Traverse the Ulvenwald
+2 Bedlam Reveler
+3 Blood Moon
+2 Spite of Mogis
Game 2
I keep an intentionally slow hand and hard-Shoal a pair of Helixes at my face in the early-game. Eventually I cast two Revelers. The first gets Pathed, and the second comes down with a Delver. That play opens me to Supreme Verdict, and I fail to find another threat or a Blood Moon and lose to three hits from a Colonnade and a burn spell.
Game 3
Norman mulligans to six, and I open Bedlam Reveler, Serum, lands, and two Traverses. We both cantrip for a few turns, although I more than he. I Shoal a pair of Lightning Helixes aimed at my face. My Snap-Serum resolves and then eats a Bolt, giving me delirium to search up and resolve Tarmogoyf through a pair of Spell Quellers. I use Bolt and Spite to kill the Spirits, and end up never needing the Reveler, which sits patiently in my hand with Blood Moon and a third Disrupting Shoal in tow should things turn sour. My opponent can't answer a pair of Goyfs.
I like the idea of Spell Queller in Jeskai, but I don't think it's great against interactive decks. While the Spirit should give control shells more game against Modern's linear decks, I think it might need a relegation to the sideboard versus Lightning Bolt.
Top 8, Round 3: Abzan Vial (2-0, on the play)
Kevin Tran is playing a value-packed Flickerwisp deck in Abzan colors, with Aether Vial and Collected Company. He'd lost to Kelsey in the Swiss and didn't seem too excited to stare down more Goyfs and Pyroclasms.
Game 1
I keep a hand with two Serum Visions, Bolt, Leak, and lands. Serum scrys a Goyf to the top, and Kevin leads with Noble Hiearch. I draw and pass, deciding to leave the Hierarch on the board for a turn so I can Leak a spell and then kill it and cast Goyf on the same turn. I Leak a Tidehollow Sculler (meh) and Kevin plays a second Hierarch with his third mana source. Bolt and Goyf resolve as planned, and my opponent makes his third and final land drop of the game. He also plays a third Hierarch and Voice of Resurgence.
I swing with the Goyf, who isn't blocked, and Snap-Bolt one of the dorks. Wanting to leave Voice up to block Goyf this time around, Kevin attacks with Hierarch and immediately realizes his mistake. I block with Snapcaster Mage, further crimping his mana development. My attacks keep coming, supported by a Mana Leak, a Hooting Mandrills, and Shoal on a Path.
Sideboarding:
-4 Hooting Mandrills
-3 Thought Scour
-4 Disrupting Shoal
-3 Stubborn Denial
-1 Mana Leak
+ All 15
Game 2
Kevin mulligans to five this game, and neglects to play a spell on turn one. I fetch an Island to open with Delver of Secrets // Insectile Aberration, which blind-flips. My opponent makes a land drop and plays Voice of Resurgence, and I Probe and fetch for Forest to Traverse for Mountain, planning to cast Blood Moon next turn. Probe shows me Flickerwisp, another Voice, and Gavony Township. Kevin plays the Township and decides on the Voice. Moon cuts him off green and double white, and Delver races the two Voices with some help from a few burn spells and two Goyfs.
"Monkey Grow"
This tournament displayed Modern Temur Delver at its purest: an aggressive Bolt/Goyf deck that leverages Blood Moon to punish the format's famously greedy mana. Blood Moon is an incredibly powerful tempo card in Modern, and shells that reliably follow up with heaps of pressure use it better than others.
In my article last week, I attributed the success of Modern's top decks to three key components. Between its efficient threats, flexible disruption, and bountiful cantrip suite, Monkey Grow is highly proactive, interactive, and consistent. Bedlam Reveler covers for the deck's main weakness by providing an alternate gameplan against removal-heavy decks. Now that I've learned to take damage conservatively on the Reveler plan, I'm very excited to see where this deck can go in an increasingly linear Modern format. As always, expect a 3,000-word postcard!