Are you a Quiet Speculation member?
If not, now is a perfect time to join up! Our powerful tools, breaking-news analysis, and exclusive Discord channel will make sure you stay up to date and ahead of the curve.
Banlist discussion has become all the rage in recent years. The people who manage the banlist understand that changes should be made rarely and with good reason, though as we all know you can't please everybody. Players still complain about the banning of Splinter Twin, and there is plenty of discussion over what could be banned or unbanned from week to week in Modern. Personally I am mindful of the overall health of the format, though I try to focus on playing what I am allowed to play.
That said, after several iterations of "no changes" to the banlist it has become an increasingly popular point of conversation. Articulating one's thoughts are difficult enough given the restrictions language places upon us, and this is only made more difficult by the hyperbole that's rampant in the Magic community. Often you'll see the word "need" used in place of "want," as subjective preferences are used in place of objective measures of quality. Personally I would love to play with Treasure Cruise for at least another year, but that's a bad direction for the format.
Today I'm going to go over my thoughts on many of the more-discussed cards for banning or unbanning in Modern. My goal is to offer a clear and objective analysis of what these cards mean for format health. Obviously I'm human and I can't eliminate all bias, but I'll do my best to cover both sides.
[wp_ad_camp_1]
Legal Cards That Should Remain Legal
Gitaxian Probe
Let's start with a hard one, eh? People hate Gitaxian Probe. In my experience, Gitaxian Probe is great training wheels for newer players who don't always respect interaction if they can't see it, though most commonly in the hands of more experienced players only green-lights fast kills against bad hands.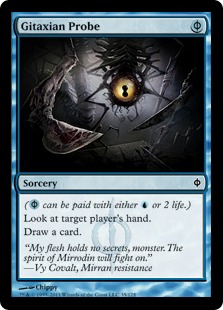 Perhaps this green light pushes things, though mostly this only comes into play when you have a deck that can't consistently interact with the combo decks in the first place.
My bias here is that Grixis Delver is favored against literally every Gitaxian Probe deck whether they can see my hand or not. Modern definitely doesn't need more cards like this, and the printing of Probe is one that I would certainly chock up in the "mistake" column, though its legality is one of few things that combo decks have going for them in Modern. We've already banned all of the most powerful card selection, so it makes sense to at least let them have this one way to efficiently churn through their deck a little bit. We give so many amazing tools to combat the combo decks that I would like to leave them with at least a short list of cards that keep these decks on the high side of competitive. Getting this much information for no mana is very powerful, but if your opponent has the relevant tools to interact then knowing about them doesn't amount to much. It's not like Cabal Therapy is Modern-legal.
Mox Opal
Mox Opal would be a completely heinous card for Modern combo decks, and the reason that it remains legal is because a combo deck that could exploit it doesn't exist. Affinity and Lantern Control are relatively easy to beat if you put your mind to it, and they have plenty of bad matchups even without hate. It looks weird to see that Chrome Mox is (very justifiably) banned while Mox Opal remains legal, and really it's just the lack of a Mox Opal combo deck that makes this so.
I definitely would have been on board with a Mox Opal ban during Eldrazi Winter seeing as Affinity remained great during such a degenerate time, but since the Eye of Ugin banning Affinity has been far from dominant. I think that Mox Opal will inevitably be featured in a deck that merits a ban, though for now I believe it is merely very good and is only featured in decks that are fine to allow in the format.
The Eighth Edition Dilemma
Listen, Eighth Edition would hardly be printable as a Standard-legal set in 2016. That said, Modern has plenty of other stuff that fails this same test. Do I like Blood Moon? Hell no! Do I despise Tron? Absolutely! But the hosers and oddballs from Eighth and Ninth are things that increase the diversity of Modern, and the bannings of these things would fracture the player base.
A format as large as Modern will inevitably feature lopsided matchups. Hosers draw a lot of attention due to how blatant they are in this regard, but banning them just shifts the format to have different lopsided matchups. Enough of the player base is giddy about the opportunity to Tron or Blood Moon people, and these decks are a small enough percentage of the metagame that a ban here strikes me as very heavy-handed. Yes, these cards lead to feel-bads. That said, if you can generate a format with zero feel-bads, then you have a million-dollar idea in your pocket that you are wasting.
Cards of Dubious Legality
Golgari Grave-Troll
Golgari Grave-Troll's legality leads to one of two things. It is either another legal card that nobody cares about, or one that pushes the format to need some graveyard hate. While Dredge does have more bad game-one matchups than it ever had in its heyday in other formats, it's difficult to ignore the impact that Dredge has had on Modern as of late.
This one is difficult to manage from a business perspective. It is a horrible image to ban something that you unbanned in recent memory, and there really isn't another ban that would prevent some form of Dredge from being a big player in Modern.
Given that Modern has plenty of matchups where one player is leaning on sideboard cards as it is, Dredge's presence in the format is something that has to be monitored but isn't necessarily ban-worthy. Dredge's results have not been indicative of format dominance, and Modern remains incredibly popular despite the deck rearing its ugly head. Should the format's popularity decrease and/or the deck's popularity increase, then I would expect some action. I expect the deck to remain legal for the foreseeable future.
Become Immense
I see plenty of very intelligent people saying that this is an obvious ban, though I put it in the maybe column. If your argument is that Infect is a turn-three deck and deserves a ban, then your position falls a little flat. Infect was a turn-three deck before the printing of Become Immense.
Become Immense's legality likely has more to do with Death's Shadow Zoo than Infect. Death's Shadow gets much higher access to fast kills due to the presence of Become Immense than Infect, and is also generally more difficult to interact with using red removal spells.
Mutagenic Growth strikes me as the more blatantly degenerate card in the impact-to-cost department, though both Mutagenic Growth and Become Immense are tough cards to approach from a ban perspective. Wizards doesn't like just killing decks in a general sense, and banning either of these cards would have a very heavy impact on one or both of these decks. Like Grave-Troll, I feel that these cards are more cards to watch than things requiring immediate bans. A ban on either of these pump spells is likely to draw a split reaction similar to when Splinter Twin got the axe, which strikes me as the reason why WotC would be slow to act.
Cards That I Would Ban
Simian Spirit Guide
One of the most fair decks that Simian Spirit Guide enables is a non-interactive combo deck that kills on turn four with Ad Nauseam. That's not a good starting point. Outside of that, the card is used to power out early Chalice of the Voids and Blood Moons, once again on the spectrum of "more reasonable" things that the card does.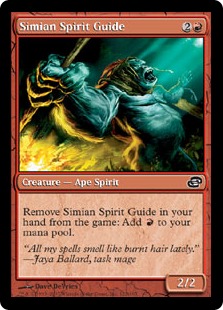 Simian Spirit Guide has shown up recently in both Valakut, the Molten Pinnacle and Dredge decks to facilitate a higher volume of turn-three kills. It was part of Colorless Eldrazi during Eldrazi Winter, and no deck that's trying to play interactive games touches it. It's a Modern-legal Lotus Petal, and its legality is something of a farce.
Simian Spirit Guide isn't dominating Modern, but it is problematic and it falls on the opposite side of the comparison to Chrome Mox as Mox Opal. It is being used to facilitate fast kills, and probably should have been banned earlier. I already feel that Modern is a great format as is, though this ban is the shakeup that makes the most sense with regard to the stated philosophy of the format, and is consistent with regard to cards that are already banned.
There are other cards that I would like to see banned, but they're all matters of preference. Some people hate Blood Moon, while I hate Cavern of Souls. Ancient Stirrings being far and away the format's most powerful cantrip is something that I'm not on board with, but it would be hypocritical for me to defend Blood Moon while attacking these cards at length. Simian Spirit Guide is the one card that is currently legal that is the most detrimental to Modern.
Cards That Should Remain Banned
Stoneforge Mystic
Yeah, yeah. There's a lot of artifact hate and Stoneforge Mystic is fragile. That's not what this ban is about. White decks need a reason not to play Stoneforge Mystic in a format where it's legal, and that is why several of the green cards on the banlist are there.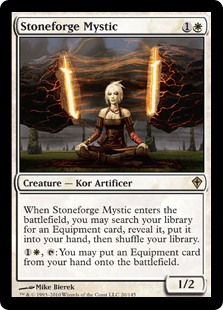 Some decks are good against Stoneforge Mystic. Some decks are also good against Punishing Fire. I'm pretty on board with this card being banned.
The position that Stoneforge should be unbanned and Batterskull should be banned is also just bizarre to me. "Why don't we put the less individually powerful card on the banlist? That's a good look!" There are decks that play Batterskull currently and it plays an interesting role and offers lifegain to decks that wouldn't otherwise have it. It also comes down late enough in the game not to be oppressive. Stoneforge Mystic functionally ends some number of games on turn two, and that is not the direction that Modern should head.
Bloodbraid Elf
Deathrite Shaman was a villain, but the position that Bloodbraid Elf isn't messed up as well is ill-founded. Currently Jund decks have very powerful cards in the one-through-three slot that make interaction with much of the format easy, and then a four-slot that's awkward and fluctuating. Assuming that the rest of your deck is good, Bloodbraid Elf is great everywhere. It adds consistency and card advantage plus free mana at the top of the curve.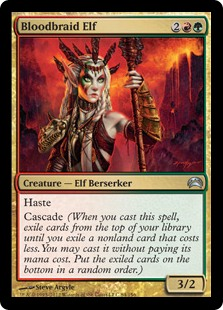 Jund is already a very powerful interactive deck, but if you want it to be the only interactive deck then I strongly recommend unbanning Bloodbraid Elf. With Liliana, the Last Hope and Kolaghan's Command as back up, the notion of grinding out Bloodbraid Elf Jund sounds impossible. Unbanning cards that specifically benefit decks that are already performing well is a very bizarre policy, and one that I do not support.
Splinter Twin
Control has some significant barriers to success in Modern, it's true. That said, combo-control is a very oppressive archetype, and while I was surprised at the Splinter Twin banning, I do support it. Playing a non-Splinter Twin blue deck was ill-advised when the card was legal. The deck's general power level in the format, coupled with its sideboarding advantage since opponents have to guess if they'll leave in the combo, was a little much.
It is often cited that Splinter Twin would keep deck X in check—given the frequency that this position is stated the logical conclusion seems to be that the deck is too good against too many things. It's hard to argue that the banning of Twin didn't open up the format. Maybe you don't like the way the format opened since then, though the format is very diverse and that drives its general popularity. And yes, popularity isn't a measure of quality, but it's paramount from a business perspective.
Preordain
It's very odd to me that this card is a common consideration among players for an unban. The game has moved away from cantrips on this power level, and for good reason. I would love to sleeve up Preordain again, because it makes my deck better than your deck. This card simply offers too much consistency for too little cost.
It's really a non-starter for a discussion of unbanning, though I'm not really sure how to illustrate that if you don't already agree with this position. The official statements from WotC also don't help me much here.
What I will say is this: if you're playing off the top of your deck, and I get to look at two extra cards on some number of my draws, I'm going to execute my deck's plan more consistently than you. I will draw fewer lands and more spells that matter. Whether I'm a combo, control, or tempo deck, I'm simply going to find my relevant things more than you'll find yours, and that enables me to beat you even if your average power level is higher than mine. You will draw more lands and ill-timed spells over time than I will. Serum Visions is widely played despite awkward templating. Preordain would make every Serum Visions deck better by a lot, and would also show up in most if not all of the blue non-Serum Visions decks.
Reasonable Unbans
Jace, the Mind Sculptor
No, I don't think that they are going to unban Jace, the Mind Sculptor. But I do think that if it were legal it would not be overly format-warping, and would not dominate by any stretch of the imagination.
Turn four is pretty late by Modern Standards, and Jace doesn't suddenly make control decks good against the Urza's Towers and Valakut, the Molten Pinnacles that have been crushing them.
The fear that Jace might be too good will keep him on the banlist. There's really no pressure to unban Jace outside of the fact that some players would like to cast him. Jace would more than likely be totally fine, though the fact that Jace was banned in Standard makes the fallout from unbanning and needing to reban too big of a risk from the perspective of the people who manage the format. I understand the position, even if I disagree.
A Healthy Modern
Changes to the banlist have understandably slowed since the removal of the Modern Pro Tour, which I think was absolutely a positive change. The fact that I currently enjoy playing Modern definitely colors my opinion, but I believe from a game-design and business perspective that the format is doing great. From that perspective I'm on board with Simian Spirit Guide being unceremoniously banned, though it wouldn't surprised me in the least to see no changes to the banlist with the Aether Revolt update.
Thanks for reading.
-Ryan Overturf
@RyanOverdrive on Twitter