Are you a Quiet Speculation member?
If not, now is a perfect time to join up! Our powerful tools, breaking-news analysis, and exclusive Discord channel will make sure you stay up to date and ahead of the curve.
If you liked "dies to Doom Blade," you're gonna love "dies to Fatal Push!" Few are more surprised than I to see a great black removal spell grace the Aether Revolt spoiler page, though initial evaluations largely seem to be calling the card something it's not. It's a solid card with a role to play, but not the sort of card that redefines formats as large and diverse as Modern. Today I'm going to break down Fatal Push, what the card means for Modern, and close with an updated list for Grixis Delver.
I suppose talking about a newly spoiled card merits posting the textbox for reference. Here is the card that many are saying will redefine Modern:
Calling Fatal Push the black Path to Exile is a reasonable comparison, though it's not wholly accurate. Either way, people are going to call it that, so get used to it. The two cards are sort of opposites though, as Path to Exile is quite bad on turn one and gets better, whereas Fatal Push is exceptional on turn one and scales somewhat poorly.
[wp_ad_camp_1]
Strengths
The fact that Fatal Push checks on mana costs but doesn't care if the targeted creature is a land makes it great against both Noble Hierarch and Inkmoth Nexus (animated lands have a converted mana cost of zero, in case that wasn't obvious). More one-mana interaction to combat Infect is something plenty of Modern decks are in the market for, and Fatal Push is great for this purpose.
In a format so heavily defined by efficiency, that mana cost restriction looks way more appealing than toughness-based removal. Fatal Push doesn't care how big your Tarmogoyf, Monastery Swiftspear, Arcbound Ravager, or Death's Shadow has grown—it's dead all the same. Similarly, the card doesn't get fizzled by traditional pump spells like Mutagenic Growth. This is a blind spot for most of the efficient removal in Modern: Lightning Bolt, Darkblast, and Dismember all look at toughness. To get an unconditional removal spell besides Path, we have to jump up the curve to Terminate and Abrupt Decay. Filling this gap at the one-mana spot is where Fatal Push will really shine.
While Fatal Push will be quite powerful against all the linear aggressive decks, I don't feel that its weaknesses have been discussed nearly as much as necessary. If you're interested in playing a black deck that struggles against linear aggro, this card definitely helps you there. It will matter in plenty of other spots as well. That said, there are other factors that should be considered before sleeving up four Fatal Pushes and claiming invincibility.
Weaknesses
The Revolt Mechanic
Revolt is a quirky mechanic, but we're already starting to get a good idea of how to turn it on. By now you probably know of the interaction with fetchlands. The critical mistake I'm seeing many commentators make is assuming that revolt will always be on because fetches are legal in Modern. Revolt is easy. It's not free. You will play games where you can't kill a three- or four-mana creature with your Fatal Push. Imagine needing to topdeck a fetchland to kill half of a Kitchen Finks.
This drawback is non-trivial, even for tagging three- and four-drops, and trying to classify Fatal Push as unconditional removal is simply inaccurate.
Fatal Push is being discussed mostly as a card for blue-black controlling strategies. Control decks can suffer from the problem of removal not lining up against threats, when they expect to kill everything the opponent does over a long game. Conditional removal is usually necessary in some number, but that's why you see a mix of different answers, usually in numbers smaller than four. Fatal Push likely won't be any different here. Turning on revolt is also complicated by a tension with shocklands and Serum Visions. To fix their mana and save some life, these controlling decks frequently want to fetch a dual on turn one. With Serum Visions in your deck, you're incentivized to fetch as soon as possible so the scrying will be relevant. This obviously competes with Fatal Push's desire for sandbagged fetches.
There are absolutely matchups and games where the revolt doesn't especially matter, but don't pretend like enabling it is free. If you play Fatal Push long enough, you'll eventually lose to a three-mana creature with it stuck in your hand.
Sticky Creatures
While it is true that Fatal Push excels in a number of matchups, it sure sucks against Dredge. I am aware that not everything can be good against Dredge, though that is one of the prime matchups that tends to give control decks problems. I know that's the matchup Grixis Delver is most interested in trying to shore up right now, and it's not like Jund or Abzan need to increase their percentage against the linear decks either.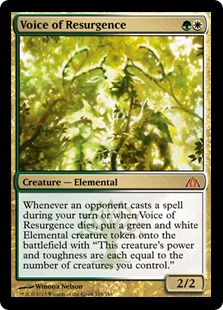 You can have a good game-one matchup against Infect without really costing yourself much of anything, but that's not especially true against fair decks or Dredge. I get that efficient exiling removal is a big ask given the splash damage against cards like Voice of Resurgence, but that's really what these decks are in the market for.
On the topic of Voice of Resurgence, creatures of this nature gain a lot of value as players run more Fatal Pushes. Yes, a one-mana exiling removal spell would be extremely pushed and powerful. I'm not saying that they should print such a card or that it would necessarily be reasonable. I am saying that a card of this nature is the type of removal spell that these fair decks actually want to address their weaknesses. Kalitas, Traitor of Ghet certainly helps in this regard, though is quite slow against the Dredge menace. Perhaps we'll be lucky enough to see that deck banned though. One can dream, right?
Creatures with a High Mana Cost
This one is obvious and only matters in a handful of situations in Modern, though it's worth taking note of.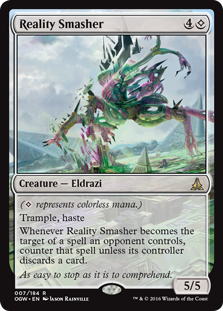 I've seen Primeval Titan referenced specifically in this regard, though you're usually dead if that one hits the battlefield anyway. Same story with Griselbrand. Where this matters is against Reality Smasher and delve creatures.
Frankly, as a Grixis Delver player I'm excited to hear that people want to shave Terminate for this card. Delver of Secrets already dies to everything. I am thrilled when your removal spells can't kill Tasigur, the Golden Fang. On the matter of Reality Smasher, that and the fact that revolt isn't free make it so that Bant Eldrazi isn't terribly upset if you want to play a bunch of Fatal Pushes. Somebody had the audacity to say to me that the same is true of Lightning Bolt, because he was apparently under the impression that Fatal Push can deal 3 damage to players. This downside only pertains to a handful of creatures, but to act as if this is irrelevant is absurd.
Trying to Kill Urza's Tower
As far as playable removal spells go, Fatal Push is certainly one of them. I expect the card to see play. It kills some things better than existing tools, and performs more poorly than those same tools in other areas. The card will see maindeck play, though it will not revolutionize Modern. It's good for what it does, though what matters more is what it's not.
Ultimately, even if Fatal Push were convincingly the best removal spell in Modern, it wouldn't solve the biggest problem that control decks have.
More than anything, control decks in Modern are hurting for a way to get reasonable odds against Tron. It is true that Fatal Push makes it easier for black decks to take down linear aggressive decks. It is absolutely true that it is the best removal spell for a single black mana in the format. The issue is that control and midrange decks can already hold their own against aggressive decks. If Fatal Push is widely adopted and pushes these aggressive decks out, suddenly Tron—one of your worst matchups—gets better!
Don't get me wrong. Fatal Push is good, and will see both maindeck and sideboard play in Modern. It just isn't what control decks need to get better in the format. It's not a catchall, and there are good strategies against control decks that just ignore it. My initial read is that I want to try playing one copy in the Grixis Delver maindeck and go from there, though I find it unlikely that I end up with more than two in the 75. Decks like Grixis Control and BGx might want to play more copies, though these decks will continue to have the same weaknesses as before.
Brief Delver Update
Some of you are interested in an updated Grixis Delver list, and I think that's worth discussing. I'm not interested in trimming Terminate, because Infect isn't a notable weak point for Grixis Delver whereas Bant Eldrazi is. My most recent list has a maindeck Dismember that will very often be worse than Fatal Push.
Jeskai Nahiri has largely dropped off the Tier 1 map and the Grixis Delver mirror has become more of a thing. So while I'm moving things around I think it's wise to turn the Vendilion Clique into the second Kolaghan's Command. Kevin Jones and Jim Davis had it, and that card matters a ton in the mirror. It's worth noting that I would keep the sideboard Go for the Throat specifically to combat Bant Eldrazi, as it's also totally fine against Death's Shadow.
Grixis Delver, by Ryan Overturf
These changes are quite minor, of course, though I will say that I am way happier with a miser's Fatal Push than a Dismember. It's a totally fine card, though not one that lines up as well in Modern as the hype seems to suggest.
Thanks for reading.
-Ryan Overturf
@RyanOverdrive on Twitter