Are you a Quiet Speculation member?
If not, now is a perfect time to join up! Our powerful tools, breaking-news analysis, and exclusive Discord channel will make sure you stay up to date and ahead of the curve.
Amonkhet spoilers have been in effect for a couple weeks now, but nothing's stood out to me as Modern-playable until recently. Cut // Ribbons seems like a solid include in BRx attrition decks like Grixis, while Cast Out could make a decent addition to reactive draw-go shells like UW Control. But the card that has me most excited is As Foretold, a three-mana pseudo-Aether Vial for all spells, which happens to have a busted interaction with the no-cost suspend cards from Time Spiral.
This article takes a look at three brews I've come up with in the 24 hours since As Foretold was spoiled. But there's no reason to keep you in…suspense. Let's get to it!
Brewing with As Foretold
Generating mana is all well and good, but to make a real impact in Modern, three-mana spells usually have to be exploited in a bigger way. Take Brain in a Jar and the Expertise spells—sans their (now defunct) interaction with fuse cards like Breaking // Entering, they would never have seen Modern play. The way As Foretold interacts with spells with no mana cost, though, gives it enough oomph to at least get some talking... and others, brewing. Since spells with no mana cost still have a converted mana cost of 0, we can cast them right away the turn we resolve As Foretold, and again on each following turn.
Finding the Payoff
Modern has a few legal cards with no mana cost, but those with suspend seem like the best payoff cards for As Foretold (sorry, Evermind!). They are Living End, Lotus Bloom, Wheel of Fate, Restore Balance, and Ancestral Vision. Living End requires the whole deck to be built around it, so we'll skip that one. Lotus Bloom is equally unappealing, since As Foretold is already in the business of producing mana.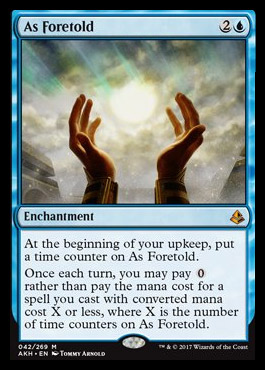 Wheel of Fate is a bit trickier to evaluate, since it has one of the most historically broken lines of text in Magic, especially on cheaper cards (and what's cheaper than 0?). But Modern lacks the free mana sources of older formats, so I doubt something like As Foretold Storm becomes a thing. Each active copy of Foretold can only cast one Wheel per turn, meaning players need to draw into a second Foretold and the mana to cast it before beginning to turn profits from a new hand. Leveraging card advantage from Wheel fairly is just as unlikely due to the spell's symmetry; drawing opponents seven new ones in Modern is very dangerous.
With the weaker choices eliminated, Ancestral Vision seems like our strongest option. It's on-color with Foretold, and not totally useless when drawn without the enchantment. Vision also provides damage control by helping us quickly dig into interaction, compensating for the tempo loss of setting up As Foretold.
Next up is Restore Balance, which has an effect powerful enough to also boast a Modern deck to its name. Unlike with Living End, though, building around Restore Balance is trivial; players are simply encouraged to run advantage-generating or game-ending permanents that don't count as creatures or cards, and to run light on lands. Balance also helps regain our composure after we spend time setting up As Foretold. Since we can cast it immediately after resolving the enchantment, Restore Balance becomes the cheapest board wipe in Modern at just three mana, making it tricky for opponents to get aggressive with us.
Weighing the Negatives
As Foretold also has a couple problems. For one, what does it even do in multiples? Well, not much. But the card advantage incurred from chaining Ancestral Visions or resolving Restore Balance at will seems to offset the disadvantage of drawing multiple Foretolds quite a bit. Additionally, opponents will be incentivized to remove or counter As Foretold as soon as they see it, which just makes our extra copies live (the "Blood Moon effect").
The enchantment also costs a whopping three mana. Three is no joke in Modern—that's the price of Liliana of the Veil, Blood Moon, and a lethal Become Immense! Luckily, tapping out for Foretold on turn three doesn't mean not impacting the board for a turn. If we can immediately cast Restore Balance, As Foretold acts as a pseudo-ritual effect the turn we cast it by ramping us into a board wipe.
Pillow Fort
The first As Foretold deck I came up with was an Azorius build that walks the line between UW Control and Pillow Fort.
Pillow Fort, by Jordan Boisvert
My first order of business with Pillow Fort was to cut the bad enchantments (Sphere of Safety, Nevermore) for the cards I wanted to play. Next, I added in some powerful interactive spells (Path to Exile, Spreading Seas) and called it a day!
Card Choices
Okay, the deck's a little more complicated than that. But not by much. One crucial factor regarding As Foretold is that it changes the way we can build our decks. Since Foretold produces mana for us over the course of a game, like Aether Vial, it incentivizes us to run fewer lands. Traditionally land-heavy strategies like UW Control or Pillow Fort generally rely on card advantage machines such as Sphinx's Revelation to catch up on all the "live" draws missed from slamming Hallowed Fountains. We don't have to—with Foretolds in the deck, we can play a miserly 20 lands (just enough to often make it to our third land drop before stopping) and count on the enchantment to cast our spells later. 20 is a number I borrowed from Burn, but with Serum Visions in the picture, things get a lot less dicey.
I found while playing this deck that planeswalkers are the ideal permanent type to have in play while ticking up an As Foretold. They don't care about Restore Balance, can win games on their own, interact with the board, and generate advantage, which are all things we want from our spells. The only problem with planeswalkers: not many good ones exist. Something like Nahiri, the Harbinger seemed like the ideal walker for an As Foretold deck, but that would stretch us into three colors, making a low land count unsafe and softening us to hosers like Blood Moon. Without red, we're left with Jace, Architect of Thought and... Gideon of the Trials!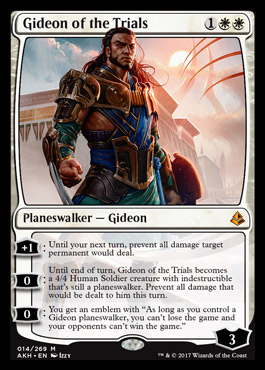 Gideon hasn't blown me away yet, but he takes pressure off our life total with his plus ability and usual planeswalker bulk, and forces opponents to interact with him to get us dead. This last dimension is useful in just about every matchup. Combo decks like Ad Nauseam have no way to beat a Gideon in game one, and aggro decks won't be able to just ignore the 'walker and attack our face. Leyline of Sanctity also works well with Gideon, since it requires opponents to defeat him in combat. Lightning Bolt, Lightning Storm, and company can't target us with Leyline in play, so that damage can't be redirected to our planeswalkers.
Spreading Seas is awesome right now, but it also gives us a "mana sink" for As Foretold. Between Seas and Serum Visions, we're likely to always have something for Foretold to "cast" (the scare quotes are real in this article) in want of a suspend card.
Peace of Mind is a weirder one. Sometimes, opponents get us down low enough that it's nice to have a way to gain some life. But Peace shines brightest when paired with Restore Balance, allowing us to dump our hand for heaps of life and then force opponents to discard to 0.
Lastly, it's never correct to suspend Restore Balance in this deck. The effect gains most of its power from coming out of the blue. If we're under pressure, that's even more reason to hold it, as we're unlikely to get six full turns before it comes off the stack anyway, and if we topdeck As Foretold, we can just cast it.
UB Control
It only took me a few games with Pillow Fort to realize I would have more fun playtesting with something more interactive. So I dreamt up this bad boy:
UB Control, by Jordan Boisvert
UB Control is a model example of a deck that only exists thanks to Fatal Push. Without the Aether Revolt instant, we'd be forced to dip into a third color for our early-game interaction. Collective Brutality also plugs plenty of holes in blue-black decks by giving us a mainboard-playable hoser for Burn.
Card Choices
This deck is leaner than Pillow Fort and packs a natural punch against fair decks thanks to Liliana of the Veil. Seas continued to impress me here, too. With removing early creatures out of the way, the problem for UB becomes putting away games. Liliana of the Veil's ultimate doesn't quite do it, and we can't really justify playing Liliana, the Last Hope in this deck since we rely so heavily on her big sister and don't stand to gain much from her -2.
All that left me looking to Ashiok, Nightmare Weaver. Milling opponents out is as demoralizing a strategy as any. Ashiok has some tension in this deck, though, since it turns on enemy removal. Stealing a Goyf feels great until it promptly gets Pushed. Having Liliana of the Veil in play greatly mitigates this issue, since we can empty a hand first. Another problem with Ashiok is that we rarely want to use its ultimate, so opponents don't really care about attacking it. Ideally, our planeswalkers draw enemy fire.
Either way, fair decks are easy to beat with this pile. Ashiok's biggest weakness: it's not fast enough against decks with inevitability. Despite the 4 Seas, Tron can prove problematic for us by slamming Karns and removing our win conditions. Wurmcoil Engine is difficult to answer cleanly in these colors. And don't get me started on Oblivion Stone—that card even wipes out our precious As Foretolds!
Creeping Tar Pit has killed many of my opponents, and using it is essentially free in longer games, since As Foretold will cast our spells. Tar Pit's presence also helps make Snapcaster's body relevant in some matchups.
As for the positives, Liliana of the Veil adds an important dimension to the As Foretold deck. Her minus makes opponents want to go wide to beat us, since they're unlikely to get there with a few efficient threats. But committing lots of cards to the board opens them up to Restore Balance blowouts. It's the old kill-spell-vs-Wrath-of-God conundrum successful control decks have always imposed on their opponents, except our Wraths cost 0 mana.
Inquisition of Kozilek is also great in this deck, as it slows down opponents long enough for us to get our act together. Faster decks like Revolt Zoo go very wide very quickly, and combining Push and Inquisition is a reliable way to buy ourselves the few turns we'll need.
Jeskai Control
We all knew it would come to this.
Jeskai Control, by Jordan Boisvert
Nahiri really is an ideal As Foretold planeswalker, even if she costs four mana. She ticks all our boxes from before: ends the game on her own, draws enemy fire, interacts with the board, and generates advantage that doesn't translate into cards, lands, or creatures. Chandra, Torch of Defiance rounds out our planeswalker suite, and the rest is standard Jeskai Control fare. Wait a minute... no it's not!
Card Choices
Snapcaster Mage's omission is this list's biggest eyebrow-raiser. Snap's not superb with Restore Balance, and the card advantage he provides pales in comparison to what we get from Ancestral Vision. I have been happier with Relic of Progenitus, a card that went from the UB sideboard to the Jeskai mainboard as soon as I built this deck.
Relic is a permanent we can easily drop from our hand and "hide" from Restore Balance. It interacts efficiently with a large portion of Modern's current top tier (including Death's Shadow Jund) and even cycles when we don't want it. The reason many players don't run Relics themselves is their own reliance on graveyard synergy.
Back to Chandra—she's no Nahiri when it comes to pressure, but this 'walker will still end games on her own. She also has an interesting interaction with suspend cards. Remember all the times you wished you could cast Ancestral Vision off your Chandra activation? Wish no more. If we have As Foretold on the board and plus Chandra, we can use Foretold to cast the exiled card, even if it doesn't have a mana cost. Finally, since Chandra has a minus that removes creatures (like Nahiri), she can pressure an opponent's board development in the same way as Liliana of the Veil.
The eight cantrips also deserve an explanation. Including four-mana 'walkers ups our curve dramatically and incentivizes us to play more lands. But playing more lands is not exactly something I'm fond of. Besides, doing so conflicts with our Restore Balance plan. The solution? Play more cantrips!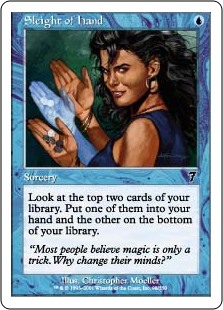 Since Modern's blue cantrips can grab anything, they smooth out not just our early land drops, but our gameplan in general. Need a removal spell? Let's dig for one. Need As Foretold? Let's dig for one! I've found casting a turn-three Foretold and immediately chasing it with a suspend spell to be very consistent in this deck, and I owe it all to Serum Visions and Sleight of Hand. Getting off Balance on turn three greatly outweighs any tempo losses incurred by first casting blue sorceries. And when we want to start tapping all our lands for planeswalkers, we can even use As Foretold to cast our cantrips for us.
The last cards I want to touch on reside in the sideboard. Anger of the Gods is a nod to value-creature decks like Aristocrats and Abzan CoCo, which were difficult matchups for UB Control. Having to deal with persist creatures twice was backbreaking for that deck. Greater Gargadon is an easy way to nuke our own manabase before casting a 0-mana Restore Balance. The Beast comes in against decks that assemble a critical mass of lands (Tron, Valakut), and the plan is as simple as it sounds. As Foretold will cast our spells after everyone loses their lands, and things get even more lopsided if we already have a planeswalker on the field.
Remain Enchanted
There's no telling if As Foretold will make huge waves in Modern, but I have been impressed so far by its applications in my very limited testing. The builds presented in this article only represent my efforts with the card, and are sure to change drastically if I decide to continue brewing with As Foretold. In fact, I'm already tweaking new versions of Jeskai with Mind Stone—and now Simian Spirit Guide!—in the Relic slots. Either way, I can't help but think we're onto something. Wizards may have taken away one "feels broken" interaction with the split card rules change, but they've given us a shiny new one. What deck will break As Foretold first?