Are you a Quiet Speculation member?
If not, now is a perfect time to join up! Our powerful tools, breaking-news analysis, and exclusive Discord channel will make sure you stay up to date and ahead of the curve.
I'm not exactly a Red player myself, but I know those who are love themselves a good Threaten. Or Traitorous Instinct. Or any of these type of effects.
Well, here's a good one.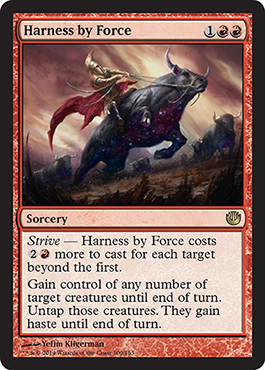 It's kind of snuck into the background, but this is a really powerful card. Red decks have used Threaten effects in the past to great success, and I expect this to be no different. And this thing scales better than any Threaten effect in the past. Six mana may seem like a ton, but in the matchups where you want this out of the sideboard, it's actually something that can happen quite a bit.
The format isn't in a place right now where this is good, since the two main win conditions in Aetherling and Obzedat are somewhat resistant to this, but both of those leave in October, at which point I wouldn't be at all surprised to see this pop up, if it doesn't make an impact before then.