Are you a Quiet Speculation member?
If not, now is a perfect time to join up! Our powerful tools, breaking-news analysis, and exclusive Discord channel will make sure you stay up to date and ahead of the curve.
I made a New Year's resolution to minimize participation in ban discussions throughout 2016. Modern has more than enough banlist din in Twitch chat, Reddit threads, and article comment sections across the content-sphere. Then the Splinter Twin banning happened. Wizards' announcement has made it impossible to discuss any aspect of 2016 Modern without some reference to their controversial decision. Everything from sideboard calls to metagame context, deck choices to format direction, and countless other Modern elements in between has been affected. Despite this upheaval, or perhaps with respect to it, I'm ready to depart ban discussion and return to strategies and metagame analysis, but not before giving a personal Kefnet's Last Word on the ban.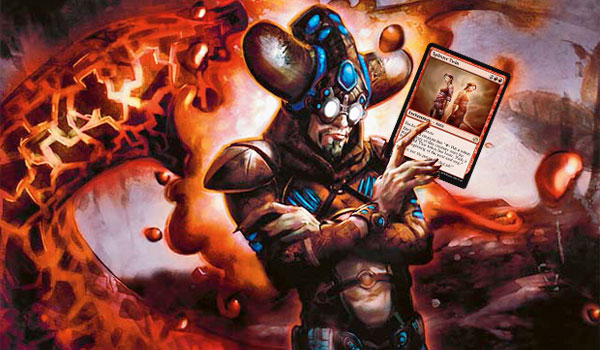 Starting tomorrow, I'm back on my resolution wagon and steering clear of ban discussion. I'll be revisiting banlist issues when we either receive new information about Wizards' policies (please, Sam Stoddard?) or approach the next announcement in April. Today, however, I want to raise two points about the recent decision, digging into some unexplored statistics, and drawing a line on where I stand with regard to the January 18th update. In the past, I have analyzed many of Wizards' decisions and ultimately accepted them at face value. The Twin update did not withstand this scrutiny. There is a body of quantitative and qualitative evidence that exposes two major unanswered and under-addressed elements of the announcement. This article presents those factors as open questions demanding acknowledgment, and I will certainly revisit them as the new Modern evolves.
[wp_ad_camp_1]
Missing Metagame Context
Many ban proponents believe Wizards' justification in the January 18 announcement, centered on Top 8 finishes, was sufficient to explain Splinter Twin's removal. Neither previous updates nor broader metagame statistics support that position. As old banlist changes from Bloodbraid Elf to Birthing Pod have shown, the Twin update is missing a key factor at play in all those preceding format-diversity bans: a significant, metagame-wide format share. This notable absence suggests either Wizards has changed their criteria to emphasize Top 8s at the expense of the broader Modern metagame picture, or that there were other reasons for Twin's ban beyond those mentioned in the update.
Note: this section excludes 2011 bans made before Modern was a Grand Prix format. The addition of a Grand Prix Day 2 metagame dramatically increases our population size and thus changes how we conduct metagame analysis.
The Metagame Factor in Old Banlist Updates
The January 2016 Twin announcement did make a passing nod to metagame shares. In that article, Wizards transitioned from Summer Bloom's ban to Twin's, outlining how they "also look for decks that hold a large enough percentage of the competitive field to reduce the diversity of the format." In his article last Friday, Jordan treated this sentence as a bridge from Bloom discussion to Twin, not an actual statistical summary. He concluded Twin's metagame share did not seem to be a major factor in its eventual ban. Others have been comfortable with the article focusing solely on Top 8s, even if metagame numbers are left by the wayside.
Having reviewed past announcements and crunched the numbers, I view this is a major inconsistency with past bans which we need to recognize.
Although Wizards regularly presented Top 8 performances in many ban announcements, they also referred directly to metagame-wide shares in most of those pre-Twin updates. Justifying Deathrite Shaman's removal in a February 2014 article, Wizards explained "Having a strong attrition-based deck as a large portion of the metagame makes it difficult for decks that are based on synergies between cards instead of individually powerful cards." Although Wizards does not use the same tiering definitions as used on the Nexus, we share their concept of a wider metagame beyond mere Top 8s, something seen in countless Day 2 Metagame Breakdowns and other metagame pieces on the Wizards site. The quoted reference points beyond Deathrite's Top 8 wins to a broader format violation.
Wizards echoed this metagame concern in the January 2015 announcement. First up were Treasure Cruise and its "replacement", Dig Through Time, both of which Wizards struck down to free up format space: "...as these decks have occupied a large portion of the competitive metagame, the overall variety of successful decks has been suppressed." Birthing Pod came next, drawing not just one but two indictments of its oppressive Modern prevalence (emphases added):
"Over the past year, Birthing Pod decks have won significantly more Grand Prix than any other Modern decks and compose the largest percentage of the field."
"The high percentage of the field playing Pod suppresses decks, especially other creature decks, that have an unfavorable matchup."
In all four of these 2014 and 2015 cases, we see Wizards definitively connecting format-diversity bans to both Top 8 performances and metagame shares. This comprehensive definition of format diversity fits Wizards' overarching aim of maintaining Modern diversity. It's one of the reasons these previous ban decisions were so justifiable.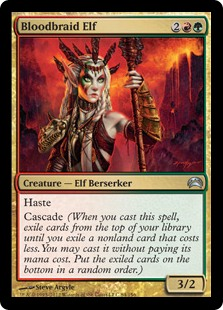 Admittedly, Bloodbraid Elf's 2013 ban article did not explicitly mention a metagame connection in these same unambiguous terms. It only provided two vague allusions in "Jund has been the most successful deck at high-level tournaments" and "While the rest of the format is quite diverse, the dominance of Jund is making it less so overall." As we'll see below, this omission does not mean broader metagame data was not considered. In fact, Bloodbraid Jund was by far the most offensive metagame violator of all. This strongly suggests its metagame statistics were indeed present in the unclear references quoted above, and in Bloodbraid's eventual ban. More importantly, if Pod, Deathrite, and Cruise were banned for metagame reasons with lower shares, it stands to reason Bloodbraid Jund would certainly have come under fire for significantly higher ones.
Now that we've seen the metagame theme repeated in ban announcement language, we can turn to the actual numbers to see how Wizards' rhetoric corresponds to hard data.
Banned Decks and Metagame Shares
The following data comes from Day 2 summaries for Grand Prix and Pro Tour tournaments. A few events (Grand Prix Kobe, Portland, Chicago, and Brisbane) are omitted for lack of publicly available Day 2 data. I am also excluding broader Paper and MTGO data, both because we don't have the same numbers Wizards does (we have samples, they have the true population), and because I only started tracking such data from April 2014 onward. By contrast, Day 2 metagame numbers are available to anyone with an internet connection.
We start with Jund in the Bloodbraid Elf era. Although its corresponding banlist update made only indirect references to Bloodbraid Jund's prevalence, the deck has the dubious honor of claiming the most lopsided shares of any strategy we'll talk about today.
Bloodbraid Jund (4/2012 - 1/2013): 19.4%
Grand Prix Turin: 19%
Grand Prix Yokohama: 8.9%
Grand Prix Columbus: 6.6%
Grand Prix Lyon: 21.3%
Pro Tour Return to Ravnica: 29.1%
Grand Prix Toronto: 24.6%
Grand Prix Bilbao: 26%
During its 2012 reign, the BGx Midrange monster commanded an average 19.4% of all Day 2 fields, with outrageous highs over 24% after Return to Ravnica added Abrupt Decay and Deathrite Shaman to its arsenal. By contrast, the next most-played decks in Modern averaged around the 9%-10% range for the entire year (Affinity and Pod variants). Jund's average doubled those share. Its highs more than doubled the peaks of the runner-ups. As players active during 2012 remember, Bloodbraid Jund set the dominance standard for years to come.
Deathrite BGx wasn't much better, even if the one-mana planeswalker spread his good fortune around many BGx players and not just Jund. The numbers below include all "different flavors of black-green decks", specifically the one-for-one attrition strategies cited in the February 2014 update.
Deathrite BGx (2/2013 - 1/2014): 18.1%
Grand Prix San Diego: 18.7%
Grand Prix Kansas City: 13.2%
Grand Prix Detroit: 20.9%
Grand Prix Antwerp: 19.8%
Grand Prix Prague: 17.8%
Averaging 18.1% over that post-Bloodbraind ban year, Deathrite Shaman BGx Midrange did its predecessor proud. Non-BGx decks lagged far behind the midrange players: Pod at 11.2%, Affinity at 9.8%, and URx Twin at 7.9%. Although the Shaman never quite reached the Bloodbraid heights of Pro Tour Return to Ravnica, where Jund was literally doubling the next most-represented strategy, the gulf between viable competitive strategies was still huge over 2013. Wizards justifiably axed Deathrite to restore format balance.
Of course, 2014 saw two decks rise to Jund's old 2012 and 2013 levels. Everyone remembers Birthing Pod and Treasure Cruise, and as the metagame statistics below indicate, it's no wonder Wizards cited metagame concerns three separate times in their joint banning article.
Birthing Pod (2/2014 - 1/2015): 16.1%
Pro Tour Born of the Gods: 11.2%
Grand Prix Richmond: 12.6%
Grand Prix Minnesota: 18.7%
Grand Prix Boston-Worcester: 23%
Grand Prix Madrid: 9.1%
Grand Prix Milan: 14.8%
Grand Prix Omaha: 23.3%
Cruise Delver (9/2014 - 1/2015): 17.5% (20.6% with Jeskai Ascendancy)
Grand Prix Madrid: 16.4% (18.2% with Ascendancy)
Grand Prix Milan: 18.7% (22.5% with Ascendancy)
Grand Prix Omaha: 17.3% (21.1% with Ascendancy)
The Pod and Cruise metagames emerged over two distinct but overlapping time periods. For its part, Pod was a multi-year phenomena that tipped past a breaking point in 2014. On the other hand, Cruise decks only became an issue after Khans of Tarkir, which accounts for Pod's shares spanning seven events but Delver's only covering three. As a quick note, I've added Ascendancy decks as a parenthetical, as Wizards mentioned the combo engine in their announcement.
Within those periods, we see the same pattern as observed in Jund. Delver occupied a monstrous 17.5% share during Treasure Cruise's brief stint in Modern. Adding in the Ascendancy and Burn statistics, both of which Wizards called out in their banlist update, would put the share well over 20.6% (a number including Ascendancy but excluding Burn). Trusty Pod took up 16.1% of the format. As in earlier updates, the competing strategies lagged far behind. Every BGx Midrange deck combined only maintained 12% of 2014 Modern, with Affinity at 10.9%, and URx Twin at 9.5%. This fit the same trend as seen in the Bloodbraid and Deathrite bannings, where decks reducing format diversity maintained multiple percentage point leads over competing strategies.
Thinking back to URx Twin's 2015 performances, we might think the combo deck enjoyed the same metagame success as it did in Top 8s. The numbers show a different story.
A Splintered Metagame Picture
Let's repeat the same analysis for Splinter Twin decks over 2015. I'll add in StarCityGames Day 2 statistics to create a separate average, but won't list them out individually to save space. In summary, the varied SCG Premier IQs, Classics, and Opens had a Twin high of 18.8% in February before dropping back to the 10%-11% range for the rest of the year. Incidentally, this fits the Grand Prix and Pro Tour pattern as well.
URx Twin (2/2015 - 1/2016): 12.8% (also 12.8% with SCG)
Pro Tour Fate Reforged: 7.8%
Grand Prix Vancouver: 18.5%
Grand Prix Charlotte: 18.2%
Grand Prix Copenhagen: 16.6%
Grand Prix Singapore: 10.7%
Grand Prix Oklahoma City: 9%
Grand Prix Porto Alegre: 9.5%
Grand Prix Pittsburgh: 12.1%
Comparing only raw values without metagame context, URx Twin's average Day 2 share of 12.8% is well underneath the next lowest of the format-diversity ban targets (Pod at 16.1%). Additionally, although Pod's share was increasing in the last months of 2014 after Siege Rhino's printing (which was itself explicitly cited in the update), Twin's had fallen to the 10% range from June onward, normalizing in that band. Naturally, these statistics are also far lower than those enjoyed by Bloodbraid, Deathrite, and Cruise decks.
The broader metagame context makes Twin's position even more puzzling. Throughout 2015, Affinity was right below Twin's 12% at a flat 10%, but BGx Midrange actually surpassed URx Twin at 16.5% for the entire Grand Prix and Pro Tour Day 2 dataset. No previous format-diversity bans took place when another archetype was so close to the so-called offender, let alone when a separate strategy had a higher net share altogether. These similarities also hold if we draw on past Modern Nexus metagame updates as a triangulation source, showing URx Twin at around 11.5% for the entire year across both Paper and MTGO, with Affinity behind at 8% and BGx still ahead at 12.5%.
The Lost Metagame Element
This leaves Twin's banning in an awkward spot. All previous format-diversity bans were justified due to both Top 8 offenses and metagame share violations. They also all targeted decks that were well ahead of the next most-played options. By contrast, Twin only struck out on Top 8 performances. Its metagame stake was well beneath previous diversity violators and trending down instead of up. URx Twin was also much closer to rival decks than were the format problems of earlier eras. This makes Wizards claim that URx Twin was "hold[ing] a large enough percentage of the competitive field to reduce the diversity of the format" much harder to believe.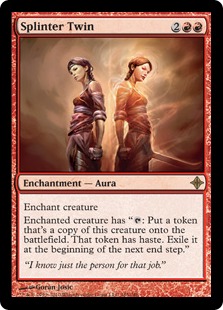 Based on these missing metagame dimensions, we find ourselves asking a few potentially uncomfortable questions. Going forward, does Wizards no longer emphasize the metagame-wide shares for bannable decks? Or has the metagame bar dropped to a lower level than seen in any previous announcement? If so, will we find ourselves in a "race to the bottom" scenario, where the topmost deck could face ban scrutiny every year? Will that attention be more acute if the deck has a high-profile Top 8 record irrespective of its format presence? Are there other metagame numbers behind Twin's dominance the public can't access? If so, what are those figures? If not, what factors took their place in justifying the ban?
We may not know the answers to those questions for some time (if ever). I'm also confident there are many other questions worth addressing I didn't list above. Until Wizards weighs in or we obtain more information, this is a good starting point for us to continue our skeptical but constructive challenges on these issues. Based on the information we do have, however, this appears to be a striking gap.
The Pro Tour Factor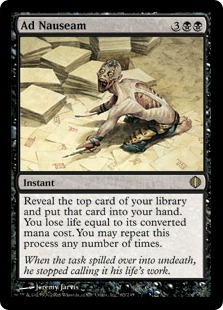 Now that we've identified a major numeric inconsistency between Twin's banning and previous format-diversity ban decisions, we can turn to a second possible influence behind recent announcement: the Modern Pro Tour.
This component has already been discussed Ad Nauseam by writers and readers on this site, authors across the internet, and everyone with a keyboard throughout the general Modern community. SaffronOlive made the case on MTG Goldfish, Will Fancher offered a similar assessment on The Meadery, and Corbin Hosler discussed the Pro Tour/banning dynamic on the MTGPrice.com blog. Paulo Vitor Damo da Rosa also criticized the ban decision, concluding Modern should probably be removed from the Pro Tour altogether. To follow up on those positions, and on ones I've articulated in my own ban responses on the Nexus, I want to show where the Pro Tour might influence Modern bannings and talk about why this is problematic.
Timing, Correlation, and Causation
One of the more salient rebuttals to the Pro Tour and banning connection is about their scheduling. This standpoint, which Corbin Hosler articulated in his "Splinter Twin: The Ban, the Reaction, and the Fallout" article, holds that Modern follows an annual banning update cycle in January. Modern Pro Tours have just been added to that existing cycle to make it easier; as Hosler clarifies, "if your plan is to update the banlist once a year, why not time it right before the Pro Tour?" In making their case, Hosler and others alert us to a classic correlation and causation trap, where ban detractors believe the Pro Tour's proximity to the banlist update means it is also the cause of that update. Rather, because the 12-month banlist cycle preceded the Modern Pro Tour's February scheduling, it must be considered an independent event.
Unfortunately, those who hold this viewpoint have made a questionable assumption. They believe that because the banlist schedule was set before the Pro Tour that the Pro Tour thus has no influence on subsequent updates. This may well have been true back in 2013, when Bloodbraid Elf and Seething Song got cut on a January-based update calendar before a Standard (not Modern) Pro Tour in February. I do not think it is true today. As statements by numerous Wizards stakeholders show, there is strong evidence Pro Tour demands have co-opted a possibly independent ban schedule, changing its parameters to suit the Pro Tour's unique needs.
Changed Pro Tours, Changed Bans
The history of Modern bans and Pro Tours inevitably returns to Helene Bergeot's August 2, 2014 announcement about 2015 Premier Play. In the update, the original of which is linked here instead of the edited version, Bergeot revealed all four Pro Tours in the coming year would follow a Standard and Booster Draft format. Modern would instead receive support at the Grand Prix and World Championship level.
There was an immediate outcry across social media, game stores, and content sites. The public overwhelmingly denounced the change, accusing Wizards of trying to "kill Modern" among other charges. This rebuke prompted Wizards to backpedal. A mere eight days later, Bergeot returned with a revision to their original decision: "After evaluating all feedback and after further discussion, we have decided to add Modern to the 2015 Pro Tour schedule." This seemed like a triumph for the format and its players, and everyone was pleased with the community's collective victory.
There were two early signs that should have dampened our enthusiasm, or at least given us pause when we vouched for a Modern Pro Tour in the first place. The first was a Tweet from Aaron Forsythe explaining why Modern had been removed from the Pro Tour circuit in the first place:
Modern isn't a great PT format as it doesn't really show off the newest set--a goal of the PT. We'll keep supporting it at all other levels.

— Aaron Forsythe (@mtgaaron) August 3, 2014
In his comment, Forsythe pointed to a possible conflict between the nonrotating Modern and a promotional aspect central to Pro Tours. This shouldn't have come as a surprise. Pro Tours have always been, in part, advertising vehicles for new sets. This was present whether in 1996, when Wizards instituted deckbuilding requirements to showcase Homelands, or in the 2011 decision to name future tournaments after their proximal set release. Despite this longstanding emphasis, this rationale never actually appeared in Bergeot's original article, her retraction, or the edited update. This suggests both that there is more going on in these press releases than is just being written, while also pointing to a larger incompatibility between Modern and Pro Tours.
The second warning came from Magic R&D member Tom LaPille, Tweeting the same day as Forsythe made his own observation. Although LaPille's Twitter account is no longer functional, the screenshot of his message still exists online.
Not only was Forsythe suggesting Modern was a bad Pro Tour format. Now we also had LaPille explaining that Modern Pro Tours would lead to more bans for the format. Sadly, Twitter's character requirements don't allow for much context here, which is a reason many Magic authors lament Wizards' use of the platform to communicate such important statements. Even without added explanation, both Tweets suggest a pair of related reasons explaining why Modern was inappropriate for the Pro Tour, neither of which appeared in the Pro Tour scheduling announcement. LaPille's also draws out a troubling linkage between bans and Pro Tours, although we wouldn't hear more on this for months.
We know what happened next: Birthing Pod, Treasure Cruise, and Dig Through Time got jettisoned from Modern on the cusp of Pro Tour Fate Reforged. As we talked about in an earlier section, those bans were probably justifiable whether or not the Modern Pro Tour was just around the bend. But had the Pro Tour provided an additional incentive, as LaPille suggested? And would that pressure resurface in later updates?
Pro Tours and Bans Today
In a rare moment for internet sleuths, LaPille provided all the additional context we could want to his August 2014 Tweet in an April 2015 interview for the Masters of Modern podcast. I remember listening to that episode back in May and bookmarking his remarks for a later time, and if you haven't heard the whole conversation, take 45 minutes sometime this week to do that. Or read the transcript of the most relevant segment on Reddit, courtesy of user RedThragtusk.
Whether you've taken in the whole episode, reviewed the r/ModernMagic thread, or only heard it mentioned in passing, here is the critical excerpt from LaPille's remarks on Modern Pro Tours:
"I've been in the room several times when we had this conversation, which is "Do we run a boring Pro Tour, or do we ban cards out of a lot of people's decks in stores?" And so far, the answer has usually gone, 'We don't have a boring Pro Tour: we have to ban things.' "
Returning to the earlier discussion about overlapping Pro Tour and ban update timing, this is where we start to see how the tournament comes to influence an otherwise independent schedule. LaPille's remark, which Forsythe's later 2016 comments support, showed that Pro Tours create pressure to ban cards to jumpstart an interesting Modern format. This is what I have referred to as the "shakeup ban." Earlier in the interview, LaPille made the connection even more obvious, observing on bans "I think that's the cost of having a Modern Pro Tour every year, basically." The schedule may well have existed before the Pro Tour, and the Pro Tour may well have been tacked onto the existing schedule for pure convenience. But once the two were linked, regardless of why that linkage initially occurred, LaPille explained how the Pro Tour inevitably steers those future announcements. Are other factors still at play in the decisions? Yes. Is the Pro Tour itself now one of them and, if LaPille is to be believed, a decisive one? Yes again.
In light of LaPille's April comments, Forsythe's more recent remarks on the Splinter Twin banning are much clearer. Forsythe also emphasized the steering role Pro Tours play with Modern bans. Here's a brief rundown of the most important Tweets from the Twin banning weekend. I'll offer some commentary on each to situate them in the broader Pro Tour and banning context.
@modern_nexus @Oopssorryy All the Eternal formats have occasional bans. Modern has more pressure than the others because of the Pro Tour.

— Aaron Forsythe (@mtgaaron) January 16, 2016
Between LaPille's original Tweet, his later Masters of Modern interview, and Forsythe's reply above, it becomes very hard to deny the additional "pressure" Pro Tours place on Modern bans. Modern would undoubtedly have "occasional bans" if it followed the schedule of other Eternal and nonrotating formats, but the Pro Tour exerts a secondary influence which those other formats don't feel. This influence affects both the timing and the content of those bans.
@rflir @thenatewalker PT predicates bans. They aren't random, and I was agreeing that the public should understand this.

— Aaron Forsythe (@mtgaaron) January 16, 2016
Forsythe's use of the word "predicates" is telling, further asserting a link between Modern's bans and the Modern Pro Tours which prompt them. It is important to not read too much into the specific term, however. We do not know if Forsythe is suggesting a direct causal link (unlikely) or simply a direct relationship between the two (much more likely, given the other evidence). Accounting for the statistical picture in the first section, along with the more qualitative elements in this second one, we can infer that Pro Tour demands are just one of many considerations in the ban. Of course, given LaPille's discussion about stagnant formats and bans shaking those up, this consideration seems much weightier than others, especially the metagame share component that is absent in the Twin ban.
@Nisher That is not why the ban is happening. It is dictating when, not why.

— Aaron Forsythe (@mtgaaron) January 16, 2016
Speaking of correlations and causations, the Tweet above most clearly challenges a direct causal connection between Pro Tours and bans. But again, this should not be surprising to anyone. We've already seen that bans have additional factors at play beyond the Pro Tour, whether the many dimensions cited in Jordan's Friday article, Sam Black's and Adrian Sullivan's defenses from last week, or the metagame statistics at the beginning of this piece. Even admitting those other determinants, however, the fact that the Pro Tour dictates timing is itself a major factor.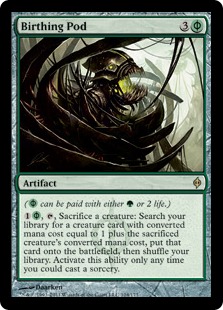 In previous format-diversity bans, offending decks were either trending upward (e.g. Pod) or staying flat at obscene levels (e.g. Deathrite BGx) when the January ban hammer came down. In those cases, the Pro Tour's timing was unlikely to play too big an influence on the eventual ban: the numbers were already there regardless of upcoming tournaments. URx Twin was another matter entirely. Twin had fallen significantly from its early 2015 highs into the end of 2016, with no indication of an impending spike. Moreover, Oath of the Gatewatch promised to provide even more tools to Bx Eldrazi, a deck with an even-to-favorable URx Twin matchup. Amulet Bloom would also take a hit after Summer Bloom's banning, cutting one of Twin's best matchups from circulation.
Considering the Twin numbers and the overall Modern context, Splinter Twin's ban seems  premature. It feels particularly early when compared with the other format-diversity bans, which belonged to decks with massive metagame leads compared with Twin's much more modest shares. Unfortunately, because the Pro Tour dictates ban timing, Wizards had strong incentive to act in January 2016 instead of waiting to see how things played out at the Pro Tour. Modern enjoyed unprecedented deck diversity and tournament attendance throughout 2015, and that wasn't going to suddenly diminish in 2016 if Twin remained a 12%-13% format player. The Pro Tour made this more measured approach impossible.
@thenatewalker I thought so too, but that wasn't the reaction when we tried removing it before. Maybe opinions are different now.

— Aaron Forsythe (@mtgaaron) January 16, 2016
We end with this quote because it encapsulates a number of core issues around Modern, bans, and the Pro Tour. Again, I make all these statements with the disclaimer that Twitter's 140 character constraints are very limiting, and I'd love to see Forsythe and others speak more fully on these topics in a proper article. Until that happens, however, we aren't just going to discount the Tweets entirely because of their shorter word-count. We can also use other sources to help zero in on Forsythe's implications.
The main takeaway is, of course, an umpteenth acknowledgment of Modern Pro Tours leading to Modern bans. By this time, there should be no doubt that such a connection exists and that this connection may have taken precedent over other metagame factors (namely, the missing metagame factor described earlier). The Tweet also teases out a much deeper communication gap in that relationship. Forsythe sounds surprised that Moderners in 2014 didn't consider this ban relationship when they advocated for a Modern Pro Tour in 2015. This should not come as a shock to anyone, because Modern players did not know this connection in August 2014. Bergeot only offered the following to explain why Standard, not Modern, would be 2015's regularized Pro Tour format.
"The first thing you may notice about this schedule is the format, which is consistent among all Pro Tours next year. Standard is the most commonly sanctioned event by a large margin, and it rewards players who are both good deck builders as well as skilled players. While Modern is not a Constructed format that will be used in 2015's Pro Tours, it will still see Premier Play support."
Even by the most generous reading, this passage makes neither a direct nor an indirect reference to Modern Pro Tours necessitating bans. There's also no inkling of the objections Forsythe or LaPille Tweeted the day of the announcement. On the one hand, I respect Wizards' (and, likely, Hasbro's) preferences for a mixed open-and-closed decision-making model. That's common practice in many businesses, and we certainly don't need to know every last justification for every single Magic decision. That said, there's a middle ground between a fully opaque model and a completely transparent one, and the intersection of Bergeot's, LaPille's, and Forsythe's statements show we are very far from that happy medium.
I suspect we wouldn't have pushed so hard for a 2015 Modern Pro Tour if we knew it would lead to bans. Maybe the community would have proven me wrong and stumped for it anyway. Either way, we should have known this information before taking a stand, and Wizards should make these considerations more widely available as we move forward beyond the Splinter Twin ban.
The Future of Modern Pro Tours
Forsythe's last Tweet's offers a final implication, which is also the open question I'll leave us with today: should Modern be a Pro Tour format? LaPille and Forsythe seem to think not, even though the overall community is divided. I have personally not decided, and my eventual argument one way or the other will hinge on the answer to a few final questions. What would Modern's ban schedule look like without Pro Tours in the picture? How else could Modern be supported at the pro player level if not at this tournament?
Taking all this evidence into account, I believe the Pro Tour factor took the place of the metagame dominance factor in this ban update. Twin didn't have the format-wide numbers but the Pro Tour definitely did need a shakeup: the absence of one and the presence of the other is strongly suggestive to me, especially in the context of the statistics and quotes presented today. Even if this connection is more circumstantial than real, this does not obviate the need for better communication from Wizards on Modern, Pro Tours, bans, and format policy. We don't need to know everything that goes on behind their closed doors in Seattle. We do need to know more information about the issues presented today.
Silver Linings
If I look beyond these two pressing objections, I'm still comfortable with the same ban elements I praised last week. Here's a brief list of banning benefits I didn't talk about today but are still worth remembering as we process the announcement:
Modern is likely to correct short-term trends towards linear decks.
We play a powerful format with lots of strategies and synergies. Even if Affinity, Infect, Burn, Zoo, and others dominate for a time, they are unlikely to do so for longer than a few months. Expect BGx and other mainstays to return: Lightning Bolt and Inquisition of Kozilek are still potent regulators!
URx strategies will probably diversify.
Although URx decks have enjoyed sporadic bouts of diversity throughout 2015 (Grixis Delver and Control in spring and summer, UW Control in early fall, etc.), Twin often reasserted itself as the leader of the URx pack. With Twin gone, we have a chance for other URx strategies to shine which could be a net gain for format health. As a related point, it shouldn't be too hard to find new policing strategies to take Twin's place.
Modern overall will probably diversify
Short-term linear tendencies notwithstanding, Modern is likely to move towards more three and four-drops which were otherwise unplayable in a Twin environment. This could make Modern more interactive, as long as decks adapt to rein in any initial slides towards aggro and noninteractive combo.
Unban opportunities abound
Ancestral Vision, Preordain, and Jace, the Mind Sculptor were all indefensible unbans with Twin in the picture. All three of those cards are now on the table to bolster blue strategies, if they eventually need help. Stoneforge Mystic also becomes increasingly possible, now that a hybrid Twinblade strategy is dead on arrival.
Reprint and new card possibilities are opened
Cards like Counterspell could never happen in a Modern with Twin. They might still never happen in Modern period, but at least the blue design space is opened. I for one would love to see generic answers like Force of Will (or similar variants) to help regulate linear decks.
All told, I am happy with these five possibilities, and have been happy with them since Wizards announced Splinter Twin's death two weeks ago. That said, I am still very dissatisfied with the absent metagame component and the mysterious Pro Tour factor, particularly with the intersection between the two. Even if all five of my banning hopes come true, I would still be deeply uneasy with these elements because they can rear up again in future situations with worse results. Wizards needs to speak to these issues, not for me but for the Modern community as a whole.
This is my Final Stand on the Twin issue for the near future, but you can be certain I'll return to these problems as we gather more information. What do you think about the missing metagame numbers and the Pro Tour/banning relationship? Are there any sources you think I missed or other pieces of evidence you wanted me to discuss more? Do you have any questions about the arguments, cases of your own to make, or objections I should hear? I'll catch all of you in the comments and join me for the rest of the week as we stop talking about bans and start diving into the new Modern and its exciting possibilities!