Are you a Quiet Speculation member?
If not, now is a perfect time to join up! Our powerful tools, breaking-news analysis, and exclusive Discord channel will make sure you stay up to date and ahead of the curve.
I'll be honest, this is not the article I was planning on for this week. I had planned to start rolling out my Jace, the Mind Sculptor results but I've run into a problem. Last time, a lot of you asked for more in-depth statistical analysis of the results and I decided to oblige. The problem is that traditional tests yielded unusual results. I had significant data that was outside the margin of error or just flat out errors in my returns. The problem was that my data are a binary series that I'm not used to working with. Most stats questions are multiple choice but this was a yes or no question, and that means a different series of tests that I never learned in school. I could have done part one today, but I don't want to leave a gap between the first and second articles. It's taking time for me to learn the proper test procedures, so instead here is another brewing article.
I've been working on making Death and Taxes a thing in Modern for more than a year. I've tried a lot of different brews and versions and while I think the deck is good, it isn't quite good enough. As the cardpool stands right now, I think this style of deck can take you quite far into a tournament on its own merits, but you need to hit the right metagame to actually win the tournament. This is a deck that will consistently win 3.5 games in a MTGO league, but you have to get lucky to actually win the league. The problem is a combination of unpredictability, ineffective mana denial, and a relative lack of power. The tools are all there for the deck to be great, but the Modern metagame is too large for DnT to really tax its opponents. It has to make up the difference with power which isn't quite there.
The Taxman Cometh
I think it important to start off with praise for the deck because there are a lot of positives to Modern Death and Taxes. Yes, I am trying to soften the blow that is coming—why do you ask? Death and Taxes is infinitely customizable, deceptively disruptive, and surprisingly resilient. If you enjoy tuning or metagaming, this is definitely the deck for you. My list is tuned to my current local metagame, but has enough forgiveness built in that I could take it to a more open tournament.
There is a lot of combo, control, and Tron in my LGS, with Burn and Affinity hanging around the edges. As a result, my deck is a mixture of grindy card advantage and anti-combo cards. It performs well and I've won a lot of packs with the deck. Had I been able to make GP Vancouver I definitely would have played a version of this deck. I would not have played this exact list because it isn't quite where you want to be in an open field, but it would have been very close. The sideboard would have been very different and the maindeck would have had an additional Inspector and Kitchen Finks in place of the Familiars. Interestingly, Jason Simard made Top 8 with a similar list, though he was on an Eldrazi plan. I'd have liked to see his deck in the coverage more, because I found that more than eight colorless lands made for very disappointing mulligans due to lack of white. It obviously worked, but I would have liked to see how.
Tune Your Cards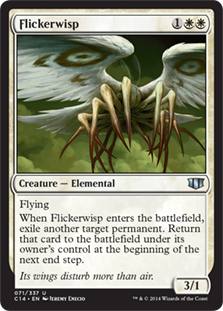 What my development of this deck has shown is that you can tune it to beat anything. Seriously. Modern white has an incredible depth of targeted hate which will crush its target. Death and Taxes and all its derivatives are infinitely adaptable because their core is extremely flexible. Most decks have an immutable core group of cards that define the deck, but for DnT that's really just Flickerwisp and Ghost Quarter. You don't even need a full set of either. This allows you to build and tune to your heart's content around interactive creatures and mana denial. This is the ultimate tuner's deck. Do you want to be White Skies? Add in Vryn Wingmare, Serra Avenger, and Kor Skyfisher. Lots of faster aggro? Wall of Omens and Archangel of Tithes. Combo a problem? Aegis of the Gods, True Believer and Eidolon of Rhetoric. Anything is possible.
Those are just the core threats and disruption. The utility creatures and spells can really amplify your gameplan. If you are really dedicated to the archetype, you can absolutely play every week with an entirely new configuration and do well, both because of your opponent's confusion and the inherent power of correctly aligned, specialized disruption. As an example, here are a few utility cards I've run in my mono-white deck:
This is just a small sample of cards I've tried. Like I said, the cards are there for you to find the configuration that works for the metagame you expect.
Tune Your Deck
All of that is just what you can do with mono-white. Once you start adding in colors the customization never stops, and matchups change dramatically. I consider mono-white DnT to be the "average" deck in the family. Its good matchups are rarely better than 60% and its bad ones are around 45%. I consider Affinity, Burn, and the many iterations of Tron and Valakut to be good matchups, Fair decks like BGx and combo decks to be even, and creature decks like Merfolk to be bad matchups. I'll be using this as a baseline to talk about the variations.
The Diversity Problem
Of course, the ability to customize your deck comes at a price. The individual taxes and lock pieces aren't that powerful on their own, and if you miss your target you'll be very behind. Modern is not Legacy and this means that DnT will need to sit in the lower tiers for the time being. Eldrazi and Taxes has done better than other versions thanks to the power of the Eldrazi, but it still sits in the middle of Tier 2. The problem is that Modern is in many ways more healthy than Legacy in terms of diversity and when you couple that with weaker disruption there is a problem.
When you walk into a Legacy tournament you know that no less than half the room will be playing Brainstorm and/or Deathrite Shaman. These cards create predictable restrictions on deckbuilding. As a result, Legacy DnT can be built with these two cards in mind. The narrowed focus allows you to play more targeted disruption and more effectively function as a Prison/Aggro deck. Add to that the greater power of Wasteland and Rishadan Port and you have a top-tier deck.
That really isn't possible in Modern. The only constant among decks are fetchlands, and there is only so much you can do to target those. Thalia is just less powerful when everyone isn't relying on one-mana cantrips. As a result Modern decks have far greater diversity in their composition than Legacy's. This makes it easier to insulate yourself from hate splash damage. To make up for this weaker disruption, you need to be more powerful. This either means better threats or a faster clock, but that isn't really possible for Modern white. We have good, cheap creatures and good Angels, but they're weak in the Modern context. This can leave the deck underpowered and struggling when you miss your metagame projection.
What It Needs
To really move up the tiers, DnT either needs the format to be more restrictive, so it can target decks more easily, or it needs better win conditions. The former is undesirable and unlikely to occur, so that leaves us hoping for a new creature. Gideon, Ally of Zendikar has sometimes been that threat, but he's poor in enough matchups that I'd keep him in the sideboard. My experience suggests that we need a more resilient disruptive three-drop that flies. Mindcensor and Wingmare's stats are too low, but another three-power flier like Flickerwisp would likely do the trick. There are some three-drop 3/xs already, but they don't really do anything other than beat. We need something disruptive. Alternatively, seeing protection return could also work.
There is belief that Stoneforge Mystic is what the deck really wants, and I can see why people think that. It is a cornerstone of the Legacy version and it is cheap and powerful. I'm not convinced that it is an acceptable Modern card, and I also don't think that current DnT wants it. It competes in the same slot as Arbiter and the two don't play well together. Lacking access to Wasteland, a lot of the appeal of DnT lies in Arbiter. Stoneforge may well be fine in the deck, but I don't think it automatically makes the deck better. You have to readjust and rebuild around the card.
It Is Inevitable
So there you have it, my definitive take on Death and Taxes. It is a good deck, I like it, and if you enjoy customizing and tuning your deck so will you. You just have to understand that while you will often go deep with the deck, you may not be able to close the event. Time and new cards will tell.
Hopefully I will have the preliminary analysis done and off for confirmation and review next week, so that I can start sharing my Jace results. Regardless of what you think about the card, you will be surprised by my results.